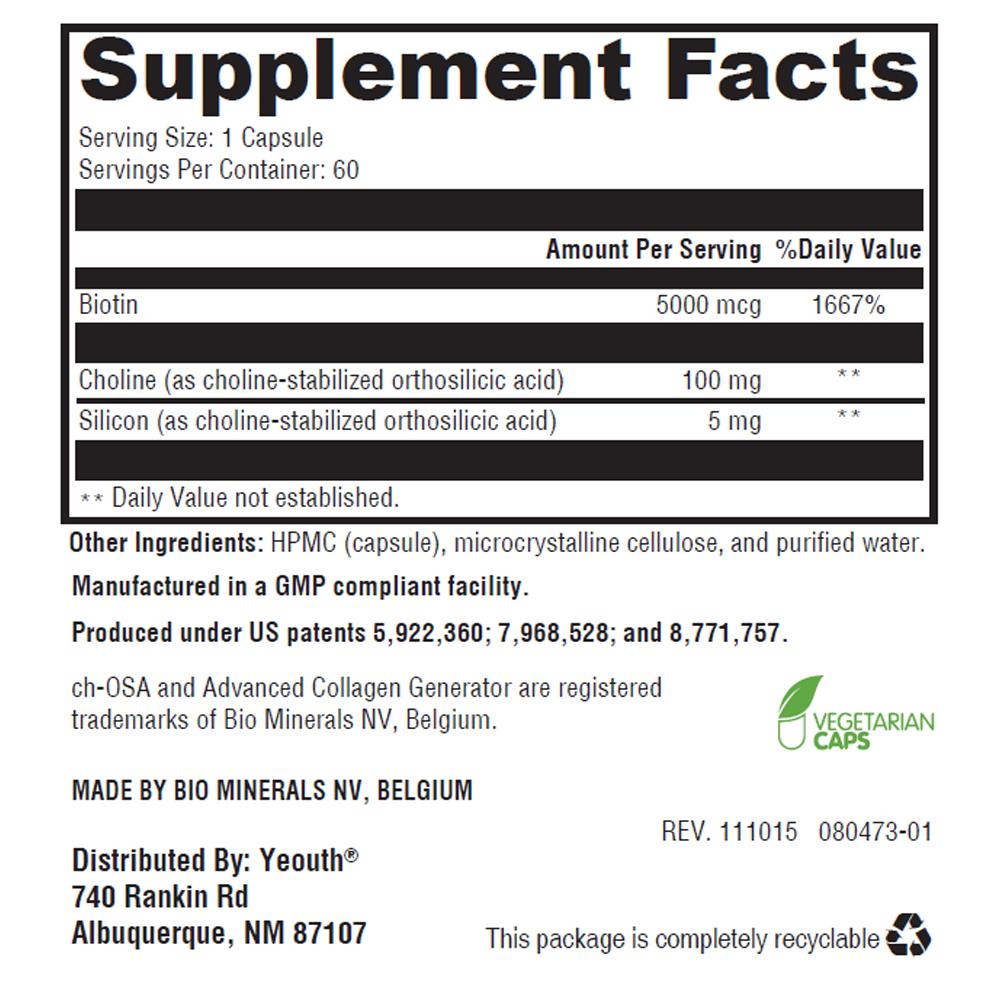 Regular price

Sale price

$59.99

Unit price

per
10 customers are viewing this product
Regenotin by YEOUTH is your best solution for treating thinning hair, wrinkled skin, and weak bones and joints. Improve yourself from the inside out!
It is clinically proven to increase collagen levels and reduce wrinkle depth and skin roughness by 30%. Regenotin also promotes keratin and elastin formation—two major beauty proteins that assist in skin elasticity and hair growth.
It is formulated with vital anti-aging nutrients, minerals, and vitamins that our body needs to support healthy hair, skin, and nails. It encourages the growth, development, and regeneration of connective tissue and delays the formation of wrinkles, fine lines,
Regenotin is a patented choline-stabilized formulation of orthosilicic acid (OSA). Through a protected process, Regenotin allows silica to be absorbed. When you maintain good silica levels, your skin will stay supple, nails harden, and hair looks fuller.
Only stabilized OSA delivers its promise of activating the human body's production of three beauty proteins: Collagen, Elastin, and Keratin.
How this product will help you
Improves hair growth and strength including elasticity and thickness

Clinically proven to reduce fine lines and wrinkles

by

30% with continued use

Increases bone density and nail firmness

Supports muscle function, healthy lipid and metabolism
What each key ingredient does
Biotin

- Supplementing with Biotin or Vitamin B7 is a common method for enhancing skin health and hair and nail strength. Studies suggest that biotin supplementation significantly increases nail thickness and reduces splitting. It is also known to support healthy

lipids metabolism

and muscle function.
Does not contain
Wheat, gluten, corn, yeast, soy, animal or dairy products, fish, shellfish, peanuts, tree nuts, egg, ingredients derived from genetically modified organisms (GMOs), artificial colors, artificial sweeteners, or artificial preservatives.
ᶡThese statements have not been evaluated by the Food and Drug Administration. This product is not intended to diagnose, treat, cure, or prevent any disease.
*Barel et al. (2005). Arch Dermatol Res 297: 147-153. Results may vary.
Take one capsule twice daily, or use as directed by your healthcare practitioner. Consult your healthcare practitioner prior to use. Individuals taking medication should discuss potential interactions with their healthcare practitioner. Do not use if tamper seal is damaged.
Biotin 5000mcg, Choline 100mg, Silicon 5mg HPMC (capsule), microcrystalline cellulose, and purified water. Store in a cool, dry place out of reach from children. Does not contain: Wheat, gluten, corn, yeast, soy, animal or dairy products, fish, shellfish, peanuts, tree nuts, egg, ingredients derived from genetically modified organisms (GMOs), artificial colors, artificial sweeteners, or artificial preservatives.

YEOUTH products contain none of the following and are cruelty-free!
• Parabens • Sulphates • Phthalates • Siloxanes • Fragrances • Mineral Oil • Triclosan • Polyethylene Glycol • Formaldehyde • Hydantoin & Urea • DEA, MEA, & TEA • GMO