Your Daily Skin Care Regimen, Step-by-Step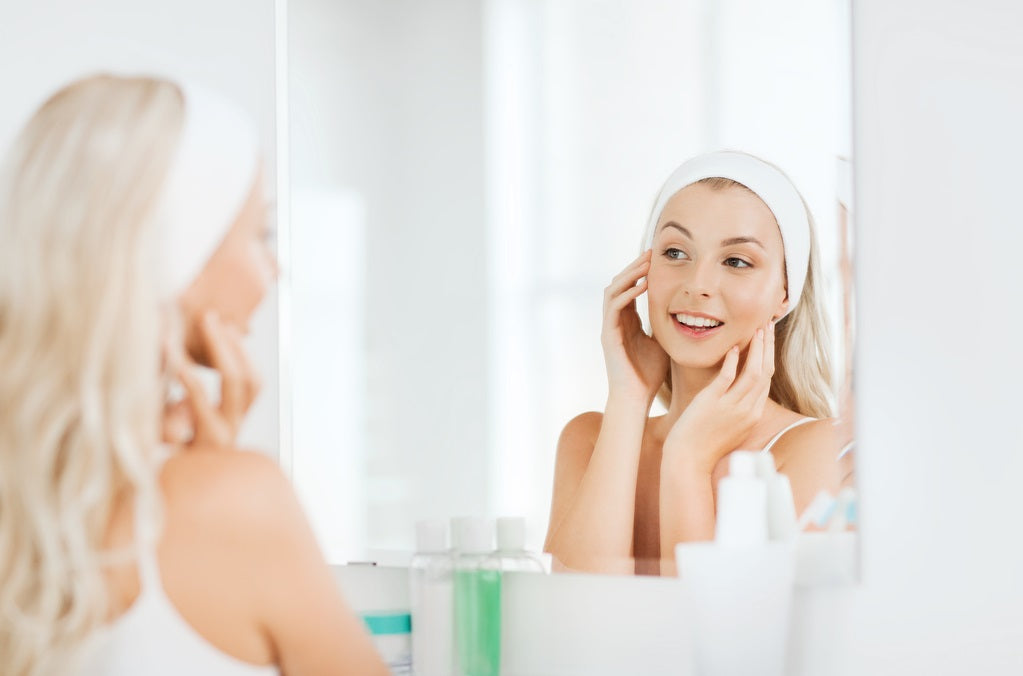 5 Easy Steps For Clear, Healthy Skin 
It is essential to understand your skincare products. You need to know their skin benefits, how they work synergistically, and most importantly how they should be applied correctly because all these can have a huge impact on your skin.
This is why we have put together this blog to help you create and customize a complete skincare routine that will work best for you!
Read on to know the 5 easy steps necessary in a skincare routine, the products you should use, the best time to apply them, what they can do for your skin, and what results you can expect from each. 
Step 1: Cleanser
Washing your face with water alone is not sufficient to clean your face. Regular skin cleansing is essential for maintaining healthy skin
Our skin gets subjected to a lot of damaging factors like pollution and other irritants. Daily washing will remove all the bacteria, viruses, pollutants, dead and old skin cells, and dirt. Cleansing also helps manage your skin's PH levels, helping the skin maintain a good level of hydration. Furthermore, a clean face will allow your skincare products to work even better. 
YEOUTH Recommends:
For a daily cleanser that will gently remove all dirt, excess oil, and makeup while still nourishing and hydrating your skin, we recommend our Vitamin C Facial Cleanser. Enriched with nourishing ingredients like aloe vera, green tea, ginseng, and seaweed, this product not only cleanses but also actively repairs skin damage while reducing the signs of skin aging.
Remember to wash your face with a proper cleanser twice daily — when you're getting ready in the morning and at night before bedtime. At night, we need to wash off the day's dirt, grime, and makeup before sleeping so our skin can recover as we sleep. Daytime cleansing is just as important. In the morning, excess emulsified sebum is present, and your skin will have more dead skin cells to slough off. This can't be rinsed away with just water so you need to properly wash your face.
With regular face washing, your skin will look and feel smoother, healthier, and ready to receive prime benefits from your facial regimen. Our skin ages daily and the very simple act of facial washing is a wonderful way to mitigate the external factors linked to aging and stimulate the internal processes that combat aging.
In addition, regular facial washing will help get rid of impurities, giving your skin a fresh and radiant look. We don't want our skin to be covered with a thick layer of dirt and grime!
Step 2: Toner
Toners restore your skins PH after cleansing. Your skin can never get too much nourishing ingredients — and your skin needs a range of ingredients to repair and restore itself after cleansing.
Read more: Science Behind Skin: The Importance of Balancing Your Skin's pH
Toners are beneficial for helping to tighten cell gaps after cleansing, hence, reducing the penetration of environmental contaminants and pollution into the skin. Everyday use will arm your skin what it needs to function in a healthier way. It will leave your skin refreshed and revitalized.
YEOUTH Recommends:
Try Yeouth's Balancing Facial Toner. It has skin-repairing ingredients which replenish and hydrate the skin's surface. It also helps with dry patches and redness. It's designed to smooth, soften and calm your skin as well as prepping the skin for serums and other products. 
Our Balancing Facial Toner contains skin-healing ingredients that will revitalize the skin after cleansing. It helps heal skin cells and restore the skin tone. Use it regularly after cleansing your face for clearer, smoother skin, and reduced redness and/or irritation.
Step 3: Serum
Serums have smaller molecules compared to other skincare products. They also only have a few concentrated active ingredients and they don't have additives such as thickeners, emulsifiers or oils. Leaving out these heavier ingredients, that are commonly found in traditional moisturizers, allows the skin to absorb serums much faster and deeper.
Read more: Serum FAQs: Things You Need to Know About Facial Serums
Adding a serum fit for your skin needs will not only help intensify the strength of your skincare regimen but also round out the ingredients that you are applying to your skin. This will provide you with a more comprehensive approach to achieving your goals whether it be anti-aging, brightening or even hydration.
YEOUTH Recommends:
Your skin has different needs during the day and at night which is why you need to adapt a skincare routine for both.
Daytime Serum
Our skin goes through a lot during the day — it's more exposed environmental stressors so you need a serum that will protect your skin from free-radical damage. 
Check out the Yeouth Vitamin C and E Serum! It's packed with antioxidants and other anti-aging key ingredients that shield your skin from environmental damage that you encounter during the daytime.
It gives antioxidant protection that shielding your skin from damaging free radicals, unwanted particles that promote premature aging. Think pollution and sun damage — these factors assault your skin daily.
Our Vitamin C and E serum is also laden with nourishing key ingredients that help boost healthy collagen production. You'll say hello to healthier, firmer skin with consistent use.
Nighttime Serum
At night, our skin cells work harder to rejuvenate our skin as we sleep. This is why you need to support them with a serum that will help maximize your skin's regeneration process for revitalized and younger-looking skin in the morning.
Use our Hyaluronic Acid Plus Serum every night before bedtime. It's deep-penetrating nourishment and hydration is proven to be a simple yet highly effective way to achieve that young-looking skin without having to undergo any medical or clinical procedure. 
Popular for being one of the most beneficial and potent biological ingredient ever discovered, Hyaluronic Acid is an essential beauty and ingredient that keeps skin looking supple and young. It's also able to hold up to 1,000 times its weight in water, giving intense hydration to all the skin's layers, locking in moisture by providing protection to the skin's barriers.
Tripeptides, on the other hand, are one of the most promising discoveries in the skincare world. The Tripeptides in the formulation is an anti-aging powerhouse that penetrates into the skin and sends signals to the skin cells, letting them know how to function. Most importantly, it signals the collagen (which gives the skin its suppleness and elasticity) in our skin to make new ones, giving it a suppler, more youthful appearance. 
Apply every night after cleansing and toning your face and neck area. Your skin will feel wonderfully smooth and supple in the morning! With regular use, the signs of damage will fade, fine lines and age/sun spots will be reduced, and your skin will look and behave visibly younger.
Step 4: Eye Gel
A combination of poor sleeping habits and late nights can make anyone look as tired as they feel. One of the typical sought-after aesthetic goals of women today is the removal of fine lines, dark circles, and puffiness around the eye area - as aging around the eyes becomes visible quickly. The eye area has the most delicate skin in the body, and to the woe of many women, is the first to show signs of aging.
YEOUTH Recommends:
YEOUTH Radiance Eye Gel delivers all-in-one benefits for aging eye concerns. Infused with potent ingredients like hyaluronic acid and tripeptide, the product works to give an immediate boost of moisture retention and hydration, brightening the eye area, firming skin texture, reducing dark spots, and evening skin tone.
Hyaluronic acid and Tripeptide, two of the key ingredients of the product works to lock in the skin's moisture, penetrating pores deeply to reduce sagging, swollen eyelids, enhancing the smoothness, firmness and even tone of the skin under the eye.
YEOUTH Radiance Eye Gel contains an "anti-bag" substance that deeply penetrates into the skin's pores, thus reducing eyelids that are sagging and swollen. It serves to boost the skin's natural smoothness, firmness, and tone under the eyes. It doesn't stop there – the gel is also able to repair the connective tissues around the eyes, which means that its anti-inflammatory properties is able to remove any discoloration and blotchiness under the eyes. You can now finally say goodbye to those perpetually tired-looking eyes. 
Step 5: Moisturizer
Cleansing is an important part of a healthy skincare routine but it can be a little too harsh on the skin sometimes. It can strip off all of the skin's good oils ultimately causing skin dryness which makes us vulnerable to our environment and other skin problems such as blemishes, fine lines, and wrinkles. 
As we age, our skin also tends to have lesser suppleness and moisture. Moisturizing is essentially a preventive measure that you can do to keep your skin problems at bay so don't forget to always moisturize after cleansing to maintain healthy, youthful skin.
YEOUTH Recommends:
Try the YEOUTH Day/Night Cream! All skin types will benefit from this moisturizer because it includes the kinds of ingredients research has shown to help your skin look visibly younger and healthier. It effectively boosts skin hydration, therefore, helping reduce wrinkles, fine lines, and other visible signs of aging.
Used on a daily basis, moisturizers boost skin's healthy functioning to keep it feeling soft and smooth, fighting dry skin build up.
Your Complete Anti-Aging Skin Care System
This simple, step-by-step beauty regimen covers all the products everyone should use and the order in which to use them on a daily basis. Yeouth's complete anti-aging skin care system is made with only the highest-grade ingredients that moisturize and hydrate, fill fine lines and wrinkles, and reduce the appearance of crow's feet, bags, and puffiness in the eye area. Get yours now!
Your skincare routine doesn't have to be complicated. Talk to us in the comments and we'll help you pick the right products!