YEOUTH's Neck Firming Cream for Firmer, More Supple Skin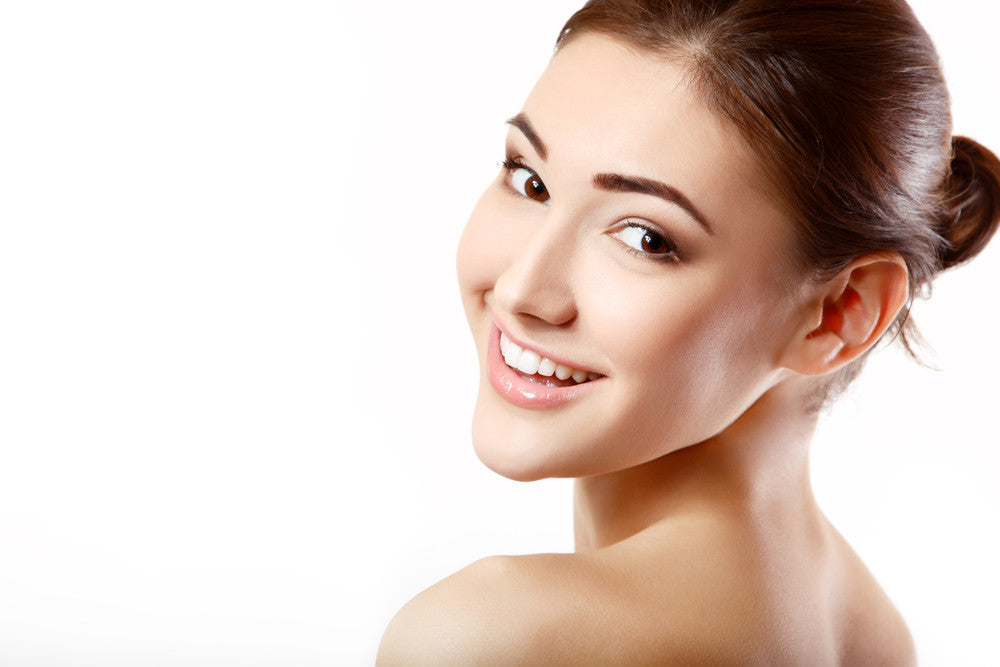 By now, we all know that wearing SPF and a moisturizer is essential for supple, younger-looking skin, but the environment and sun damage can affect the other parts of your body too!
When it comes to looking youthful, you also need to think about the skin on your neck. Despite a focus on the face, the neck ages just as fast. The "waddle" is a dead giveaway of age. Yes, you may cover the fine lines on your face with makeup, however, this type of camouflage won't work on the loose skin on your neck.

So, a neck firming cream is also an all-too important weapon in your beauty arsenal and should also be a part of your daily regimen. Today, we are flooded with hundreds of brands, so choosing the best one can be a daunting task.
You go online and go through feedback and reviews and end up more confused than ever. The savvy skincare shopper would wisely go through the ingredients list.. because it's all about the ingredients, baby!

Neck Firming Creams - do they work?
A well formulated neck cream has the ability to smooth and firm the sagging skin on the neck with the use of effective key ingredients. Some people prefer one over the other, and it all really depends on how your skin responds to the components used.

These creams work to repair skin down to the cellular level. It nourishes and strengthens the cells and tissues that hold skin together. As the cells strengthen, your skin's ability to repair and heal itself improves as well. More importantly, these creams hydrate skin and corrects problems before signs of damage become even more apparent.

YEOUTH Neck Firming Cream is made with a propriety blend of peptides, nourishing and hydrating ingredients that tone, tighten, and smooth the fragile neck. An effective product comes with the following benefits:
It has the ability to help correct the damage caused by the sun and environmental factors.
Can help slow signs of premature aging.
Nourishes skin to diminish the appearance of fine lines, sun spots, and hyperpigmentation.
It delivers essential compounds and substances that strengthen your skin's support structure.
It has key ingredients that work hard to stimulate collagen production for smoother, younger looking skin.
What Does a Neck Cream Do for Saggy Neck?
The human skin is a truly remarkable organ which completely regenerates itself every 7 days on average. This sort of vigor is crucial because the skin serves the vital function of protecting the body from many hazards.
Even though the skin retains its ability to protect us from the elements right into old age, its capacity for self-renewal weakens with age and starts to lose the firm appearance of youth.

While we can't expect ourselves to look 20 again at age 50, the good news is that with the right sort of treatment, we can help our skin remain supple, smoother and more youthful-looking for a longer period of time.
The key is not expensive or invasive treatments that set you back thousands of dollars; beacause really, the right sort of ingredients that can boost your skin's natural ability for renewal, repair everyday damage to your skin (e.g. from UV rays) and to boost the elasticity of your skin.

A good neck cream is made with specific ingredients that penetrate skin and repair cells underneath so that it fights the signs of aging from deep within. Different brands make use of different ingredients, each one boasting of its own set of strengths.
More importantly, the blend should provide moisture and hydration, two things your skin needs to stay looking young. Just imagine the many changes your body goes through as you get older, and these creams are simply there to provide you with what you lack. The earlier you take the necessary steps, the better your skin will be.

As the binding tissues become stronger, any type of damage becomes less visible over time. This is why skin experts recommend that you use the cream on a daily basis and that you make it a part of your daily regimen.

Introducing YEOUTH's Neck Firming Cream

Now you can bring your skin back to beautiful by working away wrinkles around the neck and décolletage areas. Combining rich antioxidants and hydrating elements, this clever cream sustains tone and moisture for smoother, younger-looking skin.

YEOUTH's Neck Firming Cream helps to restore skin's elasticity, while it reduces the appearance of horizontal neck lines for a more youthful look. It visibly minimizes the look of vertical lines on the delicate skin on the neck and chest and the signs of UV damage to restore even skin tone.

Not all neck creams are created equal. So how do you choose a brand that's safe and effective? The answer is simple. Take a look at the active ingredients! YEOUTH's Neck Firming Cream is infused with key ingredients that have been shown to work on your skin's cellular level:

Green tea - what's not to love about green tea? Green tea has an impressive list of skincare benefits. It contains very strong, natural antioxidants called polyphenols that neutralize damaging free radicals, which can cause significant damage to the skin and accelerate the aging process.

Green tea's antioxidant property is key to its skin-protective qualities. For one, studies show that green tea provides sun damage protection by quenching free radicals and reducing inflammation rather than by blocking UV rays.
Hence, green tea may synergistically enhance sun protection when used with a good sunscreen. Yes, green tea's potent antioxidants can work from the outside in, not just the inside out!
Argireline - this powerhouse ingredient is sourced from an amino acid chain, and numerous studies found it to be helpful with all things anti-aging. The Argireline peptides modulates muscle contraction, targeting the same protein complex as Botulinum Toxin A.
This is similar to how Botox works.  Yes, Botox! Botox is a toxin that works to paralyze the muscles so that they cannot get into a state that promotes wrinkling.  The primary difference between Argireline and Botox is that Botox is a toxin and Argireline is natural and derived from plants.

Argireline can keep the skin on your neck and decollete firm and tight. While the ingredients in Argireline are claimed to have a similar ability with Botox, it works quite differently.
Unlike Botox, applying Argireline will give no risk; it will not paralyze the muscle that might lead to a severe problem. It will only penetrate your skin to a certain degree and block the nerve receptor that causes the formation of wrinkles. By reducing those frequent muscle movements, Argireline helps to preserve the existing elastin and collagen in the skin of the face, which breaks down and decreases as we age.

Vitamin C - Vitamin C is an antioxidant superstar, pure and simple!

Those trusty antioxidants are at it again. It seems like there's no limit to the number of benefits they provide, and since Vitamin C is so loaded with them it's the best bang for your buck as far as anti-aging goes.
Several factors of aging hinge on free radical damage, and getting wrinkles is one of them. By keeping your body full of antioxidants, you get a wide range of benefits, from helping to even out your skin tone, reduce hyperpigmentation, revitalize skin's surface, significantly improving hydration, and keeping your skin looking younger, longer!

In addition, Vitamin C also helps the skin's surface rebuff external stressors and mitigate the effects of exposure to the elements. There's more: Vitamin C can be an antioxidant powerhouse when combined with other antioxidants, and YEOUTH's new formulation  combined two potent antioxidants (Vitamin C & Green Tea) in its formulation for more effective anti-aging results.
In addition, YEOUTH's all-new Neck Firming Cream does not use pure Vitamin C. Contrary to popular belief, pure Vitamin C is very unstable and is not the most active form for anti-oxidation and collagen synthesis.
YEOUTH uses Tetrahexyldecyl Ascorbate, a stable, oil-soluble form of Vitamin C. Compared to Pure Vitamin C, the Tetrahexyldecyl Ascorbate allows for deeper penetration. And we need lots of this essential Vitamin to make collagen!

Botox vs. Argireline
Maybe Argireline is new to you, so let's explore this active ingredient further.
Argireline acts as a combatant to wrinkles caused by repeated movements and environmental toxins. How? The key ingredients in this product are derived from 3 amino acids, Acetyl hexapeptide-3; a neuropeptide that blocks the communication between your facial nerves and muscles.
It addresses wrinkles and fine lines by limiting the contractions on your face. The manufacturer, Lipotec says that Argireline "mimics the biological SNARE proteins responsible for the release of neurotransmitters that regulate facial expression." Theoretically, the anti-wrinkle result is caused from destabilized proteins that prevents neurotransmitter release without affecting cellular damage.

Facial tension causes wrinkles and lines to appear. The relaxation provided by Argireline can help minimize their appearance. Research published in the "International Journal of Cosmetic Science" in October 2002 reported Argireline to reduce wrinkle depth in women by 30 percent after 30 days of use without the risks posed by injections.

Argireline is an entirely different substance than the costly Botox, although their function is a bit similar. Here are some of their notable differences:
Botox needs to be injected; Argireline is topically applied
Botox is more expensive than Argireline
Argireline also has a hydrating effect on the skin
To reap the most benefits of your Neck Firming Cream with Argireline, apply the product generously twice a day on your neck and decolletage. Get yours now for a limited-time launch discount!