YEOUTH's Retinol Eye Cream: Why Retinol Simply Works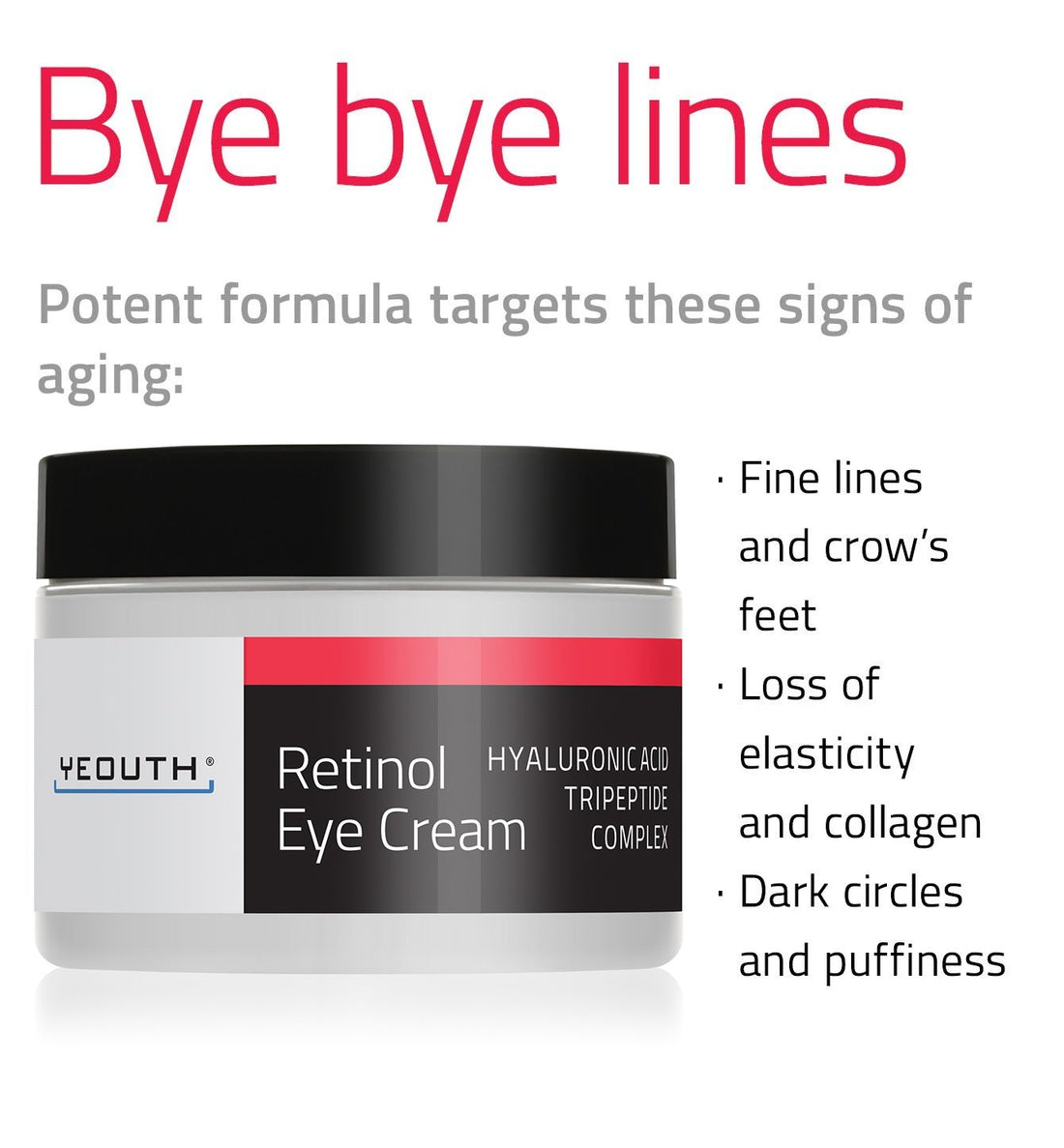 The beauty aisles are a sanctuary of concoctions that promise to give the skin that youthful glow, turn back the clock, and rejuvenate the skin. If you check the labels of these skincare products, you will notice several of these commonly used age-defying and beautifying ingredients: antioxidants, alpha hydroxy acids, vitamins, peptides, soy, and others.

These ingredients are great, but there is one ingredient that has been proven to work wonders to bring rejuvenation to our skin and give off that beautiful, youthful glow: Retinol. Retinol is an ingredient that remains to be the gold standard in anti-aging for dermatologists and researchers alike. Why? For this one very simple reason: it works.
What is Retinol?
Retinol is also known as vitamin A. It is a type of retinoid, the family of chemical compounds related to vitamin A. Here are the other forms that retinoids take: retinoic acid (also known as tretinoin), retinyl palmitate, and retinaldehyde. These other forms of retinoids are commonly seen in different skin care products.

Tretinoin is typically used as an acne cream. The other forms of retinoid are also known for its effectiveness in reducing signs of aging, helping reduce the appearance of wrinkles, firm the skin, even out the skin tone, and reduce hyperpigmentation.
How Does Retinol Work? 
When retinol comes in contact with the skin, the skin receptors are activated, signaling the production of enzymes. These bodily enzymes work to convert retinol into its acidic form (retinoic acid), which is its most active form. The same process happens with the other types and forms of retinoids. It is this most active form of retinoid, retinoic acid, that is able to work on a cellular level and engage with the skin cells, thus bringing forth wonderful beauty benefits to the skin.
First, retinoic acid can hasten the skin's exfoliation process. When this happens, new skin cells are "born", replacing the old skin cells. As a result, pigments and blemishes are made to disappear.
Second, retinoic acid has the power to stimulate and increase the production of collagen and elastin. Research shows that retinoic acid can retain collagen in the skin for years! These two proteins are responsible for enhancing the skin's elasticity and firmness.
Without collagen and elastin, your skin will become weak, which results to sagginess and wrinkles. Also, in the absence of collagen and elastin, skin will not be protected from stressors whether externally (pollution, heat, etc.) or internally (stress brought forth by release of cortisol). Hence, collagen and elastin are essential in keeping one's skin firm, vibrant, healthy, and glowing.
All thanks to retinoic acid, you can say goodbye to stubborn acne, stress-induced wrinkles, as well as pigmentations and dark spots brought about by too much sun exposure. With the regular use of retinol, you can experience optimum skin health!
Are there any side effects?
Retinoids have come a long way since its discovery many years ago. However, even one of the best anti-aging ingredients out there needs to team up with the protection offered by sunscreens in order to achieve optimum results.
Any skincare product with retinol is likely to make your skin more sensitive to sun exposure. This is why you need to protect yourself from the sun's harmful UV rays when you are treating your skin with retinol. You can do this by regularly applying sunscreen with an SPF of 30 or higher. 
Read more: Do You Really Need an Eye Cream?
Applying sunscreen is very critical when using retinol. Keep in mind too that even though retinol is one of the best skincare ingredients out there, one superstar ingredient is not enough to take the best possible care of skin.
It is for this very reason that all of YEOUTH's formulas infuse its products with other ingredients that are as equally effective in rejuvenating and sustaining your skin. YEOUTH makes use of ingredients that serve as antioxidants, which restore skin cells and replenish the skin overall.
YEOUTH Retinol Eye Cream with Hyaluronic Acid and Tripeptide Complex ($18.95)
An ultimate all-around eye cream that will consistently deliver truly exceptional results for every eye concern. YEOUTH's Retinol eye cream is formulated with skin-loving ingredients like Hyaluronic Acid, Green Tea, Caffeine, and Ginseng. This is the finest age-defying formulation that you will ever get your hands on!
YEOUTH's Retinol Eye Cream Key Ingredients
Retinol
What more can we say about the wonder ingredient that is retinol? It has been used for decades as an age-defying and beautifying ingredient. It has the ability to reduce the appearance of wrinkles and fine lines around the face by producing and retaining proteins like collagen, thus leaving the face young-looking, supple, and vibrant.
Read more: Applying Retinol the Right Way
Hyaluronic Acid
Our skin naturally produces hyaluronic acid. It is responsible for moisturizing the skin. Hyaluronic acid also helps minimize wrinkles because of its moisture-retention properties. However, as we age, less of this acid is produced by our skin. Therefore, a regular provision for hyaluronic acid can do wonders especially to the skin around your eyes.
Green Tea
This ingredient contains some of the most powerful antioxidants known to scientists. These antioxidants help keep premature aging at bay by fighting off free radicals and healing damaged cells. Green tea also helps inhibit the enzymes that break down elastin and collagen, which are both highly essential to keep your skin supple, elastic, and youthful.
Read more: The Wonders Of All-Natural Skincare
Caffeine
Applied topically, caffeine brings an inhibitory action which prevents inflammation. As a result, your skin can easily and quickly heal from stressors that injure and attack your skin on a cellular level. Antioxidants present in caffeine likewise ward off free radicals that damage the skin.
Ginseng
Ginseng is packed with natural ingredients and nutrients that help tone and brighten the skin. Research shows that ginseng can also fight off wrinkles because of its ability to boost collagen production.
Have you tried the YEOUTH Hyaluronic Acid Cream? Want to know more about our product? Indulge us in the comment section below!