The Magic of Retinol and The New YEOUTH Retinol Moisturizer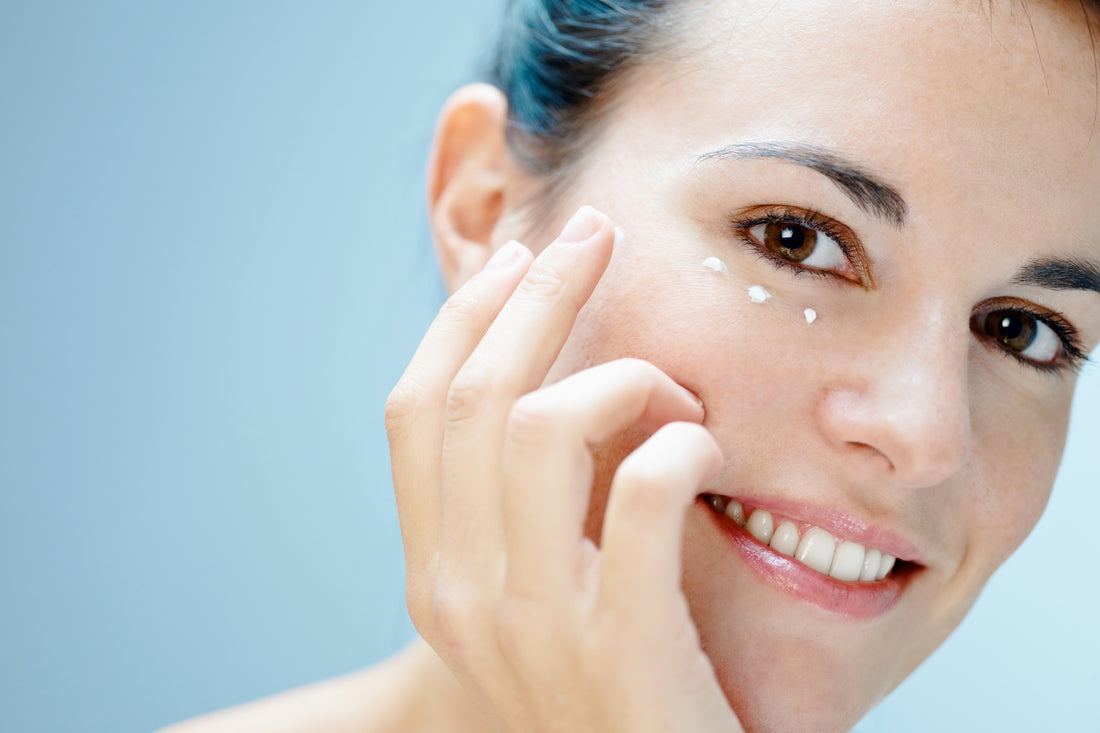 The superstar anti-aging ingredient that skin experts swear by 
We all want to maintain beautiful, healthy skin, but did we ever consider what we need to do to make an ageless appearance last into our golden years? 
Creams, moisturizers and serums that promise to turn back time come in myriads of formulations. However, if there is one thing that almost every expert agrees on, it's the effectiveness of one amazing, anti-aging ingredient.
If you have not yet incorporated retinol into your routine, keep reading to learn why experts place retinol on a pedestal and how to include this anti-aging, wrinkle-fighting skin transformer into your daily skin care regimen.
What is Retinol?
This miracle compound is a derivative of Vitamin A, a vitamin mostly known for keeping your eyes healthy. It is found in foods such as carrots, sweet potatoes, liver and some nuts.
Retinol in skincare promotes skin renewal and collagen production which helps to minimize the appearance of fine lines and wrinkles, improves uneven skin tone, visibly increases skin firmness, clears acne and so much more!
Retinol derived from these natural-products is specifically designed to be absorbed and taken in by your skin without causing any allergies. So even if you have allergies to certain foods like nuts, there is no need to worry about having to pull out that epipen whenever you need to do your daily skincare.
What Can Retinol Do For Your Skin?
Retinol has a multitude of benefits and the right product can seriously work wonders for your skin. Here are the top benefits of retinol.
Improves the appearance of fine lines and wrinkles
One of retinol's esteemed benefits is its wrinkle-fighting abilities. Retinol enhances the production of collagen and prevents it from breaking down which then results in a firmer, plumper and smoother complexion. This helps diminish the look of fine lines and wrinkles so that you appear more youthful and vibrant.
Rejuvenates the skin
As we age, our skin cells don't renew as quickly as they had once before. This causes dead skin cells to accumulate which results in dull skin.
Retinol speeds up the skin's regeneration cycle by gently exfoliating the skin to remove dead cells. It encourages new cell growth so that you have rejuvenated skin that is literally younger at a cellular level!
Lightens dark spots
Retinol also curbs melanin production. It helps reduce hyperpigmentation, such as sun spots or age spots, to reveal a brighter and more even skin tone.
It's also proven to stimulate the production of new blood vessels in the skin which helps improve your overall skin color.
Combats acne
Retinol can also fight acne by increasing the skin's ability to renew itself by increasing skin cell turnover. It exfoliates and unclogs pores to keep oil production balanced so that you experience less breakouts. 
Don't use too much though! A pea-sized amount is more than enough to keep blemishes away.
How Can I Add Retinol To My Skincare Routine?
Now that you know the many, wonderful benefits of retinol for your skin, let's dive in to learn which is best for your skin!
Even though it is great for all skin types, our skin still needs more than just retinol to have that healthy, vibrant glow which is why it's important to look for products that include other skin-benefitting ingredients in combination with retinol. 
Packed with wrinkle-fighting retinol, hydrating hyaluronic acid, nourishing ginseng and soothing green tea, YEOUTH Retinol Moisturizer is the ultimate cream your skin needs to fight the signs of aging!
With 40+ years of research in the skincare industry and the best quality of ingredients, this moisturizer will work together with your other skin care products to give your skin the TLC it deserves. 
Introducing our new YEOUTH Retinol Moisturizer! 
What Makes this Retinol Moisturizer So Amazing?
YEOUTH Retinol Moisturizer is formulated with the highest quality of ingredients that are ensured to keep your skin smoother, more vibrant, and younger looking.  
Let's dive into some of the ingredients included in this anti-aging moisturizer, AKA, your skin's new best friend! 
Retinol
Retinol is used in a large number of cosmetics because of how amazing it is at what it does at fighting the early signs of aging.
Retinol does this because it has a small molecular structure which allows it to penetrate deep into your skin and rejuvenate it from the inside out. It also works by boosting the skin's ability to create collagen — the agent that keeps your skin firm and elastic. 
As you age, your skin produces less and less collagen. So what better way to replenish your skin's collagen loss than by applying retinol to stimulate your skin's cells to produce more collagen.
With this, your skin will have improved elasticity and an improved appearance of wrinkles and fine lines.
Hyaluronic Acid
As we age our body produces less hyaluronic acid. This results in less water retention and increased wrinkles, fine lines and other blemishes.
This is why the topical application of hyaluronic acid is essential for maturing skin. The remarkable compound has the unique ability to retain moisture and plump wrinkles for a softer, more smoothed skin tone.  
Green Tea
Green tea contains some of the most powerful natural antioxidants. These key ingredients are vital for your skin's strength, suppleness and elasticity.
The antioxidants in green tea help with premature aging by healing damaged cells while combating free radicals. Free radicals accelerate the rate at which your skin ages, so combatting and neutralizing them is key! 
Green tea also helps ward off specific enzymes that are responsible for destroying valuable collagen and elastin. 
Caffeine

Caffeine helps reduce inflammation and redness when applied to the skin. The antioxidants in caffeine target free radicals just like green tea. Both help to defend the skin from damaging free radicals that prematurely age skin. Because of this, caffeine is widely used in anti-aging products and is frequently combined with retinol.
Ginseng
Ginseng is loaded with phytonutrients, which helps brighten and tone skin. In addition, ginseng is one of the best wrinkle-fighting ingredients due to its natural ability to improve collagen production, which naturally plumps and firms the skin.
It also helps to balance the oil on your skin, thus keeping the amount of oil your skin produces at a controlled and balanced state.
What Should I Know Before Using Retinol?
Before you start using the retinol moisturizer, there are a few things to know to get the most out of it.  
Your skin will need time to adjust
At first, your skin may become sensitive and irritated by the sudden introduction of retinol. This is something to be aware of but not discouraged by. 
As your skin cell turnover increases, so does sebum production and this can lead to blocked pores. If you have clear skin, you may not experience this at all. But it is important to note that as retinol penetrates the skin, you may experience a bit of skin purging. 
If you encounter a breakout after trying retinol, do not be discouraged! Continue using the product for a few more weeks to observe how your skin adjusts. Chances are the breakout will eventually subside and retinol will deliver on its claims for your skin.
Your skin may not like it at first but the vitamins and nourishment retinol is offering your skin will better it in the long run. Eventually, your skin will adjust to retinol's effects and the irritation will stop.
With continued use, you will experience dramatically visible results. You can say goodbye to blemishes and premature wrinkles, and hello to a clear, beautiful complexion. Just stick with it and do not let the mild irritation after the first few weeks of use keep you from reaching your goal of youthful skin.
Start off slow
To keep the irritation to a minimum, it is best to incorporate retinol into your routine every other evening.
As your skin gets used to it, you can start using it on a more regular nightly basis.
Retinol increases your sensitivity to sunlight
Retinol increases your sensitivity to sunlight causing your skin to be more prone to sunburn. You should be careful when you are outside in the sun.  Make sure to wear a moisturizer with at least a 30 SPF or higher. Another reason why you should not go out into the sun when using retinol is because it will lose its effectiveness.  When exposed to open sunlight, retinol oxidizes and becomes less effective.
This is why the best time to use retinol is during the night, when there isn't any sunlight and when your skin will have enough time to absorb its benefits before daybreak. Your skin naturally heals and repairs itself best overnight which is another reason why usage at night is most beneficial. 
Keep your bottle out of sunlight
It's not just you that needs to stay out of the sun when using retinol. You should also keep your container of retinol out of the sun too!
Why? Because vitamin A derivative compounds, like retinol and retinoic acid, break down when placed in open sunlight and open air. Exposing it to the sun will make it less effective once you put it on your skin. So keep that retinol in a cool, dark place such as your cupboard, a cabinet or even in its box to keep it out of the sun's reach.
Frequently Asked Questions:
How often should the YEOUTH Retinol Moisturizer be used?
Only use this product at night. Note that this product should not replace your Day/Night Cream or L22 Moisturizer. Retinol in itself can be quite drying for some skin types so layering your favorite YEOUTH Moisturizer can help you achieve the best results without overdrying your skin. 
Is this moisturizer only for dry skin?
All skin types require moisture and hydration in the skin to prevent fine lines, wrinkles and even acne. Moreover, the skin loses its ability to produce and retain moisture as we age, so incorporating a topical product that penetrates and locks moisture into the skin's barrier is necessary. 
I have sensitive skin. Can I still use this product?
This product's formulation is created by the best skin experts. The retinol used is microencapsulated which means that the retinol will release slowly into the skin, therefore making it gentle to the skin and less susceptible to irritation. This allows the retinol to be more effective and to penetrate the skin at a multi-level. 
Can I use this along with YEOUTH Retinol Serum and Retinol Eye Cream?
We DO NOT recommend using both YEOUTH Retinol serum and YEOUTH Retinol Moisturizer at the same time. Using too much retinol in your regimen can be too harsh and irritating for your skin.
Use the YEOUTH Retinol Moisturizer for your face and the YEOUTH Retinol Eye Cream for your eyes OR use YEOUTH Retinol Serum for your face and YEOUTH Retinol Eye Cream for your eyes. DO NOT use the serum and moisturizer together to avoid skin irritation.
If you find that retinol serums are too drying, or you prefer this superstar ingredient in a hydrating cream form, give YEOUTH Retinol Moisturizer a try! 
How does this product help if I have acne?
Retinol, which is the key ingredient in this YEOUTH moisturizer, works by increasing cell turnover by gently exfoliating the skin. This helps reduce excess oil production that clogs pores. By keeping the pores clear, retinol helps to reduce inflammation and inhibits the growth of acne-causing bacteria. 
Start taking care of your skin right away,
don't wait until it's too late!
Get your own Retinol Moisturizer at 40% off
Leave a comment to get your DISCOUNT CODE
What benefits are you looking for in a moisturizer? Have you ever tried Retinol in your moisturizer? Share your thoughts with us in the comments!