YEOUTH, Anti-Aging Skincare Manufacturer Partners with Prominent Global Marketer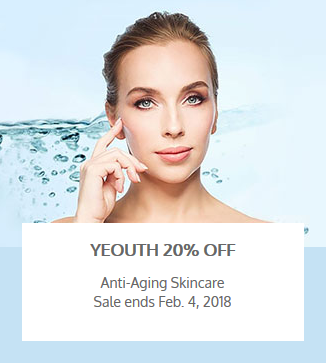 Manufacturer and marketer of prestige anti-aging skincare products, YEOUTH, a division of KevGo Brands, LLC and online global marketer, YesStyle.com LTD have announced a strategic partnership going forward.
The partnership will the encompass beauty and anti-aging skincare products global market which is growing rapidly and is monopolized by a few large players. The newly formed partnership creates new opportunities for each company to compete for a larger market share which will have the benefit of increased revenue growth.
In the near future, customers of both companies can expect affordably priced superior beauty and anti-aging skincare products, quick order fulfillment with free shipping for orders of $35 and above, and the most pleasant customer experience with 100% satisfaction guaranteed.
For the roll out week of January 29th, YesStyle.com is also giving 20% off all YEOUTH skincare products which include: Retinol 2.5% Serum with Hyaluronic Acid, Vitamin E and Aloe Vera; Day/Night Moisturizer with Snail Extract, Hyaluronic Acid, Green Tea, & Peptides; and Hyaluronic Acid Plus with Vitamin C and Tripeptide 31 for Night.
As part of a long-term strategy, the two companies hope to make the highest quality beauty and anti-aging skincare products available to women around the globe regardless of their income level. When asked about the new joint venture, Kevin Mallory from YEOUTH, a division of KevGo Brands, LLC said, "Beauty and skincare products made with the highest quality medical grade ingredients can help a woman to feel more confident in her daily regimen. Great ingredients make the difference between success and failure when it comes to recapturing beautiful, clear, and younger looking skin. With YesStyle.com, it is our mission to make make available the most pure and natural skincare products to women around the globe. Tom's passion and commitment to this mission have been an inspiration to everyone at YEOUTH, and we feel that together we can accomplish great things".
Tom Larsen of YesStyle.com LTD is also excited about the venture, saying "YesStyle.com carefully selects our partners for uniqueness, consistency and for reputation. Partnering with KevGo Brands will allow us to provide our global customers with prestige level anti-aging skincare and beauty products. We love the fact that Kevin, an expert chemist, first scientifically formulated YEOUTH products at the request of his wife Gabrielle. His products meet the real needs of our women customers and are made with his unmatched commitment to quality. It is with great pleasure and excitement we welcome the complete line of YEOUTH products onto YesStyle.com".
About YEOUTH, a division of KevGo Brands, LLC and YesStyle.com LTD
YEOUTH, a division of KevGo Brands, LLC was founded in 1990 and serves the Fine Health and Beauty Products industry. YesStyle.com LTD was founded in 2006 and serves the Lifestyle Products industry.