WINTER SKIN CARE TIPS FOR ITCHY, RED AND FLAKY DRY SKIN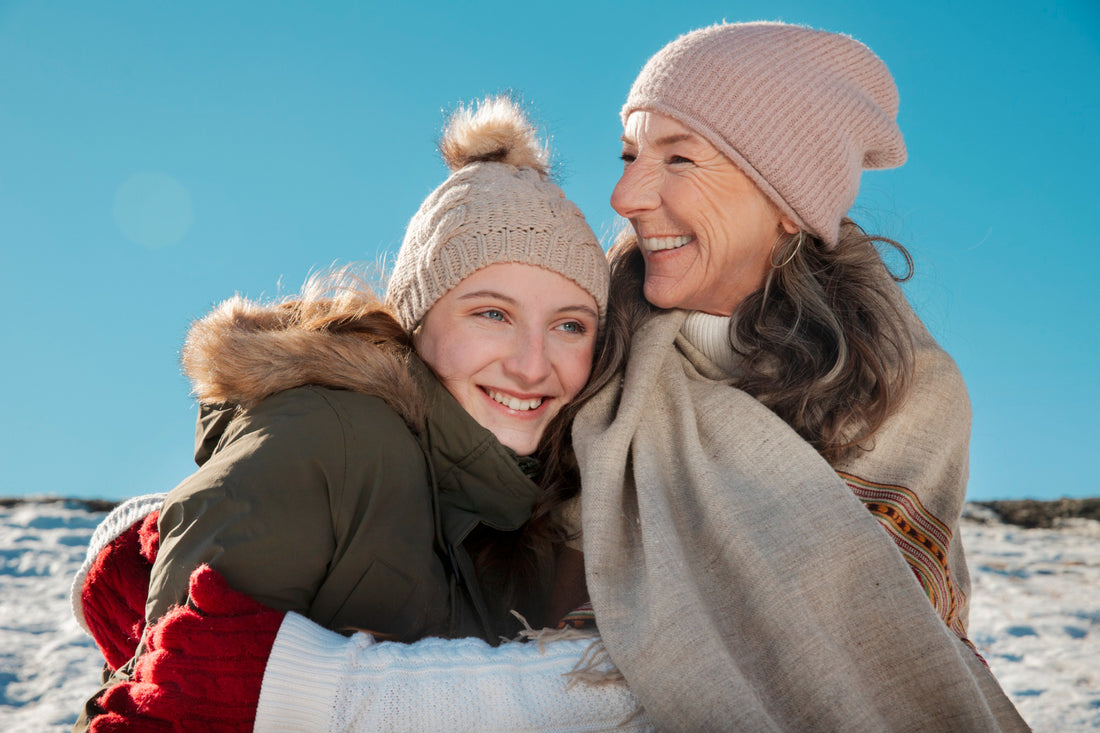 Cold weather always equates to dry skin.  Like it or not, the winter season can be really harsh on our skin, especially if we do not take the necessary skincare remedies and precautions of protection that our skin needs.
DRY SKIN AND WHY WE EXPERIENCE IT IN WINTER 
Our skin's natural oils play a very significant role in trapping humidity and moisture in our skin. This process creates a means of hydration, and the development of a protective barrier for the skin. 
When there is a significant decrease of our skin's natural oils or sebum, our skin barrier becomes weak, and we experience dry skin!
The weakening of the skin barrier and dry skin is also caused by a lot of different factors that includes: 
Genes, skin type

Overcleansing, over exfoliating 

Using harsh products or skincare ingredients 

Exposure to dry indoor air during winter 

Medical conditions, medicines 

Taking hot showers 

Unhealthy habits and lifestyle, like not drinking enough water

Not moisturizing enough and not doing it regularly 
During winter, a variety of environmental conditions come together to create havoc on our skin!
Low humidity outdoors makes us spend a lot of time indoors where the skin is exposed to forced air heating systems.  This causes unwanted dryness. Also, our skin is not exposed to a lot of sunlight in winter, the source of Vitamin D that our skin needs!  
The symptoms of dry skin in winter generally include flakiness, redness, and itching.  Others with more sensitive skin may even experience cracked skin and bleeding! 
You deserve to confidently enjoy the rest of the winter months with healthy, glowing and YEOUTHful skin so learn how to treat and prevent dry winter skin now! 
6 TIPS TO TREAT PREVENT AND TREAT DRY SKIN IN WINTER
1. Avoid staying in the shower for too long 
Long hot showers are one of the things we love and need to do in winter, but what we should not learn to love is the damage it does to our skin after!  Hot water dries out the natural oils in our skin.  
The warmer the water, the drier our skin becomes!  The longer we stay under a hot shower, the drier the skin will be!  A 5-10 minute-shower with warm water is ideal in winter.  Showering every other day, especially if we do not engage in physical activities that make us sweat a lot can also help prevent skin dryness.
We have to protect and maintain the natural oils or sebum we have in our skin in winter, this will keep our skin soft, moist and supple. 
2. Moisturize properly and as much as your skin needs 
The condition of the skin is very important when we moisturize.  The skin has to be damp because the function of a moisturizer is to trap and lock moisture in.  If skin is dry when we apply our moisturizer, there is really no moisture to hold so moisturizing becomes ineffective. 
Apply your moisturizers immediately after showering, or after cleansing, toning and applying your serums during your skin regimen.  If we fail to moisturize right away, the skin becomes vulnerable to further dryness and dehydration. 
Keep your moisturizer at hand every time you cleanse so you can apply it generously to protect the skin's moisture barrier and prevent dry skin! 
OUR PICK:  Day/Night Cream with Tripeptides, Hyaluronic Acid, Snail Extract and Green Tea ($24.95)
Perfect for winter weather!  Our YEOUTH Day/Night Cream is lightweight for daytime and nourishing enough to repair skin overnight.  This cream provides optimal hydration for the skin to repair itself and restore natural vibrance with every application. Watch the appearance of fine lines, wrinkles, hyperpigmentation, and scars fade with regular use. 
3. Tweak your skincare routine to adapt to the winter weather 
What may have worked for your skin during the past seasons may not necessarily be the best choices this winter season.  For example, a wrong cleansing product can probably make your dry skin worse! 
There are also a lot of skincare products containing fragrance and other harsh, irritating ingredients that could be aggravating your skin further. These products and ingredients can actually be extremely drying for the skin because of the alcohol content!  
Try to avoid harsh irritating masks, astringent lotions and skincare products that contain alcohol because these can further dry out your skin.  Also, remember that the more fragrant a product is, the more likely it will cause irritation!
Use mild products instead -  antioxidants, Hyaluronic Acid and peptides are some of the ingredients that can help maintain the moisture barrier of the skin. Make sure that you are using a gentle and fragrance-free cleanser that nourishes the skin! 
Read our blog: The 9 Basic Rules of Washing Your Face 
OUR PICK: Vitamin C Facial Cleanser with Aloe Vera, Green Tea & Seaweed ($21.29)
Double up on your toner / face mist for needed hydration 
Face mists and toners are not only useful in summer, but during the colder months too.  Spritz your facial mist whenever the skin feels dry, it will help soothe, refresh and replace the lost moisture from the skin!
OUR PICK: Balancing Facial Toner with Chamomile extracts ($17.49)
Your winter essentials!   Our Vitamin C Facial Cleanser is a powerhouse skin ingredient known to smooth fine lines, brighten and smooth the skin. It is packed full of antioxidants like Aloe, Green Tea and Seaweed to nourish and cleanse the skin to remove impurities and excess oil while also fighting to defend skin health and give your complexion a bright, healthy-looking glow. 
Our Balancing Facial Toner balances the skin's pH levels after cleansing to prepare it for better absorption of serums and moisturizers, making it an optimal addition to all anti-aging skin regimens.  
Our YEOUTH Dead Sea Mud Mask detoxifies the complexion by drawing out toxins and impurities trapped deep in the skin's pores. Combined with nourishing vitamins and minerals like Hyaluronic Acid, Aloe, Oatmeal and Avocado oil to moisturize, soothe and balance the skin. 
Read ingredient labels carefully
Some of the skincare ingredients we use can be irritating to the skin in winter. These include acne medications that contain Benzoyl Peroxide and exfoliating ingredients like Glycolic and Salicylic Acid, as well as Retinol.  
Use these ingredients less frequently during winter to avoid experiencing the uncomfortable signs of having dry skin!  Better yet, use acne treatments that do not irritate, but fully nourish the skin while cleaning your pores and reducing the development of acne.
OUR PICK: Dead Sea Mud Mask with Hyaluronic Acid, Aloe Vera, Colloidal Oatmeal and Avocado Oil ($21.99) 
Exfoliate but do not over exfoliate
Over-exfoliating can dry out the oils of the skin and this can be damaging.  It can leave the skin extremely dry, itchy, flaky and irritated!  If you feel and see your skin with signs of irritation when you exfoliate in winter, lessen the number of times you exfoliate.  You can go back to your normal frequency when warmer conditions permit! 
OUR PICKS: 
Retinol Serum with Hyaluronic Acid, Vitamin E & Aloe Vera ($21.95)
Glycolic Acid 30% Gel Peel with Retinol and Green Tea ($27.49)
Salicylic Acid 20% Gel Peel with Tea Tree Oil and Green Tea ($27.49)
Our exfoliators are formulated to be gentle to the skin so perfect for any season!  
4. Lower indoor temps and use a humidifier
Heating systems are one of the major causes of dry and dehydrated skin during the winter months.  Increasing the heat indoors will dry out the air, and dry out the moisture of our skin too! This results in itching, flaking and tightness, it can even lead to flare-up of skin conditions like eczema and acne.
One of the solutions to this problem is to dress up warmly when indoors.  By doing this, you can lower your thermostat to a cooler level where moisture in the air and in your skin can be maintained! 
Using a humidifier in your bedroom while you sleep can also help reduce the damaging effects of dry air that is circulating.  Add essential oils to your humidifier to enjoy added moisture, and calming and rejuvenating effects too! 
OUR PICK: 
Essential Oils Set of 6 ($21.99)
5. Wear comfortable clothing 
Aside from wearing protective gear when outdoors in the cold and in the snow, it is also important to wear comfortable and non-irritating fabrics that embrace your skin to avoid aggravating dry skin.
Wear soft materials like cotton or silk first before layering on your heavier garments 

If your clothing becomes wet because of rain or snow, remove as soon as you can to avoid skin irritation 

Wear  UV protected sunglasses when out in the snow to minimize glare that can damage the delicate skin around the eyes
6. Eat right and stay hydrated 
We must do our best to stay hydrated during winter because it is when our skin needs it the most.  Make sure to drink at least 8 cups of water, and indulge in foods with high water content like oranges, kiwi, tomatoes, cucumbers, carrots, fatty fishes and flaxseed to keep skin healthy and moisturized!
Read our blog: Hydrate Your Skin with these Superfoods 
THE TAKEAWAY
The winter season can bring a lot of unwanted damage and premature aging to our skin.  But the good news is - there are always steps that we can take to save and enjoy our YEOUTH no matter the weather and season.  All it takes is just a little patience, true self-care, and the power of YEOUTH!  
Anti-Aging Moisturizer L22 with Shea Butter, Jojoba and Macadamia Seed Oil ($21.99)
Your winter weather must-have!  
Our Anti-Aging Moisturizer L-22 is formulated with our patented L22 Lipid Complex Technology that visibly improves the skin's barrier by not only protecting it, but helping skin repair itself by holding moisture in. Combined with a natural blend of Shea Butter, Jojoba & Macadamia Seed Oil that will surely provide superior skin hydration and help visibly improve the appearance of fine lines, wrinkles, firmness and elasticity!
How is your skin doing during these cold times?  We have lots to tell you to make your skin YEOUTHful even when under the weather!  Click us in the comments below!