WHAT YOU SHOULD BE DOING TO YOUR SKIN IN YOUR 30S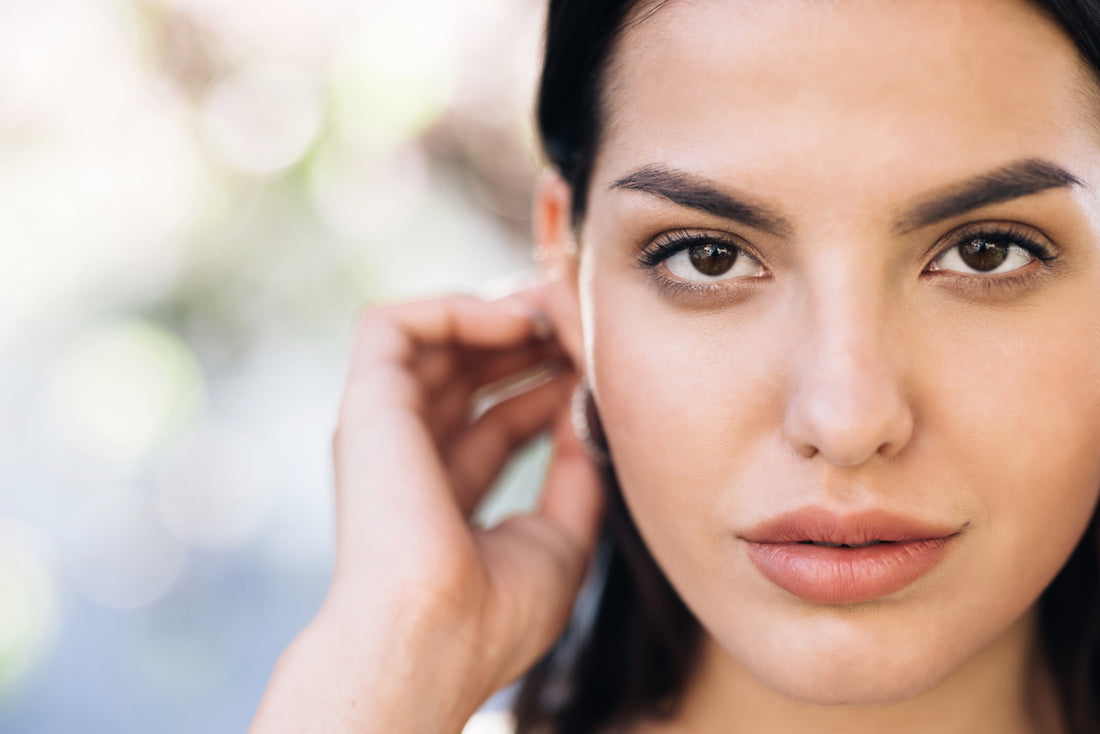 If you are in your 30s, you are probably noticing signs of aging that you may have not noticed before. Wrinkles in your forehead, lines in your eye area, and dark spots that won't fade away but are only becoming darker!  You are probably also wondering why you often have breakouts when your skin seems to be drier than usual. 
It is time to face the truth that you are now in your 30s, and face the changes that are happening to your skin!
THE CHANGES TO YOUR SKIN  IN YOUR 30s
As we age, the important elements that make our skin young looking - collagen and elastin start to wane down. This results in signs of skin aging like wrinkles and fine lines becoming more defined and difficult to shoo away! 
It is also during our 30s when major hormonal changes occur.  Female reproductive hormones start to level off during these times which lead to a lot of undesirable skin conditions.  
But we can do something to fight signs of aging that show up in our 30s. Thanks to dermatological science and a personal commitment on your part to do all the things good for your skin!  
Here are all the things that you should be doing now, and the products and ingredients your skincare routine should include so you can celebrate your YEOUTH in your 30s!
1. SUNSCREEN, SUNSCREEN, SUNSCREEN 
Unprotected and prolonged exposure to the harmful UV rays of the sun results in unwanted damage to the skin like premature skin aging!  If you have not been using sunscreen because you wanted those tans when you were younger, the skin damage that has accumulated will now become visible and undeniable in your 30s.  
It is high time to consider skin protection by wearing your sunscreen everyday, and not just on your face but on all parts of your body highly exposed to the sun like your neck and chest area. 
Apply your SPF after your moisturizer in the morning, and before putting on makeup. 
2. NO MORE WIPES 
If you are still using face wipes to remove dirt, oil and makeup, then please stop! As you are now in your 30s, your skin is not that resilient anymore.  It is now more delicate because it no longer has the nutrients it naturally had when you were younger.  
Wipes can now be irritating and abrasive for your skin.  They can disrupt your skin's natural Ph  and barrier which will make you more prone to dryness and other forms of skin irritation.  It should also be considered that wipes are not environmentally-friendly! 
Instead of using wipes, properly wash your face with nourishing cleansers twice a day.  This is now the more efficient way to remove the grime, oil and dirt that accumulate on your skin.  
OUR PICK: VITAMIN C FACIAL CLEANSER with Aloe Vera, Green Tea & Seaweed ($18.95)
Stay lovely with our YEOUTH Vitamin C Facial Cleanser, a powerhouse skin ingredient known to smoothen fine lines, brighten and strengthen the skin! 
3. START USING ANTI AGING PRODUCTS AND INVEST IN SERUMS
Serums will now become the full on highlight of your skincare routine.  They are the best products that can effectively target your skincare concerns now that your skin is showing visible signs of aging.  Serums are carefully formulated and are made up of small molecules that can penetrate deep into the various layers of the skin to deliver nutrients and repair.  
Intensify and level up on your serum use!  Your 30s should be the time to seriously include anti aging products and ingredients into your skin regimen.  
Serums will help intensify the strength and effectiveness of your skin regimen at any age.  They will complete and round out all the ingredients that you use. Having a serum in your skincare routine will make you achieve your skincare goals, whether it is anti-aging, lightening or hydration! 
Read our blog: Serums and their Miraculous Skin Benefits 
Try these amazing YEOUTH in a bottle!
RETINOL SERUM with Hyaluronic Acid, Vitamin E & Aloe Vera ($19.95)
HYALURONIC ACID PLUS SERUM with Tripeptide-31 and Vitamin C ($29.95)
NIACINAMIDE SERUM with Hyaluronic Acid, Licorice Root extracts and Aloe Vera ($16.95
YEOUTH in a bottle! 
Our Retinol Serum  is a powerful wrinkle-fighting serum that delivers dramatically visible results while hydrating and brightening the skin at the same time.  
Our newest formulation Niacinamide Serum works to achieve healthy skin hydration for a complexion that is smooth, poreless, soft & dewy!  
YEOUTH Hyaluronic Acid Plus Serum  has Vitamin C to brighten the skin for a radiant appearance. Tripeptide 31 for a gentle tightening-like effect on the skin. This trio of power ingredients works collectively to deliver a visibly healthier, beautiful complexion! 
4. YOUR EYE AREA IS VIP
Skin in the eye area is very thin, delicate and sensitive.  It is most prone to skin aging because it is where collagen deteriorates the most rapidly!  This makes it highly vulnerable to sagging, dryness, lines, puffiness, hyperpigmentation and wrinkles. Crow's feet will now become one of your major skin concerns in your 30s! 
Make eye creams and gels an essential part of your skin regimen in your 30s.  You need to supply sufficient hydration and moisture to control and treat signs of aging that are developing fast.  
Your eyes are the windows to your age, so do not ever give the impression that you are many years older by having an aging eye area! .
Refresh your eye area with these specialized eye formulations:
RADIANCE EYE GEL with Tripeptides and Hyaluronic Acid ($24.95)
RETINOL EYE CREAM with Hyaluronic Acid and Tripeptide Complex ($18.95)
Our YEOUTH Retinol Eye Cream deeply penetrates the delicate skin around the eyes to visibly improve the appearance of fine lines and wrinkles. You will notice a visible improvement in the appearance around your eyes!
5. SKIN IN YOUR NECK, CHEST AND SHOULDERS MATTER
The skin on our neck and décolletage have fewer sebaceous glands than our face.  They are also highly exposed to sun and environment, and a neglected part of our body when it comes to skincare.  Thus, they are also most prone to dryness, irritation, and premature skin aging. 
Brown spots, sagging, crepey skin and visible lines are the problems you have to deal with in your neck and décolletage especially in your 30s.  And these only become worse as you age if you do not give this area the TLC it needs! 
Always remember to treat your neck the same as the skin on your face.  Cleanse all the way down and apply your toner, serums and moisturizer to skin on your neck, chest and shoulders.  Give the neck and chest proper treatment with specialized skincare products!
OUR PICK: NECK FIRMING CREAM with Green Tea and Vitamin C ($25.95)
Read our blog: Skincare Tips for a Youthful Décolletage 
6. EXFOLIATE AND WEAR YOUR MASK
If you have not been exfoliating or masking up regularly the past few years because you feel your skin does not need it, the 30s are when your skin needs it the most. Exfoliating and applying masks regularly and making them part of your skin regimen ensures that skin is rejuvenated and nutrients are efficiently infused into your skin.  
When masking, you can experience instant change as your pores tighten revealing a softer and smoother complexion after.  They can help remove skin impurities that are stuck in your pores and are making your skin dull, rough and dry, all these while feeding the nutrients that skin needs. 
Exfoliation helps your skin to shed off more dead skin cells to give way for newer and healthier skin cells to thrive. This will make your pores more tightened, healthier, and skin will exude a radiant and firmer appearance. 
Experience the power of YEOUTH with these detoxifying and exfoliating products! 
Dead Sea Mud Mask with Hyaluronic Acid, Aloe Vera, Colloidal Oatmeal and Avocado Oil ($18.95) 
Glycolic Acid 30% Gel Peel with Retinol and Green Tea ($24.95)
Salicylic Acid 20% Gel Peel with Tea Tree Oil and Green Tea ($24.95)
7. SLEEP WELL AND EAT HEALTHY 
Your 30s are the time when you are busiest in your career, family or just living the single life candidly.  You lack sleep, engage in a lot of stressful activities, and you are probably not eating healthy all the time!  It is a time when the aging process is hastened because of all the stress and other unhealthy bodily and skin habits.    
When we sleep, our skin naturally purifies itself.  Try to always get that full 8 hours of sleep!
A proper diet and a generous intake of water and fluids into the body will also give the skin the nutrients and hydration it needs from within.  Start doing this in your 30s, if you are not doing it yet, and make it a part of your lifestyle as you roar into your 40s and beyond! Make supplements a staple in your daily habits too! 
Pro tip: Use skincare products that are loaded with antioxidants such as vitamins C and E to help eliminate free radicals.  Remember that antioxidants are the warriors that kill off free radicals! 
Read our blog:  4 Key Nutrients for Healthy Skin 
Nourish your skin from within with our amazing Supplements!
Regenotin Advanced Collagen Generator 60 capsules ($51.95)
THE TAKEAWAY
Once we reach our 30s, the bodily systems that make our skin young and vibrant deteriorate significantly.  It is a crucial time to pay attention to our skin and give it the proper care and nutrients that it needs.  
We can change our habits and intensify our skin care so we can give our skin the proper love and care it should have during this time.  We can certainly embrace our YEOUTH and truly experience the power of YEOUTH even in our 30s!
Anti-Aging System Thirties ($94.95)
Our YEOUTH
Anti-Aging System Thirties
is a carefully-curated set with 6 high-quality anti-aging products and powerful serums that will help actively prevent the appearance of wrinkles, roughness, & age spots in your thirties!
Are you in your 30s?  What are the signs of skin aging you are now experiencing?  Let's talk and we'll show you what your skin needs during this important time of your life!