WHAT BLEMISHES ARE AND HOW TO TREAT THEM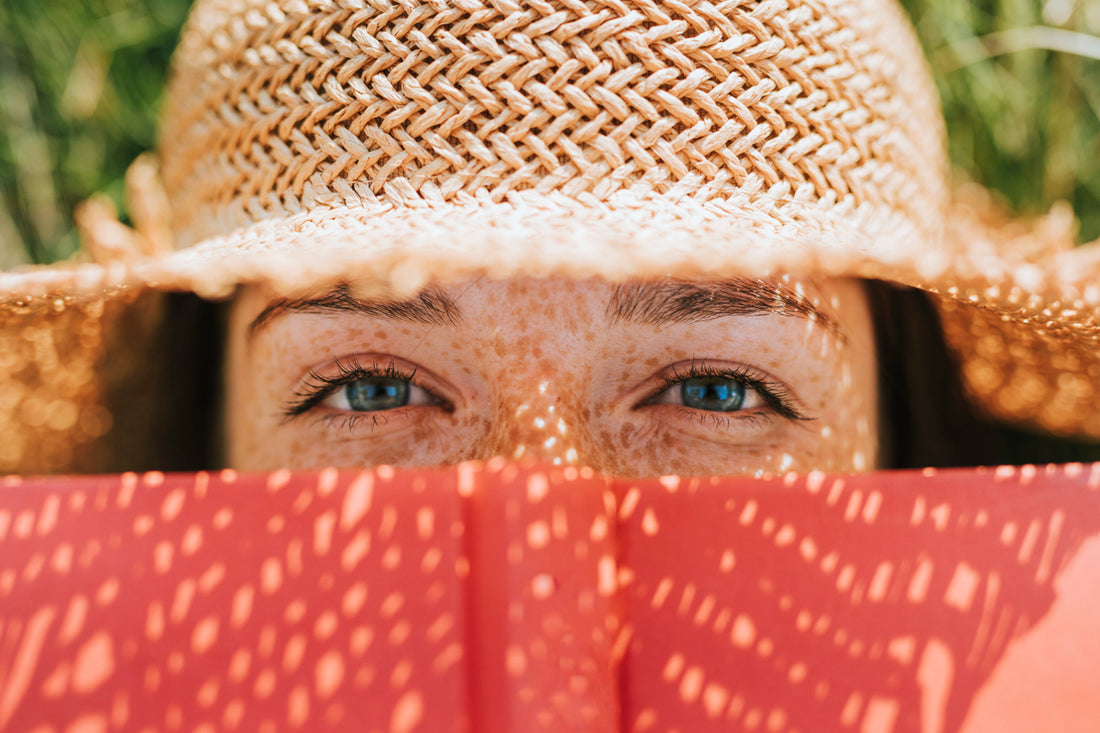 BLEMISHES ARE THE IMPERFECTIONS WE HAVE ON OUR SKIN. TO NAME A FEW - ACNE, MELASMA, SCARS, BIRTHMARKS AND SO ON CAN ALL BE CATEGORIZED AS "BLEMISHES."

THEY CAN BE IRRITATING AND OFTEN UPSETTING. WHEN OUR SKIN IS ACTING UP, IT CAN BE REALLY  DISTRESSING! THE GOOD NEWS IS THAT MOST OF THE TIME, WHATEVER IS CAUSING OUR SKIN IMPERFECTIONS CAN ACTUALLY BE CONTROLLED AND THE REMEDIES ARE QUITE SIMPLE!
WHAT ARE BLEMISHES
Blemishes are often thought to be the different types and forms of acne that develop on the skin. However, blemishes can also be described as spots, discolorations, marks or any other flaw or imperfection for that matter, that appear on the skin.

TYPES OF SKIN BLEMISHES
1. ACNE
Pimples

Whiteheads

Blackheads
Acne can appear as pimples, whiteheads or blackheads. It can leave discolorations and scars in the skin that can also be considered blemishes. Acne develops when the pores become clogged with dead skin cells, excess oil, dirt, make up, toxic materials and where bacteria may begin to thrive.
Hormones, stress, bad skin and health habits, lifestyle, unhealthy diet, medications and the use of bad skincare products may all cause the development of acne.
TREATMENT
Unclogging the pores is the key to treating acne. Anything and everything that the pores do not need should be sloughed away to make way for cleaner, healthier and clearer skin.
The following are the various skincare treatments that we can do to exfoliate skin and safely and effectively unclog pores to prevent and treat acne:
OUR PICK: Glycolic Acid 30% Gel Peel. A gentle, yet highly effective at-home treatment. Glycolic is known to be a great treatment for those with sensitive skin. Gentle yet very effective when used properly!
The use of

SALICYLIC ACID

in skincare is a highly recommended treatment to effectively treat acne because of its minimal side effects. It does not cause excessive dryness or flaking.
OUR PICKS: YEOUTH Acne Skin System featuring our ultimate acne fighter Salicylic Acid 20% Gel Peel and our YEOUTH Blackheads Buster Bundle that helps boost skin clarity by cleansing away pore-clogging dirt and blemish-causing bacteria while leaving skin healthy and hydrated!
Our YEOUTH Acne Skin System features our ultimate acne fighter Salicylic Acid 20% Gel Peel! This Acne System consists of professionally-curated products infused with potent ingredients that specially targets acne and blemishes to give you a clearer and glowing complexion. Expect an acne-free and yeouthfully glowing complexion with the help of these 7 products!
The use of

RETINOL

is also a gentle way to exfoliate dead skin cells. It can help unclog pores from dirt and excess oil. Retinol can be used in the form of

serums, moisturizers

and even cleansers.
OUR PICK: YEOUTH Retinol Serum with Hyaluronic Acid, Vitamin E and Aloe Vera
Using a

DETOXIFYING MASK

is a great addition to your skincare routine because it can help remove impurities and absorb excess oil or sebum in the skin. Masks can immediately detoxify and deeply penetrate the skin to rid it of impurities like dirt, excess oil and dead skin that may otherwise cause acne and blackheads.

OUR PICK: Dead Sea Mud Mask with Hyaluronic Acid, Aloe, Colloidal Oatmeal and Avocado Oil
Use non-comedogenic products and remove makeup before heading off to sleep! Choose your skincare products and makeup carefully to avoid clogging pores and other skin damage. Avoid synthetic skincare ingredients and others that contain ingredients like alcohol, fragrance or menthol. Use only skin-friendly products and makeup to keep skin healthy!
Age Spots / Liver Spots

Melasma

Freckles
Hyperpigmentation occurs with the development of dark patches under the skin surface. It is a common skin condition brought about by the over production of melanin in the skin resulting in uneven skin tone and dark patches.
Melanin is a pigment that protects the skin. This pigment works to darken the skin to protect it from damage caused by ultraviolet rays. It may give a great base tan for sun lovers, but it can also produce unwanted dark spots and patches that vary in sizes and may lead to skin cancer!
Aside from sun exposure, hyperpigmentation is also caused by other various factors such as hormones, age, skin type, acne scars, genes and pollution. Hyperpigmentation comes in the form of age spots, melasma and even freckles.
AGE SPOTS / LIVER SPOTS
Age spots are also known as liver spots, sunspots or solar lentigines. These small and brown pigment spots are the most common types of hyperpigmentation or skin discoloration. Age spots come naturally with age, especially in adults 50 years old and above. However, younger people can also have them if they are constantly exposed to the sun and to pollutants present in the air and atmosphere.
These spots are generally caused by sun damage which is why they are visible in areas of the skin and body that are always exposed to the sun like the face, shoulders, chest area and the back of the hands.
MELASMA

Melasma is light to dark brown benign patches that develop in the skin. They are also more visible in the face and chest area. Melasma may be caused by genes, hormonal changes that can trigger the overproduction of melanin and result in skin darkening, and sun damage from overexposure to UV rays.
According to recent studies, pollution is also found to produce melasma. It was discovered that the occurrence of melasma has increased in polluted countries like China, India and the United States.
Melasma is significantly more common during pregnancy, and with birth control use when there are various hormonal imbalances that occur.
FRECKLES
Freckles are tan colored or brown spots that usually develop in clusters on our skin. They are flat and are harmless pigmentations common in the face, chest area and on the arms. Freckles may be genetic in nature but are triggered and generally caused by sun overexposure. These also develop in people who have light colored skin because of the melanin type they produce.
TREATMENTS
Exfoliation

and the use of

Retinol

are both effective treatments to diminish the appearance of any forms of hyperpigmentation. Retinol is derived from Vitamin A and is a common ingredient prescribed in treating hyperpigmentation. It effectively promotes cell turnover by exfoliating the outer layer of the skin to encourage a healthier and brighter complexion!
Wear

sunscreen

whenever you are outdoors! Also, do not forget to wear protective clothing and any other form of shade that will protect your face, neck, chest area and arms from harmful UV rays.
Anything with

Vitamin C

!

Vitamin C is an extraordinary

antioxidant

that can effectively support and strengthen the skin against sun damage. It helps control melanin production in the skin, thus, it is considered a super ingredient that can help fade away dark spots to lighten and brighten skin!
OUR PICK: Vitamin C&E Serum with Hyaluronic Acid
Our YEOUTH Vitamin C&E Serum with Hyaluronic Acid promises to enhance the appearance of skin tone while quenching dry, thirsty skin! The medical grade Vitamin C will surely brighten and help fade the appearance of hyperpigmentation and dark spots to achieve a radiant and Yeouthful glow! Vitamin E helps protect the skin from future damage and Hyaluronic Acid deeply penetrates the skin to restore hydration and suppleness.
Prescription creams that contain

hydroquinone

also help lighten age spots, acne scarring, and melasma by slowing down the production of melanin.


3. BIRTHMARKS
Birthmarks are skin conditions or abnormalities that are present since birth. They are harmless and differ in shapes, sizes, appearance and colors. While some birthmarks last for a lifetime like moles, other birthmarks like hemangiomas may fade overtime.
Vascular birthmarks are those that are made up of blood vessels that have not formed correctly. These birthmarks can be treated with laser surgery.
Pigmented birthmarks, on the other hand, are made up of clusters of pigment cells which cause color in skin.
Birthmarks don't seem to need treatments because they are harmless. They can even be considered your unique feature that sets you apart from others!
4. SCARS

Scars in the skin occur and appear when the dermis is damaged.  Wounds and popped acne or pimples can cause scarring.  Scars heal naturally or with topical treatments.  Some abrasive and surgical treatments can also cover up scars.
5. BLEMISHES CAUSED BY UNDERLYING MEDICAL CONDITIONS
Papules.

These are small skin lesions which are around 1 cm. in diameter.  Examples are rashes caused by chickenpox, eczema and dermatitis.

Nodules. Nodules are tissue that is about 1 to 2 cm. in diameter and are harder than papules.  Examples are warts and skin tags.
Pustules

. These are small bumps filled with fluid or pus.  Blisters and whiteheads are some examples of pustules. 

Skin cancer

that include basal cell carcinoma, squamous cell carcinoma and malignant melanoma. These differ in colors and textures and some may appear like moles, while others appear as red or yellow bumps. Consult a doctor to determine if your skin blemishes are actually skin cancer. 

Cysts. These are round shaped sacs that usually contain fluid and appear in various sizes.  Cysts can either be on the surface of the skin or beneath the skin surface. 

Cold sores

caused by

herpes simplex virus

.  These are blisters filled with fluid and occur in the mouth area.  

Rashes are characterized by sudden and or extreme changes in skin color and texture.  Rashes may be caused by allergies, seasonal changes, bacterial infections, insect bites or medications. 

Ingrown hairs are those that develop back into the skin, appear to be trapped and result in the formation of red bumps on the skin.
These skin blemishes are best treated medically. To determine the factors and proper treatments of blemishes that may be related to underlying medical conditions, consult a doctor and or dermatological expert. It is also important to seek medical advice to make sure that your blemishes are not skin cancer. 
THE TAKEAWAY

The following are the simple remedies we can all do to help treat our skin blemishes: 
Eat healthy

and adapt a

proper diet

to nourish your body and skin.  Exercise regularly to develop your immunity and flush out toxins present in the skin;

Get lots of sleep

and do your best to

avoid stress

;  

Follow a

proper skincare routine

and use only safe and tested products that protect the skin! And say bye bye to bad skincare habits; 

Stay out of the sun and avoid long and extreme sun exposure! The sun is our worst enemy if we are serious about skin care. UV exposure is the root cause of premature skin aging which includes wrinkles and all forms of skin discoloration;

Lastly, remember that Vitamin C is an essential weapon available to us to combat sun damage.  So load up on skin products that contain Vitamin C to achieve that bright and everlasting

Yeouthful

glow! 
Vitamin C Facial Cleanser with Aloe Vera, Green Tea and Seaweed   ( $18.95 )


Our YEOUTH Vitamin C Facial Cleanser is a gentle cleanser to remove skin impurities and rid the pores of excess oil. It will definitely help reveal a cleaner and brighter skin tone without stripping the skin's moisture level.  It will minimize and lighten the appearance of dark spots, blemishes and discoloration to help you achieve a Yeouthful, radiant glow!
DO YOU HAVE A BLEMISH STORY YOU WISH TO SHARE?  THERE IS A TREATMENT THAT CAN ADDRESS YOUR BLEMISH FROM OUR FOUNTAIN OF YEOUTHFUL SKINCARE PRODUCTS!  WE CAN TELL YOU MORE IN THE COMMENTS BELOW IF YOU LEAVE US A COMMENT!