Ultimate Skincare Treatments for the Eye Area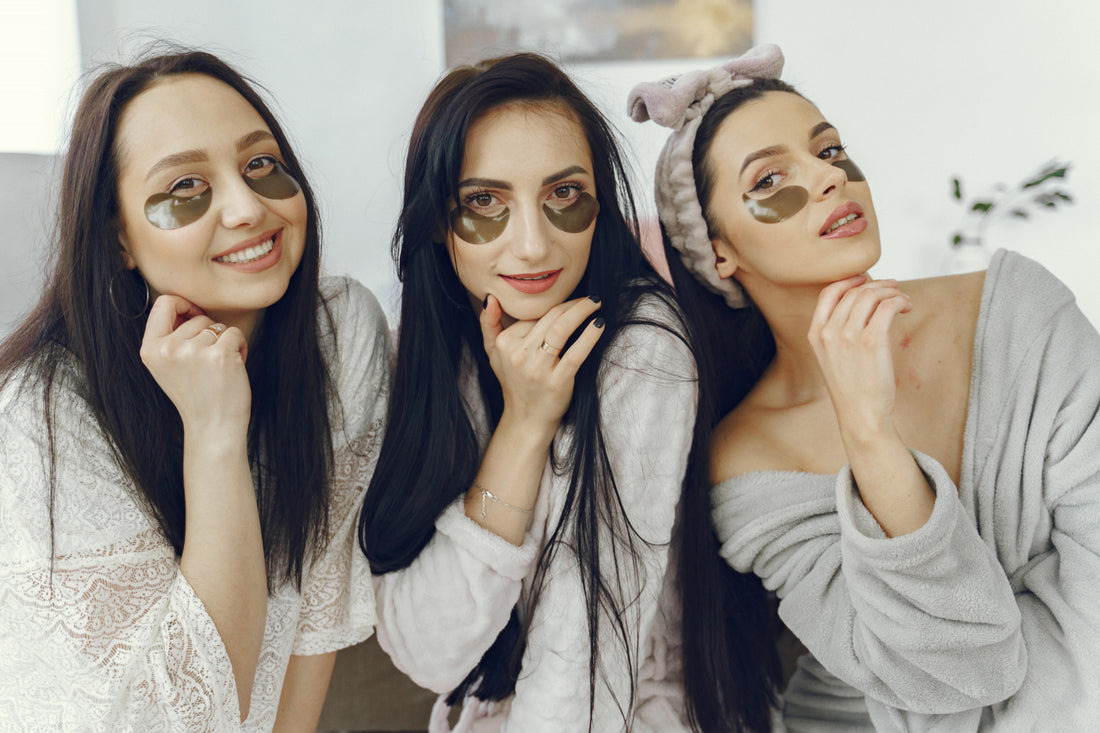 They say that the eyes are the windows to the soul, but if your eyes show signs of premature skin aging, they may be windows that suggest you appear even older than you actually are! What if your uncared eye area makes you look 10 years older?!
Regardless of how young or old you are, take good care of the skin around the eye area as it is the most delicate skin on the body.  It is ten times thinner than any skin area of the face. It is also one of the most exposed areas, allowing us to see the world around us! The skin around the eye area is the first to show signs of aging like crow's feet and fine lines. It is further subjected to sagging, swelling, and darkening when highly exposed to the sun and not properly cared for.
About the skin surrounding the eye area
It is super thin and very delicate.
The eyelids are only 0.05mm thick and the skin surrounding the eyes are very thin as well, making this area extremely fragile and delicate. It can be subject to skin damage more easily than any other part of the body.  Genetics, aging, sun exposure, lifestyle and medications affect the thinning of the skin, including the eye area.
However, there are certain remedies that can be done to further reduce and prevent skin thinning, especially around the eye area to minimize signs of skin aging:
Our YEOUTH Radiance Eye Gel and Niacinamide Serum contain the best hydrating ingredients the skin needs to stay moisturized and nourished - hyaluronic acid and niacinamide.  Areas that are susceptible to dryness like the skin around the eyes can be revitalized with skincare products that contain these ultra hydrating components.
Skin in the eye area lacks oil glands and collagen.
The skin around the eyes does not have the same oil and sweat glands that hydrate and moisturize the skin on the rest of our body. A lack of collagen in this area also makes the skin lose elasticity and firmness.
These factors make the eye area more prone to damage and skin aging. It tends to become dry and dull more often, thus, wrinkles, fine lines and the appearance of crow's feet become more prominent in the area surrounding the eyes.
The skin around the eyes is under a constant state of stress.
Whether we are aware or not, the eyes are constantly moving, even when we sleep. All of the emotions we express involve eye movement. External factors that cause allergies affect the skin and we tend to touch our eyes to scratch or wipe them when they become irritated. Other environmental factors such as pollution significantly affect the skin including our eyes and facial skin. All of these factors stress the eyes and the skin surrounding it, making it prone to premature skin aging.
The most common skin problems around the eyes and the best skin care remedies
1. Fine lines, wrinkles, crow's feet
Wrinkles are signs of skin aging. They first and foremost occur because of the body's natural,  intrinsic physiological aging process. As we age, there is a significant reduction of collagen in the skin, which makes the skin lose its natural elasticity. Wrinkles become even more prominent in areas that are exposed to the sun like the face, the back of the hands, neck and chest.
Wrinkling of the skin can also be caused by external factors such as photoaging or too much sun exposure, in other words. Photoaging can also be derived from artificial UV light exposures. 
Hormonal imbalances, irritants, and smoking can also play significant roles in skin aging and the development of wrinkles.
Clinical and scientific studies show that there are four types of wrinkles that appear on our skin:
Atrophic crinkles and rhytids. Fine and parallel wrinkles, they vanish when the skin is stretched and these are not permanent.Elastotic creases.
These become permanent when they develop in sun exposed areas of the skin like on the cheek, upper lip and nape.  It is not very prominent with those who have darker skin, and among those who avoid prolonged sun exposure.
Dynamic expression lines. These become permanent progressively.  They are the frown lines, crow's feet and forehead lines. These wrinkles develop because of the repeated contractions made through various facial expressions.
Gravitational folds. Folds and sagging caused by loss of fat and sun damage are the major contributors to skin aging. This happens as people grow older because of the decline of collagen and elastin production in our system.
While the onset of wrinkles and age lines on the skin seems to be inevitable, there are ways by which we can minimize the appearance and prominence of wrinkles and prevent further development of more wrinkles, especially around the eye area.
Skincare remedies: 
When addressing fine lines, wrinkles and those unsightly crow's feet, use eye gels or creams with ingredients that provide intense hydration and build up collagen in the skin to recover weakened skin elasticity and plumpness. Use skincare products that contain the following ingredients and stick to skin regimens that can help address problematic skin around the eyes:
Hyaluronic Acid

.

Hyaluronic acid is a super ingredient that binds moisture, lubricates and helps the skin retain water.  It makes the skin healthier, more plump, and hydrated. It absorbs and locks moisture in the skin to recover and preserve skin elasticity and firmness.

Retinol

contains amazing anti-aging effects. It promotes skin renewal and collagen production to reduce and minimize the appearance of fine lines and wrinkles. It also improves uneven skin tone and increases skin firmness.

Retinol is a super ingredient

that is a must-have in your skincare regimen whether as a stand alone product, or a major ingredient in the products that you use daily.
Retinol Eye Cream $18.95
Our YEOUTH Retinol Eye Cream is dermatologically formulated to deeply penetrate the delicate skin around the eyes and visibly improve the appearance of fine lines and wrinkles. It contains 2.5% Retinol to strengthen, tone and firm the delicate skin around the eye area, Hyaluronic Acid to moisturize and brighten, Green Tea to soothe and protect and Caffeine to depuff.
Peptides

are designed to address wrinkle formation and an uneven complexion to give the skin a firmer and more youthful appearance.  It also contains skin lightening and whitening effects that even out skin tone and significantly reduces mottled hyperpigmentation and other skin discolorations.

Green Tea

improves the appearance of collagen-depleted skin making skin firmer and more supple. It helps neutralize free radicals and improve the appearance of sun-damaged skin.  Its soothing effect prevents skin irritation and redness.

Moisturize

to seal in all the nutrients we put in the skin around the eye area. It will make the skin in the eye area hydrated, smooth and prevent it from becoming dry.  Moisturizers provide the most significant anti aging effects. With the regular use of a moisturizer, wrinkles, fine lines, and crow's feet will slowly disappear.  Moisturizing gives the skin the chance to repair itself and regain its natural tone and firmness.



A quality moisturizer can be applied in the sensitive skin around the eye area. Our

Yeouth Day/Night Moisturizer with Snail Extract

helps repair skin damage and can even be applied to the neck, chest and hands to also reduce wrinkles in these areas.
Use Sunscreen

to protect your face from the harmful effects of long-term sun exposure. It is a step that should never be forgotten or overlooked. Incorporating sunscreen into your daily morning routine is a must to preserve skin health today and in the years to come.

Learn

about the

various skin irritants caused by pollution

, identify and try to stay away from these pollutants. If unavoidable, use proper skincare products to treat the effects pollution has on the skin.

Stop smoking

. 

Cigarette smoking results in weakened skin elasticity

. Tobacco smoking affects the thickness and density of the skin. Smokers tend to have drier, duller and more wrinkled skin.
2. Dark Circles 
Periorbital hyperpigmentation, or dark circles, are round or semi circular brown or dark brown pigmentation or discoloration found under the eye area. It also varies in color, it could be pinkish, bluish, purple, brown or a combination of these pigmentations.

Causes of dark circles in the eye area:
Genetics or heredity.

Excessive skin pigmentation, this occurs when more melanin is produced in the skin around the eye area.

Pigmentation due to allergies, irritations, medications and other skin infections.

Periorbital edema which occurs when there is fluid accumulation in the eyelid area.

Excessive vascularity due to hormonal imbalances such as the onset of menstruation.

Aging and dehydration.

UV irradiation.

Lifestyle - lack of sleep, alcohol abuse, stress, too much caffeine, smoking, etc.

Skincare remedies:
Use of eye creams, eye gels, skincare treatments or moisturizers that contain the following ingredients will help to protect and nourish the skin around the eye area:
Niacinamide. When used regularly, you will notice a lightened appearance of dark spots because Niacinamide has the ability to block the enzymes that cause hyperpigmentation. This powerful effect enhances skin tone to reveal a clearer and brighter-looking skin, especially in the eye area.
Niacinamide is very effective at protecting the skin and combating various signs of skin aging. It has the ability to diminish the harmful effects of environmental and external skin irritants to the skin.
Retinol. Retinol is effective at achieving a luminous skin tone. It helps prevent skin pigmentation, and it minimizes the appearance of dark spots and redness to even out skin texture and tone.
Licorice root extracts. Studies show that licorice root extracts have whitening effects. They are a powerful source of depigmenting agents for the skin. They effectively inhibit development of skin pigmentation caused by several factors such as photoaging.
Glycolic Acid. Glycolic acid helps to significantly reduce the appearance of melasma and discolorations of the skin.  Pigmentations in the skin caused by UV irradiation, skin disorders, and from natural skin aging can be effectively addressed with the use of glycolic acid.  It effectively brightens the skin.
Vitamin C and E. Vitamin C aids in skin protection by promoting collagen production to keep the skin healthy.  It has skin lightening effects that address skin hyperpigmentation.
Our YEOUTH Vitamin C Facial Cleanserworks to nourish and cleanse the skin to remove impurities and excess oil while also fighting to defend skin health and give your complexion a bright, healthy-looking glow.  Use it with our Radiance Eye Gel for that perfect under-eye treatment.
Vitamin E helps eliminate free radicals that damage cells inside our bodies. Vitamin E is an antioxidant that boosts our immune system. It is also beneficial in reducing UV damage to our skin.
Chemical peels like a Glycolic Acid peel.

Chemical peels work to penetrate deeply into the layers of the skin. This results in rapid skin cell turnover.  The upper layers of the skin will slough off to reveal a younger, brighter and healthier skin.

Lasers to vaporize cells that are damaged; dermal fillers with hyaluronic acid-based components; or Blepharoplasty - the surgical removal of fat under the eyes.

Home remedies like cold compresses in the eye area, use of green or black tea bags on the eyes, and slices of cucumber placed on the eyes help to circulate blood flow.
3. Puffiness, eye bags, sagging
Puffiness, eye bags and sagging of skin around the eye area can be caused by several factors  that include the following:
Poor

diet

or eating habits that affect skin health.

Sleeping position that causes body fluids to collect under the eye tissues.

Contact lenses that irritate skin in the eye area.

Allergies and skin disorders that cause irritation.

Makeup residue especially when left for a long time on skin, like when one sleeps with makeup on.

Dry skin that makes the eyes more puffy and prominent.

Irritants

that harm the skin, eyes and body. 

Crying.

Fat pads due to genetics. These form through the facial muscles that start to sag over time. These pouches are otherwise known as under-eye bags. Severe under-eye bags can be removed through cosmetic surgery.




Sun damage. If you have puffy eyes, your eye area is more prone to the negative impacts of unprotected sun exposure. Sun damage results in the skin losing its elasticity and this leads to more fluid accumulating around the eyes.
Skincare remedies:
Use eye treatments or moisturizers that contain the following essential ingredients that specifically targets to reduce and minimize eye bags, puffiness and sagging:
Our YEOUTH Radiance Eye Gel contains Hyaluronic Acid and Tripeptides, the ingredients you need in the skin around your eyes to treat puffiness, sagging and eye bags!

4. Dryness
To treat dryness around the eye area, hyaluronic acid is the answer. It holds in moisture which not only hydrates, but also plumps wrinkles through multilevel skin hydration. Skincare products containing hyaluronic acid restores the skin's moisture and makes it more supple. These properties help smooth fine lines and wrinkles. When the skin is hydrated, skin cell production increases resulting in a healthier, more toned appearance.
The takeaway
The skin around our eyes is highly sensitive and fragile because it is biologically created to be thin. As a result, it needs special attention. The key is to incorporate eye treatments in your daily skincare regimen that not only hydrate, but target your specific eye concerns.
Your eyes should reveal a younger, fresher and healthier looking you! Not a stressed out version of yourself that appears 10 years older. Show your eyes some TLC today!
Yeouth Radiance Eye Gel $24.95
Our ultra healing YEOUTH Retinol Eye Cream and soothing Radiance Eye Gel are both specially formulated and crafted to address the special needs of the sensitive skin around the eyes.  Choose that which can work best for your skin and see the difference!
DO YOU HAVE ANY SPECIFIC SKIN CONCERNS ABOUT YOUR EYE AREA?  WHAT HAVE YOU TRIED? DOES IT WORK?  LET'S SHARE OUR THOUGHTS IN THE COMMENTS BELOW!