TOP 6 ACNE CULPRITS AND TREATMENTS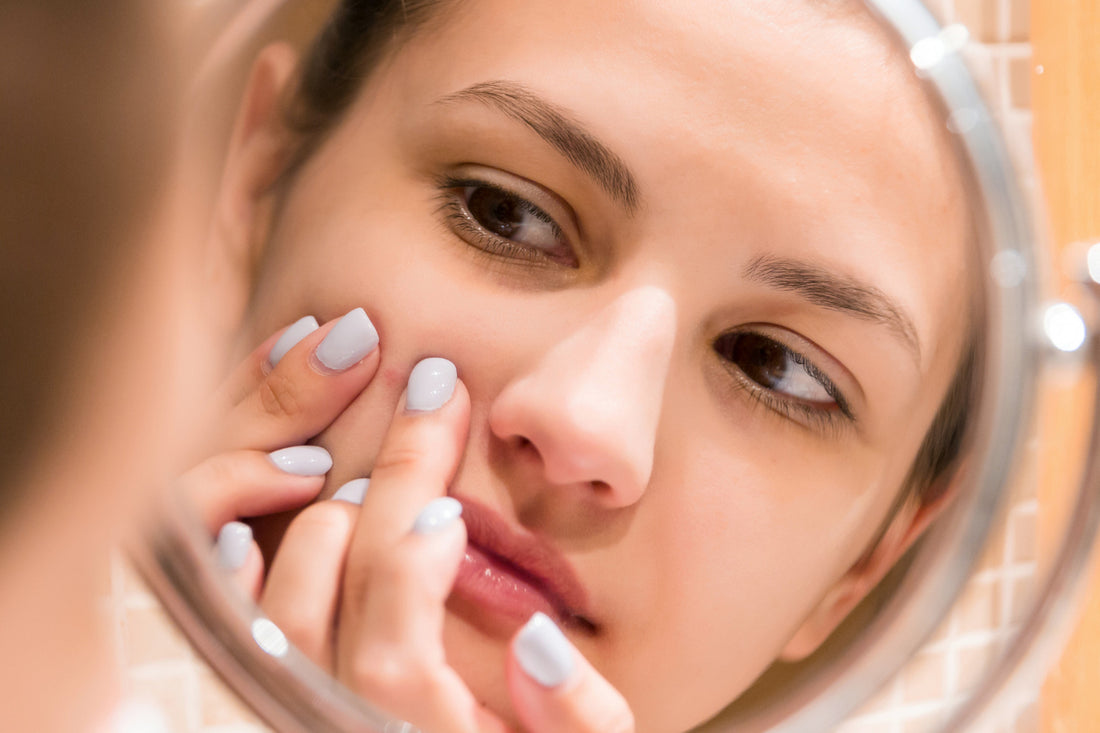 EXCEPT FOR THOSE WHO SEEM TO BE EXTREMELY BLESSED, ALMOST ALL OF US EXPERIENCED BATTLING AN ACNE. AND FOR SOME, IT EVEN PERSISTS INTO ADULTHOOD. VARIOUS FACTORS PLAY A ROLE IN ACNE BREAKOUTS LIKE HORMONES, SKINCARE HABITS AND LIFESTYLE.  BY UNDERSTANDING THESE CULPRITS, WE CAN EASILY AND PROPERLY TREAT THE EFFECTS ACNE HAVE ON OUR SKIN!
WHAT IS ACNE
Acne are lesions that develop on the skin and is a very common skin disease present in 80% of young adults and teens. For some, these can persist into adulthood and occur more commonly among women. Acne is more prominent on the face, chest, upper back and upper arms. These areas of the skin are known to have a high density of sebaceous glands.
Typically, acne develops due to the clogging of skin pores or the hair follicles. Dead skin cells are normally shed off and do not stick to the pores. But when oil glands produce excess oil or sebum, dead skin cells can cling to the pores like glue!  Add to that the presence of dirt, makeup and other irritants that also get stuck on the surface of the skin and choke the pores! 
When the pore is congested, a bump called a comedone begins to develop.  These comedones can erupt and become open comedones or blackheads.  Or they can be closed comedones or what are known as whiteheads. Other inflammatory lesions such as nodules and papules or pimples may also develop. Thus, acne appears as pimples, whiteheads or blackheads on our skin.  And they can leave discolorations and scars in the skin.  
There are numerous factors that cause the development of acne. Genes, hormones, stress, bad skin and health habits, lifestyle, unhealthy diet, medications and use of bad skincare products may all cause the development of acne!



THE TOP 6 ACNE CULPRITS
Knowing and understanding the various factors that cause acne will help one to effectively apply the proper treatments that may be needed to address this skin problem and its effects on our skin.  The following are the top acne culprits we should fully understand: 
1. GENES AND SKIN PHYSIOLOGY 
Oily skin, a skin type and also a skin condition, occurs when there is excess production and secretion of sebum.  Sebum is the fluid produced from our body through the skin. It is composed of compounds that include wax, fatty acids and cholesterol.  
Sebum helps keep the skin hydrated and it forms a barrier that can ward off external pathogens that may harm the skin and the body.  An excess production of sebum, however, results in oily skin. A greasy appearance and larger pores comes with having oily skin, and skin becomes more prone to acne.

2. HORMONES
Hormones affect the skin in a very big way, especially among women. Women go through various hormonal changes. Menstrual cycle, menopause, and even birth control affect the hormones and skin function in women. During these phases, changes in skin and hair occur.
Studies have shown that skin becomes oily, acne appears, and pore size increases during a woman's ovulation phase because of increased progesterone. High levels of Progesterone lead to sebum  build up resulting in oily skin. Also, pores appear to become larger.
Oily skin also starts to appear during puberty and this is why teens develop acne during this period. 
It is helpful to understand and recognize these cycles and changes so we can take extra care of the skin. It is also important to adopt a proper skin regimen to prevent breakouts and treat the effects of acne not only during these said periods.

3. MEDICATIONS
There are certain medications that can trigger acne like Lithium and steroids. If you are on new medication and experience acne breakouts, consult with your doctor because your medication might be the culprit. Polycystic ovary syndrome also causes oily skin and makes the skin acne-prone.
4. DIET
Some studies have shown that there are certain types of foods that make acne worse. These foods may have unusually high glycemic index. These foods will allegedly cause your blood sugar to spike, cause inflammation and result in the production of more sebum in the skin.
Among the foods with high glycemic index are white bread, white rice and puffed rice, corn flakes, potato chips, white potatoes or fries, doughnuts and pastries, and sugary drinks such as milkshakes.
Anti-acne Tip 
Say no to sugary foods and drinks, bad fats found in junk foods, and some dairy-based foods. Instead, go full on a healthy diet full of anti-inflammatory foods. Try to adopt a  low glycemic index diet to avoid acne. Eat more fresh vegetables and fruits, beans, and steel-cut oats!
5. STRESS
Stress happens when there is a whole lot of going-on in your day to day activities!  Lack of sleep and emotional overload that may be caused by concerns like financial and relationship problems, your job and so on!
While experiencing stress may be normal, it can have harmful effects on your health and on your skin! Stress can materialize through skin flare-ups and breakouts, hives and other damaging skin conditions.
Stress is never good when it comes to our skin. It can release the hormone cortisol, a testosterone-like hormone that can increase our sebum levels and make skin acne-prone! Stress may also cause one to pick at their breakouts more which leads to scarring.  Scars are difficult to treat and fade.

6. YOUR SKINCARE HABITS 
Acne cosmetica is a type of acne caused by pore-clogging substances present in cosmetics like silicons and oil. If possible, always use products, whether makeup or skincare, that are labelled non-comedogenic. Also, remember to remove makeup regularly and never sleep with your makeup! 
Avoid skin care products that contain alcohol and other harsh components. Use only the most gentle products and ingredients to treat your skin.  Any form of irritation can cause and worsen acne, like scrubbing and using abrasive tools when cleansing.  Avoid touching your face often and wash your face twice a day and after sweating! 

Acne is no fun!  Knowing the different villains that cause acne can save our skin from its damaging effects.



SKINCARE TREATMENTS
Unclogging the pores is key to treating acne.  Anything that the pores do not need should be sloughed away to give way to a healthier, cleaner and yeouthful looking skin!
The following are the various skincare treatments that we can adopt to unclog pores, prevent and reduce acne, and treat the effects of acne on skin:
Chemical peels are treatments to strip off the skin's top layers with the use of acids. Chemical peels are very safe, and is a highly tested method that is widely used. It can be regularly done at home!
OUR PICK: Salicylic Acid 20% Gel Peel ($24.95)
Our YEOUTH Salicylic Acid 20% Gel Peel helps regulate problematic skin by decongesting pores to achieve overall skin clarity. It is formulated with 20% Salicylic Acid, this peel effectively dissolves dirt and oil trapped in the pores that cause acne, whiteheads, and blackheads. It is especially combined with Tea Tree and Green Tea to balance and soothe the skin!
Use Salicylic Acid for exfoliating. Salicylic acid is better than Benzoyl peroxide in treating acne because of its minimal side effects.  It does not cause excessive dryness of skin and does not leave dark spots!
OUR PICKS: 
YEOUTH Acne Skin System featuring our ultimate acne fighter Salicylic Acid 20% Gel Peel!
Blackheads Buster Bundle ($62.85) this super bundle helps boost skin clarity by cleansing away pore-clogging dirt and blemish-causing bacteria while leaving skin healthy and hydrated! It includes our Vitamin C Facial Cleanser, Salicylic Acid 20% Gel Peel and our Dead Sea Mud Mask!
3. RETINOL USE
Use of retinol is also a very gentle and effective way to exfoliate dead skin cells and clear the pores.  It helps remove dirt and excess oil.  Retinol comes in the form of serums, moisturizers and cleansers.  
OUR PICK:  Retinol Moisturizer with Hyaluronic Acid, Ginseng & Green Tea ($19.95)
Our YEOUTH Retinol Moisturizer is a super cream formulated with Hyaluronic Acid to hydrate and replenish moisture levels, Ginseng to help tighten and brighten and Green Tea to soothe and fade dark spots.  It provides intense hydration while smoothing and softening visible signs of aging for a more rested and Yeouthful appearance.
4. APPLICATION OF A DETOXIFYING MASK  
Mud masks are an amazing addition to your skincare routine because they can effectively detoxify the skin.  They remove impurities and absorb excess oil or sebum in the skin.  Masks deeply penetrate the skin to rid it of impurities like dirt, excess oil and dead skin cells that may otherwise cause acne and blackheads! 
OUR PICK: Dead Sea Mud Mask with Hyaluronic Acid, Aloe, Colloidal Oatmeal and Avocado Oil ($18.95)
Experience the many skin-boosting benefits of mud from the Dead Sea in the comforts of your own home with our YEOUTH Dead Sea Mud Mask! It effectively detoxifies the complexion by drawing out toxins and impurities trapped deep in the skin's pores.  Formulated with nourishing vitamins and minerals Hyaluronic Acid, Aloe, Oatmeal and Avocado oil to moisturize, soothe and balance the skin.  Our Dead Sea Mud Mask loosens dirt to decongest clogged pores so that your skin will glow. The result is a clean, fresh and blemish-free complexion! 
5. Use Non-comedogenic products

Use non-comedogenic products and always remove makeup!  Choose your skincare products and makeup carefully to protect skin and avoid skin damage.  Do not use synthetic skincare ingredients and those that contain ingredients like alcohol or fragrance. Use only skin-loving products and makeup to keep skin healthy, strong and clean!   


THE TAKEAWAY 
Acne is a skin problem that has become treatable with very simple skincare habits, and with the use of medically tested skincare products and ingredients!   Avoid the various triggers that may cause or worsen acne, and instead, adopt good skincare habits.  Stick to skincare treatments that can effectively banish pimples, whiteheads and blackheads.  Achieve a clean, clear and yeouthful looking skin with a good skin regimen, and with the use of safe and effective skincare products!


YEOUTH Acne Skin System  $99.95
Vitamin C Facial Cleanser - Gentle face wash that deeply cleanses skin without stripping it dry.
Balancing Facial Toner - Refreshing mist that moistens and preps skin prior to serum and moisturizer use.

Vitamin C & E Serum - Brightening serum that nourishes, protects and evens out skin tone for a more vibrant, yeouthful complexion.

Retinol Serum - Rejuvenating serum that exfoliates the skin to reveal new skin that is visibly smoother, firmer, and less prone to breakouts.

Salicylic Acid Gel Peel - Exfoliating treatment that can help treat acne, unclog pores, and lightens hyperpigmentation.

Dead Sea Mud Mask - Detoxifying mask that helps draw out impurities with nourishing natural minerals!

Day/Night Cream - Lightweight, fast-absorbing moisturizer that locks in all-day hydration.
 
Our YEOUTH Acne Skin System is a professionally-curated array of dermatologically tested products infused with potent ingredients that specially targets acne and blemishes to give you a clearer and Yeouthfully glowing skin!  With these 7 products' synergistic effect, the journey to an acne-free and clearer skin is just a step away! 
HOW HAVE YOU BEEN TREATING YOUR ACNE OR PIMPLE WOES?  PLEASE SHARE IT WITH ALL OF US, WE'D LOVE TO KNOW!  LET'S TALK IN THE COMMENTS BELOW.