10 Winter Skincare Tips That You Should Follow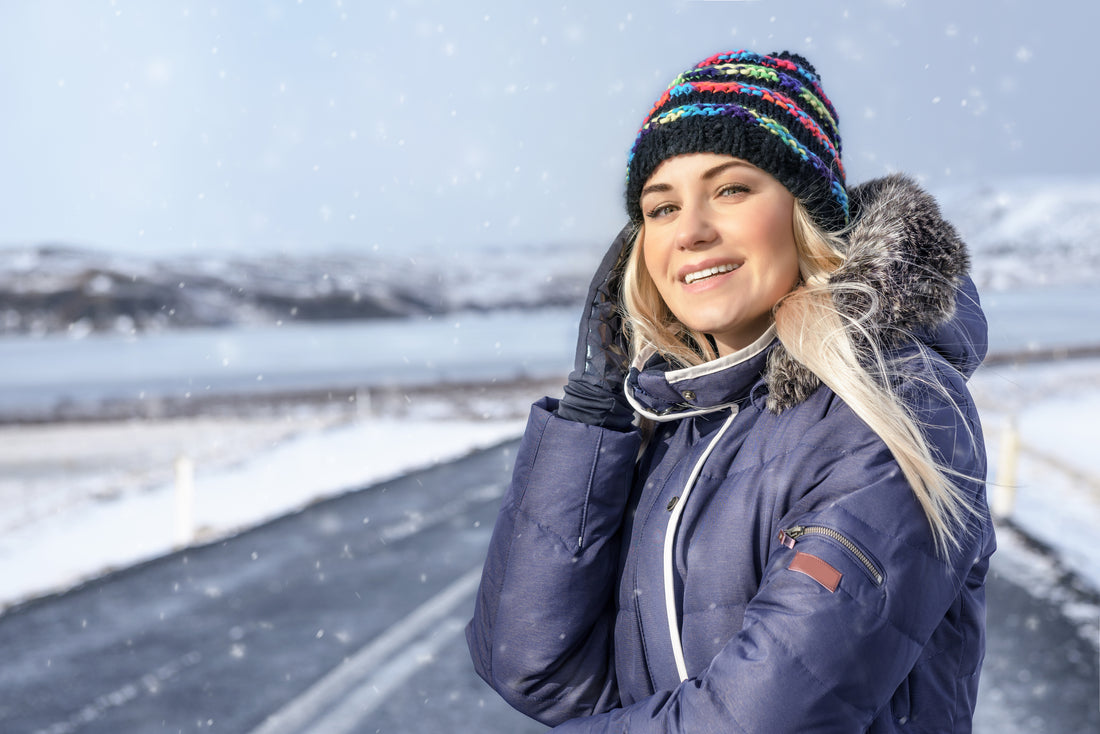 Here's what you can do to keep your skin glowing even as the winter winds blow
The cold, blustery conditions outside during winter and the extensively drying indoor heat can wreak havoc on your skin leaving it red, dry, itchy and irritated. But worry not! Easy changes to your everyday routine can combat dry winter skin and help keep your healthful, glowing skin hydrated and supple all season long.
Combat dry winter skin with these top 10 tricks to help you retain your skin's natural moisture so that you can look and feel your best all winter long!
1. Lower the temperature
Heating systems can actually be the cause of your dehydrated skin during the winter months.
Cranking up the heat dries out the air and dries out the moisture from our bodies, like our skin! This causes itching, flaking and tightness and can lead to flare-ups of existing skin problems, such as eczema and acne.
Dress warmly even if you're inside and set the thermostat at a cool yet comfortable level (68°F to 72°F).  Aside from saving up on your energy bill, you will also keep your skin nourished and moisturized even during these colder months.
2. Keep moisture in the air
If you have no control over the heating or you would rather not lower the temp to stay warm and cozy, you can still prevent your skin from drying out by keeping moisture present in the air.
Consider installing a humidifier in your home or in your workplace, particularly in the rooms that you spend the most time in, to help keep your skin soft and hydrated. They're a really great investment not just for your health but also for your skin since they add back moisture to the air, preventing and alleviating the dryness of skin, eyes, nose, throat and lips.
Another quick and easy fix to add moisture into the air is to place bowls filled with water in your rooms. The water will evaporate into the air when the heating is on and will help prevent your skin from becoming severely dehydrated. You can even add a few drops of your favorite essential oils to gradually release a relaxing aroma around your home.
3. Avoid hot water and marathon showers
There's nothing more relaxing than a hot shower or bath after spending a day out in the cold. However, it's best to avoid them if you want to keep your skin moist and supple.
Excessively hot water washes away the much-needed natural oils that keep your skin healthy and moisturized. Jumping into steaming water that heats up the skin too quickly can also crack and irritate the skin.
Keep in mind that the amount of time you spend in the bathroom also plays a big factor. The longer you shower, the longer you are exposed to water and the more your natural oils and sebum will get washed away leading to even drier skin.
To help your skin retain as much moisture as possible, it's best to use lukewarm water (80° F to 90° F) and limit your baths and showers to 10 minutes max. 
4. Adapt your skincare
Products that may have worked for you during the summer may not be good for your skin during winter. This is why you need to change up your skincare routine accordingly.
The wrong cleansing product can make your dry skin worse. A lot of skincare products contain fragrance and other harsh, irritating ingredients that can be extremely drying for the skin during the colder months. Sparingly use or totally avoid harsh masks, astringent lotions and any other skincare products that contain alcohol as these can further dry out your skin.
Instead, use mild products that contain ingredients like ceramides, glycerin and hyaluronic acid to help maintain the moisture barrier of your skin. Make sure that you are also using a gentle and fragrance-free cleanser that contains moisturizing ingredients.
Check out YEOUTH Vitamin C Facial Cleanser, an anti-aging skin cleanser enriched with nourishing ingredients like Aloe, Green Tea and Ginseng that actively work to repair and protect your skin from everyday stress.
YEOUTH Vitamin C Facial Cleanser ($18.95)
5. Moisturize moisturize moisturize
Your skin needs more moisture right after washing so make sure that you immediately follow with a toner and a moisturizer. As we have tackled earlier, moisture evaporates fast in this weather and if the skin is not immediately moisturized, you're leaving it vulnerable and more prone to dehydration and irritation.
Make sure that you apply a hydrating toner and moisturizer right after cleansing to lock in moisture into the skin. Keep a bottle of your favorite moisturizer in the bathroom and use it liberally every time you cleanse to keep the moisture barrier intact and to prevent dry skin.
Use a thick, moisturizing cream like the YEOUTH Day/Night Moisturizer with Snail Extract, Hyaluronic Acid, Green Tea, & Peptides. It locks in skin moisture and hydrates to the max and will surely leave your skin feeling supple and moisturized without the greasy and heavy feel.
YEOUTH Day/Night Cream ($19.95)
6. Don't put away the sunscreen
Did you know that snow reflects the sun's rays and increases your risk of exposure by up to 80 percent? This is why you should still use sunscreen even during winter!
And yes, this still applies even in the darkest and gloomiest days whatever the season is. Harmful UV rays of the sun still permeate through the clouds and cause significant skin damage enough to age our skin. This is why it's just as important to apply sunscreen in the harsh winter weather as it is in the summer.
Before you head outside, apply a moisturizing sunscreen with an SPF rating of 15 or higher to all exposed areas of your body.
7. Hydrate with a face mist
Face mists may seem to be more of a summertime staple but they can be super useful in the winter months as well. 
Remember how the air sucks the moisture from our skin? A quick spritz of a facial mist can help soothe, refresh and replace the lost moisture from your skin.
Try the hydrating YEOUTH Balancing Facial Toner. Spray a fine mist on your face and neck for a quick pick-me-up that will quench your thirsty complexion. Made with chamomile flower extract and allantoin — soothing ingredients that will give you a dewy glow all winter long.
YEOUTH Balancing Facial Toner ($15.95)
8. Wear comfortable clothing
A lot of cold-weather clothing have rough and itchy fabrics that have the tendency to aggravate dry winter skin. It is best to wear comfortable clothes made from soft, non-irritating materials like cotton or silk first before layering on your heavier and warmer sweaters. This way, the rough fabric won't rub directly against your skin.
Wearing wet clothing for a long time can further irritate your skin and cause itchiness. If any item of your clothing becomes wet because of the rain or snow, make sure to remove them as soon as possible to prevent skin irritation.
You also need to wear protective clothing to keep your skin protected from the cold wind, rain or snow so always wear gloves, scarves and caps when you head out during winter.
Wearing UV protected sunglasses when going out is also a great idea, especially if you live in an area where it snows heavily, to minimize glare from the snow and the sun that can damage the delicate skin around your eyes.
9. Exfoliate
Exfoliating is also very important during winter. This will help decrease the dry skin build-up so all the moisture can effectively penetrate your skin for a supple, smoother and more radiant appearance.
During this time of the year, holiday stress combined with gluten-loaded sweets and an increase in the amount of foundation you wear can be the ultimate recipe for breakouts. Exfoliating can also help minimize your breakouts.
Find a chemical exfoliator like YEOUTH Glycolic Acid Peel to help dissolve the "glue" that holds the dryer, older and rougher skin on the surface. This is one of the most effective ways to unclog the pores and slough away dead skin cells, perfect for keeping your complexion healthy and clear throughout this merry season.
YEOUTH Glycolic Acid 30% Gel Peel ($24.95)
10. Eat right and stay hydrated
Since it's easier for water to evaporate from our bodies, we must take extra effort in staying hydrated from the inside out. Although you might not feel as thirsty during winters, still make sure that you drink at least 8 cups of water daily to stay hydrated. 
Eating foods that have high water content also helps to hydrate your skin. Add fruits like oranges, kiwi, apple or cantaloupe to your diet. You should also eat more watery vegetables like tomatoes, carrots, zucchini, cucumbers and celery. Fatty fishes and flaxseed also help in keeping skin nourished since they contain omega-3 or omega-6 fatty acids and make skin supple and moisturized. 
What extra steps do you take to keep your skin healthy and hydrated during winter? What skincare products are your must-haves? Let's talk in the comments below!