THE YEOUTH SOLUTIONS TO YOUR FALL SKIN PROBLEMS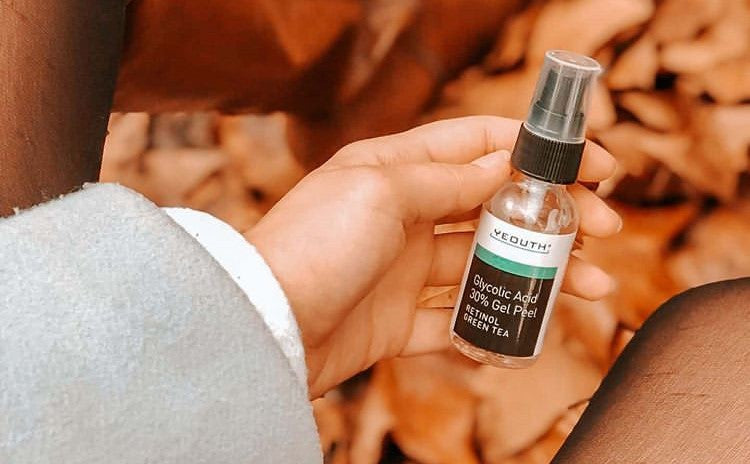 The new season brings in a lot of changes in the environment that can significantly affect our skin.  There are common skin problems that usually occur during autumn because of lower humidity levels and colder temperatures.
Identifying these skin conditions can help us adjust our skincare routines, products and habits so we can save our skin from the harsh and harmful effects that fall can usher in. Read on to learn how you can look great and feel confident everyday all season long!
1. SUN DAMAGE
Sun damage does not only happen during summer, or days when the sun is out there in her scorching glory.  Everyday of the year, the sun emits harmful UV rays!  On cloudy days, up to a huge amount of UV rays can still penetrate the skin.  
While you're still repairing your skin from summer sun damage, make sure to keep your skin protected from further harm especially when outdoors with a reliable sunscreen and other sun protection. 
Consider serums that have abundant antioxidants that can repair and protect your skin from sun damage at the same time. 
OUR PICK: VITAMIN C&E SERUM with Hyaluronic Acid ($17.49)
Read our blog: 5 Tips to Combat Photoaging
YEOUTH Vitamin C&E Serum enhances the appearance of skin tone and texture while deeply nourishing and quenching dry, thirsty skin. Made of medical grade Vitamin C to brighten and help fade the appearance of hyperpigmentation and dark spots, Vitamin E to help protect and defend the skin from future damage, and Hyaluronic Acid to deeply penetrate the skin to restore hydration and suppleness. 
2. DRY SKIN 
When temperature begins to drop, skin tends to become drier.  It starts to lose its natural moisture and hydration.  Taking very hot showers to fight off the cold, and dry indoor air from heating systems can also strip skin of moisture! 
Use a humidifier instead because these can help add moisture indoors.  You can also enhance your humidifier by adding essential oils that can have relaxing feels and effects. 
OUR PICK:  PURE ESSENTIAL OILS AROMATHERAPY SET OF 6 ($21.99)
Make sure that your skin's hydration and moisture levels are kept in check by drinking plenty of water and indulging your skin in hydrating and moisturizing products. Always keep skin moisturized from day till night! 
OUR PICKS: 
Restore your youthful glow with Yeouth Hyaluronic Acid Plus! Hyaluronic acid and Vitamin C work together to hydrate and brighten the skin for a supple and radiant appearance. Tripeptide 31 has a gentle tightening-like effect on the skin and supports healthy collagen. 
YEOUTH Day/Night Cream is formulated with Snail Extract to help repair skin damage, Hyaluronic Acid to hydrate and replenish moisture levels, Green Tea to protect and peptides to help strengthen, firm and improve skin elasticity. 
3. KERATOSIS PILARIS OR CHICKEN SKIN
Keratosis Pilaris, a genetic condition, becomes worse during cold months. These bumps that appear on the skin have no known cures.  But the best relief is to slough away the dead skin cells that have accumulated in the skin. Exfoliating remedies like chemical peels and retinol creams are highly recommended. 
OUR PICKS: 
Glycolic Acid 30% Gel Peel ($27.49)
YEOUTH Retinol Moisturizer provides intense hydration while smoothing and softening visible signs of aging for a more rested and youthful appearance.
4. ECZEMA 
Eczema or atopic dermatitis usually flare up in autumn.  These are inflamed or red and itchy patches that appear on the skin that can be relieved with moisturizers.  Studies have also shown that taking Vitamin D supplements can significantly reduce the signs of eczema especially when they flare up. 
OUR PICK: Vitamin D3 Liquid ($36.99)
Vitamin D helps repair skin damage and prevent infections. It also helps relieve symptoms of psoriasis, including itchy and flaky skin.
*These statements have not been evaluated by the Food and Drug Administration. This product is not intended to diagnose, treat, cure or prevent any disease.
THE TAKEAWAY
Seasonal changes can truly be stressful for our skin. Adapting to the changes and tweaking our skincare routines and habits can save our skin from harm and damage. 
Choosing the right skincare products and ingredients can get us through any season confidently.  Just remember that YEOUTH got you covered whatever the season!
YEOUTH Glycolic Acid 30% Gel Peel with Retinol and Green Tea ($27.49)
YEOUTH Glycolic Acid Gel Peel exfoliates dead skin cells to reveal a brighter, more even and smoother skin surface. Formulated with 30% glycolic acid, Retinol, and Green Tea to fortify skin and promote clarity. This peel will also help to minimize the appearance of pores, blackheads and acne. 
YEOUTH got you covered this Fall season! Shop from our fountain of YEOUTH now!