THE ULTIMATE SKINCARE RESOLUTIONS FOR THE NEW YEAR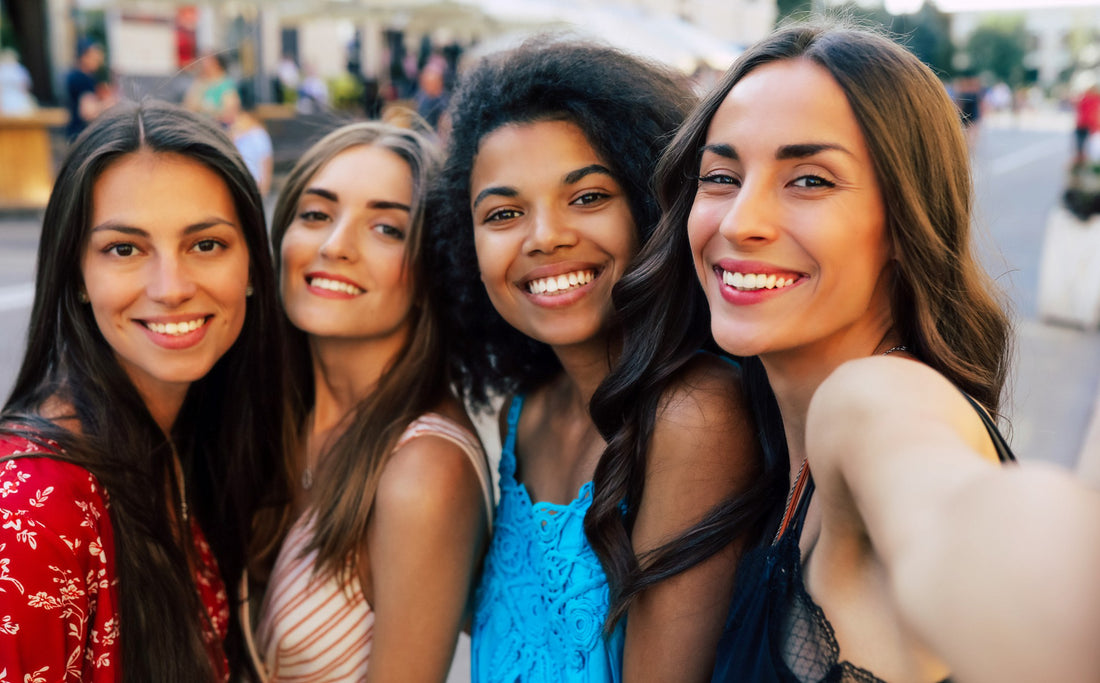 Say bye bye to last year's skincare mistakes and say hello to this year's best skincare saviours that are sure to give you radiant and YEOUTHful skin all year long!  The new year gives us a chance to make up for our skincare mistakes and bad habits that may have damaged our skin and caused unwanted premature aging. 
Let us embrace this opportunity to care for our skin and embrace our YEOUTH!  Give your skin the gift of YEOUTH this year with the love it deserves, and with the best products and ingredients! 
1. A BALANCED AND HEALTHY DIET WITH LOTS OF HYDRATION 
A healthy and beautiful skin can never exist if it is not nourished from within.  Feeding the skin with the nutrient it needs to function properly is an ultimate essential.  This year, choose the foods in your diet more carefully.  Most days of the year, make sure that your body and skin system are getting the right nutrients!
Take lots of liquids and indulge in foods that are good for the body and for skin.  There are delicious foods that can be skin-saving too! 
Red peppers

Dark chocolate

Sweet potatoes

Blueberries 
Read our blog: 12 Superfoods for Clear and Radiant Skin 
Daily food supplements are also excellent sources of nutrients when we fail to get the complete skin nutrients from our diet.  Minerals and vitamins keep our skin strong, and they help support the reproduction of healthy cells needed to make our skin fresh and looking YEOUTHful! 
OUR PICKS: 
REGENOTIN Advanced Collagen Generator 60 capsules ($51.95)
Stay hydrated with your 8 glasses of water a day for organs to function properly. The skin, being the largest organ in the body consisting of 64%  water, significantly benefits from adequate hydration!
We lose huge quantities of water every day, thus, replenishing it should be a daily concern alongside a balanced diet. A sufficiently hydrated body system will give you fabulous, glowing skin!  Infuse your water with fruit or a splash of coconut water for fancy, flavorful hydration.
Our YEOUTH Regenotin Advanced Collagen Generator is clinically proven to increase collagen levels and reduce wrinkle depth and skin roughness by 30%. Regenotin also promotes keratin and elastin formation—two major beauty proteins that assist in skin elasticity and hair growth.
YEOUTH Vitamin D3 Liquid optimizes your absorption of nutrients and minerals, strengthens your skeletal structure and muscle function, fortifies your immune system and more.  Vitamin D helps encourage healthy, voluminous hair follicles.  It supports skin rejuvenation by helping repair skin damage and prevent infections. It also helps relieve symptoms of psoriasis, including itchy and flaky skin.
2. DAILY SUNSCREEN
Do not miss out on your sunscreen no matter the weather, the sun's UV rays can still damage the skin even on cloudy days. Generously apply sunscreen on areas that are commonly exposed to the sun, like the neck and chest area.  
3. A COMPLETE AND EFFECTIVE SKINCARE ROUTINE 
A basic skincare routine is a must as soon as we start being exposed to harsh environmental conditions. A proper skin regimen is a must for treating various skin conditions, skin maintenance or anti aging.  Start a skincare routine, maintain it, or upgrade your skin regimen this year to achieve your dream skin!
OUR PICK: 
COMPLETE ANTI AGING SKIN CARE SYSTEM ($79.95)
Our YEOUTH COMPLETE ANTI AGING SKIN CARE SYSTEM is an anti-aging system formulated with the highest quality medical grade ingredients. Hydrate and moisturize skin, fill fine lines and wrinkles, even skin tone, and reduce Crow's Feet, bags and puffiness around the eye.
Commit yourself to your skin regimen this year, and choose your products and ingredients wisely! Prevent skin damage and premature skin aging by patronizing skincare that are dermatologically approved, time tested, and can promise and truly deliver the gift of YEOUTH! 
Read our blog: The Best Ingredients for Your Skin 
MEN'S SKINCARE 
Men are very much susceptible to premature skin aging, skin damage and various conditions too.  Thus, they also need a proper skin regimen to protect and address their skin concerns! 
Read our blog: Men's Skincare 101: A Guide to Understanding and Caring for his Skin 
OUR PICK:
Essentials Anti Aging Skin Care System ($49.95)
4. DETOX AND DE-STRESS
Rejuvenate your skin by removing the toxins, dirt, dead skin cells, and excess oil that clog your pores through a proper and regular skin detox.  Apply on a reliable mud mask at least once or twice a week to experience a miraculously renewed skin and relieve mental, physical and skin stress!
OUR PICK:  DEAD SEA MUD MASK with Hyaluronic Acid, Aloe Vera, Colloidal Oatmeal and Avocado Oil ($18.95) 
Our YEOUTH DEAD SEA MUD MASK detoxifies the complexion by drawing out toxins and impurities trapped deep in the skin's pores. Combined with nourishing vitamins and minerals like Hyaluronic Acid, Aloe, Oatmeal and Avocado oil to moisturize, soothe and balance the skin. 
5. IT'S NEVER TOO LATE TO EXFOLIATE 
Our skin naturally sheds dead skin cells, but sometimes they do not completely slough off.  
As we grow older, this natural process slows down resulting in dry and flaky patches.  The accumulated dead skin cells, along with excess sebum, dirt and other irritants clog the pores which cause acne and breakouts. 
Luckily, there is a way to hasten skin cell turnover and produce healthier skin cells.  We can exfoliate using the proper skincare products and ingredients. 
So if you have been slacking with exfoliating your skin in the past, the time has come to commit to making exfoliation a basic step in your skincare routine!
Read our blog:  How to Exfoliate Properly and Effectively  
OUR PICKS:
RETINOL SERUM with Hyaluronic Acid, Vitamin E & Aloe Vera ($19.95)
Glycolic Acid 30% Gel Peel with Retinol and Green Tea ($24.95)
Salicylic Acid 20% Gel Peel with Tea Tree Oil and Green Tea ($24.95)
6. TLC FOR HAIR AND NAILS
Our nails and hair are also very susceptible to damage and aging especially during harsh winter conditions like in summer and winter.  Protect your hair by avoiding a lot of chemical treatments like coloring, straightening or perming!  
Give your nails the TLC they also deserve this year, by keeping them short and giving them a break from nail polishes and acetone every now and then.
Take daily supplements that contain collagen, elastin and keratin - the beauty minerals that support healthy hair and nail growth!
OUR PICKS: 
REGENOTIN ADVANCED COLLAGEN GENERATOR 60 capsules ($51.95)
7. KICK YOUR BAD HABITS GOODBYE
Smoking 

Excessive alcohol intake 

Lack of sleep

Not removing makeup at night 

Using harsh skincare ingredients like alcohol and fragrances
These bad bodily and skin habits not only affect our physical and mental health, but our skin health as well!  
Nicotine causes blood vessels to dilate resulting in the thinning of the skin! It also depletes the natural Vitamin C supply of our body which is essential in collagen production.  Drinking excessive alcohol beyond the healthy amount results in dehydration and excessive skin dryness! It also will make you sleep poorly and have an overall tired and bloated look and feel. 
Lack of sleep, not removing makeup before going to bed, and using harsh skincare ingredients and products also damage the skin by significantly decreasing the skin's ability to produce abundant levels of collagen. Healthy collagen levels are what make our skin firm and YEOUTHful looking. 
Read our blog: 11 Bad Skin Habits to Break 
8. CHEST, NECK, HANDS
Most of the time we focus too much on the skin of our face and fail to give the skin on our neck and chest areas, or the décolletage, the TLC they also deserve!  We should treat them the way we care for our face.  
Cleanse, tone, apply serums, and moisturize neck and chest areas to treat signs of aging like wrinkles, fine lines, hyperpigmentation and dryness or oiliness.  
Exfoliating these areas is also important to get rid of excess oil, grime, dirt and dead skin cells.  
The hands, especially the back of the hands, also show accelerated signs of skin aging because it is highly exposed to the sun.  Skin on the back of our hands is as delicate as the skin on our face!  Sunscreens and moisturizers are essentials for the hands. 
Read our blog: Skincare Tips for a Youthful Decolletage 
OUR PICKS: 
RETINOL MOISTURIZER with Hyaluronic Acid, Green Tea and Ginseng ($19.95)
NECK FIRMING CREAM with Green Tea and Vitamin C ($25.95)
Our YEOUTH Retinol Moisturizer is an incredible anti-aging super ingredient when it comes to preventing and fighting wrinkles. It provides intense hydration while smoothing and softening visible signs of aging for a more rested and youthful appearance!
9. MANAGE YOUR STRESS 
Stressful situations trigger the release of stress hormones known as cortisol. High levels of cortisol stimulate the production of more oil in the skin resulting in clogged pores and breakouts.
Stress can also affect our immune systems by making skin more sensitive and reactive to hives, rashes and redness. It worsens skin conditions like eczema, psoriasis, and rosacea.
Managing stress properly will help prevent a lot of skin problems.  So engage in a lot of relaxing activities this year for a more beautiful skin! 
THE TAKEAWAY 
The new year is an opportunity for us to do better and correct our mistakes in all aspects.  It is an exciting time for us to embrace new chances, embark on new beginnings, and create new chapters with the power of YEOUTH by our side!
Let us embrace the new year with renewed strength and new perspectives!  Clear our minds of the mistakes we made in the past and aim for a brighter more YEOUTHful future!
Essential Oils Set of 6 ($19.95)
The benefits of essential oils are endless - they can help you relax, provide pain relief, improve cognitive function, ward off illness, heal the skin, as well as energize and purify your home.It relieves feelings of pain, inflammation and illness, reduces anxiety and stress, promotes a peaceful and relaxing night's rest and clears the mind, body and spirit
Happy New Year and happy new skin to all! Enjoy your YEOUTH!