THE TOP 3 SERUMS YOUR SKIN NEEDS RIGHT NOW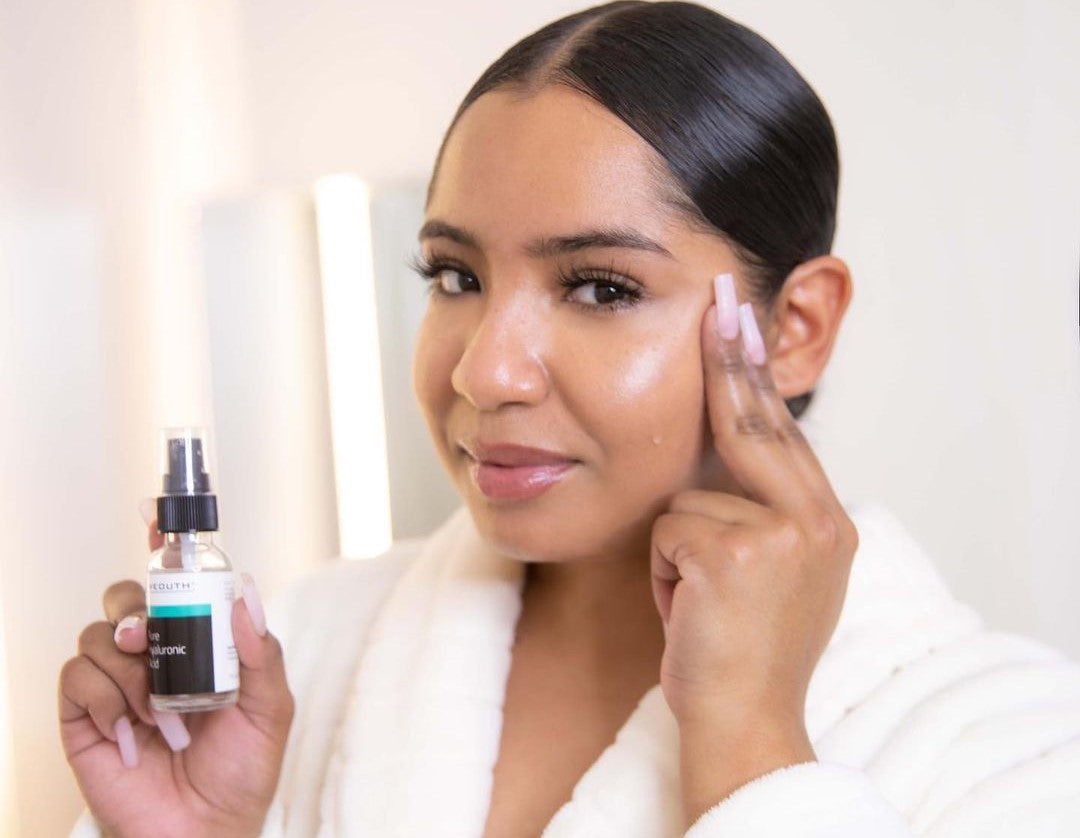 Serums are usually formulated with the most active skincare ingredients, this make serums effective at improving skin tone, providing extra protection against outside stressors, and treating skin that exhibit signs of aging.  Most serums are lightweight making them absorb quickly and deeper into the skin. 
Serums should be the highlight of any skincare routine.  A serum can help prevent the drying effects of harsh weather to our skin.  They treat blemishes, hydrate the skin and reduce wrinkles!  There is a serum for every skin need!  
Embrace your skin and embrace your YEOUTH with these serums that should definitely be part of your skin regimen this coming season and for all seasons!
1. RETINOL SERUM
Retinol is a derivative of Vitamin A, an FDA approved vitamin known to have anti aging effects. It is an agent that has the ability to change the appearance of the skin's surface and it effectively treats wrinkles!  When applied regularly, Retinol generates new and healthy skin cells.
Retinol and its derivatives can slow down the skin's aging process. They penetrate the skin's stratum corneum and the dermis to treat fine lines, wrinkles, dryness, and dark spots.  Retinol is also an efficient treatment for acne. 
Out of all the signs of skin aging, wrinkles and fine lines become the most noticeable in our skin.  Loss of collagen is the primary  cause of wrinkles. Retinol supports collagen production and skin renewal resulting in the minimal appearance of fine lines and wrinkles, and increased skin firmness.
OUR PICK: RETINOL SERUM with Hyaluronic Acid, Vitamin E & Aloe Vera ($21.95)
YEOUTH in a bottle!  Our Retinol Serum is a gentle serum that lightly exfoliates to reveal healthy, new skin.  It is a powerful wrinkle-fighting serum that will deliver dramatically visible results while hydrating and brightening the skin at the same time! 
2. HYALURONIC ACID SERUM
Hyaluronic acid is a substance that binds moisture in our skin.  It helps retain water in the skin to keep skin hydrated, supple and plump. They are a potent ingredient that can provide hydration, firmness, and volume especially to dry and dehydrated skin!  
Hyaluronic acid has an important role in skin repair, wound healing, and tissue regeneration. It is an imperative component of a lot of cosmetic and nutricosmetic products! 
The levels of hyaluronic acid in our skin deplete daily resulting in the development of fine lines, wrinkles, uneven skin tone, dryness, roughness and other premature signs of skin aging!
We need to regularly supply our skin with the hyaluronic acid it needs through products formulated with it.  
OUR PICKS:
Pure Hyaluronic Acid Serum ($16.45)
Hyaluronic Acid Plus Serum with Tripeptide-31 and Vitamin C ($32.49)
YEOUTH Hyaluronic Acid Plus Serum is formulated with Vitamin C to hydrate and brighten the skin for a supple and radiant appearance. This formula contains Tripeptide 31 that provides a gentle tightening-like effect on the skin!
YEOUTH Pure Hyaluronic Acid Serum is formulated with 100% Pure Medical Grade Hyaluronic Acid that will deeply quench thirsty skin to restore healthy moisture levels and suppleness.
3. VITAMIN C & E SERUM 
VITAMIN C
Vitamin C is an antioxidant that has the ability to boost the production of collagen that our body and skin needs.
It has brightening effects making it a perfect ingredient to combat skin dullness!  It can protect and rejuvenate skin cells, and has a strong antioxidant effect against free radicals and harmful UV rays.
Read our blog: What you Need to Know about Vitamin C and your Skin 
Our Vitamin C&E Serum enhances the appearance of skin tone and texture while deeply nourishing and quenching dry, thirsty skin. Made of medical grade Vitamin C to brighten and help fade the appearance of hyperpigmentation and dark spots, Vitamin E to help protect and defend the skin from future damage, and Hyaluronic Acid to deeply penetrate the skin to restore hydration and suppleness. 
VITAMIN E 
Vitamin E nourishes and protects our skin.  It has been used for more than 50 years! 
It can help reduce skin damage and hyperpigmentation from UV irradiation.  And when we ingest Vitamin E, it goes directly to the skin through our sebum.  This is why people with oily skin actually have high levels of Vitamin E!
Read our blog:  The Many Skin Benefits of Vitamin E
VITAMIN C AND E 
Vitamin C and E are usually formulated together in skincare because of their synergistic effects.  With these two ingredients combined, the protective and brightening effects double up!
OUR PICK: VITAMIN C&E SERUM with Hyaluronic Acid ($17.49) 
THE TAKEAWAY
Our skin goes through a lot of changes daily, either from changes we experience in our body as we age, and the environmental stressors our skin has to battle everyday.  Serums play the most important role in our skin regimens. They are the superstar ingredients that can tackle all of our skin concerns from acne, dryness, anti aging to maintaining the YEOUTHful glow that we have!  
Let your skin bloom with our amazing serums!  Introducing our Serum Trio Vitamin C + Retinol + Pure Hyaluronic Acid Serum Set! Available on Amazon at a specially discounted price just for you! Get your set today and experience the YEOUTH difference! 
YEOUTH VITAMIN C&E + RETINOL + PURE HYALURONIC ACID SERUM TRIO ($48.99)
 SHOP IT ON AMAZON DURING OUR LABOR DAY SALE FOR ONLY $19.99!
Do you have a favorite serum? Is it giving the skincare treatment your skin is looking for? Start your YEOUTH skin care journey with us today and see the big difference!