THE SKINCARE ESSENTIALS YOU NEED IN YOUR 40S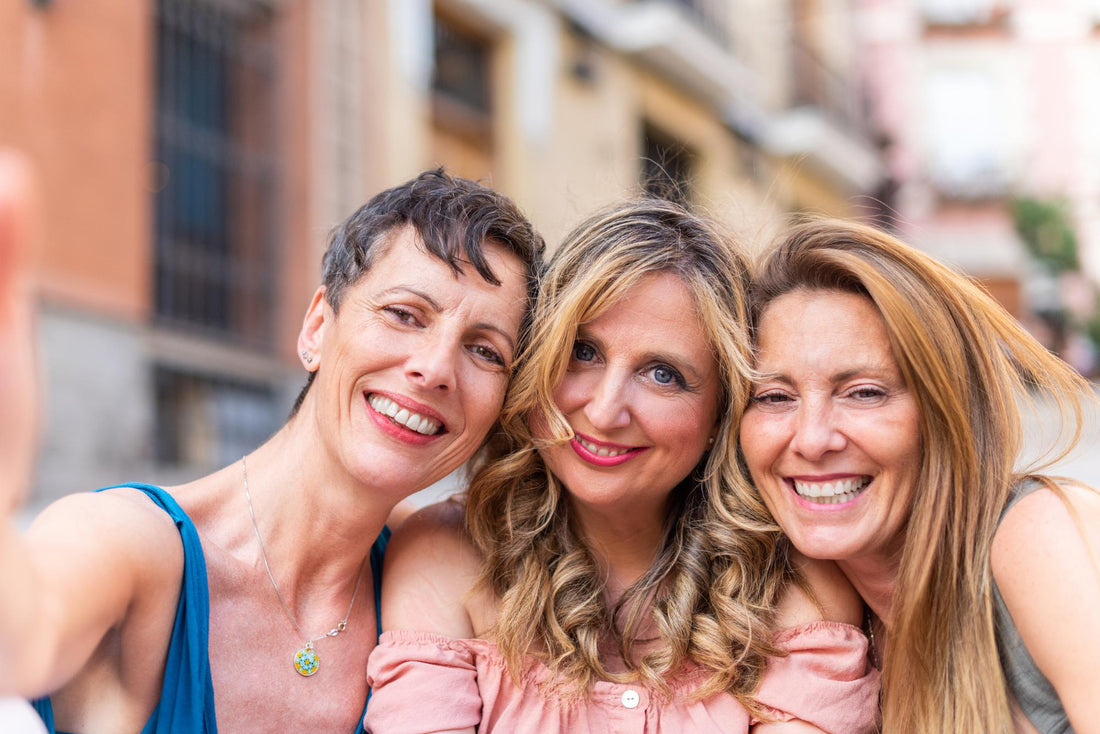 It is time to be serious about anti-aging.  By the time you reach your 40s, you need to up your game in all the steps of your
skincare routine
if you want to keep that YEOUTHful glow longer. This is very important especially since a lot of changes happen to our body which can take its toll on our appearance.
In fact, as we reach our 40s our skin cell turnover decreases by as much as 50% in comparison to when we were still in our 20s. Your levels of estrogen will also start to decline leading to the loss of the essential collagen in our skin. Studies also show that the skin heals slower which makes it more at risk of cancer and collagen breakdown since we've had plenty of time exposed to the UV rays, the sun and pollution.
Because of this, the luminosity of your complexion can go down a notch and your skin will continue to lose volume and elasticity. You may also experience excessive skin dryness as the skin produces much less sebum. All these changes result in wrinkles and fine lines to appear more etched on your face than before.
This is why the right skincare products that will hydrate and nourish your skin with as many nutrients as possible is essential. Keep on reading to know our top 6 Anti-Aging skincare must-haves for your 40s and beyond:
1. Gentle cleanser that nourishes and brighten skin 
As we age, our skin tends to become more dry and sensitive because the skin's oil glands become less active. One skincare product that can further dry out your skin and make the problem worse is your facial cleanser.
If your skin feels dry and squeaky clean after washing, that's a red flag that your cleanser is too harsh on your skin and is stripping off the much-needed oils that's keeping your complexion soft and plump. This is why you should opt for a gentle cleanser that's still moisturizing even as it cleans your skin.
Read our blog: The 9 Basic Rules of Washing Your Face 
OUR PICK: VITAMIN C FACIAL CLEANSER with Aloe Vera, Green Tea & Seaweed ($21.29)
For a daily cleanser that will gently remove all dirt, excess oil, and makeup while still nourishing and hydrating your skin, we recommend our YEOUTH Vitamin C Facial Cleanser. Enriched with nourishing ingredients like Aloe Vera, Green Tea, ginseng, and seaweed, this product not only cleanses but also actively repairs skin damage while reducing the signs of skin aging.
2. Antioxidant Serums
When we were young, our skin was loaded with antioxidants that naturally protect our skin from free-radicals. However, factors such as sun damage, menopause, or illness can cause the skin to lose this ability.
When this happens, we do not get enough protection from the free-radicals caused by our environment likepollution, smoking, drinking alcohol, or sun exposure. This impairs the skin's natural ability to heal and protect itself, leading to collagen breakdown and premature skin aging.
The biggest means you can slow down the impact of aging on your skin is to use skincare rich in antioxidants. Look for serums loaded in Vitamin C, Vitamin E, Retinol, or Ferulic Acid to help protect your skin from the unseen cell damage that we experience in our daily life.
OUR PICK: ANTI-AGING SUPER SERUM with Vitamin C&E, Ferulic Acid & Hyaluronic Acid ($31.99)
For an antioxidant-rich serum that will help rejuvenate and protect your skin, check out the Anti-Aging Super Serum! Formulated with the powerful combination of vitamins C and E with ferulic acid, this antioxidant-rich facial serum can improve the look of your lines and wrinkles, even out your skin tone, encourage collagen production, smoothen your complexion, and protect your skin against environmental damage.
3. Retinol
As you reach your 40s, your skin cells won't renew as quickly as before and retinol can help by speeding up your skin's regeneration cycle. When applied regularly, retinol will help break down your dead skin cells and replace them with newer ones so your skin is younger and more vibrant.
Retinol also boosts your skin's collagen levels  resulting in a firmer, plumper and smoother complexion. It is one of the best anti-aging ingredients in the market so if you want to effectively diminish the look of your wrinkles and fine lines, it's time to add this anti-aging secret to your skincare routine.
OUR PICK: RETINOL SERUM with Hyaluronic Acid, Vitamin E & Aloe Vera ($21.95)
Try our best-selling Retinol 2.5% Serum! This intensive nighttime serum with the potent mix of Retinol, Hyaluronic Acid, Aloe Vera, and Vitamin E works to promote collagen production, diminish the look of fine lines and wrinkles, fade hyperpigmentation, minimize your pores, and fight acne so you achieve clearer, more youthful-looking skin.
4. Nourishing Moisturizer
No matter your age, a trusty moisturizer is always a must. But as you hit your 40s, there's no harm in choosing a more specialized moisturizer that will help target signs of aging like fine lines and wrinkles to take years off your face.
Look for moisturizers packed with peptides and hyaluronic acid! Able to hold up to 1000 times its molecular weight in water, hyaluronic acid penetrates the skin and binds water to our skin cells so you get plump, supple, and more youthful skin. Peptides, on the other hand, increases collagen production which will help give the appearance of firmer, younger skin.
OUR PICK: ANTI-AGING MOISTURIZER L22 with Shea Butter, Jojoba & Macadamia Seed Oil ($21.99)
5. Eye Care
Did you know that the skin around your eyes is ten times thinner compared to other parts of the face? It also doesn't contain the same amount of oil and moisture which makes it more vulnerable to the environment and more prone to signs of aging such as Crow's Feet and wrinkles.
This is why eye cream is very important. The delicate skin around your eye needs loads of nourishment and hydration to stay tight and avoid those pesky lines that can deepen over time.
OUR PICK: RADIANCE EYE GEL with Tripeptides and Hyaluronic Acid ($27.49)
Say goodbye to Crow's Feet, fine lines, sun spots, and wrinkles on your eye area with this must-try Radiance Eye Gel. Formulated with a blend of anti-aging peptides and hyaluronic acid, this eye gel provides visibly smoother and plumper skin by filling in your fine lines and wrinkles with multilevel skin hydration.
6. Neck Cream
Just like the skin around your eyes, the skin around your neck is much thinner and has less fatty tissues. There is also much less collagen and elastin so it's no surprise that signs of aging show up much sooner in this area.
To take your skincare to the next level, add a neck cream to your routine. They are formulated specifically for the unique needs of the skin on your neck and décolletage area so they can look as firm and youthful as the skin on your face.
OUR PICK: NECK FIRMING CREAM with Green Tea and Vitamin C ($28.49)
Try out YEOUTH's Neck Firming Cream; this age-defying neck firming cream targets and improves the appearance of the delicate skin of the jawline, neck, and décolletage, helping it to regain its suppleness so you achieve a smoother, more lifted appearance.
THE TAKEAWAY
Aging is inevitable but the good news is the right skincare regimen is all you need to slow down the aging process. Another good news is that you can get all these skincare essentials and more in our ANTI-AGING SYSTEM FORTIES+!!  Look Great and Feel Confident in your 40s as you celebrate your YEOUTH! 
Anti - Aging System Forties+ ($182.95)
This Anti-Aging Kit consists of carefully-selected, high-quality anti-aging products focused on targeting age-related skin problems such as wrinkles, fine lines, age spots, and more.  With the synergy of these 8 products and regular daily application, you can achieve a more YEOUTHful-looking skin in no time!
What's your must-have in your anti-aging regimen? Would you like to try out a professionally - curated set of anti-aging skincare from YEOUTH? Talk to us in the comments!