The Amazing Skin Benefits of Dead Sea Mud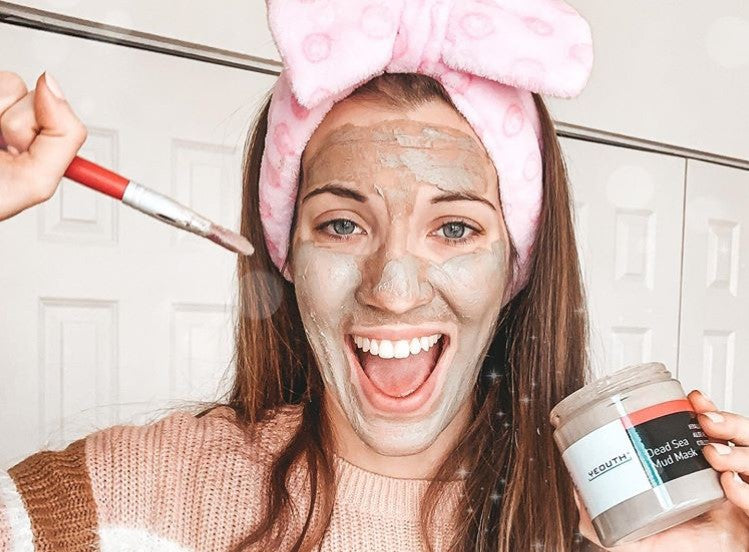 Dead Sea mud was onced used by queens and pharaohs during the ancient times. Mud from the Dead Sea is thought to be very restorative. Even today, millions of tourists visit the Dead Sea every year for health benefits, most especially for the wonders it can do for the skin!
You can experience the healing powers of this nutrient and mineral-rich mud in the comforts of your own home with our amazing Dead Sea Mud Mask!
Dead Sea Mud
The healing powers and benefits of the Dead Sea is more than just a myth. The Dead Sea is a tiny body of water nestled between the west bank of Israel and Jordan. The natural landscape of the sea causes minerals and substances to be deposited into the sea. It eventually washes ashore to the bank of the sea providing a rich mud filled with nature's goodness. 
Within the mud, as discovered, are high concentrations of bromides, magnesium, sodium, phosphates, and other minerals. Studies have suggested that these minerals can help detoxify and hydrate the skin, reduce skin inflammation and roughness, and improve various skin conditions, including psoriasis.
Skin Benefits of Dead Sea Mud
1. Detoxifies
The gentle pulling action of the mud helps to gently exfoliate the skin and draw out impurities and toxins, this makes it a perfect addition to any skincare routine. It is also perfect for oily, acne-prone skin.
2. Helps Increase Circulation
Facials stimulate blood flow that is why skin in the face usually turns red after you do your facials. Body masks or wraps have the same effect. Circulation helps bring important nutrients and oxygen to the cells and it helps carry away toxins and wastes. This is essential to make cells function properly and make them healthy. 
3. Aids Skin Health
Dead Sea mud is high in minerals like sodium, chloride, magnesium, potassium, iron and calcium to help nourish the skin. It naturally softens, moisturizes and helps dramatically improve skin appearance and health, leaving it clearer and more toned.
4. Treats Skin Conditions
Dead Sea mud is said to help in treating skin conditions such as psoriasis and atopic dermatitis. The black mineral mud found in the Dead Sea region is essential to maintaining healthy, supple skin. It helps restore the suppleness and moisture levels in overly dry skin while relieving and soothing symptoms such as soreness, roughness, redness and cracking.
5. Moisturizes Skin and Treats Acne
Dead Sea mud contains beneficial minerals to help reduce acne-causing bacteria while controlling inflammation at the same time. A popular treatment at spas - body wraps made from Dead Sea mud, helps nourish, moisturize, and detoxify the skin.
6. Helps Relieve Aches & Pains
Dead Sea mud is therapeutic and useful in treating rheumatoid arthritis and osteoarthritis. It is also beneficial for tendonitis, bursitis, sports injuries and useful for relaxing sore muscles. It may be used as a pack to treat specific parts of the body if you do not have time for a full body treatment.
YEOUTH Dead Sea Mud Mask
With a passion for creating no-nonsense skincare fit for today's women and men, YEOUTH formulated a unique blend of skin-loving ingredients to create a quality facial mask that is nourishing, hydrating, and delivers the best results for your skin that you can afford!
YEOUTH's Dead Sea Mud Mask is perfectly blended with Hyaluronic Acid, Aloe Vera, Colloidal Oatmeal and Avocado Oil.
As the facial mud mask dries, it opens up pores and pulls out excess oils, toxins, blackheads and pore-clogging pollutants. It infuses pores with a high concentration of minerals from the Dead Sea mud. Hyaluronic Acid, Aloe, Oatmeal and Avocado Oil nourishes and stimulates your skin from within – providing for an effective natural skin care treatment!
Go ahead and treat yourself to a 5,000 year beauty tradition at home!
How to Use It
Start by washing your face with lukewarm water.  Remove any makeup or grease to leave your skin clean. Apply a generous amount of the mud mask with your fingers avoiding the eye and lip area.  Allow the mud to dry naturally on the skin for about 20 minutes, and then wash off with warm water. Use three times a week for the best results.
The mud acts as a detoxifier cleansing the skin and removing impurities from the pores. Follow with your favorite moisturizer like our  YEOUTH Day/Night Cream. Enjoy your rejuvenated, noticeably softer and smoother skin!
Sign up for our Newsletter to receive special advance announcements for promos and discounts here! (Scroll down to the yeouth.com homepage and enter email address into the Newsletter input)
The Takeaway
Dead Sea mud can do wonders and perform miraculous benefits for the skin. You and your skin can experience the wondrous benefits of it all right in the comforts of your own home with our YEOUTH Dead Sea Mud Mask! Try it today for a wonderful and YEOUTHful skincare journey! 
YEOUTH Dead Sea Mud Mask with Hyaluronic Acid, Aloe Vera, Colloidal Oatmeal and Avocado Oil ($21.99)
YEOUTH Dead Sea Mud Mask 
 loosens dirt to decongest clogged pores so that your skin will glow. The result is a clean, fresh and blemish-free complexion! 
Have you ever tried using a Dead Sea Mud Mask? Did it do amazing stuff for your skin? Share your story in the comments below!