THE 9 BASIC RULES OF WASHING YOUR FACE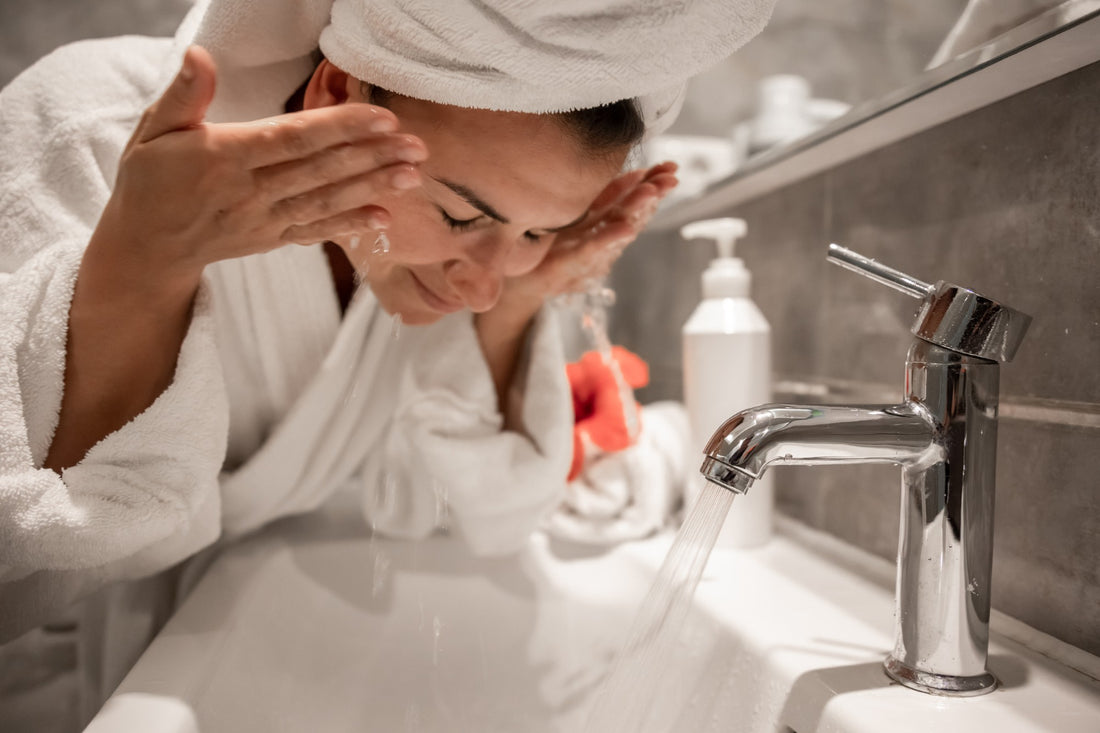 A PROPER SKINCARE ROUTINE ALWAYS STARTS WITH A CLEANSE.  A CLEANSE IS DONE TO GET RID OF ALL THE GRIME, MAKEUP, DIRT, DEAD SKIN CELLS, AND EXCESS OILS THAT CLOG OUR PORES AND RESULT IN UNWANTED BLEMISHES.   A CLEAN FACE IS ESSENTIAL TO ALLOW FOR BETTER PENETRATION OF THE SKINCARE PRODUCTS IN YOUR ROUTINE.  HERE ARE THE PROPER STEPS TO MAXIMIZE YOUR FACE WASHING SO IT IS MORE EFFECTIVE! 

It is best to understand how to properly and effectively clean your face to maximize the most out of your skincare regime. If we don't properly cleanse the skin, the succeeding steps in our routine can have little or no effect at all. This is why face washing is a very critical step! It is that very first step to yeouthful skin that will make you look great and feel confident! 
The following are the 9 BASIC RULES OF FACE WASHING to ensure that we're starting off our skincare routine the right way:



RULE #1: REMOVE MAKEUP
Properly remove makeup with a makeup remover before washing your face especially when using smudge proof or waterproof makeup. Use a gentle makeup remover before you wash your face. 
Do this especially during your nighttime skincare routine before going to bed because sleeping with your makeup on is a skincare no-no! 
Pro tip: Use a q-tip dipped in your makeup remover to gently clean your sensitive eye area. It  will help prevent skin tugging that can lead to unwanted fine lines and wrinkles.
RULE #2: USE LUKEWARM WATER
The feel of hot water may be soothing, but it strips skin of its natural oils which can result in it being either too oily, dry or irritated. Cold water won't effectively remove all of the debris, excess oil, and grime clogging your pores so you're left with dirt on your skin. 
Use lukewarm water to cleanse your face as it is sufficient enough to effectively clean and unclog your pores. It can also preserve the skin's natural hydrating oils.
RULE #3: ALWAYS USE A GENTLE CLEANSER
Soaps, some face washes, and harsh cleansers can cause breakouts. They can disrupt the delicate balance of the skin, strip it dry of its protective oil layer and leave it vulnerable to the irritants from the environment.
This is why mild cleansers that contain moisturizing as well as nourishing ingredients are essential.  Your facial cleanser, aside from being gentle, must be loaded with ingredients that will give skin the nourishment it needs.

Read more: Facial Cleansers: Vital Ingredients and How To Make Them Work
OUR PICK: Vitamin C Facial Cleanser with Aloe Vera, Green Tea & Seaweed ($18.95)



RULE #4: MASSAGE FOR AT LEAST 30 SECONDS
For an effective cleanse, you need to take your time.  There's no rushing when it comes to cleansing. Methodical washing can be very therapeutic, you'll be surprised at how relaxing it is as you gently massage your cleanser in circular motions around your face!

Spend at least 30 seconds to a full minute gently massaging your face in circular motions rather than scrubbing harshly for seconds. It will significantly stimulate your lymphatic system and even encourage blood circulation for a stronger skin system.



RULE #5: CLEANSE ALL THE WAY DOWN TO YOUR NECK
Signs of skin aging show up on the neck sooner than the face. This is because the skin on the neck and chest area are more sensitive and as greatly exposed to the sun and environment as the face.  It's also not a top priority in most people's skincare routines. However, your neck should be included in every step of your skincare routine and it starts with cleansing. 
Lather your cleanser with a gentle, upward motion as it will encourage skin to stay tight and naturally lifted.
Read more: Skincare Tips for a Youthful Décolletage
OUR PICK: Neck Firming Cream with Green Tea, Argireline & Vitamin C ($25.95)
Our YEOUTH
Neck Firming Cream with Green Tea, Argireline & Vitamin C
is a powerful multitasking and age-defying cream formulated to help target and improve the appearance of the delicate skin on the neck and dècolletè. It is combined with Green Tea to soothe, Argireline to help tighten and Vitamin C to brighten and firm the skin for a more supple and lifted appearance. 
RULE #6: RINSE WELL
Sometimes a break out along the edges of your face is caused by not rinsing your face well enough. Cleansers have the ability to loosen up sebum in the pores.  By failing to get rid of all the lather after cleansing, an oily film is left which can cause zits to pop up. 
Rinse well always and take your time until there is no visible or soapy feel.
RULE #7: AIR DRYING IS NOT RECOMMENDED
Leaving water dripping on your face until it dries doesn't actually hydrate the skin, contrary to what many seem to think. Once all of the water evaporates, you're only left with dry skin.
Instead, once you're done rinsing, very lightly pat your face with a soft towel. Don't rub! Rubbing can irritate and worsen skin problems. Light dabbing with a soft towel is recommended because it leaves a thin layer of moisture on the skin. This moisture will then be sealed in by your skincare - toner, serum, and moisturizer. Also, use a separate towel for your face as your body and hair towel may have residues on them from shampoos and soaps that may irritate the skin on your face. 
Read more: A 6-Step Skincare Routine for a Flawless Face


RULE #8: APPLY YOUR SKINCARE RIGHT AWAY
To seal in most of the moisture left in your skin, apply the next products in your skincare right away!  This is because the surrounding air pulls moisture away from our skin with every moment that it is bare.
To avoid skin dryness, apply products that will seal in much-needed hydration within three minutes of cleansing to keep skin radiant, nourished and supple.
Balance your skin with a toner
It is very important to rebalance your skin with a toner after cleansing. Toners restore the skin's pH balance so skin can properly protect itself from irritants and pollutants. Always use a toner after cleansing to keep skin balanced, protected and moisturized.
OUR PICK: Balancing Facial Toner ($15.95)
Our
YEOUTH
Balancing Facial Toner
refreshes, tones and hydrates the skin's surface which greatly helps with dry patches and redness that we encounter after cleansing. It's also designed to smooth, soften and calm the skin, prepping it for maximum absorption of the following serums and other products in your skincare routine.
Seal in hydration with a moisturizer
For people with sensitive skin, cleansing can sometimes be a little harsh especially if your cleanser is not gentle enough. It can strip away the skin's good oils and cause skin dryness. Dry skin makes us vulnerable to the environment and other skin problems, and to premature skin aging like blemishes, fine lines, and wrinkles!
In addition to toning, also regularly use a moisturizer after every cleanse. It is an essential preventive measure to keep skin problems at bay. It helps seal in the nutrients, nourishing ingredients and serums that you give your skin.
OUR PICK: L22 Anti-aging Moisturizer ($19.95) 
Our YEOUTH Anti-Aging Moisturizer L22  is a patented formula with ingredients that deliver the yeouthful lipids of a 22-year-old back to your skin! It has rich moisturization that results in a vibrant, dewy look that you'll love. Formulated with shea butter, jojoba and macadamia seed oil, this advanced moisturizer will surely leave your skin nourished and moisturized.
RULE #9: CLEANSE EVERY MORNING AND NIGHT
Cleanse when you wake up in the morning and before heading to bed at night. Our skin naturally secretes oil and toxins while we sleep, thus, one needs a thorough wash in the morning. This will help create a fresh base for makeup and daytime skincare. 
Cleansing at night removes all the makeup, dirt, and oil that build up on skin during the day. Pores won't get clogged and the skin can rest as you sleep.
Also, if you sweat after a workout or when out on a hot day, you can freshen up by washing your face. Perspiration can irritate skin, bacteria and germs mixing in with sweat is a recipe for a breakout!
However, do not over cleanse.  Over cleansing leads to tight, itchy, and irritated skin. Stick to two washes, morning and night, and only go for a third when truly necessary.



THE TAKEAWAY
Cleansing is the very first step in our skincare routine, thus, making it a very important and essential step.  It is a must to perform a proper cleanse to make the next steps in our skin regimen work more effectively. Always remember that a proper and effective skincare routine equals yeouthful and radiant skin that will make us look great and feel confident! 
Vitamin C Facial Cleanser with Aloe Vera, Green Tea and Seaweed   $18.95  
 Our YEOUTH Vitamin C Facial Cleanser is a powerhouse skin ingredient known to smooth fine lines, brighten and smooth the skin. It is packed full of antioxidants like Aloe, Green Tea and Seaweed, YEOUTH's Vitamin C Facial Cleanser works to nourish and cleanse the skin to remove impurities and excess oil while also fighting to defend skin health and give your complexion a bright, healthy-looking glow. 
IF YOU HAVE ANY QUESTIONS OR CONCERNS ABOUT CARING FOR YOUR SKIN, LET US KNOW IN THE COMMENTS BELOW. WE'D ALSO LOVE TO HEAR ANY TIPS OR TRICKS YOU HAVE FOR FACIAL CLEANSING TECHNIQUES, PLEASE SHARE!