Skincare Rules To Live By Once You're Past 30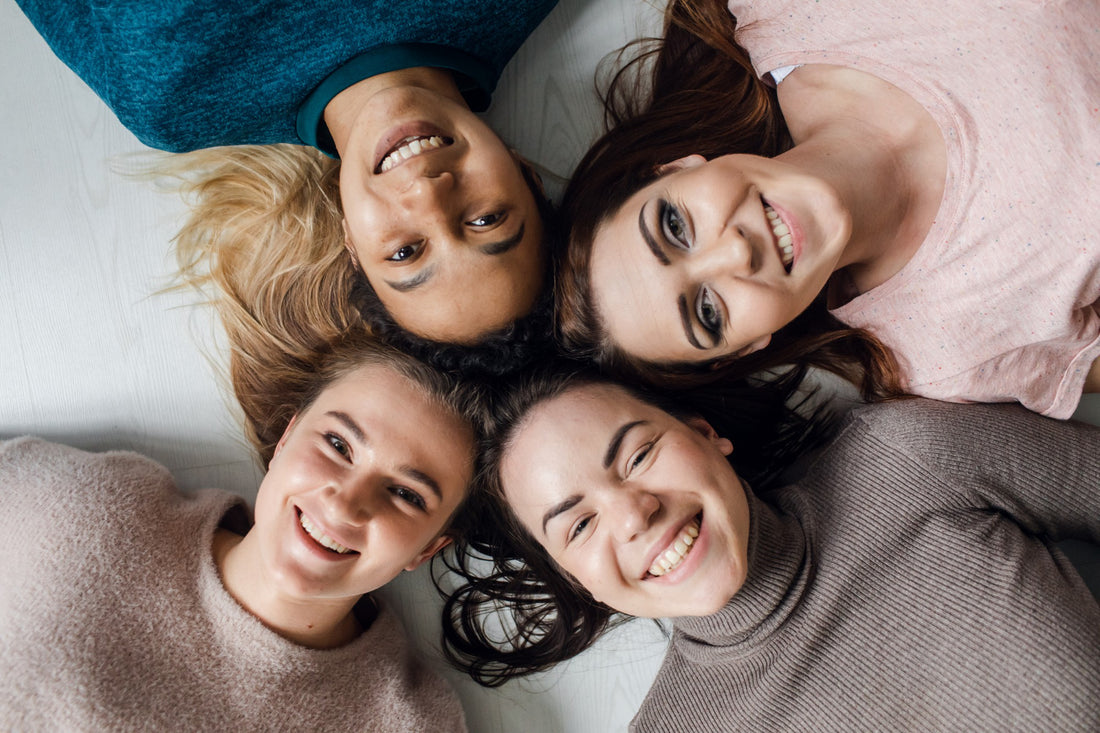 Your skin needs more love and care as you age.
Once you have passed your 20s, collagen levels, elastin, and even your hormones begin to decrease which can lead to less than desirable changes in your skin. We typically shed up to a million skin cells an hour but as we age, it decreases by half resulting in noticeably dull, dry skin with fine lines and wrinkles becoming more pronounced.
But no need to worry! These skin problems can actually be countered, and even reversed. You just need the right skincare products, a little more dedication to your skincare routine and the commitment to follow these 7 simple rules for keeping gloriously youthful skin in your 30s, 40s, 50s and beyond:
RULE #1: ALWAYS WEAR SUNSCREEN
The most important rule, if you want to keep visibly younger skin, is to ALWAYS apply sunscreen. The damage caused by the harmful UV rays of the sun to our skin results in the appearance of unwanted fine lines, dark spots and wrinkles. Just imagine a piece of furniture exposed to sunlight, it fades and ages faster — basically the same thing that's happening to your skin if exposed too much under the sun.
Even as a child, sunscreen rated SPF 30 or higher should be an integral part of your daily skincare routine. Apply generously over your face, neck and chest area after moisturizing every morning to prevent premature skin aging.
RULE #2: DITCH THE FACE WIPES
Our skin isn't as resilient as when we were in our 20s and using wipes to take off the day's dirt, oil and makeup can irritate your skin. This is because wipes are too abrasive for your delicate skin and most of them contain alcohol which actually disrupts your skin's natural pH barrier, leaving you vulnerable and prone to irritation and dryness. Not to mention, face wipes get thrown away adding to the world's trash problem.
Instead of using wipes, take the time to wash your face with a nourishing cleanser like the YEOUTH Vitamin C Cleanser to gently cleanse your skin after a long day. A little amount is enough to remove all dirt, oil, and make-up, leaving your skin feeling clean, clear and moisturized.
Vitamin C Facial Cleanser ($18.95)
RULE #3: INVEST IN SERUMS
If you are serious about keeping youthful and healthy skin, investing in a serum is a must. Serums are formulated to revitalize and directly repair skin cells, all the while addressing a wide range of skin health factors.  Of all skincare products in the market today, skin serums are your best bet in doing what they claim to do! They are made up of very small molecules that absorb quickly and still deliver high amounts of active ingredients right into our skin cells. Amazing, right?
Adding a serum fit to your skin needs will not only help intensify the strength of your skincare regimen but also round out the ingredients that you are applying to your skin. This will provide you with a more comprehensive approach to achieving your goals whether it be anti-aging, brightening or even hydration.
Read more: Serum FAQs: Things You Need to Know About Facial Serums
RULE #4: SHOW EXTRA CARE FOR YOUR EYES
The earliest signs of aging appear around our eyes because the skin in this area is very delicate. In fact, it's ten times thinner than the rest of the face so degradation of collagen happens at a more rapid rate, making it more vulnerable to signs of skin aging such as sagging, wrinkles, and dryness.
Retinol Eye Cream ($18.95)
Take care of your eyes by adding an eye cream to your skincare routine! Eye creams contain more oils than regular moisturizers and have active ingredients that are dedicated to minimizing crow's feet, dryness, and puffiness. Taking extra care of your eyes will be worth it since every person that you will meet will look at them more than any other part of your face.
Pro tip: Always use sunglasses. Aside from protecting you against the sun, glasses also stop you from squinting which also causes wrinkles to form around the eyes.
RULE #5: DON'T FORGET YOUR NECK AND DECOLLETE
Signs of aging such as loose, crepey skin and uneven skin tone show up sooner on the neck and chest because we tend to neglect these areas. Keep in mind that these parts also need our attention as we age since they have fewer sebaceous glands than the skin on our face and are more susceptible to things like dryness and irritation.
The skin on our neck can also develop photodamage such as brown spots, lines, mottled pigmentation, and other skin issues over time.
Make sure that you show the same love and TLC to your neck and decolletage by using special skincare products for them. Don't forget to apply SPF daily and use a gentle cream like the YEOUTH Neck Firming Cream that works to fight the most stubborn signs of aging, including fine wrinkles, lines, discoloration, and loss of elasticity specifically on the neck area.
Neck Firming Cream ($25.95)
RULE #6: TAKE TIME TO MASK
As we get older, life can be a little too stressful so indulge yourself with a little bit of me-time. Kicking back and using a face mask can feel like a wonderful retreat.
Face masks are a great way to instantly infuse your skin with all the goodness and nutrients that it needs, all in less than 20 minutes.  You can instantly feel the change in your skin as your pores tighten and your skin becomes softer and smoother. Plus, you can pick different ones for your different skin needs each week!
Try natural clay or mud masks like the YEOUTH Dead Sea Mud Mask with added benefits of Hyaluronic Acid, Aloe, Oatmeal, & Avocado Oil for serious skin detoxing and brightening.
You can also try sheet masks that are soaked with super concentrated serums to infuse your skin with hydrating and nourishing ingredients for that dewy and youthful glow.
Read more: 5 Reasons Why Face Masks Are a Must
RULE #7: MAXIMIZE YOUR BEAUTY SLEEP
Did you know that not getting enough sleep hastens your aging process? A sleep study conducted by a research team at the University Hospitals Case Medical Center found that lack of sleep actually accelerates your aging process twice as fast.
Our skin naturally purifies itself at night and when we're not getting enough sleep, our skin becomes loaded with yesterday's waste and free radicals.  Always get a full 8 hours of sleep for a good skin detox. You will definitely feel and see the wonders that it can do for your skin.
Pro tip: Use a skin serum loaded with antioxidants such as vitamins C and E to help get rid of free radicals.
Vitamin C&E Serum ($15.95)
Do you follow any of these skincare rules? What other skincare rules do you follow to keep your skin youthful? Share it with us in the comments below!