Men's Skincare 101: A Guide To Understanding and Caring for His Skin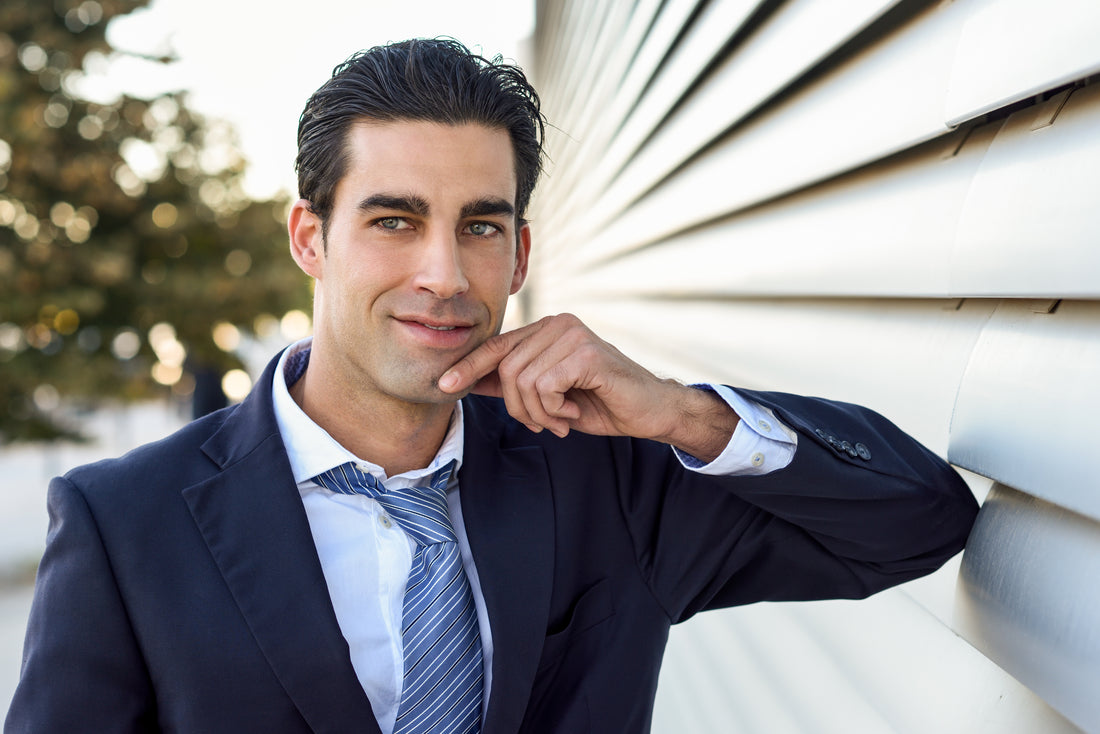 What kind of skincare routine should men follow? Read on to understand and learn about the proper ways men should care for their skin!
The male sex hormone known as Androgen spells the difference between men and women's skin. Testosterone, a kind of androgen hormone, is secreted by the testes in men and by the ovaries in women.
In fact, adult males produce a maximum of ten times more testosterone than adult females. Testosterone supports the development of men's internal and external reproductive organs and other masculine attributes.
A male at the puberty stage secretes more testosterone than when he was a child. The upsurge of testosterone supports the development of male attributes such as facial and body hair, muscle development, increase in upper body strength and active and aggressive behavioral tendencies.
Testosterone and Men's Hair
During middle age, the testosterone level of men declines every year. Testosterone affects hair growth. Lesser testosterone can trigger the hair follicles to constrict and die off, which results in baldness for some men.
Since men have more testosterone than women, they have more facial and underarm hair. 
Facial hair, such as the beard, serves as sun protection. The harmful UV rays cannot go through the beard and the outer layer of the skin. Therefore, it cannot cause the breakdown of collagen and elastin. Therefore, shaving significantly increases UV damage and premature aging since the skin is then more exposed.
In many societies, men sporting beards is a sign of masculinity.
Testosterone and Men's Skin
Androgen, which includes testosterone, also supports dense collagen fibers in men than those of women. 
Men have thicker facial skin so signs of aging appear much later in men than in women. As a result, often men are not easily persuaded to care for their skin early like women tend to do. Therefore, they tend to neglect properly caring for their skin and wearing sun protection daily. 
Photodamage is also more common in fair-skinned men with finer hair as compared to dark-skinned men.
Despite having a thicker skin, a study conducted by the Center for Disease Control and Prevention in 2006 revealed that fifty-seven percent of those diagnosed with melanoma are men and sixty-five percent of those who did not survive were also men.
The study should serve as a warning for men to be more mindful about skincare and sun protection!
Men and the Epidermal Barrier
The epidermis is the topmost layer of the skin. The epidermal barrier, which consists of ceramides, cholesterol and fatty acids, is a physical barrier to environmental stressors and protects the skin from water loss.
If the epidermal layer is damaged by external factors or dehydration, the lipids signal the body to eliminate the foreign material and replenish the lost water in the epidermal barrier. According to some studies, the epidermal barrier function can be negatively affected by testosterone.
Most men frequently experience nicks and cuts when they shave. The results of clinical observations and studies show that older men heal their wounds more slowly than women. Testosterone and dihydrotestosterone slows down wound healing. For these reasons, men's skincare should focus on protecting the epidermal barrier and skin repair.
Testosterone and Acne
Young males in the puberty stage are more prone to acne due to testosterone upsurge during puberty. High levels of testosterone increase the sebum secretion all over the body, which is most apparent on the face.
Sebum and epidermal lipids make up the barrier on the skin's surface that protects the skin from the environment and water loss. Sebum and epidermal lipids mixed with sweat could be a perfect place for bacteria to thrive. All of this clog the pores and triggers inflammation and acne.
Some men use anabolic steroids to promote muscle growth or boost athletic performance. Anabolic steroids are similar to testosterone, which could increase the risk of having acne.
With all of these said, it is never too early nor too late to start caring for your skin.
MEN MORNING SKINCARE TIPS
Tip #1: Cleanse your skin
Wash away excess oil that accumulated throughout the whole night. Excess oil does not only clog pores and cause acne but also prevents your razor from gliding smoothly. Cleanse your face with water and a mild facial cleanser to eliminate dead skin and blockages.
Our pick: YEOUTH Vitamin C Facial Cleanser
Vitamin C Facial Cleanser with Vitamin C, Aloe, Green Tea & Seaweed Extract ($18.95)
This cleanser gently cleanses the skin to wash away impurities and excess oil. It also defends and nourishes your skin to give you a brighter and healthy-looking complexion.
Tip #2: Prepare your skin for shaving
Splash your face with some warm water to open up the pores. Moisten your skin by applying your favorite shaving foam or cream for a smoother shave.
Shaving while in the shower could also make the process easier. The humidity of the shower opens and moistens the skin for easier shaving.
Tip #3: Shave in the right direction
Gliding your razor in the same direction as your hair grows can reduce the irritation and damage to the hair follicles. Do not use too much pressure because that could cause skin irritation.
Find a razor that you feel comfortable with. It doesn't matter if the razor has single or multiple blades. A good and comfortable grip will help you glide smoothly. 
Allow enough time to prepare your skin for shaving. Shaving hastily will give you more cuts and nicks.
Wash off the excess hair with cold water.
Tip #4: Put on some toner
Restore the PH balance of your skin by dabbing some toner. Toners help moisturize your skin. It also helps constrict pores and tightens skin cells to prevent impurities from entering the pores prepares the skin for better absorption of other skincare products.
Avoid toners containing alcohol as it will dry out your skin.
Our pick: YEOUTH Balancing Facial Toner
Balancing Facial Toner ($15.95)
A nourishing facial toner mist that balances and protects the skin. It contains Chamomile Flower Extracts and Allantoin to soothe and heal the skin as well as minimize the appearance of pores. It refreshes the skin and helps boost radiance.
Tip #5: Put on some serum
For additional protection from the harsh environment and for extra hydration, put on some serum while the skin is still damp with your toner. This will help better absorb the moisturizer. The serum restores the suppleness of your skin.
Our pick: YEOUTH Pure Hyaluronic Acid
Pure Hyaluronic Acid Serum 1oz ($14.95)
Hyaluronic Acid can hold up to 1,000 times its weight in water to replenish the skin's moisture levels for a healthy, softer, and more youthful appearance.
Tip #6: Moisturize
While the skin is still damp, slather on some moisturizer. Moisturizing will nourish and hydrate your skin.
The epidermal barrier could be damaged by shaving. Moisturizers help maintain a healthy epidermal barrier to protect you from sun damage, dehydration and excess sebum. Regular use of a moisturizer also diminishes fine lines.
Our Pick: YEOUTH Day/ Night Cream
Day/Night Moisturizer with Snail Extract, Hyaluronic Acid, Green Tea, & Peptides 4oz ($22.95)
This cream is lightweight for daytime use and nourishing enough to repair skin overnight. It provides optimal hydration and restores the natural vibrance of your skin. It fades the appearance of fine lines, wrinkles, hyperpigmentation, and scars for a healthy, younger-looking, and glowing complexion.
Tip # 7: Don't forget your SPF
Apply a minimum of SPF 30 sunscreen to protect your skin from the harmful UV rays of the sun. Never skip your sunscreen, even when it's gloomy weather. The UV rays could still penetrate the clouds and damage your skin.
Ideally, sunscreens should be applied at least thirty minutes before going under the sun. Reapply every two hours of sun exposure.
MEN EVENING SKINCARE TIPS
For an easy evening skincare routine, just follow tip numbers 1,4,5, and 6 from your morning skincare routine.
Extra tip: 
In the evening, massage your face, starting from the center towards the ears with a moisturizing cream using your fingertips. You can also massage your forehead and your temples to loosen the tensed muscles.
Include also your neck in your nighttime skincare routine. You can also massage your neck with your moisturizer with upward strokes using your fingertips. Start from the collarbone towards your chin. This will prevent sagging and neck wrinkles.
Massaging improves blood circulation and boosts collagen production for vibrant younger-looking skin.
DO YOU HAVE A MORNING AND AN EVENING SKINCARE ROUTINE? DO YOU PAMPER YOUR SKIN WITH THE RIGHT SKINCARE PRODUCTS? LET'S TALK IN THE COMMENTS BELOW.