How To Transition Your Skincare from Spring to Summer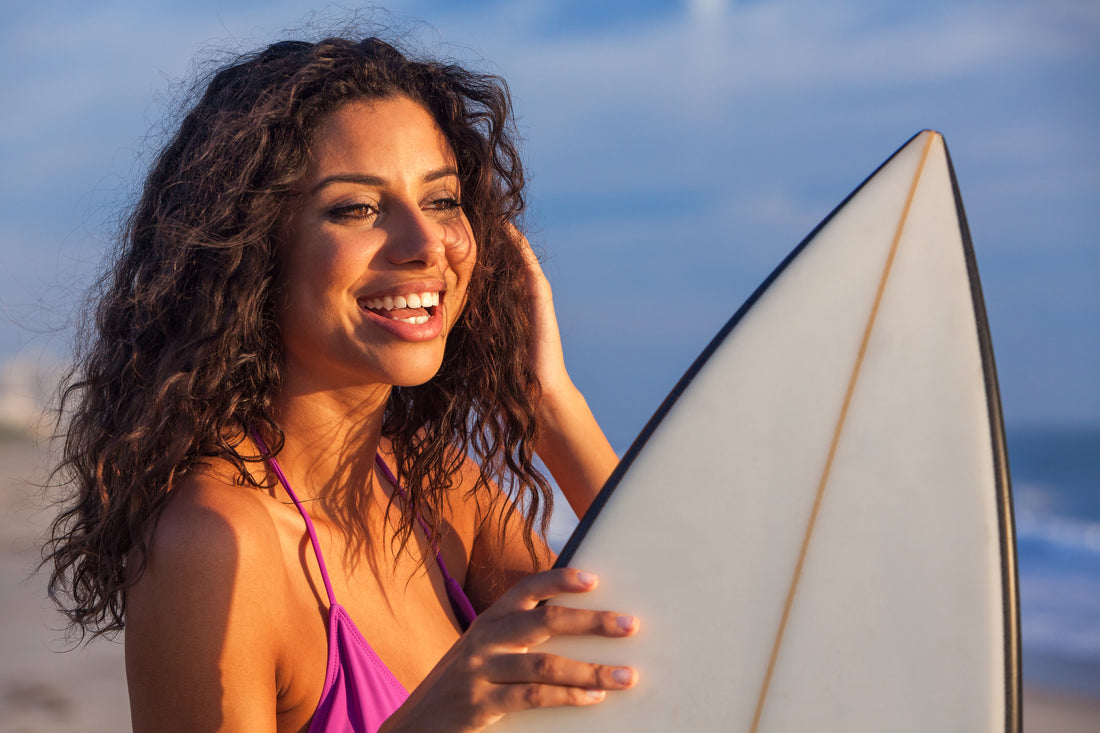 Use the right products to keep your skin's healthy glow under the summer sun.
The combination of sun exposure, heat, humidity, and the activities you do during summer can affect your skin in a number of ways. This is why you need the right products that will nourish and protect your skin and are still comfortable enough to wear under the blazing heat of the sun.
Follow our skincare guide below on how to transition your skincare routine from spring to summer so you can look and feel your best this warm season.
LEVEL UP YOUR SUN PROTECTION
Since we're bathing in more sunlight, it's just sensible to be more mindful of sun protection during the summer. The harmful UV rays of the sun increase our risk for skin cancer and early signs of skin aging. So if you want to keep healthy, youthful skin longer, sun protection should be on top of your list when it comes to your summer skincare routine.
Apply sunscreen adequately and frequently
Apply an ample amount of sunscreen to all of your skin that's exposed to the sun like your face, neck, décolletage, arms, and legs. If your regular sunscreen has SPF 15, take it to the next level by choosing SPF 30 or even higher. The SPF (Sun Protection Factor) is your indicator for the amount of time your skin is protected from sunburn. This means that a higher SPF means you are protected for a longer time.
Factors like your skin type, the weather, how much you sweat or the activities you do (e.g. swimming, exercising outdoors) also affect the level of the sunscreen's ability to protect you from the UV rays of the sun. This is why experts recommend reapplying at least every two hours.
Observe other sun protection measures
To fully protect your skin, you should also observe other sun protection measures whenever you can. Wear protective clothing like wide brim hats, sun visors or shades when you're outside. It's also best to limit your time under the sun especially during its peak hours from 10 A.M. to 4 P.M. During these hours, the sun's UV rays are the strongest.
LOAD UP ON VITAMIN C
Topical application of vitamin C can also protect your skin from damage caused by the sun. Since it's a very potent antioxidant, it neutralizes the free radicals that are caused by the UVA and UVB rays of the sun, naturally helping to strengthen your skin from the inside-out.
Note: Do not use vitamin C skincare products as a replacement for sunscreen. The protection boost that it gives your skin is more focused on the deeper layers of the skin so you still need to top off with a layer of SPF protection for maximum protection.
However, this doesn't mean that Vitamin C should only be for summer. It's a skincare must-have all year-round. Aside from protecting you from free radicals, Vitamin C is well-known for its ability to help brighten up your complexion, improve collagen production and prevent premature skin aging. You can experience all these benefits in our Vitamin C & E Serum! With its extremely nourishing formula loaded with antioxidants and moisture, your skin will be protected and radiant under the summer sun.
USE A LIGHT, GEL CLEANSER
The extra sunscreen, along with the increase in sebum production because of the high heat and humidity, can congest your pores and lead to acne breakouts. This is why you need the right cleanser that will thoroughly remove all the dirt, oil, sunscreen, and makeup by the end of the day.
Freshen up by using a light, gel face cleanser that will effectively clear your skin of impurities without drying it out. This season, try a gel cleanser, like our Vitamin C Facial Cleanser. Infused with natural extracts of aloe vera, green tea, and seaweed, this gentle cleanser refines and cleanses the skin without stripping it of its moisture. It's also loaded with antioxidants, from Vitamin C and green tea, that help reverse the damage done by free radicals during the time spent outside.
KEEP YOUR SKIN HYDRATED
You may think that your skin will stay just fine if you're comfortably staying indoors all day. But this is not always the case, especially when you're in an airconditioned room all day; airconditioning can draw out the moisture in the air and dry out your skin. And that's not the end of it, other factors can also lead to dry skin during summer such as the chlorine from swimming pools, sunburnt skin, chemicals from bug sprays and the increased frequency of shaving.
If you don't moisturize your skin properly during this season, you might end up having skin that is parched, itchy, and flaky. Imagine cracked-up soil underneath the heat of the sun, nobody wants that! This is why you should pump up the level of hydration in your skincare routine.
Look for skincare packed with hyaluronic acid. This popular skincare ingredient is a naturally occurring molecule in our body that works wonders when it comes to locking in moisture in our skin as only one molecule can hold up to 1000 times its weight in water! When applied to the skin, it creates a barrier on the surface, grabbing and holding in moisture so skin stays plump and hydrated all day.
Try our intensively hydrating Pure Hyaluronic Acid Serum! Lightweight and perfect for the hot summer days, this serum will keep your skin dewy and moisturized so you can bask in that summer glow all season-long.
Another great way to refresh and rehydrate your skin during the day is to mist yourself with a facial toner! A couple of spritz will certainly cool your skin and minimize the need for your glands to break out in sweat. Keep one in your bag always for a quick pick-me-up anywhere you go: before you leave your car, when you're chilling by the beach, or every time you're on a bathroom break. A hydrating mist just like our Balancing Facial Toner would be wonderfully refreshing and can help keep your skin cool during this hot season.
SWITCH TO A WATER-BASED MOISTURIZER
If you're still using a thick and rich face cream to moisturize, now is the right time to switch it out for a lightweight one. During the Summer, you need a moisturizer that is oil-free so you don't end up having shiny and greasy skin as you go through your day. Lighter formulations can also help prevent breakouts since there's a lesser chance of clogged pores due to excess oils.
This season, switch to a water-based moisturizer just like our Day/Night Cream. Packed with powerful natural, nourishing, and hydrating active ingredients, this day and night moisturizer is perfect for all skin types. Aside from the extremely hydrating hyaluronic acid, this formula is also enriched with antioxidants from green tea; your skin will be safe from the damage caused by the UV rays of the sun.
Are you excited for summer? How are you going to transition your skincare from spring to summer this year? Share with us in the comments!