How to Layer Acids and Other Ingredients in Your Skincare Routine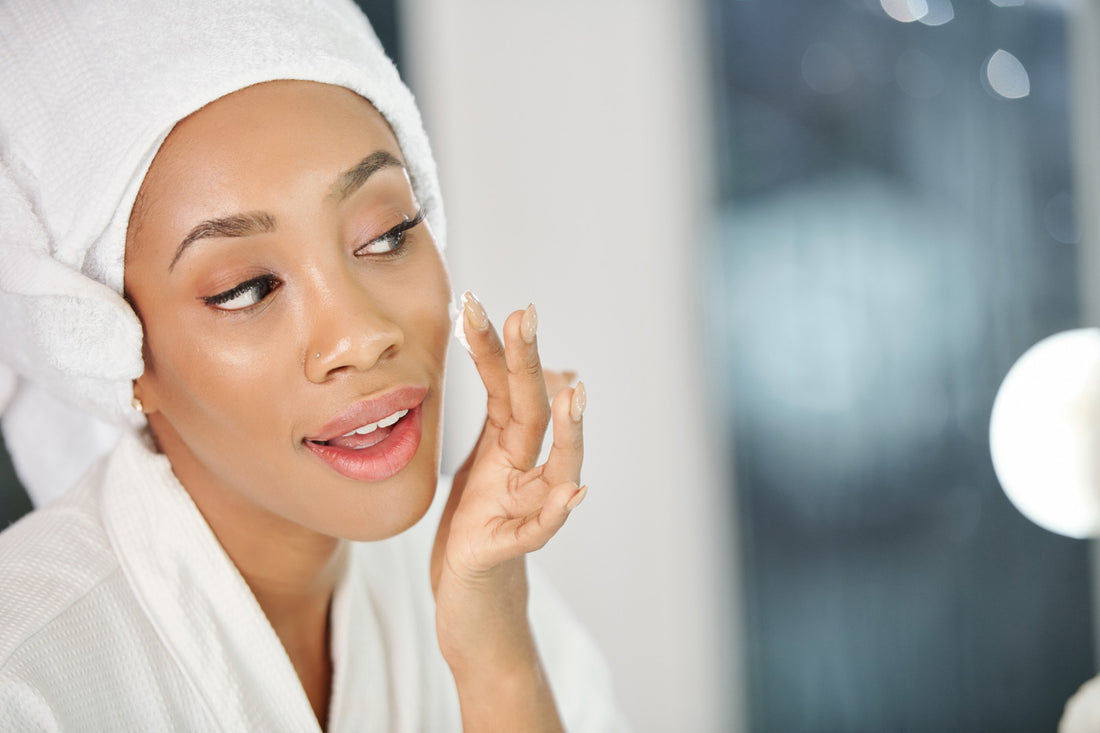 ARE YOU A SKINCARE NEWBIE OR SOMEONE WHO WANTS TO UPGRADE YOUR SKINCARE ROUTINE? DO YOU KNOW THE RIGHT WAY TO LAYER YOUR ACIDS AND OTHER INGREDIENTS IN YOUR SKINCARE ROUTINE?
These days, many skincare products are jam-packed with active ingredients that promise to do wonders for your skin. Some claim to minimize fine lines and wrinkles, reduce the appearance of pores, fade dark spots and hyperpigmentation and ultimately, make you look decades younger.
Mixing and matching products in your skincare routine can be complicated and confusing.
Here is a go-to-guide on how to layer your acids and other active ingredients in your skincare routine. When layered correctly, you can optimize the effectiveness and achieve impressive results on your skin.
What are acids and how do they benefit the skin?
There are various kinds of acids that are used in skincare and they are classified into two major categories: Alpha Hydroxy Acids (AHAs) and Beta Hydroxy Acids (BHAs). Additionally, there is also a second generation of acids called Polyhydroxy Acids (PHAs).
ALPHA HYDROXY ACIDS
AHAs are water-soluble acids that exfoliate the epidermis, which is the outer layer of the skin. AHAs uncover fresh skin by exfoliating the dead skin. They are good at treating dull, dry, scaly, and aging skin. They also unclog the pores for a more refined complexion and help to minimize age spots and hyperpigmentation for a brighter and clearer appearance.
What acids are classified as AHAs?
Glycolic acid, which is derived from sugarcane, is the most common form of AHAs. It is a good exfoliator that treats many skin concerns such as dryness, fine lines and wrinkles, and hyperpigmentation. It also has antimicrobial properties that help prevent acne.
Lactic acid is another common type of AHAs which is derived from fruits and milk. It is known for treating hyperpigmentation and age spots. It also has anti-aging properties that help treat dull and uneven skin tone.
Tartaric acid is a less popular form of AHAs. It is sourced from grape extracts and helps diminish the signs of damage and acne.
Citric acid is derived from citrus fruit extracts. It works well at neutralizing the skin's PH level and smooths rough patches. It also works well with sunscreen at combating UV damage.
Malic acid is derived from apples. This acid is not so potent when used alone, but when combined with other AHAs, it increases the other acids' potency.
Mandelic acid, which is derived from almond extracts, has larger molecules compared to other AHAs. When used alone, it helps improve skin texture and pore size. When combined with other AHAs, exfoliation is enhanced.
BETA HYDROXY ACIDS
BHAs are oil-soluble and penetrate deeper into the pores to unclog them by drawing out dead skin cells and excess oil.
What acids are classified as BHAs?
Salicylic acid, a popular acne treatment, is the most common BHA. It is sourced from the bark of willow trees and is available in concentrations that range between 0.5 and 5%. It helps soothe redness and inflammation.
Betaine Salicylate is a fatty acid that is sourced from sugar beet plants. It is a famous ingredient in Korean beauty products that replaces salicylic acids. The use of pure salicylic acid is regulated in South Korea. Only a small amount is allowed in their skincare formulations. Betaine salicylate is much more gentle.
POLYHYDROXY ACIDS
Polyhydroxy Acids are very similar to AHAs. Both of them are chemical exfoliators that work to smooth and refine your complexion's look into a smoother and fresher appearance. PHAs have bigger molecules that penetrate the skin more slowly compared to the other acids. They are best for dry skin types, as well as sensitive skin.
PHAs are gentle exfoliators that gently get rid of dead skin cells to unveil a brighter, smoother, and more even skin tone. Unlike AHAs, PHAs do not cause the skin to become more sensitive to sun exposure, nor will they make your skin prone to damage.
What acids are classified as PHAs?
Gluconolactone, the multitasker among the PHAs, is a powerful antioxidant that protects the skin from sun damage. It strengthens the skin barrier, which protects us from internal and external irritants. Additionally, it blocks elastase, the enzyme that makes the skin sag. It also ensures an optimal level of skin hydration.
Lactobionic acid is derived from milk sugars. It helps support skin firmness by preventing the degradation of collagen. Lactobionic acid also has humectant properties that powerfully locks in moisture for a more supple and even skin tone.
What are other acids used in skincare?
Hyaluronic acid is a super hydrating sugar found in our bodies. It holds up to 1,000 times its weight in water. The moisture helps make the skin plumper, softer and brighter.
Try: YEOUTH Pure Hyaluronic Acid
L-Ascorbic acid is the pure and active form of Vitamin C. It is a powerful antioxidant that neutralizes free radicals and supports the skin's natural regeneration process.
Try: YEOUTH Vitamin C & E Serum
Retinoic acid belongs to the family of retinoids derived from Retinol or Vitamin A. It is sensitive to light. This compound is also highly fat-soluble, which makes it able to quickly diffuse into the membranes of the cells. It accelerates cell turnover and supports collagen.
Try: YEOUTH Retinol Serum
Niacinamide, also known as nicotinamide, is a form of Vitamin B3. It is a water-soluble vitamin that helps strengthen the skin barrier and helps delay skin aging.
Here are the DOs and DON'Ts on how to layer acids and other active ingredients in your skincare routine.
Do not layer exfoliating acids
AHAs and BHAs are excellent exfoliants that effectively improve skin texture and tone but combining these acids can cause severe dehydration and irritation. If you are susceptible to dryness, sensitivity, and redness, choose the one that works best for your skin type.
Glycolic acid, which is an AHA, works well with dry and sun-damaged skin.
Salicylic acid, which is a BHA, works well with oily and acne-prone skin.
Lactic Acid or PHAs work well for sensitive skin.
Do not layer AHAs/ BHA and Retinol
Retinol is not effective on acidic skin. The conversion of retinol or Vitamin A to retinoic acid does not reach the optimal level when the skin is acidic. On the other hand, AHAs/BHAs work better when the skin has lower PH. They might neutralize due to the higher PH of retinol making the acids useless.
You CAN safely layer Hyaluronic Acid with retinol products. For example, if you use YEOUTH Retinol Serum, you can safely layer with YEOUTH Pure Hyaluronic Acid Serum without any adverse reaction.
Do not layer Benzoyl Peroxide with Salicylic Acid, Retinoids or Vitamin C
Benzoyl Peroxide kills acne-causing bacteria. It is best used as a spot treatment because it can cause redness, flaking, and peeling.
Benzoyl Peroxide, Salicylic Acid, and Retinoids can still be part of your skincare routine as long as you use them at different times. Use salicylic acid in the morning and use benzoyl peroxide and retinoids in the evening.
Similarly, use Vitamin C in the morning and then use benzoyl peroxide in the evening. Layering Vitamin C with benzoyl oxidizes the effectiveness of L Ascorbic acid which is what makes Vitamin C so powerful to begin with.
Never use benzoyl peroxide and retinol together. This could cause severe redness or a burning sensation.
Use our YEOUTH Vitamin C & E Serum in the morning and YEOUTH Retinol Serum in the evening. Layer with YEOUTH Pure Hyaluronic Acid for an additional boost of hydration.
Do not layer AHA/BHA and Retinoic Acid
AHA/BHA and Retinoic Acid are all-powerful treatments. Combining them could cause severe irritation. Try using them on a staggered method, such as applying the hydroxy acids three times a week and retinoids twice a week. Observe if this method works for you then gradually increase usage.
Layer AHA/BHA with Vitamin C
Using BHA and AHA could help boost the benefits of Vitamin C on the skin. AHAs and BHAs have PH levels between 3-4. They lower the skin's PH by making it more acidic, creating a perfect condition for Vitamin C to be converted into its active form, L Ascorbic acid.
Topical Vitamin C provides protection against UVA and UVB damage. It helps soothe inflammation and minimize superficial reddening of the skin caused by AHA and BHA.
Our pick: YEOUTH Glycolic Acid Gel Peel + YEOUTH Vitamin C & E Serum
GLYCOLIC ACID FACE PEEL 30% ( $24.95 )
VITAMIN C AND E SERUM WITH HYALURONIC ACID ( $15.95 )
Layer Retinol with Vitamin C
Retinol and Vitamin C slow down the signs of natural aging and help reverse the sign of photoaging.
The combination of Retinol and Vitamin C provides a boost for collagen production.
Vitamin C stabilizes Retinol, which makes it more effective at stimulating cell turnover and collagen production.
Our pick: YEOUTH Retinol Serum + YEOUTH Hyaluronic Acid Plus Serum
RETINOL SERUM WITH HYALURONIC ACID, VITAMIN E AND ALOE VERA ( $19.95 )
HYALURONIC ACID PLUS SERUM WITH VITAMIN C AND TRIPEPTIDE 31  ( $29.95 )
Layer Retinol with Moisturizing Ingredients (Hyaluronic Acid and Ceramides)
Retinol can cause skin dryness and irritation, as well as sun sensitivity. Humectants such as hyaluronic acid attract and hold moisture into the surface layers of your skin. Emollients such as ceramides seal in moisture. Humectants and emollients relieve the drying effects of retinol. SPF should always be part of the skincare routine to protect the skin from the sun.
Our pick: YEOUTH Clear Skin bundle
CLEAR SKIN BUNDLE | RETINOL 2.5% SERUM + DAY/NIGHT CREAM ( $39.90 )
Layer Niacinamide with every ingredient in your skincare routine
Niacinamide has anti-inflammatory properties. It is gentle on the skin and does not usually cause irritation. It works well with other skincare products. When niacinamide is layered with Vitamin C, the application should be 10 minutes apart.
Be one of the first to try the New YEOUTH Niacinamide Serum
35% off for a limited time only
Leave a comment to get your AMAZON DISCOUNT CODE
Layer Hyaluronic Acid with other Acids
Hyaluronic acid works well with everything! It is especially beneficial when used with acids that dry out the skin, like Glycolic acid, Vitamin C, and Retinoic Acid or Retinols. Hyaluronic acid intensely hydrates the skin making it more supple and smooth. It is a perfect neutralizer to the drying effects of other acids.
Our pick: YEOUTH Bright and Even Tone bundle
BRIGHT AND EVEN TONE ( $89.90 )
Layer AHA/BHA + Moisturizing Ingredients
AHAs and BHAs are effective ways to exfoliate and clean the pores but could potentially cause dryness and irritation if not used properly. Moisturizing ingredients such as ceramides, Petrolatum, Hyaluronic Acid, and Glycerin deeply hydrate and soothe irritation caused by the AHAs and BHAs.
Our pick: YEOUTH Anti-Wrinkle + Hydrate bundle
ANTI-WRINKLE + HYDRATE ( $100.80 )
Takeaway:
Knowing the proper ways to layer acids and other ingredients in your skincare routine is important at maintaining a healthy and youthful glow. Be sure to always protect yourself from the harmful rays of the sun.
Do not forget to wear sunscreen every day whether it be a sunny day or a cloudy day! Your skin will thank you for years to come.
ARE YOU LAYERING THE ACIDS IN YOUR SKINCARE PRODUCTS CORRECTLY? WHAT AMAZING BENEFITS HAVE YOUR WITNESSED? LET'S TALK IN THE COMMENTS BELOW.