HOW TO HAVE HEALTHY HAIR AND NAILS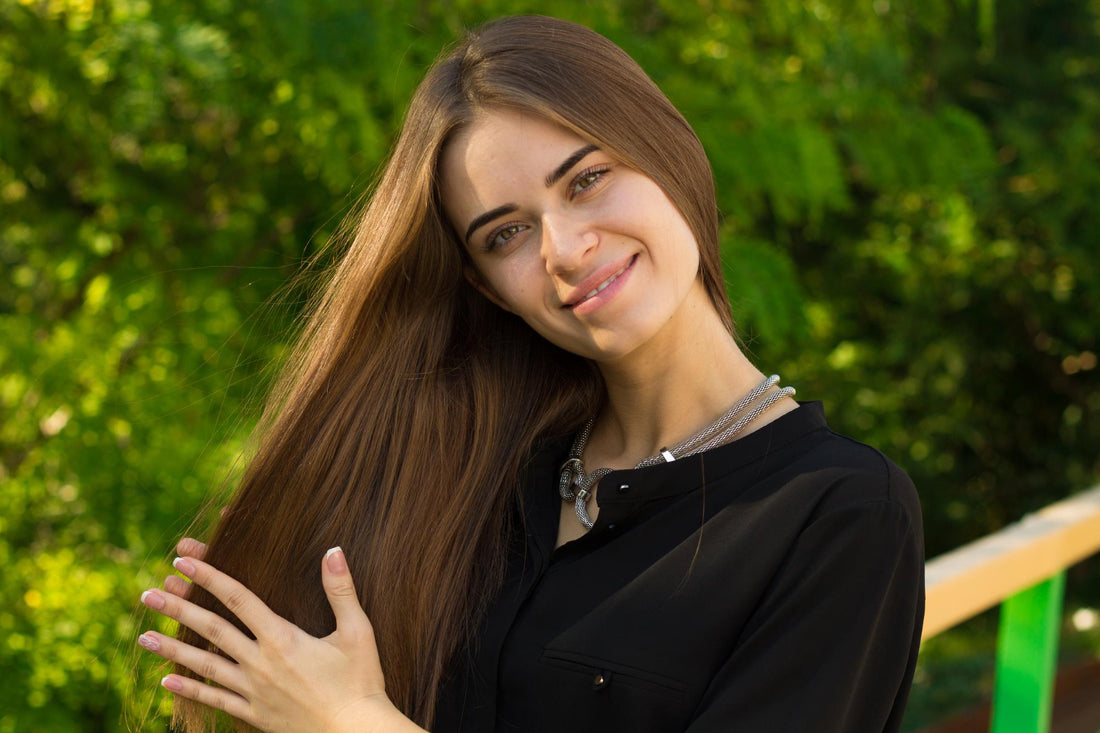 The hair is one's crowning glory, a way to express one's individuality, style and even personality.  Having healthy hair at any age is important because it can also be a symbol of one's YEOUTH and confidence.
Our nails, on the other hand, are a reflection of our overall health.  Unhealthy nail conditions can be signs of diseases we have in our body!  That is why it is essential to keep our nails healthy through proper nail care.  
THE ROLE OF COLLAGEN, KERATIN, BIOTIN IN NAIL AND HAIR HEALTH 
Collagen stimulates hair and nail growth and strength, and it also prevents nail brittleness.  A 2017 study showed that the daily intake of collagen supplements can increase nail growth, prevent nail breakage and improve brittle nails. 
Keratin is protein that is present in our skin, hair and nails.  They support our skin structure and keep our hair and nails strong, elastic and healthy.  Supplements containing keratin helps prevent hair loss and can significantly increase nail growth.  They can also help improve skin texture! 
Vitamin B7 or Biotin is a nutrient that aids in metabolism, psychological functioning and supports the nerve structure.  It is also known for its beauty benefits!  It helps our skin, nails, and hair maintain a YEOUTHful and healthy appearance.  Biotin use is found to improve hair loss and promote nail and hair health.
Biotin is commonly used in anti-aging supplements, it gives more benefits when ingested than when applied topically. 
8 WAYS TO ACHIEVE HEALTHY HAIR AND PREVENT HAIR LOSS
1. SCALP MASSAGE
A study revealed that massaging the scalp regularly promotes hair thickness. A scalp massage can stimulate blood circulation enabling more oxygen and nutrients delivered to the hair follicles.  This makes the hair stronger, healthier and thicker!
2. MAXIMIZE YOUR NUTRIENT INTAKE 
There are nutrients like vitamins and minerals that promote and support hair growth.  These include Vitamins C, D and E, Iron, Zinc, Biotin, and Omega fatty acids. 
Vitamin D helps encourage healthy and voluminous hair follicles!
Our YEOUTH Vitamin D3 Liquid ($34.94) helps support healthy hair growth while optimizing  absorption of nutrients and minerals for a healthy body system! 
3. CONSUME SUFFICIENT AMOUNTS OF PROTEIN
Maintaining a properly balanced diet with sufficient amounts of protein is important in maintaining hair health.  A minimum of 50 grams/day of proteins is the ideal amount if we want to achieve healthy hair. 
4. ESSENTIAL OILS CAN STIMULATE HAIR FOLLICLES
A lot of essential oils can effectively support hair health. They can help boost hair growth, and add shine and luster to dull hair! 
These essential oils can help make hair thick and healthy: 
Cedarwood
Rosemary
Add a few drops to your shampoo or conditioner, or they can be diluted with a carrier oil  and used for a relaxing scalp massage!
OUR PICK: Pure Essential Oils - Aromatherapy Set Of 6: Australian Tea Tree Oil, Peppermint Oil, Eucalyptus Oil, Lavender Oil, Sweet Orange Oil, Lemongrass Oil ($19.95)
5. AVOID USING HAIR STYLING TOOLS THAT EMIT HEAT
Using styling stools that emit heat like hair dryers, straighteners and curling irons can seriously damage and break hair!  Limit your use of these tools or lower the amount of heat used to prevent severe hair damage. 
6. EASE UP ON HAIR DYES
The use of hair dyes can weaken the hair shaft, cause hair breakage and lead to hair loss. While it is true that hair beneath the scalp cannot be reached by hair dye and cannot cause hair loss, shedding of hair can still significantly increase with hair dyeing!
7. QUIT SMOKING
A study revealed that people who smoke some 20 cigarettes a day will experience hair loss twice as likely than non-smokers.  Nicotine restricts blood flow to the scalp which negatively impacts hair growth because the hair follicles do not get sufficient oxygen and nutrients for a healthy growth cycle! 
8. MANAGE YOUR STRESS
Research shows that yoga and meditation helps manage blood sugar, and  improves circulation for healthy hair growth!  Manage your stress by engaging in relaxing and calming activities like meditating, and achieve gorgeous hair in the process! 
6 WAYS TO KEEP NAILS STRONG AND HEALTHY 
1. MOISTURIZE TO THE MAX!
Moisturizing is essential not only for skin but for the nails as well.  Use hand creams containing Alpha Hydroxy Acids (AHAs) like Glycolic, Citric or Lactic acid.  AHAs help retain the moisture that nails need! 
Creams formulated with Amino Acids or vitamins are also effective in combating dryness, and they can restore nail firmness and elasticity! 
You can also massage body creams into your nails and cuticles to encourage circulation and stimulate healthy nail growth.
2. SOAK IN WARM WATER ONCE A WEEK 
Try soaking your nails once a week in warm water.  Add a few drops of essential oils for a more relaxing and rejuvenating feel.  Do this for not more than 10 minutes, and then apply a cuticle oil.  Wear cotton gloves for about an hour to lock the generated moisture.  
Our YEOUTH Australian Tea Tree Oil (Set of 6 $19.95) has antibacterial, antifungal and antiviral properties. It helps boost the immune system and ward off ailments. A few deep breaths of tea tree can also help clear respiratory conditions. Soften your nails while relaxing and rejuvenating at the same time!
3. ADOPT A NAIL-FRIENDLY DIET 
Adopt a diet packed with calcium, proteins and vitamins because these make the skin and nails strong.  Also, drink your 8 glasses of water daily to keep your nails firm and hydrated!
4. PROTECT HANDS AND NAILS WITH PROTECTIVE GLOVES
Wear gloves when you do your chores that get your hands wet.  Washing and drying the hands frequently will seriously deplete the nails of its natural moisture.
If you do not like to wear gloves, you can apply oils while the nails are still wet and just let them dry.  You can also wear cotton gloves at night after you moisturize, especially this winter, to seal moisture in. 
5, NAIL POLISH BREAK 
The chemicals contained in nail polishes cause nail dryness.  They also weaken the nails and make them unhealthy.  Give the nails a break from nail polishes so they can recover lost moisture. 
6. KEEP NAILS SHORT IF YOU CAN
Keep your nails short to avoid the chances of breaking. 
File your nails in one direction to avoid chipping and breaking.  Also, avoid filing after you take your shower or when you wash your hands, this makes the nails break easily! 
REGENOTIN - KEY TO HEALTHY AND YEOUTHFUL HAIR AND NAILS
Regenotin, a phenomenal capsule, supports not only healthy skin, but also hair and nails!  It is formulated with a clinically tested ch-OSA (Choline-stabilized Orthosilicic Acid) + biotin that effectively rejuvenates dry and unhealthy hair! 
Regenotin naturally nourishes the body's beauty proteins - collagen, keratin and elastin, by supporting and activating enzymes from collagen-generating cells.  It is a must-have supplement for everyone's health and beauty plans for the skin, hair and nails! 
THE TAKEAWAY 
Having and exuding healthy hair and nails is as important as having beautiful, YEOUTHful skin.  Our hair and nails need as much attention, proper care and the power of YEOUTH to remain strong and firm.  
We, at YEOUTH, consider your hair and nails an essential part of your beauty plan because you deserve it more than anyone! 
Regenotin Advanced Collagen Generator ($51.95) 
Regenotin is clinically proven to increase collagen levels, and also promotes keratin and elastin formation—two major beauty proteins that assist in skin elasticity and hair growth.  It is formulated with vital anti-aging nutrients, minerals, and vitamins that our body needs to support healthy hair, skin, and nails. 
Do you have healthy nails and hair?  How do you keep them strong and firm? Share with us your beauty secrets in the comment below!