How does Vitamin C Benefit the Skin?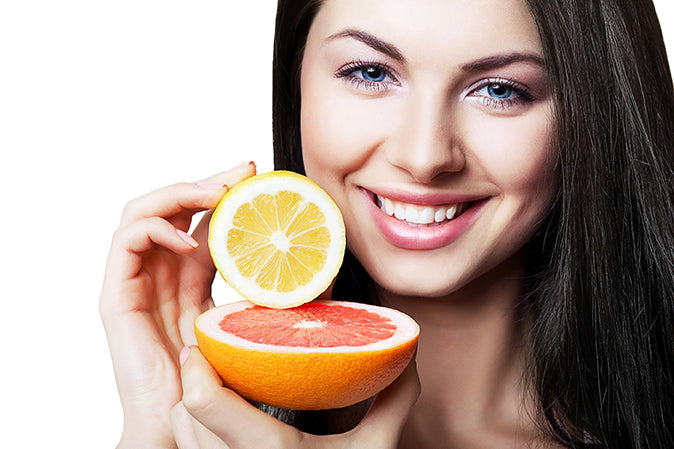 Vitamin C is a hot trend in skin care  — from actresses to beauty bloggers, everyone's raving about this holy grail of skin care. Learn why more and more people are adding Vitamin C to their skincare routine and why you should have it in yours too.
WHY VITAMIN C?
Vitamin C is a very important nutrient because it can neutralize free radicals which in turn benefits the skin.
Free radicals negatively impact our own DNA, damaging our cells and ultimately disrupting the skin's ability to repair itself. Our bodies generate these free radicals when exposed to the UV rays of the sun, pollution and other environmental stressors and the good news is that Vitamin C has the amazing ability to counteract them.
We all know by now that including vitamin C in our diet is good for the body but there's no way to guarantee that vitamin C is having an impact on your skin. This is why applying concentrated skin serums and other vitamin C topical products is the most effective way of giving your skin the protection that it needs… so what are the resulting benefits?
BENEFITS OF VITAMIN C
1. IT BOOSTS COLLAGEN PRODUCTION
Vitamin C plays a significant role in keeping the collagen levels of the skin at maximum. This is because it is required for the production of hydroxyproline and hydroxylysine, major compounds that are needed for the production of collagen.
Collagen is the main structural protein of our skin but it depletes over time and causes visible signs of aging. Regularly applying concentrated levels of vitamin C to your skin will help increase its collagen production and as a result, you may find that you have more youthful looking skin with a minimized appearance of wrinkles and fine lines.
2. IT ENHANCES SKIN HYDRATION
Vitamin C also has the ability to give your skin the moisture it needs. It contains magnesium ascorbyl phosphate, a compound proven to have a hydrating effect on our skin. This vitamin C derivative helps minimize skin's water loss thus allowing the skin to retain more moisture.
3. IT PROTECTS AND EVENS OUT SKIN
Vitamin C protects the skin from photochemical reactions that lead to grave skin conditions such as melanoma. Besides this, vitamin C can also lighten discolorations such as dark spots, acne scars, skin freckles, age spots, and also reduce skin redness and inflammation.
4. IT PROTECTS THE SKIN FROM THE SUN
Topical application of vitamin C can also protect your skin from damage caused by the sun. Since it's a very potent antioxidant, it neutralizes the free radicals that are caused by the UVA and UVB rays of the sun, naturally helping to strengthen your skin from the inside-out.
Note: Do not use vitamin C skincare products as a replacement for sunscreen. The protection boost that it gives your skin is more focused on the deeper layers of the skin so you still need to top off with a layer of SPF protection for maximum protection.
5. IT MAKES THE SKIN HEAL FASTER
Research findings suggest that high levels of vitamin C has the ability to speed up our body's natural healing process. Data shows that antioxidants from vitamin C can significantly improve wound healing and effectively treat burns.
6. IT REDUCES THE APPEARANCE OF UNDER-EYE CIRCLES
Since Vitamin C helps even out skin tone, it also has the added benefit of minimizing the look of dark bags and circles around the eye area. Perfect for those who want to achieve a bright and vibrant look without concealing with a lot of makeup.
7. IT KEEPS SKIN FIRM AND YOUTHFUL
Regularly applying Vitamin C can prevent the early appearance of wrinkles, crow's feet, sagging skin, fine lines, and other signs of skin aging. The increase in collagen production along with the ability to even and brighten the complexion helps to make your skin look and feel more youthful.
8. IT REDUCES SKIN PUFFINESS
High concentrations of vitamin C has also been found to reduce skin swelling and inflammation. If you are one of those people who wake with puffy eyes, give vitamin C a try. A little bit goes a long way especially when you're using a serum.
9. IT MAKES SKIN BRIGHTER AND HEALTHIER
Bring back life to dull and tired skin with vitamin C! It can make the skin look brighter, clearer and more vibrant with its natural ability to slow down melanin production.
10. IT IMPROVES SKIN TEXTURE
Did you know that collagen is also responsible for maintaining the shape of the blood vessels under our skin? These blood vessels carry oxygen and nutrients that our skin needs and when they're not in their best form, the skin can become rough and dry.
This is where vitamin C plays it part. Since it increases the skin's collagen level, it also helps in improving the structure of the blood vessels and in turn keeps the skin looking and feeling its best.
HOW TO USE VITAMIN C FOR THE SKIN
There are tons of skincare products on the market that claim to contain vitamin C — from lotions, to creams and other moisturizers. However, you should note that to achieve the best results, you need to use a product with a really high vitamin C concentration. This is why it is best to use vitamin C in the form of a serum.
Serum
Face serums are highly-concentrated, lightweight formulas that have the unique ability to penetrate deeply into the cellular level of the skin. Among all skincare products, they are the best in doing what they claim to do since they are designed to absorb quickly and penetrate deeper to deliver high concentrations of active ingredients right into the skin cells.
Read more: Serum FAQs: Things You Need to Know About Facial Serums
How to Apply

Cleanse your skin and then use a facial toner to balance out your skin's pH.

While skin is still damp, apply a few drops of vitamin C skin serum to the face and neck area.

Allow the serum to completely absorb.

Finish up by applying moisturizer and eye cream. If you are heading out for the day, apply a layer of sunscreen for sun protection.
Read more: Science Behind Skin: The Importance of Balancing Your Skin's pH


Have you tried using a skincare product that contains vitamin C? Which skincare benefit do you think is best for your skin problem? Share us your thoughts in the comments down below!