HOLIDAY SKINCARE PROBLEMS AND REMEDIES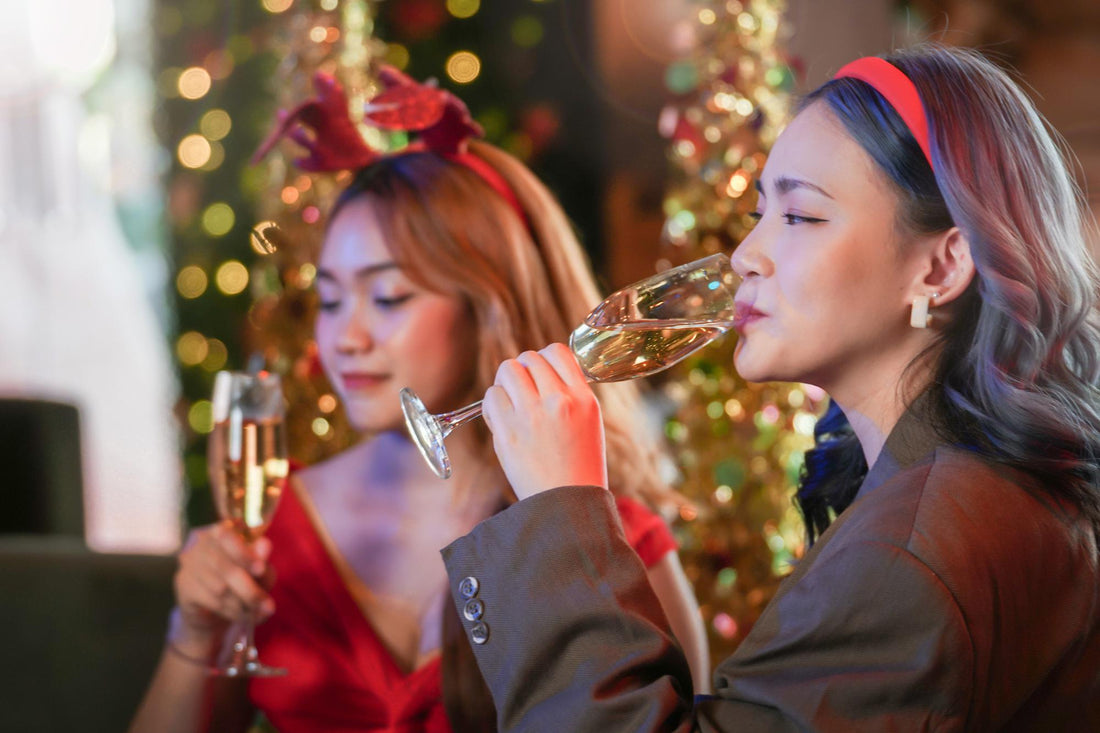 The winter and the festive holidays that come with it, are truly a great time to celebrate with family and friends.  Parties, vacations and getaways will force you to indulge in foods, alcohol, sleepless nights and perhaps some added stress!   
All of these activities will definitely take a toll and wreak havoc on our skin.  Add to that the harsh weather conditions that winter brings - freezing temperatures, cold winds and heated air indoors that can dry up our skin.
Prepare yourself to face some of the worst problems our skin may suffer during the holidays. Consider these tips that can help you prevent, protect and care for your skin so you can embrace your YEOUTH all holiday long! 
1. Skin cannot repair itself if you lack sleep 
It can be challenging to even rest and get the amount of sleep you need during the holidays.  Normally, adults should have a minimum of 7-9 hours uninterrupted sleep every night. 
When we sleep, our brains produce body-repairing hormones like growth hormones.  These are the hormones necessary to repair damaged tissues and generate healthy cells. It is also during our sleep that we get to flush out the neurotoxins that our body system does not need. 
Here are all the important reasons why we need beauty rest:
Skin becomes imbalanced
Lack of sleep or no sleep at all disrupts the balance of skin moisture and its natural Ph levels which results in dryness, redness, breakouts and prominent lines and wrinkles.
Accelerated skin aging 
Our skin, being the largest organ in the body, and its healthy cells suffer and break down when they do not get repaired overnight because sleep is cut short. 
It triggers acne and breakouts 
Lack of sleep increases stress hormones which triggers acne. Acne and breakouts can cause skin to become inflamed and more sensitive. 
Under Eye dark circles develop
When there is lack of sleep, the dark tissues and blood vessels under the eyes become more apparent resulting in dark circles.
Skincare remedies:  
Eye nourishing treatments that prevent and diminish signs of aging to the sensitive skin around the eye area

Moisturizers that can effectively repair skin overnight 
OUR PICKS:
Radiance Eye Gel with Hyaluronic Acid & Tripeptide ($24.95)
Retinol Eye Cream with Hyaluronic Acid and Tripeptide Complex ($18.95)
DAY/NIGHT CREAM with Tripeptides, Hyaluronic Acid, Snail Extract and Green Tea ($22.95)
Our YEOUTH Retinol Eye Cream is formulated to deeply penetrate the delicate skin around the eyes to visibly improve the appearance of fine lines and wrinkles. 
Our Radiance Eye Gel penetrates deeply to offer lasting hydration to the delicate skin around the eyes and improves the look of fine lines, wrinkles, dark circles and puffiness.
2.  Fried foods and sugary treats cause premature skin aging 
Holiday parties often serve a lot of sweet treats and delicious fried foods.  Having too much of these foods leads to glycation.  
Glycation is when sugar binds to the proteins and lipids in the body and creates sugar by-products.  Advanced Glycation End products (AGEs) are among the crucial contributory factors of skin aging.  Some 10-30% AGEs that are absorbed in the body cause skin aging.
These by-products create free radicals that damage healthy cells.  When this happens, the collagen and elastin that makes our skin healthy, firm and strong also stops working properly.  
AGEs are triggered by sunlight and UV exposure, smoking and diet. So be careful caving in to your sweet tooth.  Remember that fried foods have a higher amount of AGEs compared to other healthier prepared foods!
Read our blog: 12 Superfoods for Clear and Radiant Skin 
Skincare remedies:  
Antioxidant - filled serums that help fight free radicals 

Supplements that can nourish skin from within 
OUR PICKS:
Niacinamide Serum with Hyaluronic Acid, Licorice Root extracts and Aloe Vera ($16.95)
Anti-Aging Super Serum with Vitamin C&E, Ferulic Acid & Hyaluronic Acid ($29.95)
Regenotin Advanced Collagen Generator 60 capsules ($51.95)
Our YEOUTH Niacinamide Serum is a powerful serum that combines 10% Niacinamide with Hyaluronic Acid, Aloe Vera and Licorice Root Extract to create an oil-balancing serum that works to give your skin a clearer, brighter and more youthful appearance!
3. Alcoholic drinks dry up our skin 
Alcohol dehydrates the skin and deprives it of the moisture and nutrients it needs for skin to look radiant and youthful looking.
It removes the fluids in our skin making the appearance of wrinkles, dryness and sagging skin more prominent!  Alcohol is a diuretic.  It actively draws water away from the body causing dehydration. 
Alcohol is broken down into Acetaldehyde in the blood when ingested in the body. It produces free radicals and also damages our DNA. This results in the breakdown of collagen fibers, skin inflammation, hyperpigmentation and wrinkles! 
Skincare remedy: Load up on antioxidants from within and use skincare on the outside to fight off free radicals that damage our healthy skin cells.
Read our blog: Why are Antioxidants Essential for Anti Aging?
OUR PICK:  VITAMIN C&E SERUM with Hyaluronic Acid ($15.95) 
4. Failing to remove makeup before going to bed clogs your pores 
Late nights, alcohol and stress can sometimes make you forget to remove your makeup before going to bed.  This makes your skin the breeding ground of bacteria from makeup and dirt accumulated throughout the day.  Clogged pores also make the skin prone to breakouts. 
Skincare remedy: Wash your face with a gentle cleanser that does not dehydrate, and protect skin at the same time. 
Read our blog: The 9 Basic Rules of Washing Your Face 
OUR PICK: VITAMIN C FACIAL CLEANSER with Aloe Vera, Green Tea & Seaweed ($18.95)
 5. Stress can damage skin barrier 
Holidays are joyful, but they can also be stressful.  The skin is the most affected and impacted when we are under stress. It causes breakouts, excess production of oil, dehydration and it disrupts the natural barrier of the skin. 
A damaged skin barrier makes fine lines and wrinkles more evident!
Skincare remedy: You can also help your skin defend itself by taking a relaxing bath with essential oil to combat stress.  It will help detox the body to relieve tension and balance the skin. 
OUR PICK:
Essential Oils Set of 6 ($19.95)
Read our blog: 8 Essential Oils to Boost Skin Health and Overall Wellness
6. Holiday hectic times affect your skin care routine
Because of all the gatherings and numerous activities you have to attend, sticking to your regular skin regimen may become a hassle. You may have to forego your regular exfoliating or detoxifying skin treatments. Do not make that happen.  Or you will be aging in leaps and bounds in no time! 
When dead skin cells accumulate and stay on the skin, all the other skincare you put on fails to penetrate and deliver the nutrients the skin needs.  Your serums and moisturizers cannot do their job properly, skin appears rough and dull, and your makeup will not even go on smoothly! 
Skincare remedy: Exfoliate to rejuvenate the skin and allow skincare to penetrate and nourish your skin 
OUR PICKS: 
RETINOL SERUM with Hyaluronic Acid, Vitamin E & Aloe Vera ($19.95)
Glycolic Acid 30% Gel Peel with Retinol and Green Tea ($24.95)
Dead Sea Mud Mask with Hyaluronic Acid, Aloe Vera, Colloidal Oatmeal and Avocado Oil ($18.95) 
 THE TAKEAWAY
The holidays are not only stressful but can be very damaging to our skin.  A few days of neglecting our skin can lead to months or years of repairing, treating and regaining lost skin health.  Take time to pay attention to your skin so you can celebrate and enjoy your YEOUTH during the holidays! 
Dead Sea Mud Mask with Hyaluronic Acid, Aloe Vera, Colloidal Oatmeal and Avocado Oil ($18.95)
Our Dead Sea Mud Mask loosens dirt to decongest clogged pores so that your skin will glow.  It detoxifies the complexion by drawing out toxins and impurities trapped deep in the skin's pores. Combined with nourishing vitamins and minerals like Hyaluronic Acid, Aloe, Oatmeal and Avocado oil to moisturize, soothe and balance the skin. 
Is your skin ready for the holidays?  How will you keep your skin glowing with the holidays this season?