10 Great Gift Ideas For Your Husband - Men's Gift Guide 2019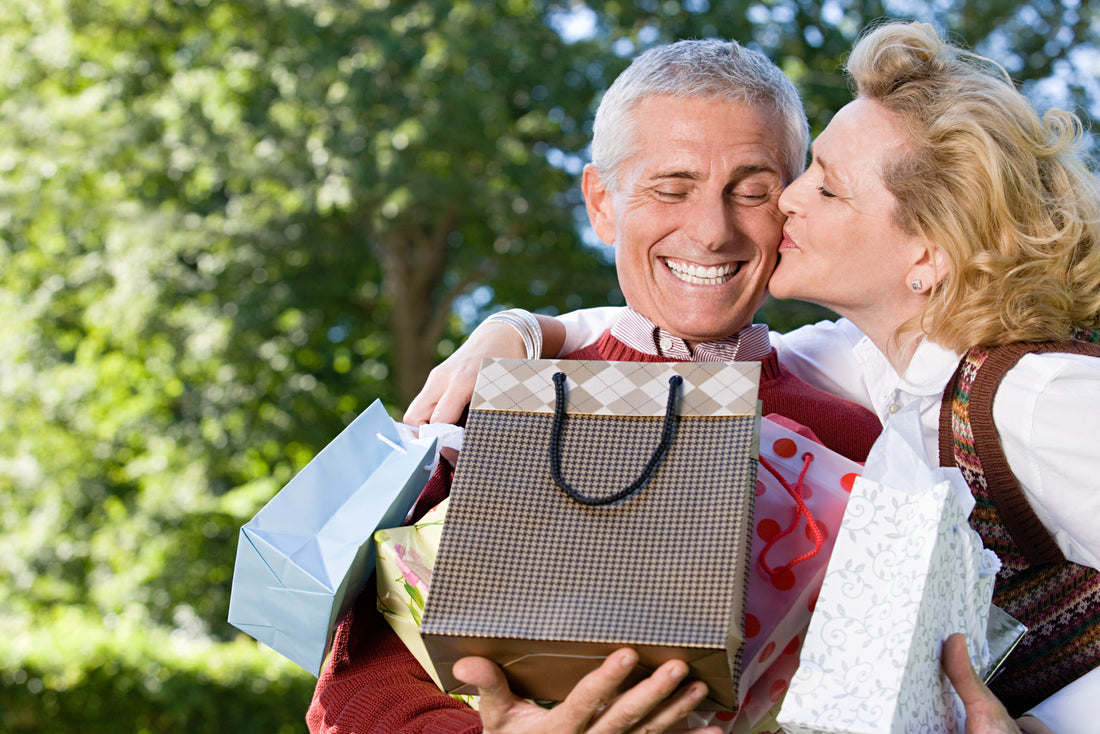 No matter what you gift, he's sure to love one of these because it's from you!
Finding the perfect gift for your lifetime partner can be hard, especially if he is the type of guy who seems to have everything he needs! We are to help! 
We have rounded up ten gift ideas for every type of guy. From the practical to the playful and unique, here are ten great gift ideas for men that are sure to be holiday hits! Choose one of these useful and indulgent holiday presents and show him how much you love him.
For the man who loves music: Crosley Executive Portable USB Turntable
Does your husband have an incredible record collection that is just gathering dust in the attic? Consider giving him this vintage-looking turntable that he can easily carry wherever. Designed like a small retro suitcase with a top handle that makes it easy to transport to and from outdoor picnics, BBQ parties or wherever the road may lead him. Also includes a USB cable and software compatible with both PCs and Macs that can convert his music from vinyl to digital files. Any music lover will enjoy this special gift!
For the man who loves looking sleek: Ray-Ban Aviators
Every guy needs a pair of Rayban aviator sunglasses. A handsome pair of shades with a classic and comfortable fit that help eliminate glare, enhance contrast, improve visual clarity and reduce eye strain for your special man. This pair of dark shades with a luxe gold frame will certainly kick his style up a notch.
For the man who's always on the go: Tech Tools Retro Heated Smart Travel Mug
Keep his coffee hot with this stainless steel travel mug that has the ability to reheat itself. This retro styled smart mug also features an analog temperature gauge that will show exactly how hot his coffee, tea, or soup is before taking a sip. Just plug it into the car's cigarette lighter to keep your beverage deliciously hot for the whole commute. It can heat up to 160° and retains its temp for hours even when unplugged!
For the man who loves to relax: Essential Oil Diffuser Starter Set
Introduce your man to a whole new world of natural scents by giving him a diffuser and essential oils set. This handsome diffuser will work perfectly for this set of six high-quality YEOUTH essential oils.  Perfect to relax his senses when he's lounging in his favorite recliner while binge-watching his favorite shows or even when he's burning the midnight oil to finish his reports in time for a big meeting. The pleasant scents can enhance his overall well-being, improve mental focus, alertness, sleep and decongest the air and purify your home.
Get this YEOUTH Set of 6 Pure Essential Oils at 25% OFF in our upcoming Holiday Sale!
Subscribe to our newsletter and receive the promo code right in your inbox. Promo will run from Dec. 13 - Dec. 15, 2019 so better not miss out!
Click HERE to subscribe.


For the man who loves tech: Oculus Go Virtual Reality Headset
Introduce your man to state-of-the-art 3D virtual experiences with this futuristic present. He can watch his favorite movies on a 180" inch screen, catch a sold-out concert from the front row or even play video games from friends all around the world. An all-in-one VR set that has built-in screen and audio so he can ditch the bulky phone and headset. Just sit back, relax, and escape the real world for a bit! 
For the man who loves board games: Hey! Play! Deluxe 7-in-1 Game Set
A novelty gift for the dad who loves the good old-fashioned family game nights. This incredible set offers seven games: backgammon, cards, chess, cribbage, checkers, dominoes or poker all in one compact place for hours of fun with family and friends. Simply lift off the board surface to conveniently store the game pieces after you're done having some quality fun.
For the man who loves a little quirk: Happy Socks Multicolor Holiday Gift Box
Spice up the classic socks gift with this jolly set that will match the holidays. If your man will be delighted with some funky socks, be sure to decorate his feet with this 4-pack of Christmas colored socks! Featuring four pairs of classic patterns that will surely brighten up his wardrobe. He will feel cozy, unique and festive with a pair of these on during the holidays.

For the man who loves grilling: Cooking Gift Set Wood Chips for Smokers
If your husband is starting his journey to becoming a grill master, consider giving him this wood chip set to step up his BBQ game. This grill set includes a stainless steel premium grill smoker box, specialty BBQ thermometer, three flavors of wood chips for smokers, smoking recipes and delicious hickory smoked sea salt. Expect delicious smoked meals straight from the grill next year!
For the man who cherishes his liquors: Mark and Graham Classic Liquour Decanter
This elegant, hand-blown glass decanter is the perfect gift for your booze-loving man. A timeless design with sleek lines and a heavy glass with a free laser-engraved monogram for a personal touch! He will be proud of serving guests his favorite liquor in style. A wonderful addition to his home bar!
For the man who loves self-care: YEOUTH Anti-aging System Forties+
Who says that skincare is only for women? Cool dads also know that skin care is important! Their skin deserves more than just a moisture-stripping bar of soap so give him YEOUTH's complete anti-aging skincare set. This pack includes a cleanser, toner, facial serums, eye gel and moisturizers. And don't worry! This set comes with instructions so your man will know how to properly use them together to achieve optimum skin health.
Get this YEOUTH Anti-aging Kit at 25% OFF in our upcoming

 

Holiday Sale!
Subscribe to our newsletter and receive the promo code right in your inbox. Promo will run from Dec. 13 - Dec.

 

15, 2019 so better not miss out!
Click HERE to subscribe.