Gift Basket Ideas for the Holidays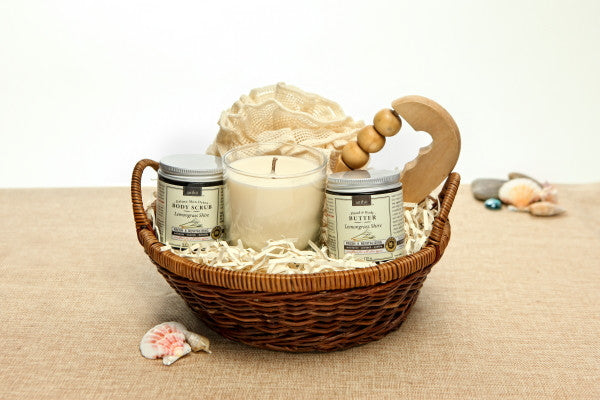 Quality skincare that works is the ultimate beauty gift that keeps on giving. You purchase that perfect facial serum for your friend, her skin starts to look radiant from consistent use, Prince Harry asks her out, and in a few days you get invited to a royal cruise where you get to be friends with Princess Kate and get a stash of her luxurious skincare products. It's simple math, really.

We at YEOUTH are big believers in giving your loved ones nice, pampering things (especially skincare products!) on special occasions, because, while almost all people can buy a lovely hand cream or a nice-smelling soap, most women feel guilty about splurging on themselves. Also, like chocolate bars and candles, skincare products are meant to be used, so you don't have to worry about giving your friend or family the burden of having something she doesn't really need.

One of the ways you can have a little fun this holiday is by creating your very own DIY gift basket. Making themed presents and customizing them is an awesome and thoughtful way to add a personal touch to your gifts. Here are some ways to do it.

1. Bubbly Bubble Bath – the ultimate bath collection
Top products to include: bath salts, aromatherapy bubble bath, natural bar soaps and organic coconut oil, which can be used post bath as a rich body oil. Throw in a aromatherapy candle and a loofah, and you're all set!

YEOUTH's picks:
Lush Bath Bombs
The Body Shop Mega Wild Argan Oil Shower Gel
Desert Essence Organic Jojoba Oil
Deep Steep Bubble Bath, Lavender & Chamomile
2. A Winter's Worth of Moisturized Legs
Shaving your legs during the winter requires a careful cost-benefit analysis. Are smooth legs worth the inevitable dryness? Fill your friend's stocking with plenty of shea butter and assure her that with moisture like this, she can shave without fear.

YEOUTH's picks:
Palmer's Cocoa Butter Formula
Kiehl's Creme De Corps Soy Milk & Honey Whipped Body Butter
Bliss Lemon + Sage Body Butter
CeraVe Moisturizing Cream

3. An Essential Oil Starter Kit
Create a starter kit for the family or friend who doesn't know her jojoba oil from her argan oil but still dreams of relaxing in a room that smells like heaven. Help her get her feet wet in the ocean of natural beauty by showing her how some simple ingredients can make a huge difference.

YEOUTH's picks:
Plant Therapy
Mountain Rose Herbs
Rocky Mountain Oils
Now Essential Oils

4. Gift of Glowing Skin – a skincare collection for all skin types
Top products to include are toners, serums, eye gels, and moisturizers. Create the perfect holiday glow with the following YEOUTH products:
Balancing Facial Toner - This toner is professionally formulated to prep the skin for the following steps in the YEOUTH Anti-Aging System. It will aid in dermal healing, lessen irritation,and reduce redness.
Vitamin C & E Day Serum - This light and airy serum contains Vitamin E which shields your skin from the elements, while Vitamin C effectively protects the skin from free radicals, reviving aged and sun-damaged skin.
Hyaluronic Acid Plus Night Serum - Wrinkle-diminishing Hyaluronic Acid nourishes your skin with spring-water like hydration, filling in fine lines and wrinkles. While Tripeptide 31 firms and tones the skin, proven to reduce wrinkles, minimize pore size, and reduce hyperpigmentation in skin.
Retinol Serum - A Vitamin A derivative, Retinol is prized for its proven excellent anti-aging benefits and youth-enhancing results. It has been used for decades ability to reduce the appearance of fine lines, wrinkles and hyperpigmentation by stimulating collagen production and cell turnover which yields a supple, youthful appearance.
Glycolic Acid Gel Peel - Glycolic acid is an excellent exfoliator. In fact, it is the smallest molecule size of any AHA, allowing the formula to effectively penetrate the skin, stimulating collagen to turnover dead skin cells and hydrate the skin during the peel process.
L22 Anti-Aging Moisturizer - The Patented Lipid Complex in L22 is proven in clinical trials to deeply moisturize skin, helping to repair and skin barrier hydration.
Radiance Eye Gel - Infused with Hyaluronic acid and Tripeptide, known for its excellent ability to hold in moisture and boost collagen production; this product is everything you need to help reduce the look of crow's feet, fine lines, sun spots, and wrinkles on your eye area.

5. Haircare for Better Hair Flips.
She whips her hair back and forth? Help her do it better. Buy her a organic hair care set for well-kept locks, that hair serum keeps things moisturized and shiny, and the scalp spray helps hair grow in thick and healthy.

YEOUTH's picks:
Organix: Nourishing Coconut Milk Shampoo + Conditioner
OGX Anti-Breakage Serum, Nourishing Coconut Milk
Avalon Organics Biotin B-Complex Thickening Shampoo
PURA D'OR Lavender & Vanilla Premium Organic Argan Oil Healing Conditioner

6. Small-batch soap and a Zumba membership
One bar of soap is a thanks-for-having-me-for-dinner gift, but multiple bars of soap says "I recognize that you take multiple showers over the course of a year and I want to salute that truth." If you're feeling generous, throw in a gift certificate to a particularly sweaty workout routine, so that she has an excuse to lather up afterward.

YEOUTH's picks:
Tom's of Maine Relaxing Natural Beauty Bar Soaps, Calming Lavender
Plant Life's Aromatherapy Herbal Soap Sampler
Aspen Kay's Oatmeal Soap Bar. With Organic Honey, Goats Milk, & Organic Shea Butter
One With Nature Eucalyptus Dead Sea Mineral Soap

No matter what you come up with, the best part about creating your own gift basket is you can get creative and personalize everything that's included!