Get Your Skin Ready for Fall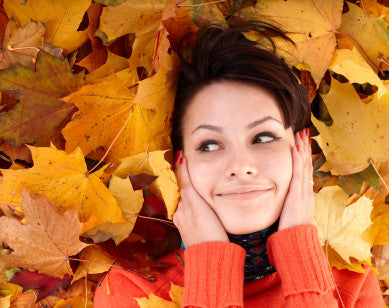 Dewy skin and sun-kissed cheeks are some of the aesthetic perks of summertime. So long as you are consistently applying your broad spectrum SPF as regularly as you rock that bikini, exfoliating your skin as regularly as you shaved your legs, and applying the needed moisturizers and antioxidants as religiously as you take your vitamins, your skin is glowing and healthy from all the time you spent outdoors. However, as the days begin to shorten and the heat and sun gives way to clouds and the crisp fall air, you might also notice some differences in your skin.

A lot of skin conditions are heavily correlated with humidity and temperature as the skin's hydration level changes with the variations of seasons. Summer brings humidity and boosts the skin's moisture levels. Regular exfoliation and lightweight products are needed to protect the skin during summertime, with sweat and increases in oil production affecting the skin. Seasons change, and after summertime, wind and cold air cause the skin to dry.
Skin Damage that Summer Brings
Aside from dehydration that comes with the hot temperature and sun damage that is typically unavoidable during the summer season, increases in oil and sweat production contribute to clogged pores and breakouts. In addition, prolonged sun exposure can trigger wrinkle formation, skin discoloration, and ultimately, more serious skin conditions like skin cancer.
Immersion in water and chlorine for long hours can cause the skin barrier to break down, and prolonged hours in the pool can actually dehydrate the skin. Humidity and heat are both very conducive to bacterial and fungal infections of the skin. Add pollutants to the equation if you have spent long hours without a sunscreen and an antioxidant-rich skin product. How do we remedy all these?
Detoxifying and Preparing Skin for Fall
Before you dye your hair a darker shade and begin using deeper color eye shadows, give your skin some love. Here are some great tips:

1. Increase your use of antioxidants
Antioxidants are vital to your health, whether you apply them topically or you eat them. Antioxidants are particularly helpful for reducing environmental damage whether it's from the pollution or from the sun. They inhibit free-radical damage, and studies are particularly clear that antioxidants have remarkable benefits regardless of your skin type.

One of the biggest ways you can slow down the impact of free radical damage is from the use of antioxidants. In fact, it is so vital for the body that they are being studied by scientists on a global scale. Even the experts in the skincare world profess, if there's a fountain of youth, antioxidants are definitely in it!

Hence, you need some
antioxidant lovin' to repair the ravages of summer. It will do wonders in preventing dry skin spells and breakouts as the weather gets cooler too. Neutralize your sun exposure by lathering on a healthy dose of antioxidant and sunscreen on a daily basis.
Applied topically, vitamin C has been shown to boost collagen production. Vitamin C is also well known to reduce skin discoloration, increase the skin's ability to repair and heal itself, strengthen the skin's barrier response, help skin to better withstand sunlight exposure, and reduce inflammation.

You will find Vitamin C in lots of products, from eye gels to lip balms, but you'll get the most out of it in targeted treatment products like serums.
2. Switch to hydrating and nourishing skin care products
As the seasons change, it's best to moisturize the skin since it will not only help you feel and look better, it will function as a wonderful protective barrier against the elements and infection. Boosting your skin's hydration for the colder season will make it less likely to develop rashes, look red or blotchy, or to itch. The use of milder skincare products that hydrate and don't strip the skin of its essential, natural oils decreases the risk of tears and cracks and may serve as doorways for fungal, bacterial, or viral infections. Swap your oil-free products for more emolliating products that will effectively combat the conditions of fall and winter.
Read more: Moisturizing 101
Consider using a product rich in nourishing ingredients, like vitamin E, tripeptides, and hyaluronic acid. Vitamin E acts in various ways to protect the skin from the early stages of sun damage and aids in protecting the skin cells from oxidative damage. It works synergistically with vitamin C - this is why using a serum that contains two of these powerful vitamins are absolutely beneficial.

Emollients, on the other hand, are lubricating ingredients that act to prevent water loss and have a smoothing, protective, softening effect on skin. Remember that the key to maintaining skin's moisture is preventing water loss. Good examples of emollients are linoleic acid, glycerin, and triglycerides.

Hyaluronic acid is a popular skincare ingredient, and with good reason. Packed with anti-aging properties and naturally found in the body, hyaluronic acid adds and secures moisture and creates fullness. L22 lipid complex are derived exclusively from natural botanical nutrients and has been proven in clinical trials to improve skin hydration and barrier repair.
Try YEOUTH's Hyaluronic Acid with Vitamin C & Tripeptide
Try YEOUTH's L22 Anti-Aging Moisturizer
3. Consider a peel
If you've been thinking about getting a chemical peel, this is the perfect time to do it. Peels like a salicylic and glycolic acid peel help take off the "glue" that holds the dryer, older, and rougher skin on the surface. Once that top layer is removed, new skin will surface. This is the layer that is fresh and devoid of damage.

Peels help in exfoliating the dull, dry, outer layer of the skin and decrease the sun spots or melanin build-up that has accumulated over the summer. If you want to save hundreds of dollars, you can purchase a quality at-home chemical peel, but be sure you understand how to apply it effectively and safely to get the best results.
Read more: AHA vs. BHA: Everything You Need To Know About Chemical Exfoliants
Peels have a cumulative effect, so it's recommended that you do a peel every three to four weeks, depending on your skin type. Consistency will give you the best results. For at-home use, it's best to start off with a lower formulation, like a 20% solution. Do not use a product with a higher concentration if you're a first time user.
Those who have tried chemical peels are normally amazed with the results - they have fewer fine lines and wrinkles, and those with acne notice that their skin is much clearer and less oily.
Try YEOUTH's Glycolic Acid Face Peel 30%

What extra measures do you take to protect your skin from the drier weather? Want to know more fall skincare tips from us? Share with us your thoughts and comment down below!