FACIAL CLEANSERS: VITAL INGREDIENTS AND HOW TO MAKE THEM WORK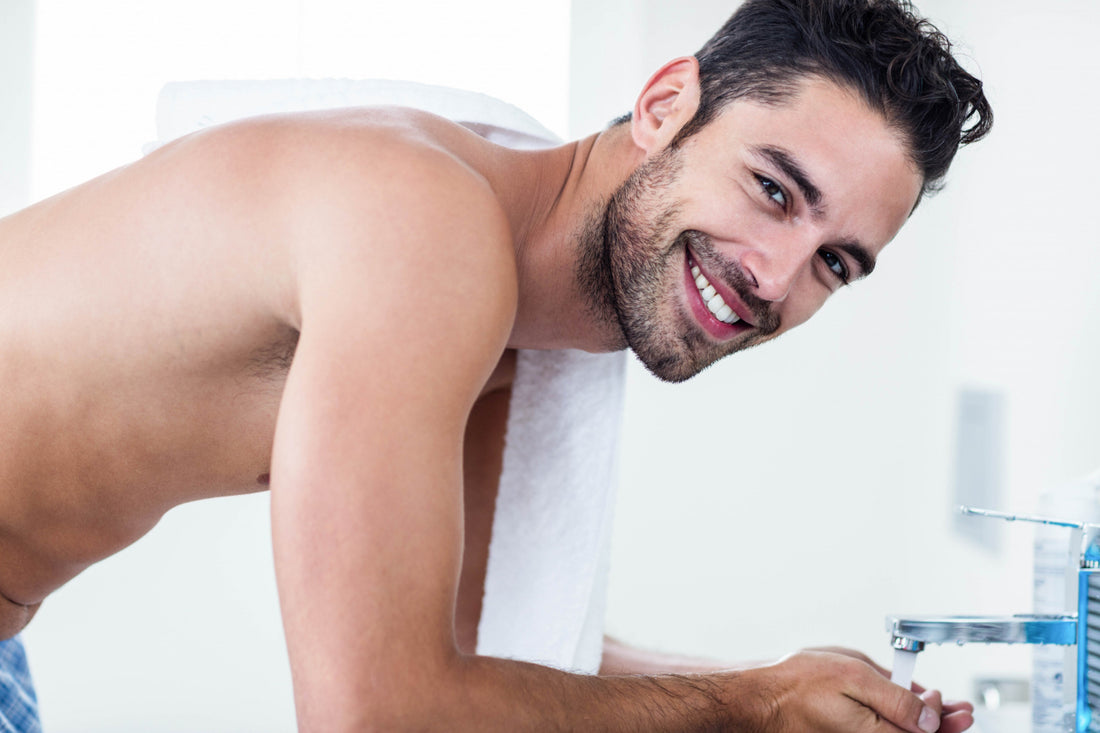 MEN AND WOMEN OF ALL AGES CONSIDER SKIN CARE AN IMPORTANT ROUTINE IN THEIR DAILY LIVES. CLEANSING IS THE FIRST AND MOST BASIC STEP IN ANY SKIN REGIMEN.

CONTINUE READING TO LEARN THE BASICS OF FACE CLEANSING AND THE IMPORTANT INGREDIENTS TO LOOK FOR IN YOUR CLEANSERS!
With the advent of innovative skincare products and various tips and tricks, the key to any successful skincare routine remains the same - a proper and effective face cleansing!
Discover some facts on skincare and facial cleansing, the ingredients you should look for in the products you use, and how to use them to make your skin regimen work effectively!

MYTHS AND FACTS ON FACIAL CLEANSING
Myth 1: Washing your face at the end of the day is enough.
Fact: Many still think that washing their face once a day at night is enough but this cannot be farther from the truth!
Skin experts have long recommended washing your face at least twice a day with a reliable facial cleanser. If you wore makeup the whole day, you may have to clean your makeup with a makeup remover before cleansing. Makeup leaves extra layers of dirt and grime that clog the pores if not properly removed.
If your face was bare for the day, apply toner after washing your face to get rid of the all the excess dirt that accumulated in your pores because of environmental factors like pollution.
Myth 2: Washing with soap and water is as effective.
Fact: There is still a misconception that using regular soap and water can effectively clean skin. This could not be more wrong! 
Switching from soap to facial cleansers makes your skin feel and look better. Using a skincare product designed to effectively rid your face of the dirt and grime it acquired during the day can make a big  difference.
Also, washing with lukewarm water and specially formulated skin care products can give your skin the yeouthful glow you are striving for!
Myth 3: Facial cleansers are only used after wearing makeup or after sweating heavily.
Fact: Many believe that facial cleansers should only be used after using makeup, or after engaging in strenuous activities like exercising when their skin is covered in sweat and excess oil.
However, the face often works like a sponge and sometimes even when one stays indoors doing nothing, dirt and excess oil can still get stuck in the skin!  Products like facial cleansers and toners are specially formulated to cleanse the skin deeply and more thoroughly to achieve healthier, cleaner skin.
Always remember that specially formulated skincare products were crafted and created to ensure the health of your skin.
Myth 4: Facial cleansers are bad for adolescent skin.
Fact: No one is too young or too old to use a proper facial cleanser.
In fact, a proper skincare routine should already be adopted early on when one hits puberty.  This routine should evolve as one gets older or during every stage of your life!  When one enters puberty,  bodies change and hormones can drastically change the skin's condition.
These various changes lead to skin conditions like oily skin or severe acne. As one becomes older, the hormonal changes now affect skin elasticity and texture. This is the reason why there are so many skincare products that focus on specific conditions like wrinkles, dryness or blemishes.
Teens can and should start using facial cleansers. Most of the cleansers available on the market are suitable for all ages, but perhaps focus on ones that target acne for teens.
OUR PICK: YEOUTH Teens Skin System ($54.95)
Our Teens Skin System is specially formulated for teens because when hormonal changes arise and their skin can become unbalanced. We at YEOUTH carefully-selected and bundled up four amazing products that will help teens effectively nourish and hydrate complexion for their best glow!
INGREDIENTS YOUR CLEANSER MUST HAVE!
The skincare market is filled with a lot of facial cleansers and other skincare products, it can be overwhelming to find the right one for your skincare routine. To simplify it for you, these are the top ingredients you should be looking for in the cleanser:
1. Vitamin C
 Start your skincare routine with the power of Vitamin C and antioxidants! Our YEOUTH  Vitamin C Facial Cleanser is super infused with powerful antioxidants like Aloe, Green Tea, and Seaweed. Cleansers work more effectively in cleaning the face than your ordinary soap.  Use cleansers on your neck area as well to give that needed boost!
Vitamin C is filled with super antioxidants that reduce the damages done by free radicals on healthy skin cells! It is an active ingredient in so many skincare products. It can effectively reduce skin discoloration and inflammation as a result of environmental stress.  It can boost collagen production which can reduce the appearance of wrinkles and fine lines, making it a popular ingredient for anti-aging products.
2. Aloe Vera
Aloe Vera is extremely rich in Vitamins C and E which are very powerful antioxidants.  It has the ability to heal skin damage caused by harmful UV rays, harsh weather, and even severe acne!  This amazing plant helps speed up the production of new and healthy skin cells, thus, it has the ability to give your skin a naturally bright and radiant look.
OUR PICK: YEOUTH Niacinamide Serum with Aloe Vera ($16.95)
3. Green Tea Extract
Green Tea is not just a super drink great for body health. This plant is highly popular in the beauty industry for its miraculous powers in terms of delaying skin aging!
Green tea extracts are rich in polyphenol, the natural chemicals usually found in plants that can work to delay the skin's aging process while protecting it from UV damage and environmental pollution.
OUR PICK:  Neck Firming Cream with Green Tea and Vitamin C   ($25.95)
4. Seaweed Extract
Seaweed extracts are rich in vitamins and nutrients that help reduce sensitivity to irritants caused by pollution and various allergens.  This sea plant helps soothe and soften damaged skin by restoring lost and weakened pH balance. It can give you healthier, stronger and more beautiful skin!
OUR PICK: Vitamin C Facial Cleanser with Seaweed Extract   ($18.95)
PROPER CLEANSING AND YOUR SKIN REGIMEN
After knowing the simple facts on face cleansing and the must-have super ingredients, it's time to adopt a
skincare routine
best suited for your skin type, condition or specific skin problem you want treated.  The list below are some of the basic steps you should consider in order to get cleaner, healthier, and
yeouthful
-looking skin!
1. Cleanse twice a day with the right facial cleanser.
Choose a gentle cleanser and cleanse properly during your morning and evening skincare routine.  Make sure to use lukewarm water when cleansing before massaging the cleanser onto your face. Use gentle circular motions to really get into the pores. Rinse, then pat dry with a soft towel before moving on to the next steps of your skin regimen.
2. Exfoliate at least once or twice a week for brighter skin.
Exfoliating at least once or twice a week during your skincare routine can help get rid of the dead skin cells, dirt, excess oil, makeup, bacteria and other harmful irritants that clog your pores.
Exfoliating can get rid of dry skin, revealing new skin that is smoother and brighter. So don't skip out on this important step in your skin regimen.
OUR PICK: Glycolic Acid 30% Gel Peel   ($24.95)
Our YEOUTH Glycolic Acid 30% Gel Peel gives you the gentlest exfoliation your skin needs!  It is formulated with Retinol and Green Tea extracts to brighten, protect and clean your pores for that smooth and glowing finish!
3. Balance and prepare the skin with a toner
After cleansing and with the face still damp, spritz some toner onto your face.  Toners were formulated and created to remove the last traces of excess oil, dirt, and grime that your makeup remover and facial cleanser may have missed. It also prepares the skin for the next treatments that come next in your skin regimen.
OUR PICK: YEOUTH Balancing Facial Toner  ($15.95)
Our YEOUTH Balancing Facial Toner is a nourishing natural face toner mist that moisturizes, and protects the skin. Formulated with Chamomile and Allantoin to soothe and heal the skin and minimize the appearance of pores.  It effectively balances the skin's pH levels to prepare it for better absorption of serums and moisturizers, making it an optimal addition to all anti-aging skin regimens!
4. Moisturize to seal nutrients in
Moisturizing is a basic in skin care, especially after applying all the nutrients you put in for your skin needs and special treatments. The application of a moisturizer seals in all those nutrients and amazing ingredients you fed your skin!  
OUR PICK:  YEOUTH Day/Night Cream   ($22.95)
5. Pamper yourself with a facial 
Facials are great when you want to give your skin some extra love.  Whether it is an amazing product like a mud mask, or a homemade mask with ingredients like honey and oatmeal, a special treat is always joyful and yeouthful! 
OUR PICK:  Dead Sea Mud Mask   ($18.95)
6. Remember that a healthy lifestyle equals healthy skin!
While healthy living is good for your body's overall health system, it directly affects skin conditions too!
Maintain a balanced diet that can provide your skin with the

vitamins and nutrients

it needs to become healthy and strong

Drink lots of water to keep skin from drying out

Get six to eight

hours of sleep

everyday to keep wrinkles, fine lines, and dull color away!

Exercise regularly to do wonders for your skin
The Takeaway
Effective skincare products, skin-loving ingredients plus adopting healthy body and skin habits all lead to healthier and yeouthful-looking skin!
Our amazing team of dermatological experts formulated our Vitamin C facial cleanser using natural ingredients and effective antioxidants which are proven to have strengthening, skin repairing, and collagen boosting properties. It is packed full of nutrients that work tirelessly together to make sure that your skin is well taken care of inside and out!


Vitamin C Facial Cleanser with Aloe Vera, Green Tea and Seaweed Extracts  $18.95
Our YEOUTH Vitamin C Facial Cleanser is generously packed full of antioxidants like Aloe, Green Tea and Seaweed, it works to nourish and cleanse the skin to remove impurities and excess oil while also fighting to defend skin health and give your complexion a bright, healthy-looking glow.
WE WOULD LOVE TO HEAR FROM YOU AND YOUR SKINCARE JOURNEY, SO FEEL FREE TO LEAVE COMMENTS AND REVIEWS. DON'T MISS OUT ON OUR NEWEST PRODUCTS AND GREAT DEALS!  LET'S TALK IN THE COMMENTS BELOW!