8 Essential Oils to Boost Skin Health and Overall Wellness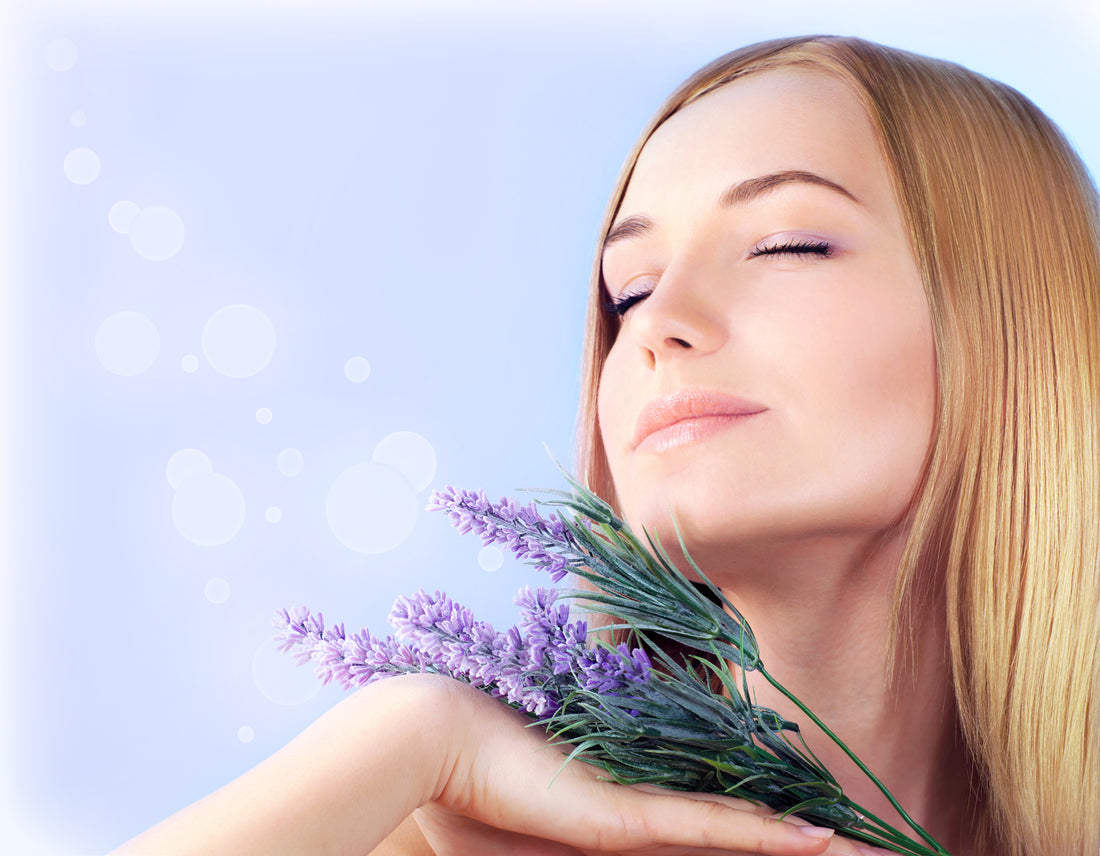 Essential oils offer numerous benefits to our skin and overall well-being. Read this week's blog post to learn what your favorite oils can do for you!
What are essential oils?
Essential oils are volatile substances that are extracted from flowers, leaves, stems, barks, roots and fruits plants. Since they are botanically derived, they have unique scents so are often used as natural fragrances as well.
They are extracted in different ways depending on their origin. They can be extracted through mechanical methods like cold pressing or distilled using steam or water.
Essential oils have been used for more than a hundred years for aromatherapy, personal care, healthcare and beauty treatments.
Here are some popular and powerful essential oils that provide benefits to the skin and act as natural remedies to many common ailments!
Lavender Essential Oil
Lavender oil comes from distilling the flower spikes of the lavender plant, which is a perennial herb. Lavender oil is one of the foremost versatile oils. It is calming, mild and nourishing and can be used for all skin types.
It is anti-inflammatory, making it useful at reducing redness and irritations. It is also soothing so wonderful at cleansing cuts, scrapes and minor burns.
It is also beneficial in fighting acne. It naturally repairs and hydrates the skin without making it too greasy. It can reduce the appearance of blemishes and helps give skin a youthful glow.
Because of its relaxing aroma, it is often used for calming baths and to alleviate pain caused by headaches, sprains and sores. It is also a natural remedy at easing menstrual cramps. 
It can also help promote hair growth, making it a useful ingredient for treating hair loss.
The scent of lavender has a calming effect and is known to help induce a peaceful slumber. 
Frankincense Essential Oil
Frankincense oil, which has a woody, spicy smell, comes from the resin of the Boswellia tree. Known as an anti-aging powerhouse, it is no wonder that Frankincense is incredibly popular.
Frankincense is a powerful oil at treating elasticity problems and helping to regenerate skin cells. It can also help prevent hyperpigmentation and reduce the appearance of scars, stretch marks, wrinkles and fine lines.
With its powerful antiseptic properties, it is effective at treating wounds, cuts and acne. 
It also helps prevent oral infections such as bad breath, cavities, mouth sores and toothaches.
When inhaled, Frankincense oil helps reduce heart rates and high blood pressure.
Tea Tree Essential Oil
Tea tree oil is derived from the leaves of a small tree called Melaleuca.
With its anti-inflammatory and antimicrobial properties, tea tree oil helps eliminate bacteria, fungus and viruses on the surface of the skin that cause breakouts.
It also helps treat minor cuts and scrapes, can reduce redness in blemishes and helps to absorb excess oil. It purifies the skin to achieve a visibly clear complexion.
It is used to disinfect minor cuts as it promotes wound healing. It also appears to be effective at treating fungal nail infections.
Peppermint Essential Oil
Peppermint oil is a cross between watermint and spearmint and comes from the peppermint plant.
The crisp and refreshing content of peppermint oil has an analgesic effect on the skin. It soothes rashes, irritation and inflammation caused by acne.
It has antibacterial and antiseptic properties that effectively cleanses the skin. 
A favorite ingredient added to mouthwash and toothpastes, it promotes sparklingly clean white teeth and fresh breath.
It is a treatment for a variety of conditions such as irritable bowel syndrome, nausea and the common cold. It can also help relieve sore muscles, joint pain and headaches.
Inhaling the aroma of peppermint oil reduces stress and fatigue and helps tame seasonal allergies.
Lemongrass Essential Oil
Lemongrass oil is extracted from the stalk of the lemongrass herb. It has a fresh and light scent with a hint of lemon.
It is an effective cleanser for different skin types. Serving as a natural toner, it can sterilize pores and strengthen skin tissues to promote smoother, glowing skin.
The natural astringent properties help remove dead skin cells and prevent future pimples by acting as antimicrobials.
The lemony scent also relieves tension headaches. It has analgesic properties that relieve joint pain, muscle cramps, muscle spasms as well as menstrual cramps.
Eucalyptus Essential Oil
Eucalyptus oil is derived from the leaves of the eucalyptus.
Eucalyptus oil helps treat dry skin by maintaining the skin's barrier and retaining its moisture. Known for relieving pain, it may also provide moisture to itchy and painful skin rashes.
It also decreases scalp redness and itchiness due to dryness so helps to prevent dandruff.
The scent of the eucalyptus oil has a calming effect and may help lower blood pressure. Likewise, it promotes relaxation and decreases symptoms of anxiety.
Sweet Orange Essential Oil
The irresistible aromatic sweet orange oil is made from the peel of oranges.
Sweet orange oil effectively keeps the skin clear and free from acne. Thanks to its high vitamin C content, it helps fight free radicals that cause skin aging. It can also lighten dark spots and blemishes.
With its astringent properties, it controls excess oil on the skin and shrinks large pores.It also promotes cell growth and collagen production to make skin firm and more supple. 
The aroma of sweet orange oil can lift your mood, relax your mind and promote better sleep. 
Inhaling sweet orange oil is also a natural remedy for high blood pressure. It also relieves headaches and premenstrual symptoms.
Rosemary Essential Oil
Rosemary oil is extracted from the leaves of the rosemary plant, a common herb used most often for cooking! It is an antioxidant and anti-aging herb that is also very potent when used on the skin.
It prevents skin damage caused by the environment. It helps stimulate the skin, improves circulation, and helps drain excess water from the skin, which aids in minimizing eye puffiness.
It is also antibacterial which makes it an effective acne-buster. 
Additionally, it is known to promote a healthier scalp, so is a natural at-home remedy for male baldness and patchy hair loss.
Inhaling rosemary oil aids in more efficient brain functioning. It may help you become more focused and better at memory recall.
How to use your essential oils: 
AROMATHERAPY
Use a humidifier or diffuser
Just add a few drops of essential oil to the water tank of your diffuser or humidifier. This is an effective way to spread the scent of your essential oil of choice into your living space.
Steam method
Add a couple of drops of volatile oil to a bowl of hot water. Deeply inhale the steam with your eyes closed.
Inhale from the bottle
Simply take a few deep breaths and breathe in the scent of your essential oil straight from the bottle. 
Dry Evaporation
Put a few drops of essential oil on a cotton ball or a piece of fabric. You can inhale or just let the scent disperse into the air.
Aromatic spray
Dilute a few drops of essential oil with water. Put in a spray bottle and spritz all over your living space.
SKINCARE AND MASSAGE
A patch test is necessary when essential oils are directly applied to the skin. A patch test is done by applying a small amount of diluted essential oil to a small portion of your forearm to check if you have allergic reactions to the oil. An allergic reaction usually appears within 24 hours.
Dilute essential oils with a carrier oil before applying on your skin. A carrier oil is a mild unscented oil that can be mixed with an essential oil.
Apply diluted essential oil on your skin, pressure points, or sore muscles and joints. You can use the diluted essential oil for body massage to relax your stiff muscles.
You can also add diluted essential oils to your favorite toners, serums or moisturizers.
ESSENTIAL OILS IN A BATH OR SHOWER
Enjoy the aroma of essential oils while you shower by putting a few drops of diluted essential oil to your shampoo, shower gel, or on the shower cloth you will use to exfoliate your body.
You can also add a few drops of diluted essential oil to your bathwater. It will help you relax your tired muscles while you enjoy the aroma of your bath at the same time!
Essential oils can provide numerous benefits to the skin and our overall well being. When used correctly, they are effective natural remedies for our day to day ailments and can also be very beneficial at addressing common skin concerns.
Do you want to experience the natural powers of essential oils? Try YEOUTH Essential Oils
PURE ESSENTIAL OILS AROMATHERAPY SET OF 6  ($19.95)
YEOUTH Essential Oils Aromatherapy set of 6 includes high quality Australian Tea Tree Oil, Peppermint Oil, Eucalyptus Oil, Bulgarian Lavender Oil, Sweet Orange Oil and Lemongrass Oil.
HAVE YOU EVER TRIED ADDING ESSENTIAL OILS TO YOUR SKINCARE PRODUCTS? DID YOUR EXPERIENCE THEIR AMAZING BENEFITS? LET'S TALK IN THE COMMENTS BELOW.