Chamomile and Why It's Good For the Skin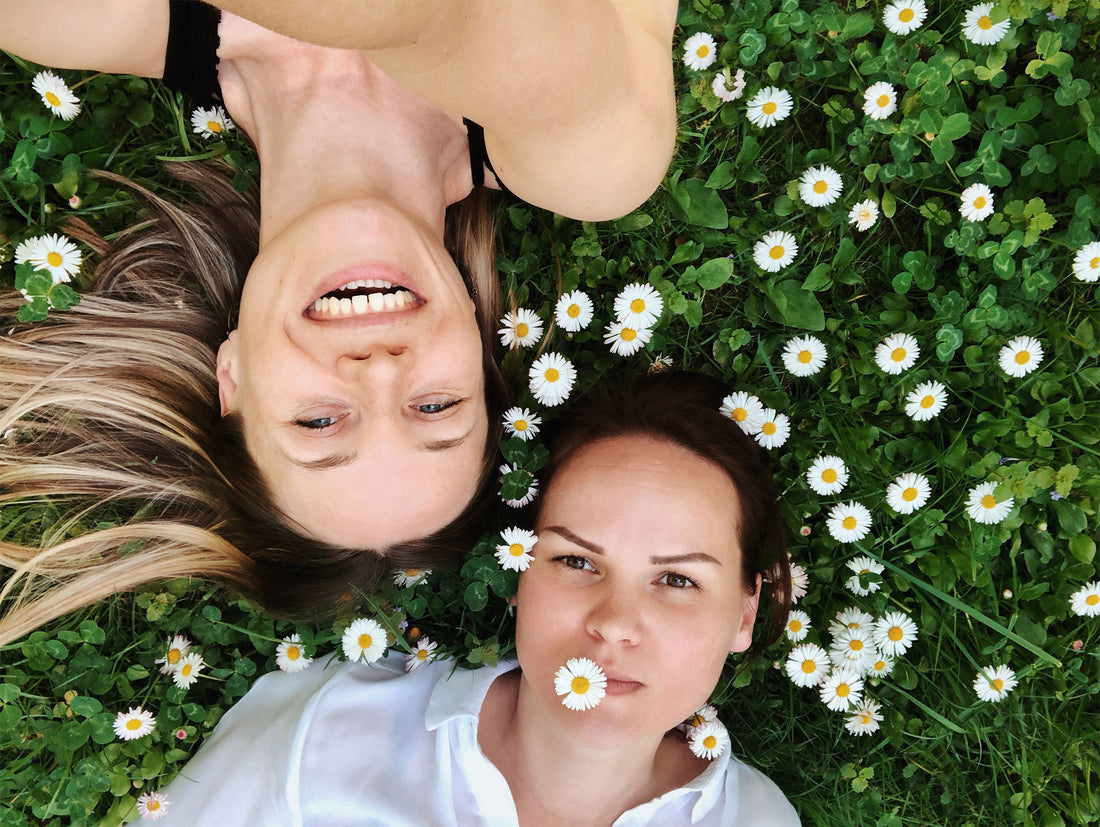 DO YOU GET YOUR DAILY DOSE OF CHAMOMILE TEA?  A MILLION CUPS OF CHAMOMILE TEA IS SAID TO BE CONSUMED AROUND THE WORLD EVERY SINGLE DAY!  BUT DID YOU KNOW THAT CHAMOMILE IS ALSO EXCELLENT FOR THE SKIN?  IT PROVIDES THE SAME CALMING AND SOOTHING EFFECTS TO THE SKIN AND MORE!
Chamomile, German Chamomile and Roman Chamomile, are generally consumed as herbal teas which are full of antioxidants.  Chamomile is known to provide calming and relaxing effects.
Because of these features found in Chamomile, it is now widely used as an essential ingredient in many products. It is an indispensable component in many medicines and now along with other herbs and plants, it is used  as an important ingredient in skincare products.
The use of herbs, plants and other natural products as medicine dates back to thousands, if not millions, of years ago. The thousands of species of plants and other organisms available to them became their sources of food and drugs.
Herbal medicine is an age-old practice by, perhaps, all of the cultures existing in the world today.  Plants remain to be a significant source of drugs and medicine not only to this day, but also in the future.
Chamomile, more particularly German Chamomile, provides physical, psychological and physiological cure and effects when taken in as tea, supplements, directly applied to skin, inhaled or manufactured for topical application and or cosmetics.
The essential oils of Roman Chamomile are highly recommended for dermatological use.
The Chamomile plant
Chamomile is a Greek term that means "Earth Apple."  In ancient times, they used to stomp on the Chamomile leaf to release the smell into the air. It has a slight apple-like smell, hence the meaning of it's name.  It comes from the Asteraceae  family of plants - a kind of daisy.
The medicinal properties of Chamomile are derived from its dried flowers which contain terpenoids and flavonoids. The essential oils of Chamomile are used in aromatherapy, and as ingredients in cosmetics and other skincare products.
It has both curative and preventive properties and is also being developed as a therapeutic agent to promote improved health.
Chamomile was used in the olden times for its calming, anti-bacterial, and anti-inflammatory properties. These properties were slowly developed and made as ingredients in the many medicinal, cosmetics, and skincare products that we use now.
The wonders of Chamomile for the skin and more
1. Makes the skin healthy
Chamomile makes the skin healthy. It contains Apigenin which is known to help strengthen and develop the skin's barrier function. Apigenin also helps balance the lipid secretion in the epidermis, and aids in the production of antimicrobial peptides, which the skin needs to protect itself from harmful microbes that enter the skin and cause infections.
Apigenin derived from Chamomile, is very important to prevent and treat skin disorders due to the imbalance in the skin's barrier function. It protects the skin when the skin has weakened immunity from harmful bacteria and other microbes.
Chamomile helps strengthen the skin barrier function. A healthy skin barrier effectively prevents irritants from penetrating the skin, preventing skin irritation and sensitivity.  Because beauty and nature have a strong connection, reap the benefits of Chamomile extract with our Yeouth Balancing Facial Toner.  Use along with other Yeouth products!
2. Anti-inflammatory effects
Flavonoids are substances found in plants. A study revealed that the particular flavonoids found in Chamomile can penetrate deep into the skin. Because of this trait that flavonoids in Chamomile carry, it has the ability to penetrate the skin layers and prevent the release of chemicals that can cause inflammation.
Thus, the importance of Chamomile as topical treatments to prevent and treat rashes, chickenpox, poison ivy and other similar skin disorders which exhibit inflammatory symptoms.
3. Treats wounds faster
In a study, it was discovered that Chamomile use in the treatment of wounds and lesions presented significantly faster wound healing in comparison to treatment with corticosteroids.  The results of this study, along with Chamomile's antimicrobial properties, makes Chamomile ideal for the treatment of skin outbreaks that may scar or damage the skin, such as acne outbreaks.
4. Rosacea treatment and reduces redness
In a study that was published in the Journal of Drugs in Dermatology, it was discovered that the herbal compounds from plants like Chamomile, Green Tea and Lavender are the best herbs that can treat redness from rosacea.  This is because of the presence of flavonoids which give these plants their anti-inflammatory properties. It works by blocking inflammatory chemicals that attack the skin.
5. Acne treatment
Studies also significantly revealed that the essential oils found in Chamomile contain the compounds α-pinene and terpinen-4-ol.  These compounds contain anti-microbial properties.  They kill or prevent the growth of germs and other harmful microbes that cause infections and irritations to the skin.  One of the bacteria that the said compounds can kill is the Staphylococcus Aureus bacteria which causes acne.
Drinking Chamomile tea and using boiled Chamomile tea leaves to gently rub the skin is also a herbal practice to treat acne. You can also use a cold Chamomile tea bag to press on pimples to reduce swelling.
6. Contains high levels of antioxidants to fight off free radicals and promote anti-aging
Studies have also shown that Chamomile essential oil is a good source of α-bisabolol oxides A and chamazulene. These compounds are primarily responsible for the antioxidant activity and antimicrobial activity of these essential oils.
Antioxidants are vital for anti-aging. Antioxidants inhibit free radicals which speed up the aging process. They aid in reducing environmental damage to the skin caused by prolonged sun exposure, pollution and other irritants.
7. Helps reduce under-eye circles
Chamomile is proven to reduce the symptoms of anxiety disorders such as insomnia and stress. It then contributes to the health and appearance of the skin and to the reduction of under eye circles resulting from lack of sleep since it promotes calming.
Sleep deprivation results in skin aging and has a big impact on our overall health.
Use our Yeouth Radiance Eye Gel to hydrate the delicate skin around the eyes and improve the look of fine lines, wrinkles, dark circles and puffiness.
You could also try this home remedy to reduce under-eye circles using Chamomile tea bags: Dip Chamomile tea bags in hot water, and let cool until tolerable to put under the eyes.  Keep on for 5 minutes, then wash eyes and face thoroughly with fresh water.  This will help reduce the puffiness in the eye area and lighten some of those dark circles.
8. Some Chamomile herbal skin treatments and home remedies you might want to try
Do not use Chamomile in your skincare or other products if you are allergic or sensitive to any of the Asteraceae plant families, which includes the daisy, ragwort, calendula or marigold. If you are allergic or sensitive to any of those plants, you are most likely allergic or sensitive to Chamomile.
So, are you ready to go natural and experience the raw and organic effects that Chamomile can  have on your skin? Try these herbal treatments and enjoy the soothing, calming and healing effects of Chamomile on the skin.
Skin lightening.

Chamomile is known in the herbal community as a natural skin bleach.  Try this home remedy for that bleaching effect that lightens the skin immediately:

Boil three tablespoons of dried Chamomile flowers in 1 cup of water for 8-10 minutes 

Strain, then add one tablespoon of honey and rose water to the mixture

Apply on the face and also to the neck area

Let it stay on for 15 minutes 

Rinse thoroughly with fresh water
Use as facial scrub

Use the contents of a Chamomile tea bag to mix with sugar and olive oil

Apply the scrub gently on your face and massage

Rinse with cold water, then pat dry
Drop into a bath to reduce skin irritations

The takeaway
Do not shy away from all natural skin care.  Before we had options galore of beauty and skincare products, we relied on mother nature to keep us healthy and beautiful.  She offered us all of these wonderful plants, food, nutrients and organisms that helped keep our skin nourished and glowing before all the research and scientific studies were done.  Chamomile is among one of the many natural herbal remedies that has proven to have many benefits on the skin.
Balancing Facial Toner ( $15.95 )
Experience the magic of Chamomile with our Yeouth Balancing Facial Toner!  This natural skin care ingredient moisturizes and protects the skin by minimizing the appearance of redness and promoting a balanced, even skin tone. 
HAVE YOU TRIED ANY HERBAL CHAMOMILE TREATMENTS ON YOUR SKIN YET? SHARE WITH US YOUR SKIN EXPERIENCE WITH CHAMOMILE, WE WOULD BE GLAD TO KNOW!  LET'S TALK IN THE COMMENTS BELOW.