Benefits of Green Tea for the Skin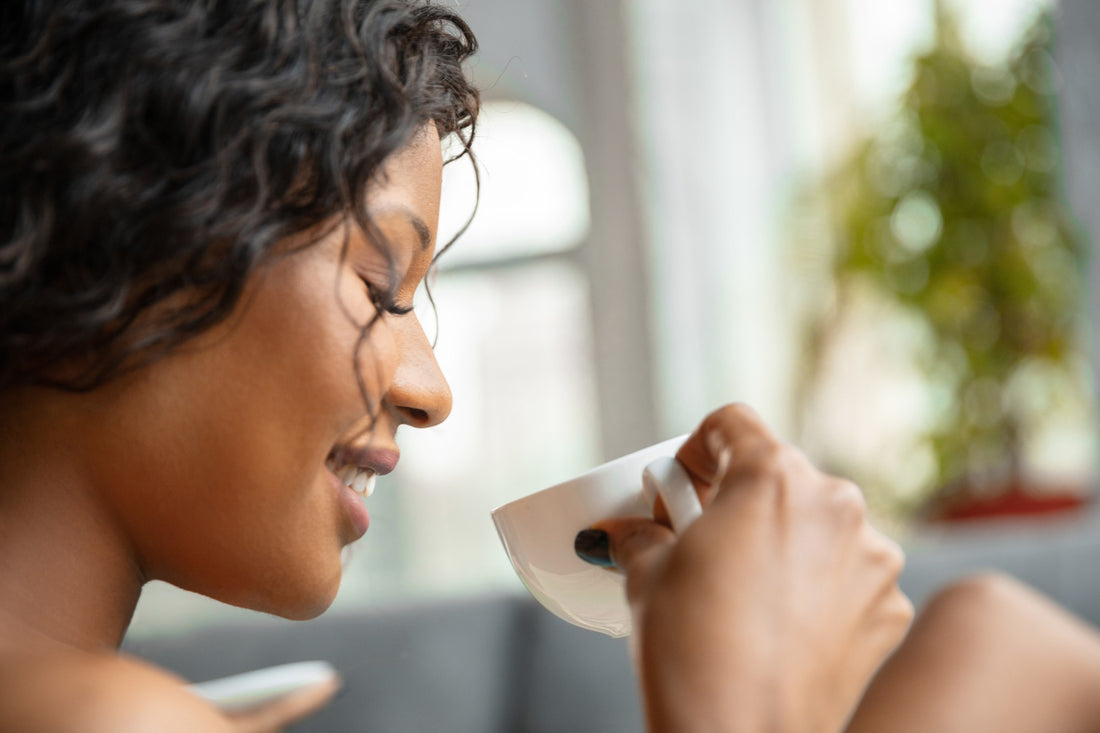 DO YOU LIKE DRINKING GREEN TEA? ARE YOU AWARE OF THE NUMEROUS BENEFITS IT OFFERS TO YOUR OVERALL WELL BEING INCLUDING YOUR SKIN?
Green tea is derived from the plant known as Camellia Sinensis. It can be enjoyed by sipping from a cup or mixed with other drinks or dishes.
Bioactive compounds are abundant in green tea. They are said to improve cognitive functioning by improving concentration and decreasing the risk of common neurodegenerative disorders such as dementia.
Studies also show that it decreases the risk of cardiovascular diseases by regulating your cholesterol levels. Other studies show its efficacy in reducing abdominal fat. 
These are just some of the many health benefits that green tea offers. To fully understand what green tea is and where it came from, let's polish up on a quick history of where green tea originated and how it gained popularity. 
History of Green Tea
Green tea was discovered by the Chinese Emperor Shennong dating back to 2737 BC. He accidentally drank some water with a tea leaf boiled in it. He liked the crisp and energizing flavor of the drink. Since then, it has become a signature drink for the elite.
The first book about tea, "The Classic of Tea," was written around 800 AD by a Chinese man named Lu Yu. The book depicted the culture and art of green tea. The materials and tools used for a tea ceremony were very expensive, so tea became a symbol of high status in society. 
Green tea became available to the common people for enjoyment and therapeutic purposes in the 14th century. In the 19th century, European explorers introduced the refreshing drink to the western world. The British loved its flavor and made green tea, along with black tea, their national beverage. Green tea was also shipped to America in a shape that was similar to bullets so it was therefore called bullet tea.
The popularity of green tea continuously soared over the years. Green tea has not only been served as a hot drink, but a variety of green tea drink recipes have evolved in the form of fruit-flavors and matcha lattes to name a few. It has also become a craze in the skincare and cosmetics industry due to its many benefits to the skin.
How is green tea made?
The process of making traditional green tea involves plucking the buds and leaves of the Camellia Sinensis plant. They are slightly dried up and immediately cooked by steaming or wok roasting to preserve the qualities and prevent the oxidation of the green tea leaves. This method maintains the superior concentration of chlorophyll, polyphenols, and antioxidants compared to the other kinds of tea. This process is still used today in China, Japan, Taiwan, and Korea. Due to the high demand for organic green tea on the market today, the process of making green tea has evolved and became more sophisticated.
The green tea leaves are preserved by using cooking techniques such as roasting and baking. This process quickly prevents the deterioration or withering of the fresh green tea leaves. The leaves are preserved to last a few years before starting to lose their potency.
Green tea is more than just a drink that people enjoy for its benefit to the mind and body. It also has numerous benefits for your skin health due to its antioxidant and anti-inflammatory properties.
The following are skin benefits of green tea.
1. Keeps acne at bay
Green tea is rich in polyphenols which gives green tea its antioxidant and anti-inflammatory properties. Polyphenols help decrease lipid levels and regulate the androgen levels of your body. Androgen is a hormone that your body produces. High levels of androgen can stimulate the overproduction of sebum. Acne is triggered by too much oil clogging the skin pores which makes the skin a breeding ground for bacterial growth.
Polyphenols also have antimicrobial properties that can destroy bacterial membranes making green tea an effective ingredient at controlling acne-causing bacteria.
2. Moisturizes the skin
Green tea is also packed with vitamins such as vitamin E, which is a powerful antioxidant that nourishes and protects your skin from free radicals.
In one study, it was found that skin moisture increased and skin roughness was minimized after a formulation of green tea extracts was applied to their forearm for two to four weeks.
Researchers suggested that cosmetics that are fortified with green tea extracts have moisturizing effects.
3. Prevents premature aging
Another powerful antioxidant in green tea is EGCG  (Epigallocatechin gallate) which can revitalize dying skin cells. A study that was conducted in 2003 found that EGCG can protect and restore cells making your skin healthier and look more youthful.
Vitamin B is also present in green tea which helps maintain healthy collagen levels. Collagen provides strength, firmness, and elasticity to your skin. It prevents wrinkles and sagging of your skin.
A result of a study conducted in 2005 reported that 80 women who were treated with a combination of topical and oral green tea were observed to have an improvement of skin elasticity.
Another study conducted in 2013 found that the damage caused by sun exposure was minimized in participants who used cosmetics containing green tea extracts.
4. Minimizes redness and inflammation
Green tea has anti-inflammatory properties because of its high content of polyphenols. When green tea is applied to the skin, irritation, redness, and swelling can be significantly reduced. It is also effective at soothing sunburn and minor cuts.
In a study that was presented at the American Academy of Dermatology conference, Dr. Tanweeder Syed, who developed a tea extract, reported that there was a 70% improvement in rosacea in women who were treated with green tea extract. According to Dr. Syed, green tea has a soothing quality that helps reduce redness.
5. Treats puffy eyes
As you age, the tissues and muscles around your eyes become weaker. As a result, the fats that support your eyes slide down to your lower eyelids. Fluids also accumulate below your eyes which contributes to the puffiness.
Green tea contains a slightly lower amount of caffeine found in black tea. The powerful combination of antioxidants and anti-inflammatory properties of caffeine found in green tea can tighten and brighten the skin around the eyes. It also lightens the dark circles and minimizes puffiness.
Caffeine found in green tea can constrict the blood vessels to minimize swelling and inflammation, according to an article published in 2010 in the Journal of Applied Pharmaceutical Sciences.
6. Helps protect your skin against cancer
Aside from the high content of polyphenols of green tea. It also contains six different types of catechins. Epigallocatechin (EGCG) and epicatechin gallate (ECG) have the most powerful antioxidant properties.
Antioxidants combat free radicals in your body. Free radicals are compounds that damage the cells in your body, including your skin cells. Free radicals have also been associated with various diseases including cancer.
In a study conducted in 2010, EGCG can restore the damage caused by the harmful rays of the sun and lowers the risk of nonmelanoma skin cancer.
YEOUTH offers a variety of professionally formulated skin care products that are enriched with green tea.
Day/Night Moisturizer with Snail Extract, Hyaluronic Acid, Green Tea, & Peptides ( $22.95 )
Formulated with Snail Extract to help repair skin damage, Hyaluronic Acid to hydrate and replenish moisture levels, Green Tea to protect, and peptides to help strengthen, firm, and improve skin elasticity. 
Retinol Eye Cream with Hyaluronic acid, Green Tea, and Caffeine ( $18.95 )
Formulated with 2.5% Retinol to help strengthen, tone and firm the delicate skin around the eye area, Hyaluronic Acid to moisturize and brighten, Green Tea to soothe and protect, and Caffeine to depuff. You will notice a visible improvement in the appearance around your eyes. Say hello to a younger-looking, brighter, and more radiant eye area! 
Vitamin C Facial Cleanser with Vitamin C, Aloe, Green Tea & Seaweed Extract ( $18.95 )
Vitamin C is a powerhouse skin ingredient known to smooth fine lines, brighten and smooth the skin. Packed full of antioxidants like Aloe, Green Tea, and Seaweed, YEOUTH's Vitamin C Facial Cleanser works to nourish and cleanse the skin to remove impurities and excess oil while also fighting to defend skin health and give your complexion a bright, healthy-looking glow. 
Neck Firming Cream with Green Tea, Argireline, Vitamin C ( $25.95 )
This powerful multitasking and age-defying neck firming cream is formulated to help target and improve the appearance of the delicate skin on the neck and dècolletè. Combined with Green Tea to soothe, Argireline helps tighten and Vitamin C to brighten and firm the skin for a more supple and lifted appearance. 
Salicylic Acid Face Peel 20% ( $24.95 )
YEOUTH Salicylic Acid Gel Peel 20% Peel can help regulate problematic skin by decongesting pores to achieve overall skin clarity. Formulated with 20% salicylic acid, this peel effectively dissolves dirt and oil trapped in the pores that cause acne, whiteheads, and blackheads. Combined with Tea Tree and Green Tea to balance and soothe the skin. The peel is also effective at fighting the look of fine lines and wrinkles because it supports healthy collagen production as it deeply penetrates the layers of the skin to increase skin cell turnover.
HAVE YOU EVER USED SKINCARE PRODUCTS THAT CONTAIN GREEN TEA? WHAT AMAZING BENEFITS HAVE YOU EXPERIENCED? LET'S TALK IN THE COMMENTS BELOW.