Amazing Skin Benefits Of Aloe Vera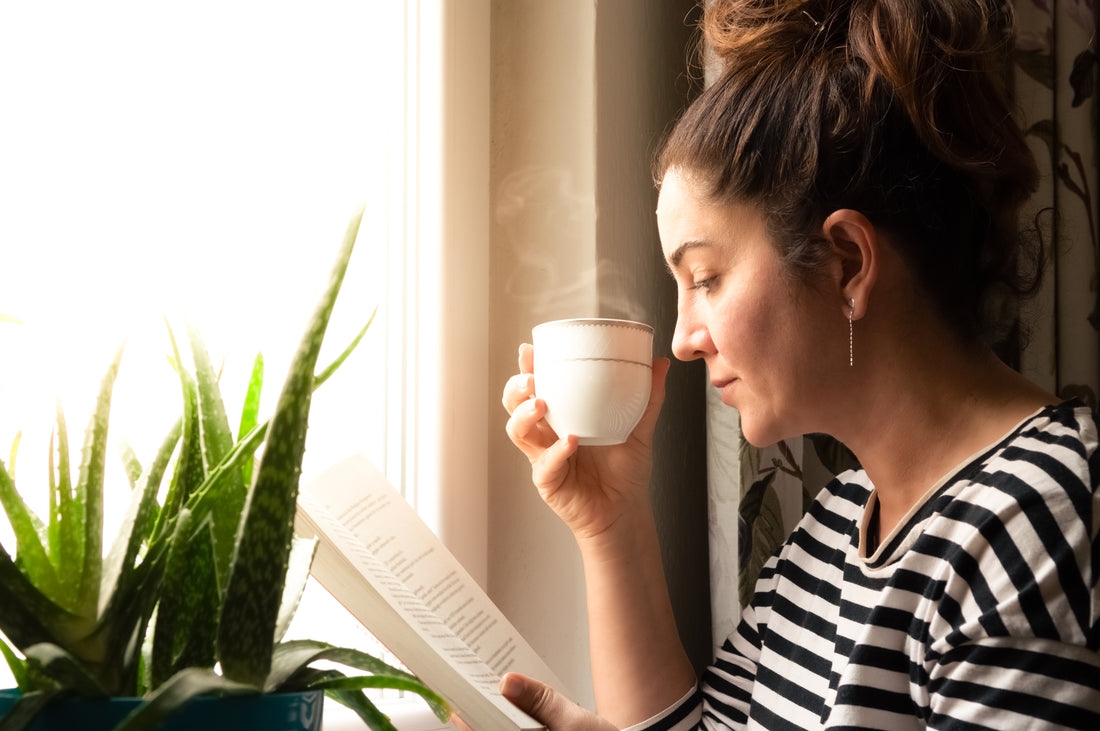 The ancient Greeks called Aloe Vera the "Universal Panacea," meaning a universal remedy for pretty much any ailment.  The Egyptians remarkably described it as the "The Plant of Immortality." Egyptian Queens Cleopatra and Nefertiti made it an essential ingredient in their beauty regimens. 

Today, the Aloe Vera plant continues to provide many medical and health benefits it was so well known for centuries ago. It has become a very popular ingredient in skincare and beauty products because of its many powers when it comes to the skin. Think of aloe vera as nature's gift to humanity.
Many think of aloe vera as a gel-like substance that is applied to the skin for the treatment of burns or to help soothe wounds. It is true that aloe vera is most commonly known as the "First Aid Plant."
Aloe vera is coined with so many names because it has been the go-to remedy for medical and health problems, as well as beauty and skin problems for centuries.
In fact, Alexander the Great and Christopher Columbus used this plant to treat wounded soldiers!
Studies and research continue to be done on aloe vera and all of its 75 compounds.  The compounds found in aloe, such as vitamins, minerals, amino acids and other enzymes, are all beneficial for overall health.
The medical and dermatological world can't seem to get enough of the perks that aloe vera can provide, especially on what it can do for the heath and longevity and our skin!
The Aloe Vera plant
Aloe Vera comes from the Liliaceae family of plants. Its botanical name is Aloe barbadensis miller.  It is best known for its fleshy leaves that contain a gel like substance.
The leaves of an Aloe Vera have three layers, but it is the inner clear gel layer that provides infinite health, medical and dermatological powers. The gel contains 99% water and the other substances are glucomannans, amino acids, lipids, sterols and vitamins.
The active components of Aloe Vera that make it a powerful healing source includes the following:
Vitamins containing antioxidants that neutralize free radicals.

Enzymes that help to reduce excessive inflammation.

Minerals that are essential for the proper functioning of various enzyme systems.

Sugars with anti-allergy and anti-inflammatory effects.

Anthraquinones which are ingredients of laxatives, analgesics, antibacterials and antivirals.

Fatty acids that have anti-inflammatory, antiseptic and analgesic properties.

Hormones which aid in healing wounds, and at the same time have anti-inflammatory effects.

And other components which provide 20 of the 22 amino acids required by the human body, and 7 of the 8 essential amino acids our body also needs. It also contains salicylic acid that possesses anti-inflammatory and antibacterial properties, and other components that have cleansing and antiseptic properties.
Aloe vera was an organic and herbal remedy to treat various physical and biological problems in the past, but modern medical and scientific studies have proven that it can effectively cure diseases. It can even relieve and reduce the symptoms of some diseases.  The following are just some of the medical and health benefits we can get from aloe vera.
Protection against digestive diseases
As mouthwashes and gels, it is effective in treating dental and gum problems, and other oral problems that may otherwise affect the digestive system. It also helps reduce the symptoms of some chronic digestive diseases.
Skin protection
Wound healing, anti-inflammatory and antioxidant effects are the common skin benefits derived from aloe vera extracts and gels.  Its antioxidant effects aids in UV protection.
Significant studies have  also shown that daily intakes of aloe vera supplements have the following effects: 
Anti-inflammatory 
Compounds present in aloe vera inhibit the production of components that cause the inflammation of different cells in the body which can cause various diseases.
Anti-cancer
Numerous studies and research have revealed that aloe vera compounds helped suppress cancer and tumor cells found in ovarian and cervical cancer, breast cancer, gastrointestinal and digestive diseases, pancreatic cancer, colon cancer, bone tumors, tobacco related diseases and melanoma.
Anti-diabetic
Clinical studies in relation to diabetes showed that aloe vera was able to reduce blood glucose levels, increase insulin levels, and improve pancreatic islets. Other studies also showed promising results of aloe vera formulations in relation to diabetes treatment. 
Antioxidant
Extracts of aloe vera have shown to be potent antioxidant agents by neutralizing free radicals.  A study further showed that the intake of aloe vera gel extract for 14 days increased the total antioxidant capacity of plasma in the body.
Bone protection 
It was discovered in a clinical study that aloin, a compound of aloe vera, has resulted in beneficial treatments for osteoporosis and osteopenia disorders.
Cardioprotective effects 
Positive effects of the administration of aloe vera compounds to cardiac-related diseases
Antimicrobial and prebiotic activity
Aloe vera and its constituents have shown to reduce and inhibit growth of bad bacteria and other harmful organisms that cause diseases and affect the body's overall health. 
The magical effects of aloe vera on the skin used to be just a myth, but research and studies validate that aloe vera truly possesses many wonderful benefits for the skin.
1. Moisturizing
A study shows that aloe vera extracts are effective natural ingredients to improve skin hydration.  As a result, it can be safely used in moisturizing cosmetic and skin formulations.
Recent studies also show that the active components and properties of aloe vera are beneficial in retaining skin moisture and integrity. This is possible because of a humectant property which makes aloe gel attract water and help the skin maintain hydration levels.
This explains why aloe vera is an essential component in so many skincare products.  Many serums, cleansers, toners and moisturizers contain aloe vera in their formulations.  This is to balance and complement the effects of other skincare ingredients.  Aloe vera is also a perfect ingredient because it easily absorbs in the skin and does not leave a residue.
Yeouth's newest product, Niacinamide Serum, is a hydrating serum that contains aloe vera. It is an oil-balancing serum that works to give your skin a clearer and more youthful appearance.  Try it now with our special introductory price!

2. Anti-aging 
Aloe vera supplements, specifically aloe sterol, help to increase skin elasticity and significantly reduces the appearance of wrinkles.
Likewise, the compounds of aloe vera stimulate fibroblasts that produce collagen and elastin fibers.  Fibroblast cells are located in the dermis and they act to fabricate collagen.  Collagen is the protein that supports the skin and helps keep it firm.
Additionally, the zinc found in aloe vera acts as an astringent that tightens the pores, making the skin more elastic.


3. Effective treatment for acne 
Studies showed that aloe vera gel combined with tretinoin is highly effective in treating mild to moderate acne vulgaris, and the combination can treat inflamed and non-inflamed acne problems.
Another aloe vera formulation also demonstrated antibacterial effects against acne. Aloe vera juice is effective  at reducing the number of acne lesions found on the skin.
Our Yeouth Retinol Serum, Yeouth Dead Sea Mud Mask and Vitamin C Facial Cleanser are all formulated with aloe vera.  Our Dead Sea Mud Mask and Vitamin C Facial Cleanser are two highly formulated products that are effective treatments at removing impurities and excess oil in the pores, therefore highly effective at preventing the onset of acne. 

4. Powerful wound healing
Results of significant studies show how aloe vera exhibited stimulatory effects in cell regeneration of fibroblasts and keratinocytes in the skin.  Fibroblasts are the cells that help build collagen and tissue in the skin. While keratinocytes are the primary cells comprising our epidermis, making up about 90% of our epidermal skin cells. The study revealed that aloe vera plays an essential role in protecting keratinocytes from dying due to preservatives and other harmful and similar substances.
The nutrients found in aloe vera helps increase the production of new and healthier skin, thus it is effective at treating skin wounds, acne scars, sunburn and other skin damage.  Second degree burns heal faster with the help of aloe vera too, and because of increased collagen production, other skin damages are repaired much faster.

5. Reduces hyperpigmentation 
In another study, aloe vera exhibited the remarkable ability to effectively reduce photodamage or the changes in the skin due to prolonged solar irradiation exposure.  Aloe vera can significantly protect against photodamage at a cellular level.
This study is evidence of the effectiveness of aloe vera in combating wrinkles, hyperpigmentation and the other signs of aging that show on our skin, whether as a result of natural skin aging or from photoaging due to sun exposure.  


6. Effective cleanser 
Because of the antibacterial and antimicrobial properties of aloe vera, it is an effective cleanser that can wipe away harmful substances that can attack or are present in the skin.
Our Yeouth Vitamin C Facial Cleanser is packed full of antioxidants like aloe vera to nourish and cleanse the skin, remove impurities and excess oil, and also fight to defend skin health and give your complexion a healthy-looking glow.  Aloe vera, as found in our cleanser, helps calm and soothe the skin along with its antimicrobial properties.
There are many other uses of aloe vera for the skin as found in our Yeouth blog, such as hand sanitizer, make up remover or an eyebrow gel!  Discover all the wonders that aloe vera can offer and make them part of your daily routine.


The takeaway
Aloe vera is indeed an immortal source of health, skin and beauty benefits. For centuries, it has served humanity with its healing, protective and beauty enhancing effects.  It continues to offer benefits that can heal, alleviate, or minimize health problems or diseases.
Try to use products and formulations that highlight and contain aloe vera.  You can be assured that it is effective and safe to use. The use of aloe vera thousands of years ago and its popularity still today show that it is an ingredient that literally stands the test of time!
 Vitamin C Facial Cleanser With Vitamin C, Aloe, Green Tea & Seaweed Extract ($18.95)

Our Yeouth Vitamin C Facial Cleanser formulated with aloe vera gently cleanses the skin to remove impurities, and rid the pores of excess oil to  reveal a cleaner, more even skin tone without stripping the skin's moisture levels. 
DID YOU EVER TRY USING ALOE VERA?  WHETHER IN TREATING SKIN OR MEDICAL PROBLEMS, OR AS PART OF YOUR BEAUTY SECRET?  SHARE IT WITH US!  LET'S TALK IN THE COMMENTS BELOW.