New Beauty Must-Have: YEOUTH's Day/Night Cream Powered with Snail Extract, Green Tea, Hyaluronic Acid, & Peptides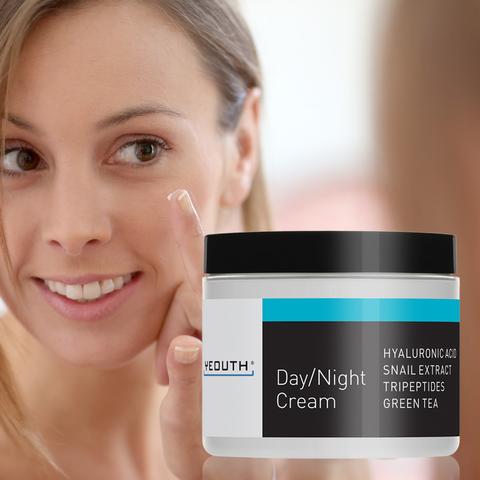 So now… How about an intriguing story which involves a small, unusual, but powerful superhero of the Asian skincare world called a gastropod mollusk? Also known as a snail.  That's right. Snails are just about to become your best friend.
If you haven't started using snail extracts yet, then you're missing out on a lot. Or maybe you already are using snail extracts in your skincare products, you're just not well aware of it yet. Either way, snail extracts can do you wonders. Understandably, applying snail goo all over your skin, let alone your face, doesn't sound very appealing. However, the hydrating, healing, and anti-aging benefits of it are evident even after the first use, and are just absolutely undeniable.
Snail extract is the celebrated ingredient behind YEOUTH'S new formulation of the YEOUTH Day/Night Moisturizer. Its powers perfectly combine with the anti-aging and antioxidant effects of Green Tea, the hydrating magic of Hyaluronic Acid, and the superstar effects of collagen-bringing peptides. This hardworking Moisturizer is lightweight to get you ready for just about anything during the day, and potent enough to keep your skin firm, elastic, and supple at night.

How can this powerhouse moisturizer deliver optimum hydrating and anti-aging results?

The magic lies in the ingredients! Let's go over them one by one, shall we?

1. Snail Extract
Snail enzyme is made up of nutrients with antimicrobial properties and other properties beneficial to the human skin. It is rich in hyaluronic acid and proteins that facilitate elastin and collagen production. Because of these properties, dermatologists and researchers have been combining it with facial creams and beauty products – and the result? A facial regimen can firm up the skin, bring a youthful glow, stimulate skin regeneration, even out complexion, fade acne scars, and provide optimum skin moisture.
We've all seen how snails move – they leave traces of a thick fluid just about anywhere and everywhere they go. The excretion of this thick fluid is actually a protective mechanism. They use this thick fluid to heal the cuts that they get whenever they slide across rocks and rough surfaces – remember that their bodies are very soft. The human skin likewise excretes oils as a means of protective mechanism. The human skin excretions are mostly composed of lipids and dead skin cells, which serve to naturally moisturize the skin; without such a mechanism, the skin will dry up and easily wound.
2. Hyaluronic acid
Hyaluronic acid is naturally found in our cells. This nutrient is responsible for keeping our skin hydrated, plump, and supple. It is the ultimate hydrator – it actually attracts water. And as we know, a well-hydrated skin prevents the occurrence of signs of premature aging, breakouts, and excess oil.
Another reason why hyaluronic acid is so important is because although it is naturally found in our cells. It is proven that our cells actually contain less and less of this superstar compound as we age. As a result, our skin is made vulnerable to dryness, sagging, wrinkles, and fine lines.

3. Green tea
The Basics
What if you were told that the actual secret to healthy, glowing skin is actually in  green tea? That's right. Green tea contains anti-oxidants and anti-bacterial elements responsible for regulating hormonal imbalances and suppressing bacterial activity that cause facial acne. Green tea also contains anti-inflammatory ingredients that reduce redness and swelling on the face caused by acne, effectively sparing one from acne scars.
Green tea is also popularly known as the ultimate antioxidant. This is particularly important because a lot of what we do negatively affects our skin – poor eating habits, stressful and sedentary lifestyle, too much sunlight and pollution exposure – we are constantly exposed to free radicals that damage our skin. Green tea has properties and ingredients that can revive dying skin cells, promote healing to damaged cells, ward off signs of premature aging, and give off that youthful, healthy glow.
4. Peptides
The Basics
A peptide is a chain or a link of two or more amino acids (remember your Chemistry lesson?).
Collagen, which is a highly abundant protein in the body, is particularly important in understanding how these peptides work.
Because of age and other environmental factors, collagen in the body can break down. Whenever collagen is broken down, the links of amino acids also get disentangled and broken. The separation of these links cause the skin to wrinkle and get thinner over time. The presence of broken peptides sends messages to the body, requiring it to generate more collagen. This is why applying topical peptides found in skin care products makes your body think that given the presence of these peptides, it needs to manufacture more collagen. The result? Super supple, glowing skin!
Introducing YEOUTH's Day/Night Cream with Snail Extract, Hyaluronic Acid, Green Tea, and Peptides
YEOUTH Day/Night Cream is just everything that you need for a day/night moisturizer cream to be – it is lightweight, unscented, milky, and with a viscous texture that leaves your skin not only hydrated and glowing, but also feeling smooth all day long. It also contains several potent ingredients, making it the ultimate all-in-one skin product.
 
What You Must Know
Snail extract is the ultimate hero ingredient of this product, which works to prevent acne, minimize acne scarring, and work to fight away premature signs of aging.
It doesn't matter if you're a full-fledged devotee of the magic that is snail extract, or just a newbie in all of it. This moisturizer from YEOUTH is an absolute must-have. It works to heal, protect, and hydrate your skin while leaving it with a silky, smooth finish – day or night.
Subscribe to our newsletter to get a massive introductory discount!