A 6-Step Skincare Routine For a Flawless Face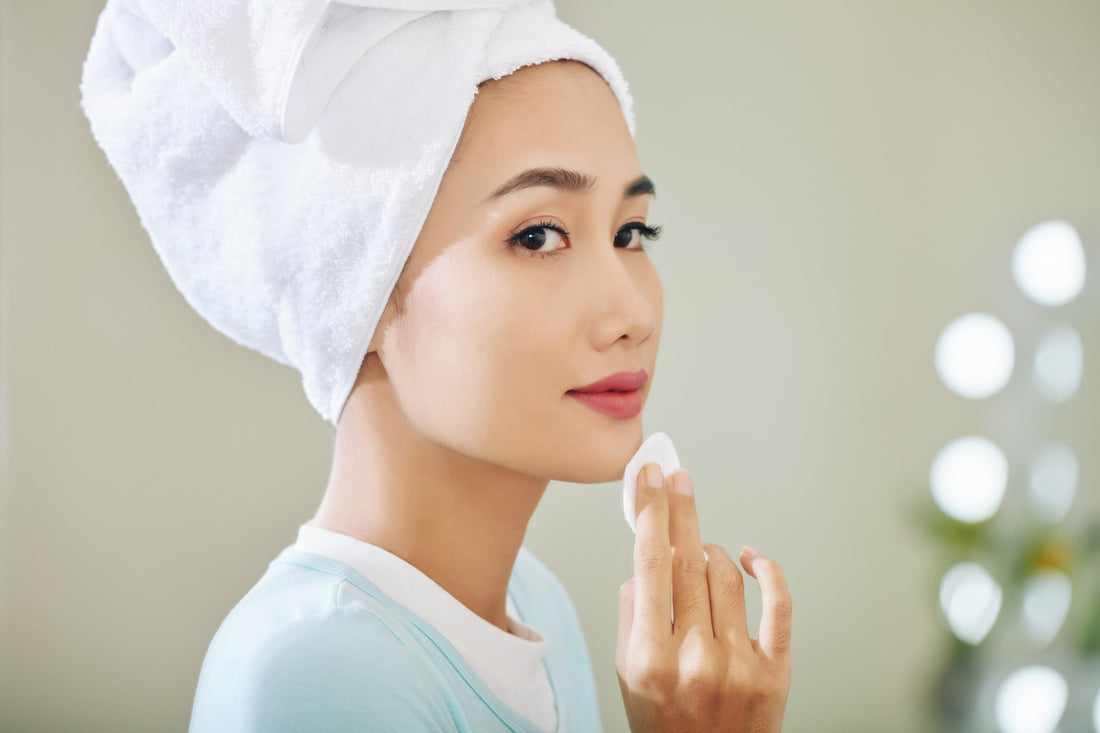 Happy with your skincare routine or are you looking for tips on what you should be doing?  Here's your guide to starting and maintaining a beauty regimen and keeping it as part of your long term skin care plan.
A proper skin care routine should become part of your daily norm. It is inherent to protect our skin from harmful substances and the harsh effects of our environment.  Thus, investing in keeping our skin healthy is an absolute must!
Although it may sound like following a strict skincare routine is high maintenance, it is not and it is in fact quite easy to do.  Following and keeping a skincare regimen brings out the best results of what we want to achieve for our skin, from fighting the signs of aging to treating acne and addressing all our other skincare needs.
It is never too late to invest in your skin and adopt a new skincare routine. Incorporate these 6 simple steps into your daily skincare routine and you will be glowing in no time! 
Step 1:  Cleanser
Cleansing is simple, but it should never be overlooked. It happens to be one of the most important steps in caring for your skin. Ideally, cleansing should be done in the morning and in the evening before bed.
It entails the removal of makeup, dirt, bacteria, dead and excess skin cells, excess oils and all the impurities that are trapped in your skin. Cleansing twice a day is recommended as dead cells accumulate over the course of the day and overnight while you sleep. 
It is also suggested to use different cleansers according to your skin type. Those with oily skin should avoid using alcohol and oil-based cleansers. For those with dry or sensitive skin, use cream or lotion-based cleansers that are formulated to be extra gentle. 
Fortunately, there are cleansers specially made for all skin types. Researchers have even developed products containing natural and organic ingredients to not only cleanse the skin, but provide it with added nourishment and protection such as the Yeouth Vitamin C Cleanser  which is gentle enough even for the most sensitive of skin types. 
Step 2:  Toner
The process of toning sets the stage for the whole regimen. Applying a toner slowly opens the pores and prepares the skin to absorb the next set of specialized treatments that are to be applied. Additionally, toning balances the Potential hydrogen (Ph) level, or the level of acidity of our skin, which we may have lost during the cleansing process. 
Our skin's natural acidity is diminished when exposed to certain elements such as acne, pollution, or cosmetics. Using tap water can even throw our Ph off balance. Hence, why toning is such a critical step. 
Applying a toner is important to maintain our Ph level and it also helps to better prepare the skin for absorption of the skincare treatments that are to follow. Certain toners are also created with special ingredients that aim to offer benefits targeted to minimize pores, boost hydration or fade dark spots. 
Try our Yeouth Balancing Toner which calms, soothes and hydrates. It can also be used throughout the day whenever you need an instant refresh. 
Step 3:  Serum or Essences  
Serums are the deep penetrating agents meant to address the particular skin problem you want to target.  These are highly concentrated elements formulated to repair skin cells deep within.  
Serums and Essences work similarly. They are applied to focus on particular skin care needs and problems. These are also applied after the cleansing process and before moisturizing. The difference lies in their textures.
Serums are more fluid and hydrous while Essences are thicker and more concentrated. 
There are serums available for just about any skin concern you can think of! From skin brightening to preserving elasticity, reducing the appearance of wrinkles, maintaining firmness, and boosting collagen production. 
Try our Yeouth Vitamin C & E Serum which does all those mentioned above!  There are also rejuvenating serums for exfoliation, and serums for treating acne and other impurities.  You can choose which is best for your specific skin care needs.
Step 4:  Eye Gels and Creams
While it may be true that the eyes are the windows to the soul, the eyes are the windows to our age too.  It is the ultimate giveaway to knowing how young or how old a person is.  That is because the skin around the eyes is the most delicate skin of the body. It is also the first area to exhibit signs of aging such as wrinkles, crow's feet and fine lines. It is highly prone to sagging, blotching and swelling. It loses its smoothness and firmness if not well taken care of.
Numerous products are available on the market which are specifically meant to target the eye area and stop the first signs of aging. Try our Yeouth Radiance Eye Gel specially formulated to hydrate and plump, minimize crow's feet and fight dark circles around the eyes.
A beauty regimen would never be complete without spoiling the sensitive eye areas with utmost care!
Step 5:  Moisturizer
Moisturizing is another very important step in any skincare routine. To moisturize is to seal in all the nutrients we fed our skin during our regimen.  Regardless of what day it is and what type of skin you have, moisturizing is a must! It makes the skin hydrated, retains its smoothness and it prevents dryness. Moisturizers provide significant anti aging effects. 
With the regular use of a moisturizer, wrinkles, fine lines, hyperpigmentation and visible scars slowly disappear.  Moisturizing gives the skin the chance to repair itself and regain its natural glow and vibrance.
A quality moisturizer must be included in your skin regimen. Try our Yeouth Day/Night Moisturizer with Snail Extract which helps repair skin damage and can be applied to your neck, chest and hands to reduce the signs of aging in these areas.
Step 6:  Sunscreen and/or Make up 
After going through all the processes of cleansing, treating your skin with the nourishment it needs and moisturizing to seal in the nutrients during the day, it's time to apply your Sunscreen of choice with the Spf level suitable for your skin followed by your makeup. 
Sunscreen helps to protect your face from the harmful effects of long-term sun exposure. It is a step that should never be neglected. Incorporating sunscreen into your daily morning routine is an absolute must in order to preserve your skin health now and in the years to come. 
Other Treatments To Do Periodically
EXFOLIATION
You may also choose to exfoliate your skin periodically depending on the products that you use.  Exfoliation is a natural and unending process that our skin goes through overtime. We produce dead skin cells and new skin cells develop in return.  
However, we can speed up the process of exfoliation by using skin care treatments. Treatments help reveal new skin that is visibly smoother, firmer and healthier. Regular exfoliation also helps make skin less prone to breakouts by sloughing away the dead cells that would otherwise clog the pores.   
Thankfully, there are skincare products that provide gentle exfoliation and do not damage the skin but leaves it feeling smooth and hydrated.
Physical Exfoliation is done by using products that contain small particles such as coffee or sugar particles and manually rubbing these into the skin to remove dead skin cells.  Gently scrubbing the skin with the use of brushes or sponges is also a form of physical exfoliation. This type of exfoliation produces instant results. The skin feels smooth and glowing right afterwards.
Chemical Exfoliation, involves the application of certain kinds of acids on your face to remove dead skin cells. These are seen to be more effective in removing dead skin cells that clog the pores. Certain chemical peels are combined with natural ingredients that help to fortify skin and promote clarity while exfoliating.  Try our Yeouth Glycolic Acid Gel Peel  or Yeouth Salicylic Acid Face Peel depending on your skin's needs.  
Everything about exfoliation can be read in our Yeouth blog.
DETOXIFICATION 
Another option that can be done periodically is detoxification.  Toxins and other impurities trapped deep in the skin's pores can be drawn out by detoxifying and opening clogged pores at least 2-3 times a week.  Redness, inflammation and the appearance of blemishes will be drastically reduced.  It brightens the skin and limits the signs of skin damage. 
This can be done at home by using our Yeouth Dead Sea Mud Mask that magnetizes dirt and draws impurities out to reveal a clean, blemish - free and fresh complexion. It has nourishing vitamins and minerals like Hyaluronic Acid, Aloe, Oatmeal and Avocado oil to moisturize, soothe and balance the skin. 
CONCLUSION
There is not one single solution or magic trick to instantly achieve that beautiful skin we all desire. There is a sequence, a system that needs to be followed, strictly as it may be.  It takes a village. Patience and time. But most importantly, choosing the products that work for you.
These 6 easy skincare steps will help get your skin on track and hopefully become a habitual routine that you follow consistently. You will begin to see a visible difference and improvement in your skin that you will be grateful for in the years to come!
Anti-Aging System Thirties ( $94.95 )
Here's a complete set of skincare you can gift yourself to target the spots where signs of aging are slowly becoming visible.  These 6 high-quality anti-aging products can soften the wrinkles around your eyes and smile lines, plus! it has the power to shrink pores and diminish those growing discolorations on your face as you reach your 30s.
ARE YOU FOLLOWING THE RIGHT SEQUENCE IN YOUR BEAUTY ROUTINE?  OR DO YOU HAVE A UNIQUE REGIMEN THAT IS JUST AS EFFECTIVE?  LET'S TALK IN THE COMMENTS BELOW.