8 Skincare Tips For Spring 2021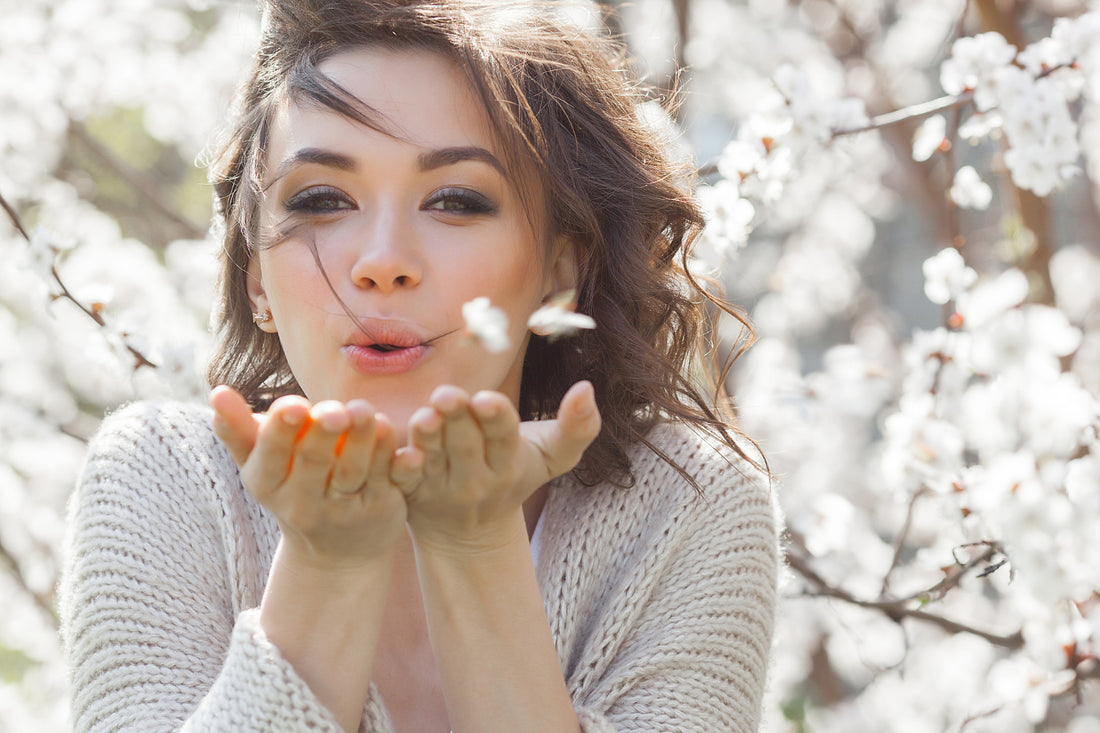 DO YOU FEEL YOUR SKIN CHANGING WITH THE ONSET OF SPRING?

WINTER WEATHER CAUSES OUR SKIN TO BECOME DRY,  WHILE THE WARMER SPRING TEMPS HELP BOOST MOISTURE LEVELS. IT IS KEY TO TWEAK OUR SKINCARE ROUTINE TO ADJUST WITH THE SEASONAL CHANGES TO AVOID SKIN TROUBLES!
Dry and cold air during winter causes dry skin and dehydration.  There is also less intake of fluids during winter, causing further dehydration.  This can lead to premature skin aging, irritations, and even aggravates certain skin conditions like Rosacea, Psoriasis, Eczema, and Seborrheic Dermatitis.
With the dehydration that winter brings to the skin, deeper and more visible wrinkles and fine lines appear, and often skin flaking occurs due to excessive dryness.
While the skin is recovering from the harsh effects of winter, it also faces dramatic changes brought on by spring.
The onset of spring and the sudden changes in temperature, humidity levels, and sun exposure can also cause additional skin problems like breakouts, irritations, and aggravation of other skin conditions. Combine that with the presence of pollen that triggers allergies for a lot of people and the skin may be prone to flare-ups.
Here are some reasons why it is important to adapt your skincare routine accordingly with the changing seasons! 
How the spring season can affect the skin

Photo aging and the increase of exposure to sun and UV Rays
After the long and dreary winter months, people tend to spend more time outdoors enjoying the fresh and warm breeze, basking under the sunlight.  Because of this, the skin is susceptible to increased exposure to harmful sun and UV rays.
Prolonged exposure to sun and UV rays leads to premature aging or photoaging of the skin, among many other skin disorders.  Photoaging usually occurs among people who are below thirty (30) years of age, while natural skin aging becomes more visible among people who are forty (40) years old and above. Both conditions lead to the development of wrinkles and loss of skin elasticity.
Other effects of photoaging include the development of freckles, dilation of capillaries, and irregular discoloration spots or liver spots which become more visible as a person grows older.  These are seen on the face, neck, chest area and on the back of the hands.
Apply Yeouth Neck Firming Cream on your neck and chest area to address the effects of aging, especially photoaging. This miracle cream smooths and softens skin for a more lifted, tightened and toned appearance. It minimizes the look of lines, wrinkles and age spots.
Also, remember to wear sunscreen when heading out into the sun.
Breakouts and sweating
It's the perfect time to become active again. The warm days and extended daylight boost energy levels and a lot of people tend to engage in more outdoor activities.  Spring motivates many to jumpstart their exercising regimen again after being lazy or hibernating all winter.
Becoming active and engaging in more physical activities means the skin is also becoming more prone to breakouts and sweating.  A simple walk in the park can clog pores and cause breakouts if the skin is not properly taken care of.
It is essential to wash the face twice daily even if one is not active. Regular cleansing is a must especially after exercising or engaging in other physical outdoor activities.
Wash your face daily with our Yeouth Vitamin C Facial Cleanser infused with Aloe Vera, Green Tea and Seaweed. This gentle cleanser provides the hydration and nourishment your skin needs, and at the same time, it helps to lighten dark spots.  It's your perfect cleanser for spring! 
Our Yeouth Neck firming Cream is a perfect spring moisturizer for the neck area to reduce the effects of aging, especially caused by photo aging.  It smooths and softens skin for a more toned appearance, and minimizes the look of lines, wrinkles and age spots.
Oil production in skin is increased
A more active lifestyle and increased humidity in the air also increases the skin's natural production of oil or sebum.  This causes clogging of the pores, breakouts and acne.
It is advised to switch to lighter creams and serums during the spring so that skin is still nourished and moisturized and does not become clogged.
Apply our Retinol Moisturizer at night.  This light moisturizer hydrates the skin while smoothening and softening visible signs of aging, for a more rested and youthful appearance.  It gently exfoliates the skin to make the skin more plump and supple.
Skin becomes more prone to irritations
With everything blooming in spring - flowers, trees, grass and vegetation, it can be really difficult for those who suffer from allergies.  Because of allergic reactions, our hands tend to come in contact with our skin more frequently, transferring dirt and bacteria, which causes breakouts.
It is best to consult with a doctor to address allergies and protect the skin during springtime.
Constant rubbing of the eyes, because of dryness and itchiness due to allergies, also cause more wrinkles and fine lines to develop in the eye area. Our Radiance Eye Gel penetrates deeply to offer lasting hydration to the delicate skin around the eyes. Most importantly, this soothing eye gel improves the look of fine lines, wrinkles, dark circles and puffiness. It is safe to use for all seasons!
Caring for the skin in Spring
Hydrate
Hydration is infusing the skin cells with water.  Moisturization is covering the skin with a protective layer to trap the moisture in.  As temperatures rise in spring, it is essential to continuously hydrate the skin.  Drink lots of fluids to hydrate the body and the skin, because  dehydration causes dry skin and the loss of skin elasticity.
In skincare, the most hydrating ingredient in the beauty market right now is Hyaluronic Acid.  It is one of the most popular skincare ingredients today, and is recognized as a hydrating ingredient that helps maintain the skin's moisture levels. This acid is an ingredient that binds moisture, and provides lubrication by helping the skin retain water to keep it plump and hydrated.  Read more about Hyaluronic Acid in this previous blog post.
Use our Pure Hyaluronic Acid Serum or Hyaluronic Acid Plus Serum to hydrate and brighten your skin. Make these super hydrating serums part of your skincare routine to quench your thirsty skin this spring!  These serums will help restore the moisture levels of your skin and help plump the appearance of fine lines and wrinkles for an overall smoother, healthier and younger-looking complexion.
Exfoliate
The winter season causes dead skin cells to build up and leaves the skin dry, flaky and dull.  Spring is the best opportunity to slough off all the dead skin cells that have accumulated over winter in order to reveal a smoother and glowing complexion for the new season.
Choose between a Glycolic Acid Peel or Salicylic Acid Face Peel to gently exfoliate your skin. These can be done at home using safe and specially formulated skincare products.
Our Yeouth Glycolic Acid Gel Peel exfoliates dead skin cells to reveal a brighter, more even and smoother skin surface. It is formulated with Retinol and Green Tea to fortify skin and promote clarity.
Our Yeouth Salicylic Acid Gel Peel helps regulate problematic skin by decongesting pores to achieve overall skin clarity. It effectively dissolves dirt and oil trapped in the pores that cause acne, whiteheads, and blackheads. It is combined with Tea Tree and Green Tea to balance and soothe the skin.
These peels are mild, lightweight and safe to use.  They're perfect for exfoliating to reveal new and glowing skin.
The Salicylic Acid Gel Peel and the Glycolic Acid Gel Peel are your perfect exfoliators this spring to get rid of all the dead skin cells that accumulated during the winter months!
Use SPF
If you want to keep skin healthy and youthful this spring, wear your sunscreen daily.  Remember to always wear a 30 or higher SPF moisturizer, even when the sun is not shining brightly.  Up to 40% of the sun's UV rays still permeate the clouds even on a completely cloudy day, so never slack on  your SPF protection.
Transition to a light moisturizer
You might have been using thick and heavy moisturizers during the winter months.  In spring, thick creams can leave your skin slick and greasy looking. It is best to switch to lighter moisturizers and creams as the weather slowly becomes more humid.
Make our Yeouth Day/Night Cream your daily moisturizer. It is lightweight and provides optimal hydration for the skin to repair itself, and restore natural vibrance with every application.  It is formulated with Hyaluronic Acid, Snail Extract, Tripeptides and Green Tea.  All these ingredients work together to replenish and rejuvenate the skin.
With the regular use of our Day/Night Cream, watch the appearance of fine lines, wrinkles, hyperpigmentation, and scars fade away!
The warmer months of spring affect the delicate skin in your eye area without you even noticing it. The harmful UV rays of the sun speed up the signs of aging around the eyes, making crow's feet, wrinkles and fine lines more visible.
Protect the eyes from the glares of the sun with big sunglasses when outdoors.
Eye gels or eye creams should also be part of your spring skincare routine because the eye area takes a beating as you stay outdoors more often during this time of the year.
Aside from our Hydrating Radiance Eye Gel, one of our best formulas meant to target the eye area is our powerful Retinol Eye Cream.  It is specially formulated with Retinol to help strengthen, tone and firm the delicate skin around the eye area. Made with Hyaluronic Acid to moisturize and brighten, Green Tea to soothe and protect, and Caffeine to depuff.  
Choose which works for you best and make it part of your daily skin regimen.
Less is more makeup
Putting on makeup affects skin health in a very big way. You should choose your makeup products wisely - use mineral-based products that are free of parabens and never forget to remove makeup before you go to sleep!
Wearing a lot of makeup clogs the pores and can cause breakouts, especially when the weather is humid.  This spring, use lighter makeup products that do not consist of ingredients that irritate the skin.  You might want to use light face powder instead of liquid foundation for a fresher look this new season.
Skin, hair and nails repair
During the harsh winter months of low temperatures, cold winds, and dry air, your collagen levels may have significantly decreased and even become damaged.  An imbalance in collagen levels affects skincare, nails, and hair.
Collagen Supplements are known to help improve skin health and provide other benefits like improving hair and nail strength.
Our Yeouth Regenotin Advanced Collagen Generator is your best solution to treat thinning hair, wrinkled skin, and weak bones and joints.  It also promotes keratin and elastin formation, the two major beauty proteins that assist in skin elasticity and hair growth. It is formulated with very vital anti-aging nutrients, vitamins and minerals that the body needs to support healthy skin, hair, and nails. To make up for the collagen you may have lost last winter, incorporate a daily collagen supplement into your daily routine. Get your daily dose of Regenotin now!
Stock up on nourishing skin superfoods
Whatever the season, good skin health is always complemented by taking in the proper nutrients that the body needs, along with an effective skincare regimen. Nourishing the skin inside and out is the perfect combination to achieve healthy, beautiful skin!
Stock up and include the following beautifying foods in your daily diet for nourished and glowing skin this season:
Avocados

Carrots

Strawberries

Artichokes

Beets

Lettuce

Cherries 
The Takeaway
The changing of seasons can bring about changes to our skin. For this reason, we should adjust our skincare routines also.  Our skin is exposed to so many factors with these changes.  We have to keep our skin healthy and nourished from the inside-out so that our skin is able to face and endure all the different elements and changes it is exposed to.
Try to give your skin a little extra attention as we transition into spring and just like your seasonal wardrobe, you may need to change up your skincare routine also!
Pure Hyaluronic Acid Serum ( $14.95 )
Hydrated skin is happy skin! This 100% Pure Medical Grade Hyaluronic Acid will deeply quench thirsty skin to restore healthy moisture levels and suppleness. 
HOW'S YOUR SKIN DOING AFTER THOSE LONG AND COLD WINTER MONTHS?  DO YOU HAVE YOUR OWN SPRINGCARE HABITS TO KEEP YOUR SKIN HEALTHY?  SHARE THEM WITH US!  LET'S TALK IN THE COMMENTS BELOW.