8 Easy Steps to Control Oily Skin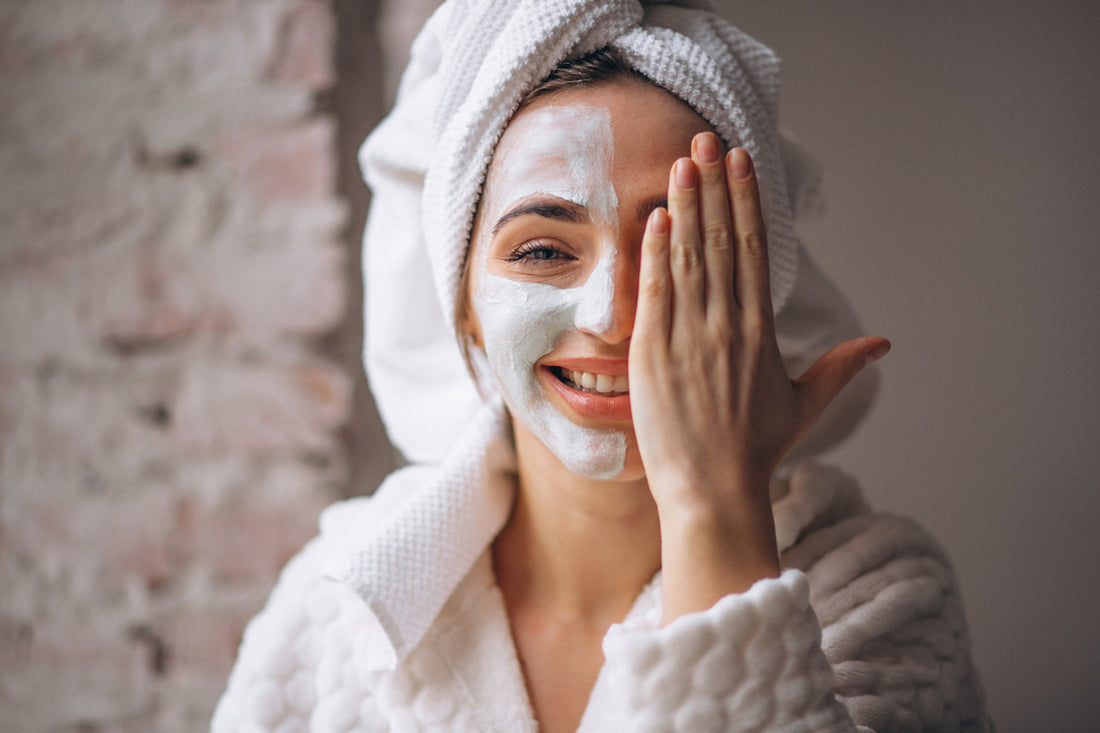 THERE IS NO PERFECT SKIN TYPE. WE ALL HAVE DIFFERENT SKIN TYPES, CONCERNS AND NEEDS.   DRY SKIN, OILY OR COMBINATION, ALL OF THESE SKIN TYPES 'FACE' ITS OWN WOES AND PROBLEMS.

OILY SKIN TYPES PRODUCE EXCESS SEBUM WHICH CAN AGGRAVATE BREAKOUTS AND BE A BIT TRICKIER TO TAME. THANKFULLY, THERE ARE A WHOLE ARRAY OF SKIN CARE TREATMENTS TO CHOOSE FROM THESE DAYS.

DO YOU HAVE OILY SKIN?  READ ON FOR THESE EASY SKINCARE REMEDIES TO TREAT YOUR OILY SKIN!
Factors that cause oily skin
1. Skin physiology and genes
An excess production of sebum in the skin results in oily skin.  Sebum is fluid produced from the body through the skin and is composed of compounds like squalene, wax, fatty acids and cholesterol.  Sebum helps protect the skin by keeping it hydrated. It helps to form a barrier that wards off external or environmental pathogens that may harm the skin and the body.
Sebum production in the skin is high at birth, during puberty, and onwards. It dramatically decreases after menopause for women and between the ages of 60-70 years for men.
Normally, an adult produces 1mg of sebum per centimeter square of the skin every three hours.  If the sebum production is less than 1mg, it causes dry skin. If it produces more than 1.5mg, there is an excess production of sebum resulting in oily skin. A greasy appearance and larger pores comes with having oily skin.
These sebum-producing glands are highly concentrated behind our ears, on our face, chest area and on our back. Thus, these areas of the body are susceptible to becoming oily and acne-prone.
Men also produce more sebum than women because of their higher testosterone levels. Studies have shown that Chinese women produce less sebum and have smaller pores, while individuals with darker skin have larger pore sizes. 

2. Hormone levels
Hormones affect the skin, especially among women, because of the various hormonal changes women go through. Having a menstrual cycle, going through menopause, and even birth control affect the hormones and skin function in women.
Studies have shown that skin tends to become oily, acne develops, and pore size increases during a woman's ovulation phase due to increased progesterone. During this period, sebum production increases and pores appear to become larger, but go back to their normal pore size after this phase.
Oily skin also appears during puberty which is why teens tend to develop acne during this period. Diseases that cause various hormonal changes in the body like polycystic ovary syndrome and medications like steroids may also cause oily skin.
3. Environment, humidity and seasonal changes
The environment and seasonal changes also affect sebum production. Spring and summer make the skin more oily than other times of the year.  Increased physical activities and humidity in the air during these seasons affect the skin's natural production of oil or sebum.  These lead to clogging of the pores, breakouts and acne.
Various pollutants from the environment can also cause various skin disorders like the development of acne, eczema and skin cancer.
4. Bad skincare and health habits
Overwashing, using harsh products when cleansing, scrubbing the face with a washcloth, rough exfoliators and other abrasive tools can all strip moisture from the skin. It causes the sebaceous glands to go on overdrive with oil production to compensate for the lost moisture. Thus, the importance of gentle cleansing.
When the skin lacks moisture or becomes dehydrated, our skin system tries to produce more oil to try to lubricate, hydrate and moisturize the skin.  Thus, the skin also becomes oily due to dehydration.
Improper cosmetic use, bad cosmetics and skincare products are also factors that can lead to having oily skin. Choose your skincare products wisely and use non comedogenic makeup that is best for your skin type to avoid the harsh effects of makeup on skin. Lastly, do not sleep with your makeup on!
Poor diets like high consumption of greasy food and sugar, not drinking enough liquids, and lack of sleep and exercise can lead to oily skin.  A balance of proper hydration and sebum production in the skin must be kept and sustained by practicing good and regular health and skincare habits.
Steps to control oily skin
Having a proper and balanced skincare routine is the major key to controlling and treating oily skin that is borne out of a genetic skin type, or oily skin due to environment and other controllable factors.  Good skin care practices not only help treat oily skin but it makes the skin healthy in general.
Additionally, one must remember to keep a balanced diet of superfoods that lead to healthy and Yeouthful-looking skin.
The following are simple skincare routines and remedies that can help control and balance oil in the skin:
Always choose oil-free and noncomedogenic skincare products. Noncomedogenic and oil-free skincare products contain protective and healthy ingredients that do not clog the pores.
Clogged pores stress the skin and results in the development of acne, breakouts and other skin disorders, but most importantly, it causes premature skin aging!  Decongest your pores and de-stress your skin not only by adopting proper skincare habits, but also by using products that help make the skin healthy.  Very simple steps like not sleeping in your makeup and quitting smoking help the pores and the skin in significant ways.
1. Wash your face twice a day and after you finish exercising. Gentle cleansing without the use of harsh tools and bad chemicals is the best way to wash and cleanse the face.  Avoid scrubbing the skin when cleansing because this irritates the skin.
Our YEOUTH Vitamin C Facial Cleanser is a gentle cleanser formulated for all skin types.  It cleanses the skin to remove impurities and excess oil while stimulating skin health to give the skin a brighter and healthy-looking glow.
Cleansing twice a day is strongly recommended as dead skin cells, dirt and oil accumulate in the pores over the course of the day and also overnight while you sleep.  These accumulated particles must be cleansed off regularly to keep the skin clean. 
Also, avoid oil-based and alcohol-based cleansers as these are harsh on the skin.
2. Use toners that help remove excess dirt and oil that your cleansing may have missed.  This will also effectively prepare the skin to absorb the working serums that come next in your skin regimen.
Our YEOUTH Balancing Facial Toner is formulated with Chamomile extracts that are proven to aid in preventing and controlling the development of acne.  


3. Use serums that help control oily skin. Serums are deep penetrating compounds  that are meant to address a particular skin problem like acne, excess oil, wrinkling, hyperpigmentation or dry skin.  Serums are specially formulated to repair skin cells deep within.  Various serums are formulated to focus on particular skin care needs and problems. These are applied after the cleansing process and before moisturizing.
A Niacinamide Serum works best for oily skin.  Scientific studies revealed that 2% Niacinamide is effective in lowering sebum levels and sebum excretion, compared with other topical treatments for oily skin which only try to absorb excess sebum.  Niacinamide can slow down how much oil is released in the skin and may also help minimize pore size. Changes in the skin become evident after two to four weeks of Niacinamide use.
Experience your fountain of YEOUTH from these formulas! Our Niacinamide Serum is an oil-balancing serum that works to give your skin a clearer, brighter and more Yeouthful appearance! It is safe and perfect to use with our Anti-Aging Super Serum which is a wrinkle-fighting serum that helps restore a radiant glow to your complexion.
Another significant plus of Niacinamide is that it can be safely used with other anti-aging serums!   You can effectively treat your oily skin while reducing the signs of skin aging like wrinkles and pigmentation with your anti-aging serums at the same time!
4.
Use moisturizer twice a day
in your morning and evening skincare routine.  A
moisturizer
is essential for all skin types and is a must all year round.  Even if the skin tends to become oily during certain seasos, a moisturizer is still an essential in your skin regimen.  
Moisturizers help protect the outermost layer of the skin from all environmental pollutants, UV rays, and other chemicals.  It significantly hydrates the skin to prevent dryness that would otherwise make the skin produce more oil.  Lightweight moisturizers are best for oily skin. 
Use a daily moisturizer like our YEOUTH Day/Night Cream, a lightweight moisturizer that is perfect for daytime use, and soothing at nighttime.

5. Exfoliate once a week. Certain chemical peels are formulated with natural ingredients that help to fortify skin and soothe the skin while exfoliating, this makes it safer and gentler for the skin even when used on a regular basis.  Exfoliating helps unclog the pores of excess oil, dirt and dead skin cells.
Experience gentle and effective exfoliation with our YEOUTH Glycolic Acid Gel Peel or Salicylic Acid Face Peel. Everything you need to know about proper, safe and effective exfoliation can be read in our Yeouth blog.

6. Use a facial mask and detoxify once a week.  Detoxify oily skin on a regular basis to get rid of excess oil, dirt and other impurities that clog the pores and make the pores larger than they should be.  
Our YEOUTH Dead Sea Mud Mask detoxifies the skin by drawing out excess oil, toxins and impurities trapped deep in the skin's pores. It is carefully formulated with nourishing vitamins and minerals Hyaluronic Acid, Aloe, Oatmeal and Avocado oil to moisturize, soothe and help balance oil and moisture in the skin. Experience your fountain of Yeouth with our Dead Sea Mud Mask!

7. Always wear sunscreen when outdoors.  Also, use oil-free and water based make up.  Put your sunscreen on all the different parts of the body which are exposed to the sun like your neck, chest, lips, hands, feet and ears.  Always remember to reapply every now and then during the day when the skin gets oily.  Hats, sunglasses, umbrellas and protective clothing should be on hand and ready to use when outdoors.
8. Use blotting papers throughout the day when skin shows signs of oiliness, and avoid touching your face as it can increase the accumulation of dirt and oil on the face. 



The takeaway
Oily skin may not go away and be there to stay, but simple and proper skincare and health habits can keep oil at bay! When all else fails, consulting a doctor is your best bet.  Certain medications may effectively work to treat excessive production of sebum in the skin that causes oily skin in different parts of your body especially on the face.
YEOUTH Niacinamide Serum with Hyaluronic Acid, Licorice Root and Aloe Vera  ($16.95)
Our YEOUTH latest formulation, the Niacinamide Serum, is a powerful serum that perfectly combines 10% Niacinamide with Hyaluronic Acid, Aloe Vera and Licorice Root Extract to create an oil-balancing serum that effectively works to give the skin that Yeouthful appearance free of excess oil and dirts.  It makes the pores appear tighter, fairer and healthier!
WHAT ARE YOUR OIL-FREE SKIN SECRETS?  SPILL IT HERE THROUGH THE COMMENTS BELOW SO WE CAN ALL HAVE HEALTHY AND YEOUTHFUL LOOKING SKIN!