7 Ways to Keep Your Skin Clear of Blackheads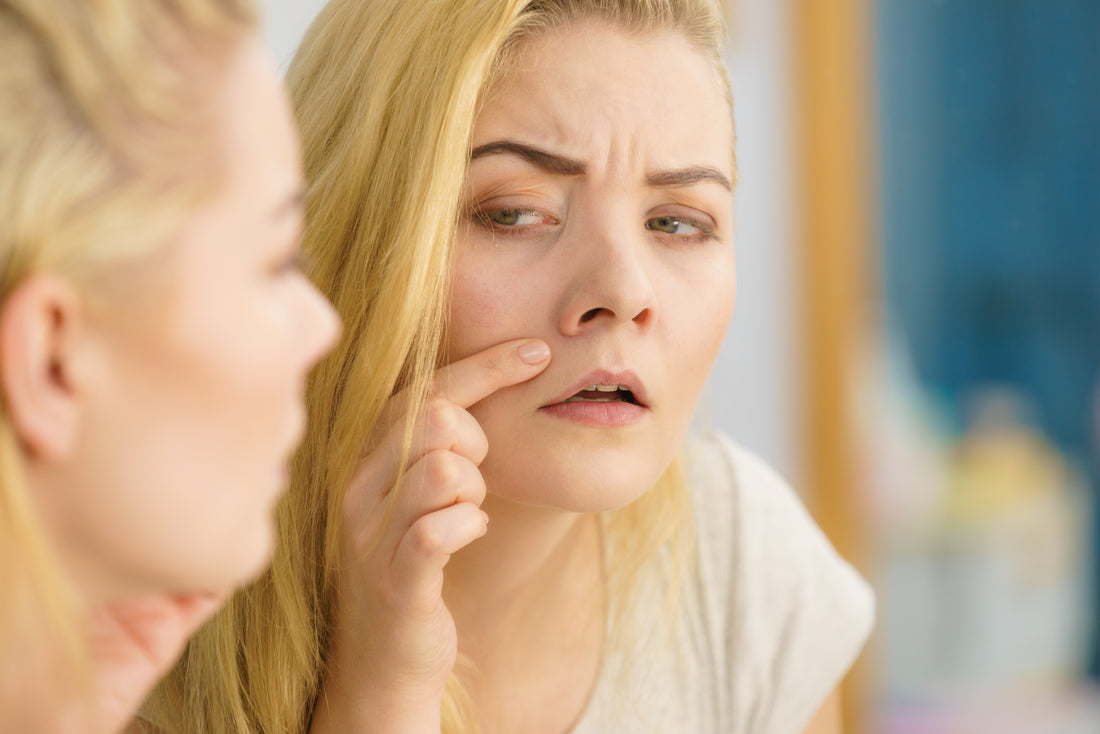 HAVE YOU EVER WONDERED WHAT CAUSES BLACKHEADS AND WHAT YOU CAN DO TO AVOID THEM?
Blackheads are annoying and unsightly. For many people, they are continually appearing on their faces, especially around the nose and chin.
Eliminating dead skin cells will significantly help to decongest clogged pores and effectively eliminate those pesky black spots.
Read on to learn more about blackheads and ways to effectively prevent and eliminate them.
WHAT ARE BLACKHEADS?
Blackheads are essentially tiny zits. They appear because your hair follicles are blocked. They are the most common and mildest type of acne that appears on the face and other parts of the body, such as the chest, neck, shoulders, arms, and back.
WHAT CAUSES BLACKHEADS?
Dead skin cells and oils can clog the pores of your skin. Each hair follicle contains one hair and a sebaceous gland. Dead skin cells and oils clog the opening of the skin, forming a bump called a comedo. When the skin over the tiny lump erupts and is exposed to the air, it becomes black.
It is a common belief that eating oily food, dairy products, and sugar triggers blackheads, whiteheads, and acne. However, research says that there is no definite link between diet and blackheads, whiteheads, and acne.
These are factors that may increase the possibility of developing acne and blackheads.
Overproduction of sebum

Irregular shedding of dead cells which cause clogging of the hair follicles

Hormonal changes during puberty, menstruation, and birth control pills cause overproduction of sebum

Side effects of certain drugs such as corticosteroids, lithium, and androgens.
HOW CAN I GET RID OF BLACKHEADS?
1. Wash with a salicylic acid cleanser
Salicylic acid is suitable for treating blackheads and whiteheads because it breaks down the excess oil and dead skin cells that clog the pores. It also washes away grime, makeup, and other toxic materials.
Washing your face twice a day is ideal for keeping the skin healthy, but for those who are new to salicylic acid, only use it once a day. Use the salicylic acid cleanser at night and then opt for a gentler, regular cleanser in the morning.
When your skin develops a tolerance to salicylic acid you can use it twice a day. If you have sensitive skin, use it on alternate days.
2. Exfoliate with AHAs and BHAs
Although exfoliation may cause more irritation and redness if you have inflammatory acne, regular exfoliation may help treat blackheads.
Acid exfoliators are incredible additions to skincare routines. AHAs and BHAs are acid exfoliators and can effectively slough off dead skin cells and dissolve excess oil that cause blackheads.
AHAs and BHAs work better at treating blackheads than facial scrubs, which may be harsh for your skin. Glycolic acid is the most common type of AHA and Salicylic Acid is the most widely used BHA.
3. Use topical retinoids
Retinoids are also known as Vitamin A acid or retinoic acid. Topical retinol has anti-inflammatory properties. It works by stimulating the shedding of dead skin cells and supporting the production of fresh skin cells. The new cells expel the dead cells and excess sebum out of clogged pores.
Topical retinoids are best used at night as they may increase your skin's sensitivity to sunlight.
OUR PICK: YEOUTH Retinol Serum
 Retinol Serum with Hyaluronic Acid, Vitamin E and Aloe Vera ( $19.95 )
YEOUTH Retinol Serum gently exfoliates to unveil healthy fresh skin. It is enriched with hyaluronic acid and aloe vera to soothe, balance, and restore the skin's hydration and moisture levels. It also contains Vitamin E to help protect the skin from future damage.
OUR PICK: YEOUTH Retinol Moisturizer
Retinol Moisturizer with Hyaluronic Acid, Ginseng and Green Tea ( $19.95 )
YEOUTH Retinol Moisturizer is made of premium retinol which is a powerful ingredient that gently exfoliates dead skin to reveal a smoother and more even skin tone. It is enriched with hyaluronic acid to intensely hydrate the skin and ginseng to revitalize the skin for a brighter and firmer complexion. It is also infused with green tea to help soothe and protect the skin from premature aging.
4. Use clay/charcoal masks
Clay masks are wonderful additions to any skincare routine but especially if you have oily skin. They help unclog the pores by removing impurities and absorbing excess sebum from the skin's surface.
Charcoal masks work by deeply penetrating the pores to absorb oil and other impurities that cause blackheads
OUR PICK: YEOUTH Dead Sea Mud Mask.
Dead Sea Mud Mask with Hyaluronic Acid, Aloe, Oatmeal, & Avocado Oil ( $18.95 )
YEOUTH Dead Sea Mud Mask detoxifies the skin by pulling out toxins and impurities trapped in the pores. Infused with nourishing vitamins and minerals like hyaluronic acid, aloe, oatmeal, and avocado oil to moisturize, soothe and balance the skin.
5. Try a chemical peel
A chemical peel is a fantastic beauty procedure that treats various skin concerns such as hyperpigmentation, acne, fine lines, wrinkles, and uneven skin tone.
The peels contain AHAs and BHAs which are great for exfoliating the skin. Although they are not the main treatment for blackheads, chemical peels help shed off dead skin cells and minimize enlarged pores which helps make blackheads less noticeable.
OUR PICK: YEOUTH Glycolic Acid Gel Peel
Glycolic Acid Face Peel 30% ( $24.95 )
YEOUTH Glycolic Acid Gel Peel exfoliates skin cells to reveal a brighter, more even, and smoother skin tone. Formulated with glycolic acid, retinol and green tea to invigorate the skin and promote clarity. This peel also helps minimize the appearance of pores, blackheads, and acne.
OUR PICK: YEOUTH Salicylic Acid Gel Peel
Salicylic Acid Face Peel 20% ( $24.95 )
YEOUTH Salicylic Acid Gel Peel helps decongest pores to achieve fresh and clear skin. It is formulated with 20% salicylic acid and effectively dissolves impurities and oil trapped in the pores. It is fortified with green tea and tea tree oil to balance and soothe the skin. This peel is also effective at fighting the look of fine lines and wrinkles. It also helps boost healthy collagen production. It deeply penetrates the layers of the skin to increase cell turnover.
6. Use non-comedogenic products
Carefully choose non-comedogenic skincare products that are specially formulated not to block or clog pores.
Look carefully at the list of ingredients on the label. Make sure your skincare products only contain skin-friendly ingredients and are not formulated with any irritating ingredients such as alcohol, fragrance, menthol, and peppermint.
If you have oily skin, look for lightweight ingredients.
OUR PICK: YEOUTH Acne Skin System
Acne Skin System ( $99.95 )
YEOUTH Acne Skin System consists of seven professionally formulated non-comedogenic and fragrance-free products that are fortified with powerful ingredients that target acne and blemishes for a clearer, glowing complexion.
7. Remove makeup before sleeping
Sleeping with your makeup on is a bad habit that may accelerate your skin's aging process and trigger breakouts like blackheads and acne.
Cleanse your face with a mild cleanser using circular motions and then thoroughly rinse off with cold or lukewarm water.
OUR PICK: YEOUTH Vitamin C Facial Cleanser
Vitamin C Facial Cleanser with Vitamin C, Aloe, Green Tea & Seaweed Extract ( $18.95 )
YEOUTH Vitamin C Facial Cleanser is packed with antioxidants like vitamin c, aloe, green tea, and seaweed. This facial cleanser works to nourish and purify the skin. It removes impurities and excess oil while fighting to protect your skin and help give you a brighter and healthy-looking complexion.
HOW TO PREVENT BLACKHEADS
Wash your face with a mild cleanser in the morning, in the evening, and after sweating. Rinse with cold or lukewarm water. Avoid hot water as it will strip the natural oils from your skin.

Use your fingertips to gently massage your mild, non-abrasive facial cleanser into your skin. Do not scrub with washcloths or sponges that can irritate your skin.

Use skincare products that are free of alcohol and fragrances.

To avoid irritating the skin, shampoo hair every other day.

Some acne medicine can make your skin more sensitive to the sun, so avoid exposure to the sun.

Avoid touching your face.

Use a silk pillowcase and change it often.
ARE YOU USING SKINCARE PRODUCTS MADE WITH THE HIGHEST QUALITY OF MEDICAL GRADE INGREDIENTS TO PREVENT BLACKHEADS? WHAT AMAZING RESULTS HAVE YOU WITNESSED? LET'S TALK IN THE COMMENTS BELOW.