7 WAYS TO KEEP SKIN BLACKHEAD FREE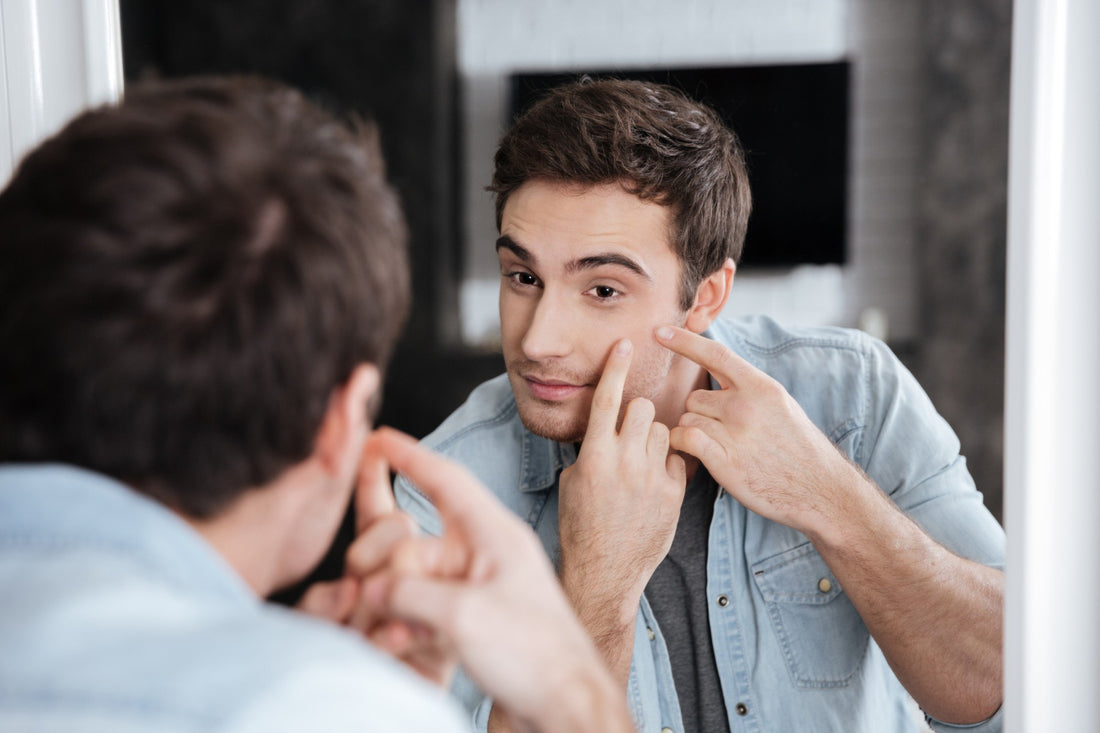 Blackheads are more common than you think. They develop when dead skin cells, excess oil, grime, dirt, makeup and other irritants build up in your pores. When the build up blocks your pores, it oxidizes and turns into a blackish or brownish speck on the skin. It usually appears in your T-zone area. 
Several factors can contribute to blackheads. The major factors include the production of excess sebum in the skin and clogged, dirty pores. 
Here are some ways to keep your skin clear of blackheads so you can look and feel confident as we approach the Spring season! 
1. Wash with a gentle cleanser twice daily
Cleansing twice a day, during your morning and night skin routines, can ensure that the skin is cleansed of excess oil, dead skin cells and dirt that build up in the skin during the day and as we sleep. Do not over cleanse as it can lead to dry skin.  You may also cleanse after a strenuous workout when you produce excess sweat. 
OUR PICK:  VITAMIN C FACIAL CLEANSER with Aloe Vera, Green Tea & Seaweed ($21.29)
Our YEOUTH Vitamin C Facial Cleanser is a powerhouse skin ingredient known to smooth fine lines, brighten and smooth the skin. It is packed full of antioxidants like Aloe, Green Tea and Seaweed to nourish and cleanse the skin to remove impurities and excess oil while also fighting to defend skin health and give your complexion a bright, healthy-looking glow. 
2. Exfoliate with AHAs and BHAs
Opt for chemical exfoliators as they work better at treating blackheads than physical exfoliators. Exfoliators help remove dead skin cells and dissolve excess sebum that can cause blackheads. The most common type of AHA is glycolic acid and on the other hand, the most common BHA is salicylic acid.
OUR PICK:  Glycolic Acid 30% Gel Peel with Retinol and Green Tea ($27.49)
Our YEOUTH Glycolic Acid 30% Gel Peel exfoliates dead skin cells to reveal a brighter, more even and smoother skin surface. Formulated with 30% glycolic acid, Retinol, and Green Tea to fortify skin and promote clarity. This peel will also help to minimize the appearance of pores, blackheads and acne.
3. Use topical retinoids
Retinoids, most commonly known as Vitamin A, work by preventing dead skin cells from clogging the pores and reducing excess production of sebum.
OUR PICK:  RETINOL SERUM with Hyaluronic Acid, Vitamin E & Aloe Vera ($21.95)
This powerful wrinkle-fighting serum will deliver dramatically visible results while hydrating and brightening the skin at the same time.  Think smoother, firmer skin, less lines and wrinkles and smaller pores that are less prone to acne!
4. Use mud/clay masks
Mud/clay masks purify, unclog and detoxify the pores by removing impurities and absorbing excess oil from the skin.
OUR PICK: Dead Sea Mud Mask with Hyaluronic Acid, Aloe Vera, Colloidal Oatmeal and Avocado Oil ($21.99)
5. Use non-comedogenic products
Non-comedogenic products means products that won't clog your pores. Blackheads build up in clogged pores so best to avoid products that block pores. Always check the ingredients and avoid products that contain alcohol and choose lightweight, oil-free products.
6. Remove makeup before sleeping
Leaving your makeup on while you sleep is a huge disaster. Aside from it hindering your skin's natural regeneration while you sleep, it triggers breakouts of acne and blackheads. Do not forget to wash your face with a mild cleanser before going to bed. 
7. Do a chemical peel
Chemical peels remove dead skin cells and help minimize large pores. The common content of chemical peels are AHAs and BHAs. 
OUR PICK:  Salicylic Acid 20% Gel Peel with Tea Tree Oil and Green Tea ($27.49)
Salicylic Acid 20% Gel Peel ($27.49)
YEOUTH's Salicylic Acid Gel Peel 20% Peel can help regulate problematic skin by decongesting pores to achieve overall skin clarity. Formulated with 20% Salicylic Acid, this peel effectively dissolves dirt and oil trapped in the pores that cause acne, whiteheads, and blackheads.
Combined with Tea Tree and Green Tea to balance and soothe the skin. The peel is also effective at fighting the look of fine lines and wrinkles because it supports healthy collagen production as it deeply penetrates the layers of the skin to increase skin cell turnover.
How do you treat your blackheads and acne?  Do you have a secret recipe? Please share with us in the comments below!