6 Step Anti-Aging Beauty Routine For Your 40s and Beyond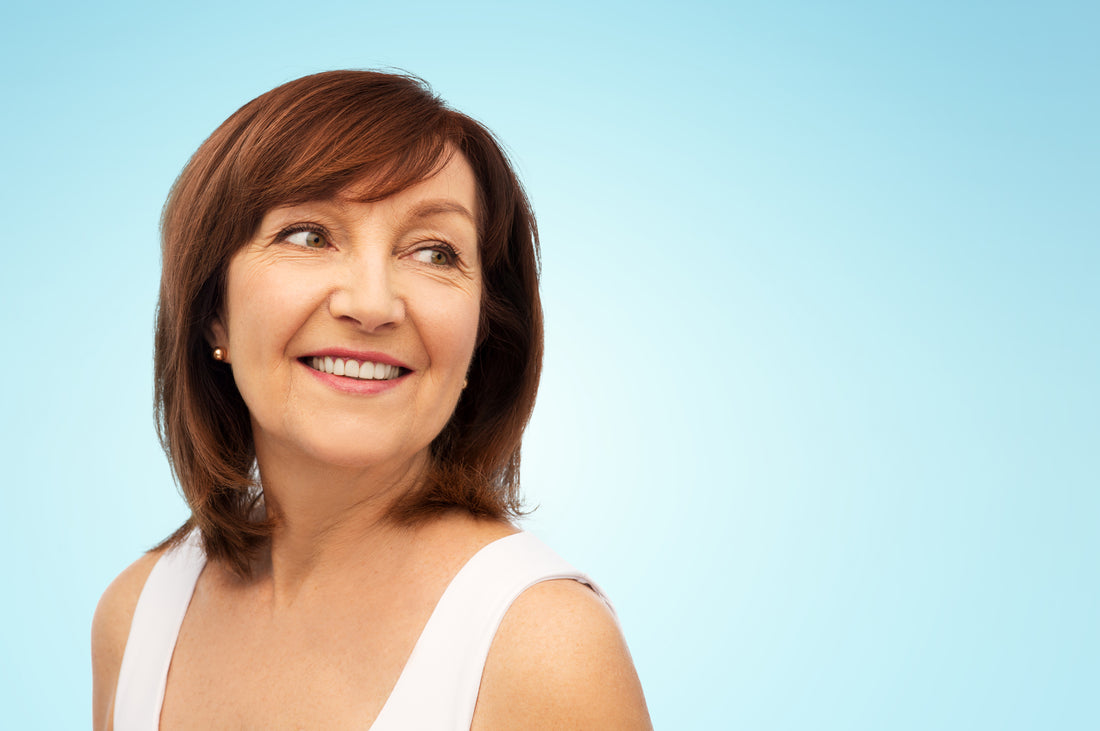 Your journey to your best skin ever starts now
By the time you reach your 40s, a lot of changes happen to your body and these changes start to take its toll on our appearance. In order to keep that youthful glow longer, it's very important to have a thorough skincare routine to keep your skin tight, wrinkle-free and radiant!
Keep on reading to learn the skincare routine you should follow so that you can enjoy the best years of your life and look radiant while doing it!
Aging is influenced by a lot of factors including exposure to sunlight, genes, ethnicity and things that you do (or don't do) to care for your skin.
As we reach our 40s, our skin cell turnover decreases by as much as 50% in comparison to when we were still in our 20s. Aside from that, the inevitable decline in the production of the essential collagen and elastin production causes the skin to lose firmness, suppleness and volume that gives the face its youthful contours.
Because of this, the luminosity in your complexion tends to decrease and skin loses elasticity. You may also experience excessive skin dryness as the skin produces less sebum. All of these changes result in wrinkles and fine lines, which appear more noticeable in our forties.
This is why your skincare products — everything from your cleanser down to your moisturizer — must work together to hydrate and nourish your skin.
Turn back time and start your journey to beautiful, healthy skin with this 6 step anti-aging skincare regimen that you should follow in your 40s and beyond.
Step 1. Cleanser
Aging skin tends to become more dry and sensitive because the skin's oil glands become less active as perimenopause and menopause occur. One skincare product that can further dry out your skin and make the problem worse is your facial cleanser.
If your skin feels dry and squeaky clean after washing, that is a red flag. It signals that your cleanser is too harsh and is stripping your skin of much-needed oils needed to keep your complexion smooth and plump. This is why you should opt for a gentle cleanser that is still moisturizing while it cleans your skin.
Vitamin C Facial Cleanser with Vitamin C, Aloe, Green Tea & Seaweed Extract (

$18.95

)
For a daily cleanser that won't dry out your skin, we recommend Yeouth Vitamin C Facial Cleanser. While gently removing dirt, excess oil and makeup, this cleanser also nourishes and hydrates with nourishing ingredients like aloe vera, green tea, and seaweed.
How to use: Squeeze a dime-sized amount of the cleanser onto moistened fingertips and lather with water. Massage into skin using circular motions, then thoroughly rinse off.
Step 2. Toner
The skin's pH plays an important role in maintaining the skin barrier. The ideal pH level is at 5.4, which is naturally acidic to prevent harmful contaminants such as bacteria and other microbes from penetrating and damaging your skin.
However, as we age, the skin's pH increases and messes with the skin's natural barrier function. To keep your skin healthy and protected, after cleansing use a toner with a pH identical to healthy skin.
Read more: Science Behind Skin: The Importance of Balancing Your Skin's pH
Try Yeouth's Balancing Facial Toner. This toner restores the skin's slightly acidic pH after cleansing while also replenishing and hydrating the skin's surface. Formulated with skin-repairing ingredients, this toner also helps treat dry patches and redness. It is designed to smooth, soften and calm your skin as well as prepare it for better absorption of serums and moisturizers.
Balancing Facial Toner ( $15.95 )
How to use: Keeping eyes closed, spray a fine mist of the YEOUTH Balancing Facial Toner over your face and neck for an instant refreshed and revitalized feel. Use regularly after cleansing for healthier, smoother skin, with visibly reduced redness and/or irritation.
Step 3. Serum
When we were younger, our skin was loaded with antioxidants that naturally protected our skin from free-radicals. However, over the years, factors such as sun damage, menopause, or illness cause the skin to lose this ability.
When this happens, we do not get enough protection from the free-radicals caused by our environment like pollution, smoking, drinking alcohol or sun exposure. This impairs the skin's natural ability to heal and protect itself, leading to collagen loss and premature skin aging.
The best thing you can do to slow down the impact of aging on your skin is to use skincare rich in antioxidants.
Look for serums loaded with Vitamin C, Vitamin E, retinol or ferulic acid to help protect your skin from the unseen cell damages that we experience in our daily life.
Adding a serum to your skincare routine will intensify the ingredients that you are applying to your skin. Unlike other skincare products, serums have smaller molecules that penetrate deeper into the skin. They also only contain few concentrated active ingredients without additives such as thickeners, emulsifiers or oils. Leaving out these heavier ingredients allows the skin to absorb serums much faster and deeper.
Read more: Serum FAQs: Things You Need to Know About Facial Serums
Your skin has different needs during the day and at night which is why you need to adapt a skincare routine for both. In your daily skincare routine, the serums you use can be altered to suit your skin's specific needs.
Daytime Serum
During the day, our skin is more exposed to environmental stressors like the harmful UV rays of the sun and pollution that break down our skin's collagen reserves. To combat this, you need a serum that will protect your skin from free-radical damage such as Yeouth Vitamin C and E Serum!
Packed with powerful antioxidants, this daytime serum helps neutralize free-radicals and protects your skin from environmental damage.
Vitamin C and E Serum with Hyaluronic Acid ( $15.95 )
How to use:  While your face and neck are still damp from the toner, immediately apply a pea-sized amount of the Yeouth Vitamin C & E Serum to the entire face and neck area. Allow to absorb before moving on to the next step.
Nighttime Serum
For an antioxidant-rich nighttime serum that will help rejuvenate and protect your skin as you sleep, try our Anti-Aging Super Serum! Formulated with the powerful combination of Vitamins C and E with ferulic acid, this antioxidant-rich facial serum can improve the look of lines and wrinkles, even out skin tone, encourage collagen production and smooth out your complexion as you sleep at night.
Anti-Aging Super Serum with Hyaluronic Acid, Vitamin C & E, Ferulic Acid and Shea Butter ( $29.95 )

Another must have in every anti-aging routine is retinol. As you reach your 40s, your skin cells do not renew as quickly as before due to lower estrogen levels. Fresh, healthy skin cells are produced slower and the natural exfoliation process slows down resulting in enlarged pores, rough skin and more apparent wrinkles and fine lines.
Retinol can help by speeding up your skin's regeneration cycle. It helps break down your dead skin cells and replaces them with newer ones so your skin is younger and more vibrant.
Retinol boosts your skin's collagen levels resulting in a firmer, plumper and smoother complexion. It is one of the best anti-aging ingredients on the market so if you want to effectively diminish the look of your wrinkles and fine lines, it's time to add this anti-aging secret weapon into your skincare routine.
Our best-selling Retinol 2.5% Serum is an intensive nighttime serum with the potent mix of retinol, hyaluronic acid, aloe vera and Vitamin E. It works to promote collagen production, diminish the look of fine lines and wrinkles, fade hyperpigmentation, minimize pores and fight acne so you experience clearer, more youthful-looking skin.
Retinol Serum with Hyaluronic Acid, Vitamin E and Aloe Vera ( $19.95 )
How to use: Only use these serums before bedtime. Apply a pea-sized amount of Yeouth Anti-aging Super Serum on damp face and neck area. Use it back-to-back with Yeouth Retinol 2.5% Serum two to three times a week. Allow the skin to absorb and then proceed to the next step.
 Step 4. Eye Gel
Did you know that the skin around your eyes is approximately four times thinner than the rest of the face? It also doesn't contain the same amount of oil and moisture which makes it more vulnerable to the environment and more prone to signs of aging like crow's feet and wrinkles.
This is why an eye cream is very important. The delicate skin around your eyes needs loads of nourishment and hydration to stay tight.
Radiance Eye Gel with Hyaluronic Acid and Tripeptide ( $24.95 )
Say goodbye to crow's feet, fine lines, sun spots and wrinkles around your eye area with this must-try Radiance Eye Gel. Formulated with a blend of anti-aging peptides and hyaluronic acid, this eye gel provides visibly smoother and plumper skin by filling in your fine lines and wrinkles with multilevel skin hydration.
How to use: Apply a small amount of Yeouth Radiance Eye Gel around the eyes. Simply dab a small amount starting from under your eyebrow, to the outer corners and then under your eyes. Avoid direct contact with eyes. Allow to absorb.
Step 5. Neck Cream
Just like the skin around your eyes, the skin around your neck is much thinner and has less fatty tissues. There is also much less collagen and elastin so it's no surprise that signs of aging show up in this area much sooner than other parts of your body.
To take your skincare to the next level, add a neck cream to your routine. They are formulated specifically for the unique needs of the skin on your neck and decolletage area so that this area looks as firm and youthful as the skin on your face.
Neck Firming Cream with Green Tea, Argireline, Vitamin C ( $25.95 )
Try out Yeouth Neck Firming Cream. This age-defying neck firming cream targets and improve the appearance of the delicate skin of the jawline, neck and dècolletè. It helps the skin in this area to regain its suppleness so you achieve a smoother, more lifted appearance.
How to use: Apply a quarter-sized amount of Yeouth Neck Firming Cream on the neck, the back of the neck, decolletage, and along the jawline and chin. Massage using upward motions until absorbed.
Step 6. Moisturizer
No matter your age, using an intensely hydrating moisturizer is always a must. But once you hit your 40s, there's no harm in choosing a more specialized moisturizer that will help target signs of aging like fine lines and wrinkles to take years off your face.
Look for moisturizers packed with peptides and hyaluronic acid! Able to hold up to 1000 times its molecular weight in water, hyaluronic acid penetrates the skin and binds water to our skin cells so you get plump, supple, and more youthful skin. Peptides on the other hand, increase collagen production to help give the appearance of firmer, younger skin.
Day/Night Moisturizer with Snail Extract, Hyaluronic Acid, Green Tea, & Peptides ( $22.95 )
Get your hands in this Day/Night Cream with hyaluronic acid, snail extract, tripeptides and green tea. This formulation locks in moisture to reduce fine lines and wrinkles. It makes skin smoother and reduces imperfections like age spots and acne scars. Perfect for both day and night, this moisturizer's nourishing formula leaves the skin looking and feeling younger.
How to use: Apply a dime-sized amount of Yeouth Day/Night Cream onto the skin. Massage thoroughly and allow to absorb.
Aging is inevitable but the good news is the right skincare regimen is all you need to slow down the process.
In other good news, you can get all these skincare essentials in our Forties+ Skincare System during our ongoing Black Friday/Cyber Monday Sale!
This set is specifically curated to your golden year needs. YEOUTH's Anti-aging System Forties+ is a specialized set of products that are aimed to help you turn back time and help diminish wrinkles, crows feet, and dark spots while encouraging a bright and radiant complexion. So, shop now and treat yourself this holiday season to great skin!
Get this YEOUTH Anti-aging Forties+ Kit and get a FREE item of the same value or less during our Black Friday/Cyber Monday BOGO Sale!
Use code: GOBBLE19
Promo will run from Nov. 29 - Dec. 3, 2019, so better not miss out!
 Get more bang for your buck when you get this all-in-one skincare set professionally-curated to work synergistically for the best skin you will ever have. Buy the entire set for yourself and get any other item on our website for FREE! This promo runs until December 3rd so stock up on your skincare to get your discount and shop now!
What's your must-have in your anti-aging regimen? Talk to us in the comments!