6 Skincare Benefits of Aloe Vera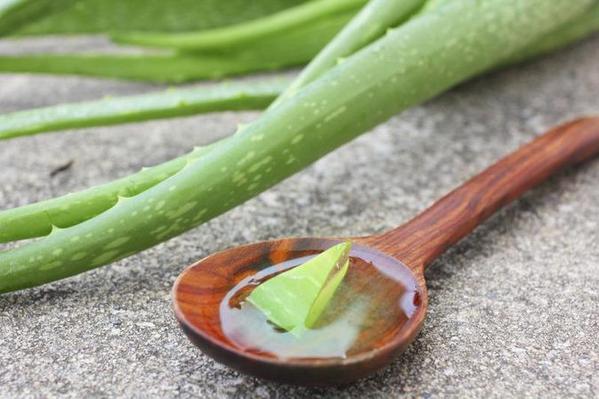 The aloe vera plant is packed with minerals, vitamins, nutrients, and enzymes making it a popular cosmetic and beauty product. Here are all the good reasons why you should use aloe vera on your skin.
1. It's very moisturizing
If you have oily skin, you will love aloe vera! It contains moisturizing properties, but unlike other moisturizers aloe vera extract is absorbed into the skin without leaving any residue so there's absolutely no sticky or greasy feeling after applying. Research shows that aloe vera is a natural substance that is effective at skin hydration and therefore may be used in beauty products for the treatment of dry skin.
Because the skin quickly absorbs aloe extract, it does not clog your pores and makes your skin super soft. It's also great at balancing the skin's pH and it leaves your skin feeling firm and supple making it perfect for any skin type.
2. It has incredible anti-aging properties
Aloe vera is rich in vitamins C and E and beta-carotene. These are powerful antioxidants that protect the skin from damage caused by free radicals, highly unstable molecules that damage our cells and accelerate our skin's aging process. Wow, right? Aside from that, Aloe also has amazing properties that boost collagen production that helps make skin firmer and free of wrinkles and fine lines.
3. It gets rid of acne
Tired of pesky acne? Aloe's got your back. This amazing plant has anti-bacterial and antiseptic properties that prevent the growth of blackheads, whiteheads and pimples. It also works as a natural toner that helps tighten pores thus keeping out excess sebum, dirt, and microbes.
4. It aids in skin healing
The nutrients found in Aloe Vera help increase the growth of new, healthy skin and therefore aids in healing damaged skin — be it sunburn, wounds, acne scars, or stretch marks.
Aloe vera is also amazing when it comes to protecting and rebuilding damaged skin cells. A recent study found that first and second-degree burns treated with Aloe extract healed an average of nine days faster compared to those left untreated. It is that effective!
Aloe also has the ability to increase collagen production. When aloe extract gets absorbed by the skin, collagen is produced at a higher than normal rate. This means the skin is in hyper repair mode, boosting skin cell reproduction by as much as eight times, making it very potent when it comes to treating damaged skin.
5. It reduces hyperpigmentation
Aloe extract also acts as a natural exfoliant. It gets rid of dead skin cells and lowers the production of skin pigmentation revealing a noticeably lighter and brighter complexion which you will surely love. It will diminish if not eradicate dark spots, lighten the tone of sunburnt skin, and even minimize the look of acne scars.
6. It is an effective skin cleanser
Aloe vera is a very popular ingredient in facial and body cleansers and there's a good reason behind it! Aside from being packed with all the wonderful benefits that we have discussed above, it has antimicrobial and antibacterial properties that make it an effective skin cleanser. It gets rid of harmful germs and bacteria on your skin and is naturally moisturizing making it ideal for all skin types.
Pro Tip: Check your cleanser's ingredients list. Aloe vera extracts should be at or near the top. Ingredients are listed in order of amount so being at the top will tell you the product contains a high percentage of aloe. Be sure to reap the benefits of this amazing plant as you wash your face daily.
OTHER USES OF ALOE VERA FOR THE SKIN
Use as a make-up remover
Removing make-up (especially mascara and eyeshadow) isn't easy and most make-up removers on the market contain chemicals that tend to dry the skin. But, not to worry – aloe vera can save the day!
Aloe vera alone can work wonders in removing make-up while keeping your skin healthy and constantly aglow. No need to mix it with anything; all you have to do is put some aloe vera on a cotton ball, and apply it on your face. Talk about a simple yet highly effective alternative!
Use as a healing potion
Consistency is the key when it comes to healing skin with aloe vera. Apply its extracts to damaged skin 3-5 times daily for faster results. You can also try adding 1-2 teaspoons of coconut oil along with 2-3 drops of lavender essential oil to soothe and moisturize skin.
Use as a shaving cream
Growing frustrated that you can't seem to get your hands on that perfect shaving cream? Well, you've guessed it – there is just no better shaving cream than aloe vera. It has antibacterial properties, helps close pores, and serves as a moisturizing wonder. The result? It leaves you with skin that is smooth, healthy, and looking fab as ever.
Soothe skin irritation
We encounter different types of skin irritation daily, be it from an insect bite, a mild burn, an itching due to a mild form of dermatitis, or even from too much exposure from the sun. Aloe vera in itself has anti-inflammatory properties which help ease skin irritation.
Now, here's a pro technique. Freeze the aloe vera with the use of ice cube trays. Then wrap the aloe vera ice cubes in a towel, and apply it on your skin. Be amazed at how it can significantly reduce the itchiness, redness, and soreness.
As an exfoliating cream
Aloe vera aids in exfoliating our skin by supplying oxygen to our skin cells, thus keeping it glowing, fresh, and moisturized. So make sure that aloe vera is part of your daily routine – apply it especially on areas that you need to soften like your elbows, knees, ankles, and the soles of your feet.
To relieve drying and cracking heels
Did you know that you're likely to get dried and cracked heels if you wear high heeled shoes? So what do you do about it? Good thing there's aloe vera to save the day.
The best recipe for dried and cracked heels would be a mixture made up 1 cup of oatmeal, cornmeal, and body lotion. Just mix all of these in equal parts, and add about 5 tablespoons of aloe vera. Apply it on your feet, let it remain for about 12 minutes, and then rinse it off with some lukewarm water.
Make an anti-aging face mask
Plan a relaxing night for yourself and create an age-defying facial mask with Aloe Vera. Mix equal amounts of aloe vera gel and oatmeal with half teaspoon of olive oil. Apply to your skin and let it sit for 30 minutes before carefully washing off the mask with warm water. Do this each week to keep skin looking fresh and youthful.
As an eyebrow gel
Aloe vera can also serve as an eyebrow gel to keep your eyebrows in place (without the stickiness or stiffness), even as you go through a stressful day. All you have to do is make use of a mascara brush (make sure it's clean) – dip it into some aloe vera, and apply it on your brows.
As your very own handy hand sanitizer
The problem with most sanitizers these days is that they keep your hands clean but they make your hands dry, and sometimes their scent is just far too strong that it's borderline distracting. As an alternative, you can concoct your very own hand sanitizer. Just mix some aloe vera, alcohol, and essential oil. This way, you can have your very own sanitizer that fights away germs, soothes your skin, and keeps your hands smelling fresh and clean.
Have you tried adding Aloe Vera to your skincare routine? Do you want to learn more about skincare ingredients? Comment us your thoughts and suggestions down below.