6 SKIN PROBLEMS YOU MAY ENCOUNTER THIS FALL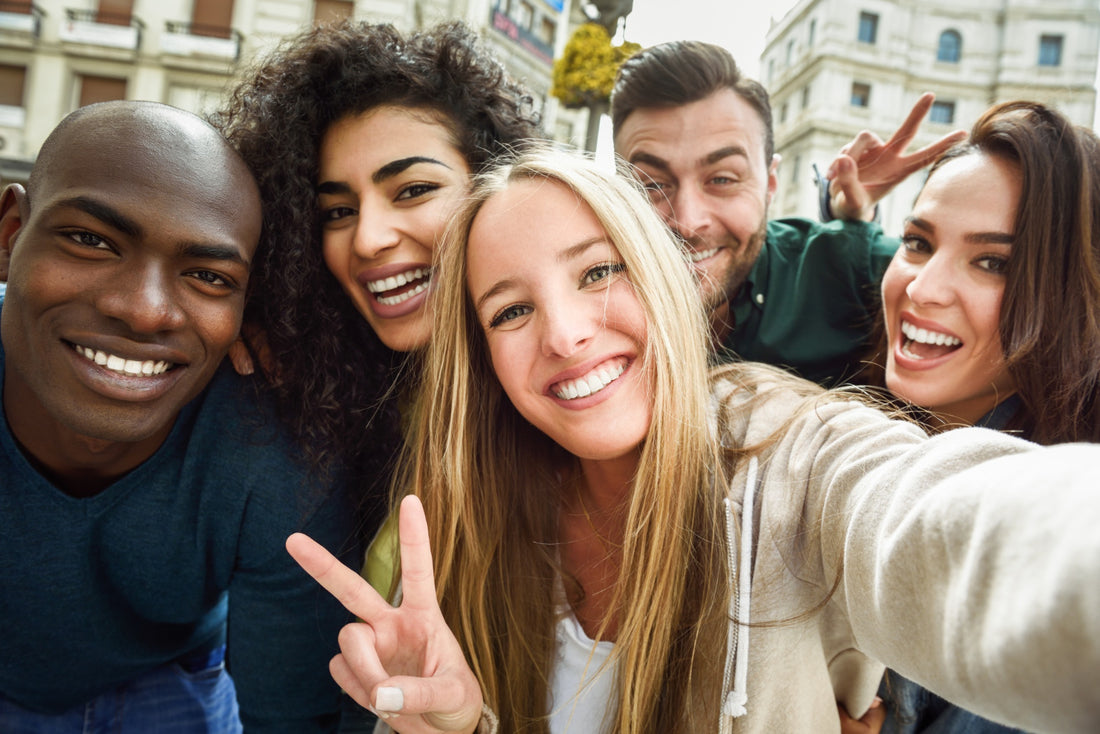 Discover the common skin problems that often come with the seasonal transition to fall and how to deal with them. 
Rest assured knowing that YEOUTH has you covered with the best skincare so you can look great and feel confident every day no matter the season! 
6 SKIN PROBLEMS YOU MAY FACE THIS FALL
1. SKIN DAMAGE FROM SUN EXPOSURE AND AIR POLLUTION 
If you're still repairing all the sun damage your skin suffered from summer, sad to say, the cloudy days of fall can also cause sun damage.  
UV rays, even on cloudy days, can bring as much damage as when skin is directly exposed to the sun. Do not ever think that you're 100% safe from the sun's harmful rays.  Environmental pollutants can also cause a lot of skin damage without you knowing it! 
Wear your sunscreen daily, especially on parts of the body that are regularly and heavily exposed to daylight.
Skincare Remedy: 
Antioxidant serums are your best defense at repairing skin damage and combating the free radicals that harm our skin cells.  The best antioxidant ingredient to look for is Vitamin C.
Vitamin C not only repairs damaged skin cells, but it protects the skin from harmful UV rays.  It is also known for its brightening effects, Vitamin C has the ability to reduce dark spots and hyperpigmentation.  
OUR PICK: VITAMIN C&E SERUM with Hyaluronic Acid ($15.95)
Read our blog: What You Need to Know about Vitamin C and Your Skin 
Stay lovely with Vitamin C! Our YEOUTH Vitamin C&E Serum enhances the appearance of skin tone and texture while deeply nourishing and quenching dry, thirsty skin.  It's made of medical grade Vitamin C to brighten and help fade the appearance of hyperpigmentation and dark spots, Vitamin E to help protect and defend the skin from future damage, and Hyaluronic Acid to deeply penetrate the skin to restore hydration and suppleness. 
Other antioxidants to look for: 
Vitamin C and E are usually formulated together in many skincare products because of their complementing effects with one another. 
OUR PICK: Anti Aging Super Serum with Vitamin C&E ($29.95)
Green Tea 
Green Tea has amino acids, enzymes and polyphenols that are known to delay skin aging.  
OUR PICK: Neck Firming Cream with Green Tea ($25.95)
Our YEOUTH Neck Firming Cream is a multitasking and age-defying cream formulated to help target and improve the appearance of the delicate skin on the neck and chest area. It is combined with Green Tea to soothe, Argireline to help tighten and Vitamin C to brighten and firm the skin for a more supple and lifted appearance. 
Retinol 
Retinol is also an antioxidant endowed with the powers to help renew skin cells and increase collagen production.  
OUR PICKS: 
Say hello to a YEOUTHful-looking, brighter and more radiant eye area this Fall! Our YEOUTH Retinol Eye Cream deeply penetrates the delicate skin around the eyes to visibly improve the appearance of fine lines and wrinkles. You will notice a visible improvement in the appearance around your eyes!
2. DRY AND DEHYDRATED SKIN 
Dry and dehydrated skin during fall is caused by many factors.  Colder temperatures and lower humidity levels basically deprive the skin of its natural moisture and hydration.  Also, heating systems that produce dry indoor air, and taking long hot showers contributes to dry and irritated skin.  Avoid staying under a hot shower for too long! 
A lot of factors and activities strip skin of its moisture, that is why you need to be wary of the things that you do. 
Use dehumidifiers infused with relaxing essential oils when inside to add moisture into the air.  For a relaxing autumn feel inside your home, add 3 drops of Peppermint + 1 drop of Eucalyptus + 1 drop of Tea Tree + 2 drops of Rosemary from our Essential Oils to your humidifier.
OUR PICK:  AROMATHERAPY SET OF 6 PURE ESSENTIAL OILS ($19.95): 
Make your home a calming and relaxing space to be in! Our YEOUTH Aromatherapy Set of 6 Pure Essential Oils provides endless benefits! These amazing essential oils not only help provide moisture in the air, they can also help you relax, provide pain relief, improve cognitive function, ward off illness, heal the skin, repel insects, as well as energize and purify your home. 
Skincare remedy: 
Use hydrating and moisturizing skincare products that complement the skin's natural oils and moisture. Splurge on nourishing ingredients like hyaluronic acid, and double up on your moisturizers to prevent water loss! 
OUR HYALURONIC ACID PICKS: 
Niacinamide Serum with Hyaluronic Acid ($16.95)
OUR MOISTURIZER PICKS: 
DAY/NIGHT CREAM with Hyaluronic Acid, Snail Extract, Tripeptides & Green Tea ($22.95)
ANTI-AGING MOISTURIZER L22 with Shea Butter, Jojoba & Macadamia Seed Oil ($19.95)
3. CHICKEN SKIN / KERATOSIS PILARIS 
Keratosis Pilaris becomes worse during colder seasons and has no known cures. The bumps that appear on the skin are caused by dead skin cells that block the hair follicles resulting in ingrown hair and clogged pores! 
Skincare remedy: 
Using moisturizers and exfoliating dead skin cells regularly, through chemical peels, are the best known treatments to soothe the irritation and prevent pore clogging. 
OUR PICKS: 
To exfoliate: GLYCOLIC ACID 30% GEL PEEL with Retinol and Green Tea  ($24.95)
To moisturize: HYALURONIC ACID CREAM with Ferulic Acid, Vitamin C&E & Tripeptide-31 ($29.95)
Read our blog: How to Do a Professional Chemical Peel at Home 
4. ECZEMA
Eczema or atopic dermatitis tend to worsen in autumn.  Eczema is red and itchy patches that appear on the skin but can be relieved with moisturizers.  A study has shown that taking Vitamin D supplements reduces the signs of eczema when they flare up. 
OUR PICK: Vitamin D3 Liquid ($34.94)
Make Vitamin D a staple in your daily life! Our YEOUTH Vitamin D3 Liquid helps support skin rejuvenation. Vitamin D helps repair skin damage and prevent infections, it can also relieve the symptoms of psoriasis, including itchy and flaky skin.
5. CHAPPED LIPS
Lips are prone to becoming dry because they don't contain sebaceous glands like other parts of the skin. Frequent exposure to the sun and low humidity in the air during colder months result in dry and chapped lips. 
Lip balms and drinking lots of liquid helps prevent lip dryness and too much chapping. 
Skincare remedy: 
You can make a DIY lip balm using our Essential Lavender Oil.  Just mix coconut oil, Lavender oil, and beeswax for an amazing healing balm for chapped lips!
6. SCALP AND HAIR PROBLEMS
Cooler weather makes hair dry and prone to breakage. It also makes the scalp more oily resulting in dandruff.  Dandruff is actually a skin condition of an oily scalp. Flaky skin appears, and often accompanied by itchiness and discomfort.  Other causes of dandruff are seborrheic dermatitis and sensitivity to certain hair products. 
Studies have shown that Tea Tree Oil helps alleviate seborrheic dermatitis and dandruff.  Also, use moisturizing shampoos and nourishing moisturizers to re-hydrate dry hair. 
Take supplements that can enhance healthy hair growth and promote hair strength and elasticity.  
Our YEOUTH REGENOTIN ADVANCED COLLAGEN GENERATOR is clinically proven to increase collagen levels and reduce wrinkle depth and skin roughness by 30%. Regenotin also promotes keratin and elastin formation—two major beauty proteins that assist in skin elasticity and hair growth.
Read our blog: Female Hair Loss and Ways to Enhance Hair Growth 
Skincare remedy: 
You can add drops of our Essential Lavender and Tea Tree Oil to your shampoo to relieve and eliminate scalp itchiness. To make a DIY Tea Tree Oil shampoo, mix aloe vera gel, coconut milk, with a couple of drops of Tea Tree, and other essential oils such as lavender.
THE TAKEAWAY
Seasonal changes can truly be stressful for our skin. Adapting to the changes and tweaking our skincare routines and habits can save our skin from harm and damage. 
Choosing the right skincare products and ingredients can get us through any season confidently.  Just remember that YEOUTH got you covered whatever the season! 
Pure Hyaluronic Acid Serum ($14.95)
Ensure your skin's moisture and hydration this fall! YEOUTH Pure Hyaluronic Acid Serum is formulated with 100% Pure Medical Grade Hyaluronic Acid that's sure to deeply quench thirsty skin to restore healthy moisture levels and suppleness. This ultra-gentle serum will help plump the appearance of fine lines and wrinkles for an overall smoother, healthier and younger-looking complexion. 
WHAT ARE THE SKIN PROBLEMS YOU USUALLY ENCOUNTER DURING THIS SEASON?  HOW DO YOU TREAT THEM? SHARE WITH US IN THE COMMENTS BELOW