5 Tips for Keeping Your Beauty Routine Clean and Sanitary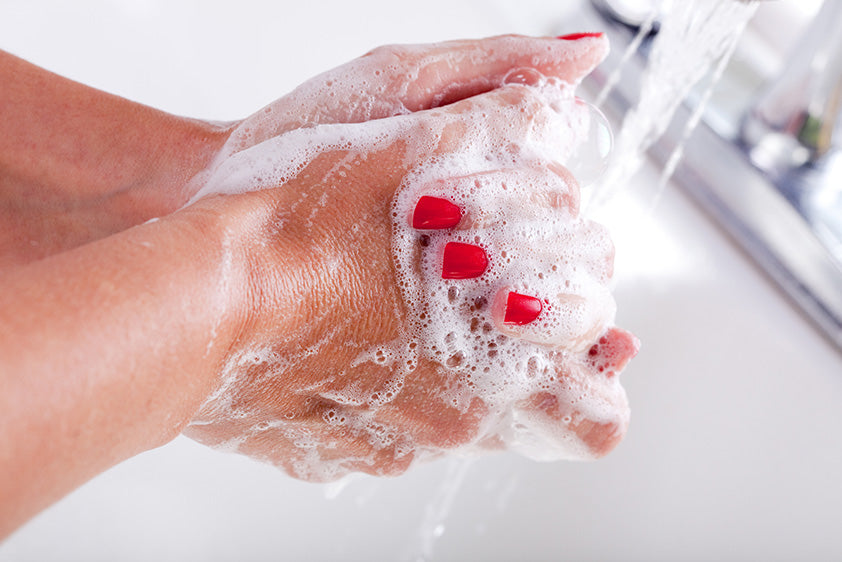 Easy habits that barely take any time or effort can really make a difference in your beauty routine. All of your favorite beauty products will not be as great if you're not keeping them clean. Sanitizing your products lowers your chances of getting infections, it makes them last longer and is overall better for your skin health.
Best of all, keeping them clean is easy and free!
Follow these simple and easy tips for keeping your beauty products clean and sanitary so you can ensure that your precious products remain fresh to the last drop! 
Wash your hands before starting your routine
Washing your hands regularly throughout the day is essential but this task is even more important right before doing your beauty routine because you will be touching your face.
As the CDC recommends, wash hands thoroughly with soap and water for at least 20 seconds and use a clean paper towel to dry. If you're in a bind, you can use a hand sanitizer that contains at least 60% alcohol.
Don't dip your fingers in your skincare
It's very easy to introduce bacteria into your skincare products especially when the products are stored in jars and pots.
Avoid dipping your fingers into your skincare even with clean hands. Instead, use a sanitary spatula, spoon, or even an unused popsicle stick to scoop out your product.
This will keep germs and bacteria from breeding in your favorite day and night cream.
Don't let your makeup brushes and sponges be a breeding ground for bacteria. Wash them at least every week!
Regularly clean your makeup tools
Cleaning your makeup tools helps reduce the dust, dirt, and bacteria that might spread to your skin.
Dilute a little dish soap or face cleanser with water to soften the makeup and grime from your sponges and brushes. Wash thoroughly then lay them out to dry. Do this at least once a week.
For metal tools like tweezers, scissors, and eyelash curlers, wipe them down with a tissue and spray them with an alcohol solution. This can be done at least twice a month. Remember to change the pads in your eyelash curler every 3 months.
Sanitize your makeup
Keep your makeup products clean and bacteria-free by wiping their exterior with a paper towel and hand sanitizer. Clean their contents by doing the following at least twice each month:
Lipsticks - Wind up the tube and dip in rubbing alcohol for 30 seconds.

Liquid Makeup - Products with wands like lip glosses, concealers and mascaras should never be shared with other people.

Eye & Lip Liners - Sharpen them to get a fresh, clean tip.

Cream Compacts - Spray 90% rubbing alcohol and wipe with a tissue.

Pressed Powders - Wiping with a tissue to remove the top layer. 
Clean your cosmetic bags
Purses and cosmetic bags where you store all your beauty products should also be kept clean at all times. Thoroughly clean them regularly by taking all the items out, wiping the surface with an alcohol solution and then washing with soapy water before drying.
While you're at it, do the same for the shelves, drawers, cabinets and the counter where your other skincare products are stored. 
WHICH OF THESE TIPS ARE YOU DOING TO KEEP YOUR BEAUTY ROUTINE CLEAN? HOW OFTEN DO YOU CLEAN YOUR MAKEUP? DO YOU HAVE OTHER CLEANING TIPS TO SHARE? LET'S TALK IN THE COMMENTS BELOW!
Sign up for our free newsletters and get weekly skincare articles like this plus special Yeouth DISCOUNT CODES delivered straight to your inbox. 

Don't worry, we hate spam just as much as you do! We promise our newsletter will be the opposite - you in? Click here to subscribe!