3 TIPS FOR FALL - READY SKIN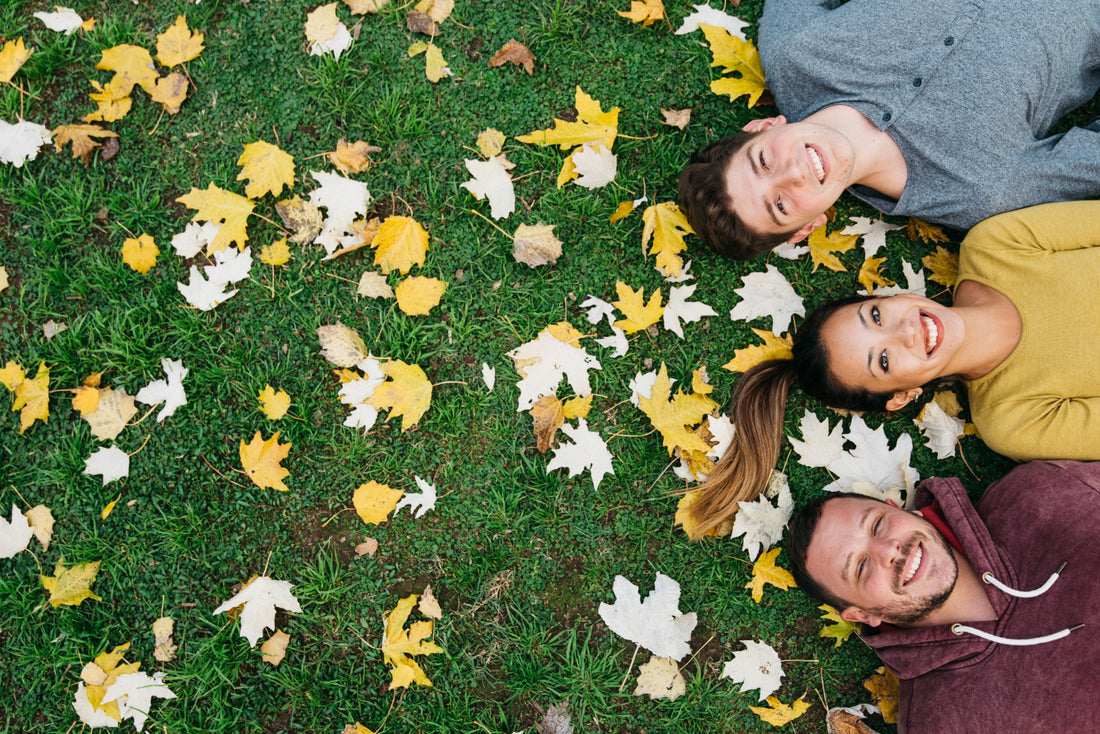 YOU MAY HAVE ALREADY NOTICED THAT YOU SKIN IS CHANGING WITH FALL UPON US. OUR SKIN IS SLOWLY LOSING MOISTURE AND BECOMING MORE DRY WITH THE CHANGING OF SEASONS. PLUS, THERE IS SUMMER SUN DAMAGE WE HAVE TO START REPAIRING!                                                                                                                                                                                                                                                                                                                            AS THE SEASON CHANGES, SO SHOULD YOUR SKINCARE HABITS AND ROUTINES.  LOOK GREAT AND FEEL CONFIDENT ALL AUTUMN LONG WITH THESE SKINCARE TIPS THAT WILL KEEP YOU GLOWING EVERY DAY THIS FALL!
SKINCARE CONDITIONS IN FALL
The fall season welcomes cooler temps and humidity levels.  We all know what this can do to our skin.  It begins to lose hydration and moisture! 
Our skin tends to become dry and dehydrated with the cooler and cloudier days of the new season.
Along with the major adjustments our skin undergoes, the skin barrier also weakens which makes our skin more sensitive to environmental elements.  Various skin irritations and conditions are worsened, such as rosacea and eczema. 
To top it off, we also have the sun damage from summer to think about!  We have to heal our sunburns, clogged pores, breakouts, dehydration, sun spots and all the signs of premature skin aging those days under the sun have left us with.
With all these skincare concerns, if there is one takeaway, it would be to moisturize,moisturize, moisturize! 
Something as simple as moisturizer is a common remedy to many of our skin's woes.  It's the first and most basic skincare tip you need for fall!
OUR PICK:  Day/Night Cream ($22.95)
Our YEOUTH Day/Night Cream is lightweight for daytime but nourishing enough to repair skin overnight, it's your 2-for-1 mega-cream!  This cream provides optimal hydration for the skin to repair itself and restore natural vibrance with every application. 
SKINCARE FOR FALL-READY SKIN
It is vital to prep the skin for the harsh and harmful effects that cool, breezy autumn days are about to bring.  At the same time, we must also repair the damage the summer sun may have caused. 
1. OVERLOAD ON ANTIOXIDANTS
Antioxidants are essential at fighting signs of skin aging, in addition to being vital in strengthening our immunity and helping to maintain body health.
Antioxidants specifically reduce the environmental damage to our skin – whether caused by sun or pollution. They repair and prevent the damage caused by free radicals to our skin cells. 
Antioxidants can help repair sun damage from summer, and prevent skin conditions that skin may start to experience in fall!
THE BEST ANTIOXIDANTS FOR SKIN
Vitamin C 
Vitamin C takes the top spot as the superstar of all antioxidants for its powers to effectively reduce wrinkles, dark spots and skin dullness. It also contains collagen boosting abilities resulting in more yeouthful, healthier and firmer skin! 
OUR PICKS: 
Vitamin C Facial Cleanser ($18.95)
Read our blog:  What You Need to Know About Vitamin C and Your Skin
Our YEOUTH Vitamin C Facial Cleanser and Vitamin C & E Serum are loaded with Vitamin C! They're a must in your skincare routines to fade away dark spots, make skin more supple and reduce wrinkles. 
Vitamin E 
Vitamin E is a potent antioxidant that also fights the free radicals causing damage to our healthy skin cells. It plays an important role in reducing the various UV damage on our skin. 
Vitamins C and E are usually formulated together in a lot of skincare products because of their complementing properties.  When used together, the skin's protection against sun damage is significantly increased! Vitamin C helps maintain collagen levels in the skin while Vitamin E supports the fibers that keep our skin cells together.  
OUR PICK: Anti-Aging Super Serum with Vitamin C&E ($29.95)
Read our blog: The Many Skin Benefits of Vitamin E!
Retinol 
Retinol is also considered an antioxidant and a derivative of Vitamin A.  It has been crowned to be the ultimate fountain of youth in the world of skincare!  
Retinol is scientifically proven to enhance collagen production in the skin and to stimulate the production of new and healthier skin cells. It also has the ability to reduce breakouts and skin discolorations. 
Experience your fountain of YEOUTH with our line up of Retinol skincare products!
Read our blog: Why You Should Only Use Retinol at Night 
Our YEOUTH Retinol Eye Cream is formulated to deeply penetrate the delicate skin around the eyes to visibly improve the appearance of fine lines and wrinkles.  It is infused with 2.5% Retinol to help strengthen, tone and firm, Hyaluronic Acid to moisturize and brighten, Green Tea to soothe and protect and Caffeine to depuff!
Green Tea 
Not only is green tea our favorite soothing and therapeutic drink, this powerful antioxidant also offers an endless list of therapeutic benefits for our skin.  It is scientifically found to have high amounts of amino acids, enzymes, and polyphenols - antioxidants that can delay the signs of skin aging!  That is why it's a favorite and eternal mainstay in many skincare formulations. 
At YEOUTH, Green Tea is a staple in our skincare! 
Neck Firming Cream with Green Tea ($25.95)
Vitamin C Facial Cleanser with Green Tea ($18.95)
Read our blog: Benefits of Green Tea for the Skin
2. SWITCH TO NOURISHING AND HYDRATING SKINCARE
Hydration and skin nourishment will solve the dry spells that come with fall. Hydrating, moisturizing and nourishing our skin is the most effective skincare protection we can build against all the harmful external elements present during the fall season. By doing this, our skin can be safe from all forms of irritation, infections, or even from looking blotchy caused by the new environment that our skin has to adjust to!
When using hydrating skincare products, make sure that they are all safely formulated.  They should not strip the skin of moisture and natural oils. Splurge on nourishing ingredients like hyaluronic acid, Vitamin E and tripeptides to prevent water loss which is what our skin will be needing the most of this season!
Hyaluronic acid is packed with anti-aging properties that adds, secures and creates moisture and fullness in our skin!  Just what our skin needs for autumn!
Our fountain of YEOUTH will not be complete without our Hyaluronic Acid line up! Pick your favorite! Your skin will love them! 
Hyaluronic Acid Cream ($29.95)
Niacinamide Serum with Hyaluronic Acid ($16.95)
Read our blog: Hyaluronic Acid in Skincare: Everything You Need to Know
Our YEOUTH Pure Hyaluronic Acid is100% Pure Medical Grade Hyaluronic Acid that will deeply quench thirsty skin to restore healthy moisture levels and suppleness. Our Hyaluronic Acid Plus is formulated with Hyaluronic Acid and Vitamin C that work together to hydrate and brighten the skin for a supple and radiant appearance!
3. TIME FOR A NO-FRILL CHEMICAL PEEL! 
Autumn is the best time for a chemical peel.  It's the perfect season to slough off that old and dry skin you have on the surface!  A new season should bring in a newer, healthier and fresher skin that's free of damage.  Chemical peels help repair all the sun damage that affected your skin during the summer, especially those dark spots and roughness! A salicylic acid peel can even banish away the breakouts and blemishes your skin accumulated!
Try at-home peels that can give you the same positive results and save hundreds of dollars. For an effective chemical peel, consistency is the key.  Those who have tried chemical peels can attest to the effectiveness of these products - they have less wrinkles, smaller pores and smoother, more yeouthful skin! 
Our YEOUTH Chemical Peels are carefully formulated, dermatologically tested and approved and safe to use for all skin types.  Make sure to follow all the instructions and restrictions provided in these products. 
Glycolic Acid 30% Gel Peel ($24.95)
Salicylic Acid 20% Gel Peel ($24.95)
Read our blogs: 
10 Facts You Need to Know Before Getting a Chemical Peel 
How to Do a Professional Chemical Peel at Home
THE TAKEAWAY
A new season should always equate to a new skincare routine.  It should be a time not only to repair the damage from last season, but discovering the most suitable regimen should also be your mission. 
Look great and feel confident everyday this fall with safe, affordable and wonderful skincare from YEOUTH !
Glycolic Acid 30% Gel Peel ($24.95)
Our YEOUTH Glycolic Acid 30% Gel Peel exfoliates dead skin cells to reveal a brighter, more even and smoother skin surface. It is formulated with Glycolic Acid, Retinol, and Green Tea to fortify skin and promote clarity. This peel will also help to minimize the appearance of pores, blackheads and acne. You can expect visible improvement in the appearance of fine lines, wrinkles, hyperpigmentation and overall skin texture!
WHAT'S YOUR FAVORITE SEASON?  DO YOU EXPERIENCE SKIN CHANGES WITH THE ONSET OF FALL? LET'S TALK IN THE COMMENTS BELOW!