Applying Retinol the Right Way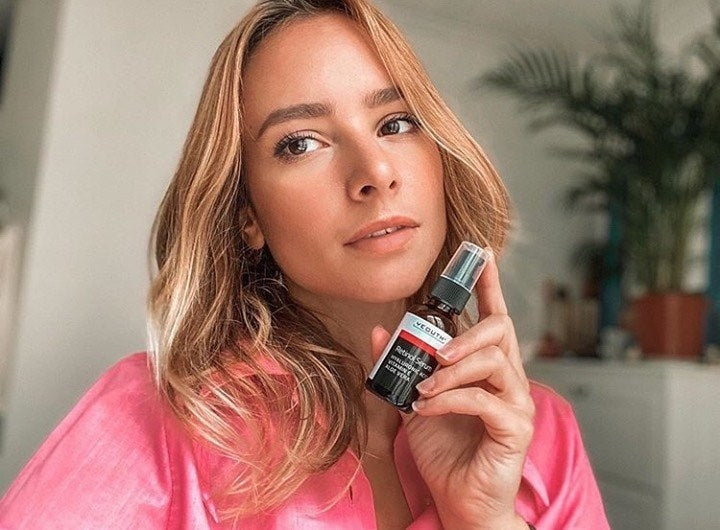 Who doesn't love the impact of retinoids for slowing aging skin?
Anti-aging ingredients come and go, but retinoids have been major players in the skincare world for decades and decades. Retinol belongs to the family of vitamin A, and experts say that there is absolutely no other ingredient that can compete with the proven effects of retinoids.
How Does It Work?
Retinol, a vitamin A derivative, is an amazing multi-tasker. It is a remarkable ingredient that knows exactly what your skin needs, helping reduce the signs of aging.
How exactly does retinol do this? Well, unlike other compounds, it acts right on the skin cell's DNA, and boosts the different functions of the cells which otherwise are bound to slow down by the time we hit the big three-o (30).
Backed by almost 80 years of research, retinol helps to visibly increase skin's firmness, diminish the look of wrinkles and fine lines, refine the skin's surface, and much, much more!
Retinol has the wonderful capacity to increase cell turnover, which simply refers to the ability of our skin to renew itself as the outer layer of the skin is shed off, and the inner layer is brought to the surface. In this sense, retinol is able to clear dead skin cells and other debris from the pores. In other words, retinol is able to make sure that what you see on the outside of your skin is healthy skin, and not dead skin cells. Retinol is also able to make the epidermis (outer layer of the skin) thinner, and at the same time strengthening and smoothening out the dermis (the inner layer of the skin) – which is exactly what you need if you want a skin that is healthy, firm, and bright.
But wait, there's more to just these benefits. Retinol is also able to facilitate the production of collagen and prevent its breakdown, enabling them to work deep in the layers of the skin. As we know, collagen is what is able to keep the skin firm and supple. There is evidence, too, that retinol encourages the production of glycosaminoglycans, which are substances naturally produced in the body that are responsible for keeping the body's tissues hydrated.
Also, retinol has been seen to decrease oil production —a great advantage to the skin types more prone to breakouts.
Benefits of Retinol
Most users report seeing the following benefits in their skin when using Retinol. 
Keep zits away and smooth out acne scars

Diminish wrinkles and tightens skin

Shrink pores and reduces deepness of forehead lines

Responds well to acne-prone skin

Gives your skin a smooth, nice glow
Now that you know why we're big fans of retinol, read on to learn some essential retinol tips!
What You Need to Know Before Using Retinol
1. Start slowly if you're a beginner to retinol
Instead of applying retinol daily, use it every other day, or every other three days if you have overly-sensitive skin. You may also mix it with your moisturizer and serum to check how your skin does. There are some who need to use retinol more frequently while others need to use it every other day.
Use a gentle cleanser, a calming toner, well-formulated moisturizers, plus serums that are loaded with hydrating, skin restoring ingredients and antioxidants to help your skin get the best benefits from retinol. Don't know where to start? Check out YEOUTH's complete anti-aging skincare range.
You have to be extra diligent about sun protection for you to get the most out of your retinol therapy. Retinol can make your skin more sensitive when exposed to UV light. This is why it is recommended to use Retinol only at night. Even the most proven, effective anti-aging product won't give you the desired results if you don't wear proper UV protection. Also, daily sunscreen use can help prevent premature skin aging, which is a welcome bonus.
4. Compliment retinol therapy with other superstar ingredients
Sure, retinol is wonderful for all skin types, but all of us need more than one powerful ingredient to look and feel our best. View it like a healthy diet - even though cucumbers are great for your health, if you only ate cucumbers, you will eventually become malnourished! The same is true for your skin - you need a great mix of beneficial ingredients for it to thrive!
5. Only buy a retinol product packaged in an opaque container that minimizes light exposure
All vitamin A forms deteriorate or break down when exposed repeatedly to light and air.
So How Do You Apply Retinol the Right Way?
Remember that retinol is inactivated upon contact with light, so to get the best results, they are ideally applied right before bedtime. There is truth to the widely known concept that sunlight degrades retinoids, making them less effective overtime This is exactly why they are usually packaged in opaque bottles and tubes. However, fear not! You can actually use retinol during the day too – it will still be as effective, provided that you use a good SPF product together with it.
Research has also shown that retinol and vitamin C work well together to provide increased protection to the skin from the harmful UV rays if they are complemented with the use of SPF. The same is true for the combination of retinol and vitamins A, C, and E.
This is why sunscreen is considered to be the number one defense against the early signs of aging such as wrinkles, uneven skin tone, and a loss of firmness. Yes, retinol is able to effectively work its magic in broad daylight, just make sure you complement it with sunscreen – plus, make sure it has an SPF rate of 30 or greater.
Layering Retinol with other Skincare Products
Any professional product like retinol has to be used in a supportive complete skin care routine for best results. This is particularly important with retinol used on sensitive skin. Also, retinol can make skin more sun sensitive, so sun protection products have to be taken into consideration too. Using one product alone is not as powerful as using supporting products if you want good results.
The YEOUTH complete skin care range is a perfect support system to support your retinoid therapy. Use it in conjunction with YEOUTH's Retinol Serum.
Supplying your skin with healthy nutrients is a crucial aspect in any proactive anti-aging regimen. Your choice of skincare should help keep your skin protected from harsh environmental factors and damaging free radicals.

YEOUTH can help your skin look radiant and glowing with products designed to protect, moisturize, hydrate, and rejuvenate.
Step 1:
Balancing Facial Toner ($15.95) - This toner is professionally formulated to prep the skin for the following steps in the YEOUTH Anti-Aging System. It will help heal the skin, reduce redness, and lessen irritation.
Step 2:
Vitamin C & E Day Serum (for day) ($15.95) - This light and airy serum contains Vitamin E which shields your skin from the elements, while Vitamin C effectively protects the skin from free radicals, reviving aged and sun-damaged skin.

Hyaluronic Acid Plus Night Serum (for night) ($29.95) - Hyaluronic Acid helps reduce wrinkles while nourishing your skin with maximum hydration. The Tripeptide 31 in the formulation firms and tones the skin, helps reduce wrinkles, minimize pore size, and reduce hyperpigmentation in skin.
Step 3:
Retinol Serum ($19.95) - This powerful anti-aging serum contains a blend of potent complimentary ingredients like Hyaluronic Acid, Aloe Vera, and Vitamin E. There is not a single class of anti-aging ingredient that can rival the track record that retinol has for proven scientific results. Think smoother, firmer, skin; a more even tone, fewer to no breakouts, tighter pores.
Step 4:
L22 Anti-Aging Moisturizer ($19.95) - The Patented Lipid Complex in L22 is proven in clinical trials to deeply moisturize skin, helping to repair and skin barrier hydration.
Step 5:
Radiance Eye Gel ($24.95) - Infused with Hyaluronic acid and Tripeptide, known for its excellent ability to hold in moisture and boost collagen production; this product is everything you need to help reduce the look of crow's feet, fine lines, sun spots, and wrinkles on your eye area.

…and remember to be extra diligent about sunscreen during the day!
YEOUTH's 2.5% Retinol Serum ($19.95) is now available! Hurry and get yours!
What is your experience with Retinol? We'd love to hear your stories!