Say Goodbye to Fine Lines with These Top 5 Tips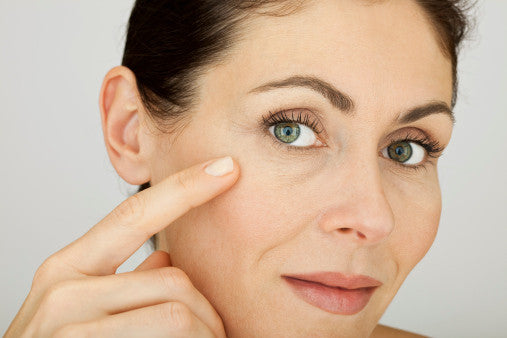 Did you know that some of your habits are causing fine lines to appear?
A lot of wrinkles are caused by the sun, and a smaller portion is actually caused by aging skin. However, bad habits can lead to pre-mature sin aging.
It is common knowledge that sun protection is one of the best ways you can avoid wrinkles and fine lines. The damaging UV rays break down the skin's structure like your elastin, collagen, and the epidermis - the skin's top most layer. Genetically, some people are more prone to UV damage than others, and this is not just because of the amount of baseline skin pigment or ethnicity. With UV exposure, there is actually a variation with how much structural damage occurs within a given skin ethnic type.
Here's a good example. Check the difference between wrinkles from age and wrinkles caused by the sun. Look at the skin of the outer surface of your arm and compare it to the under-surface, which is sun protected. Likewise, the skin on your breast is normally sun protected compared to the V of your chest. See the difference in those areas?
So, what other habits can give you fine lines and wrinkles?
1. Squinting in the sun will cause a furrow between your crow's feet and brow lines.
2. Smoking causes more facial wrinkles to appear. Smoker's lines around the mouth are caused by taking drags on cigarettes for an extended period of time.
3. Repeated dominant facial expressions will cause wrinkles over time - let them be smile lines or frown lines. 
4. Not exfoliating or using a good moisturizer will cause fine lines. These lines can be reversed with regular use of a good moisturizer and proper exfoliation of the dead cells off your skin's surface. Stay tuned for new YEOUTH exfoliators coming soon. :)
5. Sleeping on your side can cause unnecessary wrinkling between your breasts in time.
If you want to ditch fine lines, follow these simple tips.
1. Cover up! If the sun is shining outside, it's best to wear a sun protection hat. Not just any hat - it should provide enough protection to shield your face and neck.
2. Wear sunscreen daily.  Neutrogena Age Shield Face Lotion gives a great matte finish that's water resistant and SPF 70. It is barely visible on the skin and shouldn't sting the eyes or aggravate acne. Perfect under makeup or over your other skin products. Get it here.
3. Combat wrinkles and fine lines with a good, reliable moisturizer. YEOUTH's L22 Anti-aging moisturizer has L22 lipid complex that has been proven to aid in barrier repair and skin hydration. It has Shea Butter, Jojoba and Macadamia seed oil that works to hydrate, firm, and fill wrinkles. Get it here.
4. Use a nice facial exfoliation scrub. If you'd like to make your own organic concoction, check this out. If you prefer the store-bought kind, First Botany Cosmeceuticals Natural Arabica Coffee Scrub is known for its results and affordable price. It is rich in antioxidants which fights premature skin aging sun spots, like wrinkles, wrinkles, and fine lines and has cacao, coconut essence, and Shea butter to moisturize skin. Get it here.
5. If you are serious about fighting the structural damage that causes wrinkles, click here for products with the correct active ingredients in the right concentrations to combat the biochemical changes of sun damage.

Do you know of any other wrinkle-causing habits? Share them below. We would love to hear them!