12 Benefits of Shea Butter for the Skin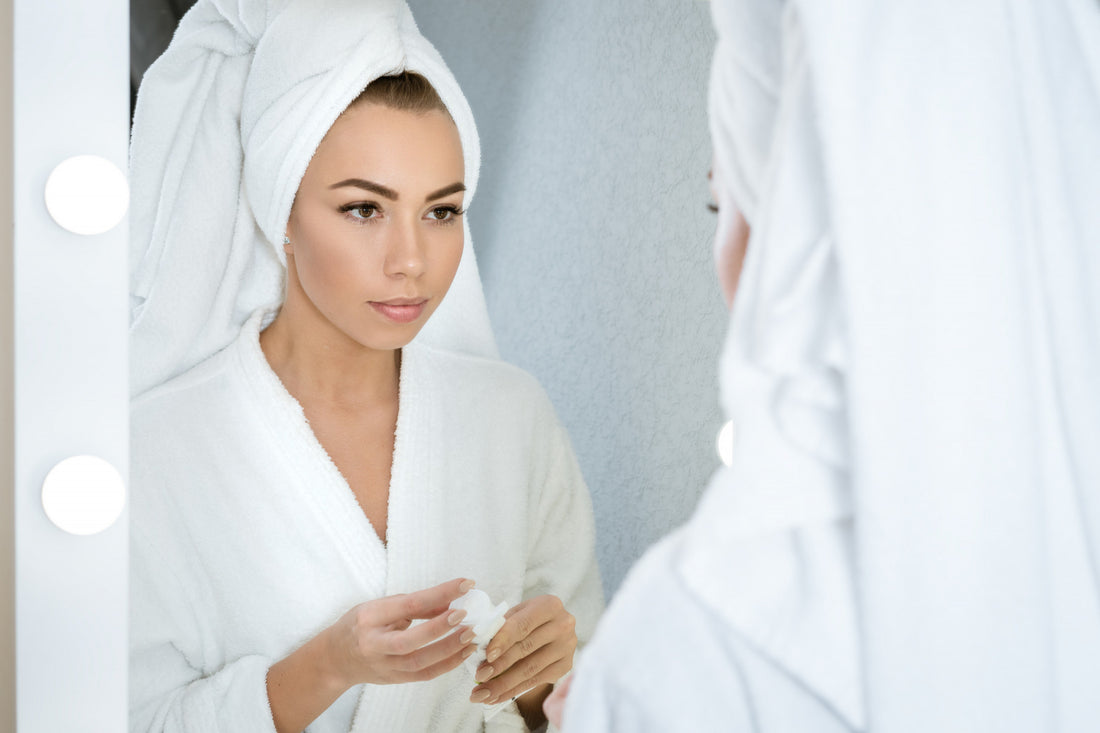 WHAT DO YOU KNOW ABOUT SHEA BUTTER AND THE WONDERS IT CAN DO TO YOUR SKIN?
 Shea butter has become an overwhelmingly popular natural moisturizing agent. It is by far the gentlest and purest organic plant butter in the world.
Read this week's blog to learn more about "mother nature's conditioner" and the numerous benefits it offers your skin!
What is shea butter and where does it come from?
Shea butter is a superfood for the skin. It is a 100% natural oil from the ripe nut of the Shea tree or Karite tree.
Africans refer to the Shea tree as the "tree of life" for its long lifespan. The tree can live up to 200 years. It starts producing fruits from the 10th-15th year and continues to produce fruits until the end of its life span. The Shea tree is indigenous and abundant in the African savanna belt, which spans across 19 countries in Africa.
The trees flourish in the natural landscape without water and can produce plentiful fruits without fertilizers or pesticides. There were attempts to cultivate the tree but they were all unsuccessful.
The extraction of shea butter from the nut of the shea tree is an indigenous skill of many African ethnic groups. For the shell to be easily broken, the nuts are boiled then sun-dried. The kernels are crushed and roasted using the shell to make fire. The roasted kernels are ground into paste by adding water. The paste is then churned by hand to produce the shea butter.
Cold pressing is the typical way of processing shea butter for industrial use, however, there is a high demand for the traditional method of extracting shea butter.
What are the potent nutrients of shea butter?
Shea butter is rich in essential nutrients that improve your natural complexion with a fresh and radiant glow.
Shea butter is packed with Vitamins A, E, and F that promote healthy circulation and skin cell regeneration for a clear and healthy complexion. Cinnamic acid acts as a natural sunscreen that provides a minimal degree of sun protection and relief for sun-exposed skin.
Additionally, it is packed with an abundance of fatty acids such as linoleic, palmitic, stearic, and oleic acids that balance the oil in the skin. Cetyl ester is also an essential nutrient that locks in moisture, which helps to nourish and condition the skin.
Benefits of shea butter for the skin
 1. Moisturizes and softens the skin
Shea butter is rich in polyphenols, Vitamin E, and stearic acid, making it an excellent skin conditioning agent. It is used to treat dry skin and to protect the skin's lipid barrier because of its emollient and humectant properties.
Due to its high fat content, it provides nourishment that helps soften and make the skin supple. It does not clog the pores. It absorbs into the skin quickly, making it effective at treating dry skin on the face. It is also used for treating cracked heels, dry cuticles, and rough patches. It works well in moisturizing the skin even during colder months.
2. Minimizes skin inflammation
Skin conditions that result in swelling such as sunburns, rashes, cuts, and scrapes can be treated using shea butter.
Shea butter has anti-inflammatory properties that slow down the production of cytokines and other inflammatory cells.
3. Reduces stretch marks
Stretch marks are caused by changes in our bodies like weight gain or loss, pregnancy, and puberty. Shea butter is a natural solution that can help fade the appearance of stretch marks. It is rich in Vitamin A and E, which are ingredients that help fade stretch marks. Shea butter  improves the elasticity of the skin and helps boost collagen production.
4. Treats acne and blemishes
The common causes of acne are due to hair follicles or pores that are clogged and infected by bacteria. Shea butter has anti-inflammatory and anti-bacterial properties. It works by penetrating the skin to provide moisture without clogging the pores.
Shea butter contains linoleic acid, also known as Omega 6 or Vitamin F, that soothes acne and prevents future breakouts.
5. Anti-aging and anti-free radical protection
Free radicals from pollutants and irritants in the environment and the sun's harmful rays cause damage to the skin cells. Shea butter contains cinnamic acid esters that give the skin an antioxidant boost to prevent skin cell damage.
Shea butter is also a powerful anti-aging agent that boosts collagen production. It also increases blood circulation to the skin and supports healthy skin renewal. Shea butter consists of vitamins A and E that nourish the skin so it is soft, supple, and radiant. It reduces wrinkles and premature facial lines.
6. Relieves itchy and peeling skin
Dryness can cause the skin to peel or become flaky and itchy. Shea butter contains fatty acids that relieves itchiness by nourishing and providing the skin with oils. The anti-inflammatory properties help relieve the itchiness of skin conditions such as psoriasis, eczema and dermatitis. Since shea is quickly absorbed, it provides fast relief.
7. Revitalizes skin elasticity
Shea butter contains Vitamin  F, which is an essential ingredient in maintaining and revitalizing skin elasticity. It also improves collagen production of the skin, which significantly reduces wrinkles and blemishes.
8. Minimizes razor bumps
Razor bumps are small ingrown hairs that come about when strands of hair curb back after shaving and grow into the skin. They are itchy, irritating and could cause pimples or scarring. The soothing and natural antibacterial properties of shea butter can prevent or minimize razor bumps.
You can also make shaving easier by applying shea butter before shaving to smooth the skin and hair.
9. UV protection
Shea butter contains triterpene esters such as cinnamic acid and tocopherols that protect the skin from the harmful rays of the sun. The SPF level of shea butter may be variable, ranging from 6-10 so it is not recommended to be used alone for sun protection. It must be used alongside your favorite sunscreen for added protection.
However, it can effectively soothe the skin after sun exposure and help reverse the oxidative harm caused by the sun's UV rays.
10. Aids wound healing
Shea butter contains various phytonutrients that aid in the healing of wounds, cuts, or abrasions. Regular use of shea butter cures these skin concerns. When it gets absorbed in the skin's deep layers, essential fats and nutrients boost cell repair function. The fatty acids of shea butter also protects wounds from antigens during the healing process.
11. Lessens itchiness and swelling due to insect bites
Shea butter can calm swelling and itchiness due to insect bites. The fatty acids of shea butter help relieve insect stings. It can also be an effective natural alternative to commercial insect repellent that contains many toxic chemicals.
12. Lip moisturizer
Cold and dry weather conditions can dry out the lips and cause them to chap. The skin quickly absorbs shea butter. It can readily provide moisture and nutrients to treat dry and chapped lips effectively. It forms a barrier on the lips to lock in moisture to protect the lips from harsh weather conditions.
Is shea butter safe for all skin types?
Shea butter does not have chemical components that cause dryness or clogged pores, making it suitable for any skin type. Shea butter is safe even for the most delicate skin - baby's skin, which is 20% thinner than an adult's skin. The fatty acids in shea butter imitate the natural oil produced in our bodies that help maintain skin health.
Although shea butter is derived from tree nuts, it contains low proteins that can induce allergies. There are no known documented cases of allergies caused by topical shea butter. It is always best to do a patch test before using shea butter, especially if you have a nut allergy.
Experience the amazing benefits of Shea butter with
YEOUTH Anti-aging Moisturizer
ANTI-AGING MOISTURIZER L22 WITH SHEA BUTTER, JOJOBA & MACADAMIA SEED OIL ($19.95)
YEOUTH Anti-aging Moisturizer is formulated with our L22 Lipid Complex Technology that visibly improves the skin barrier not only by protecting it, but by helping the skin repair itself by holding moisture in. Fortified with shea butter that has moisturizing and healing properties for a smoother and more even skin tone.
HAVE YOU EVER TRIED USING SHEA BUTTER? WHAT AMAZING BENEFITS HAVE YOUR WITNESSED ? LET'S TALK IN THE COMMENTS BELOW.