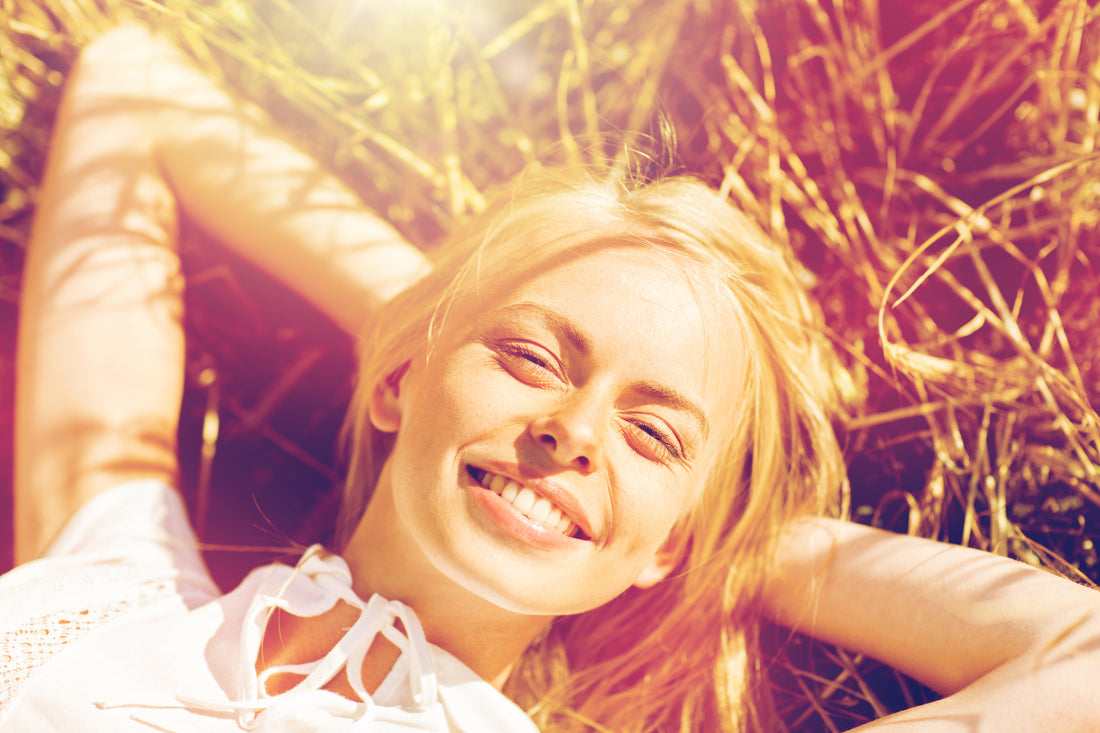 Follow these tips to keep your skin healthy and glowing this summer!
We've waited long and hard for summer to begin. Pool days, BBQ's, shorts and flip flops....bring on all the summertime fun! 
However, summer can bring about some skincare challenges. Humidity and sweating can lead to some skin problems such as clogged pores and acne breakouts. Air conditioning can also take a toll on your skin by causing dehydration and dryness.
Are there special skincare rules to follow during the summer? You bet there is! Read below to learn some essential skincare tips to protect your skin from the summer days ahead.
Stay hydrated
We know staying hydrated is vital for skin health no matter what season it is, but it becomes even more important to stay hydrated during the steamy summer months.
Ideally, 8 to 10 glasses of water is sufficient. However, the amount of water intake may vary depending on your physical activities and changing outdoor temperature.
During prolonged physical activities, your muscles need more water to function correctly. Sweating is your body's mechanism to cool down when exercising or beating the heat on a hot summer day.
Drinking water throughout the day, even when you are not thirsty, replenishes the water you lose when sweating.
Experts recommend drinking half of your body weight in ounces of water. For instance, for someone who weighs 200 pounds, he should ideally drink 100 ounces or about 3 liters of water a day.
Eating fruits and vegetables that have high water content is also helpful to keep you hydrated. Cucumbers, celery, broccoli, spinach and watermelon are just a few healthy foods that will have a high water content. 
Spritzing some facial mist will also come in handy to hydrate and refresh your skin on a hot summer day.
Keeping hydrated, especially on a hot day, not only will help you stay cool but will make your skin supple and plump.
Wear broad-spectrum sunscreen daily
Never skip wearing a broad-spectrum sunscreen but even more so during the summer when exposure to UVA and UVB rays are higher.
Apply a minimum of SPF 30 sunscreen 20-30 minutes before sun exposure. Reapply at least every two hours or right after swimming or sweating.
Sunscreens reduce the risk of skin cancer and can help delay the onset of visible signs of aging, such as fine lines, wrinkles and dark spots.
Take additional sun protection
Protect the exposed parts of your body with thin pants and long sleeves. Use cotton and lighter fabrics. Avoid tight clothes that make you sweat and cause skin irritation.
A wide-brimmed hat and UV blocking sunglasses are also excellent additions to protect your face and your eyes. You can also seek shade or use an umbrella.
If you want to flaunt your beach body, we don't expect you to cover up your whole body but be mindful of the time you are under the sun.
Limit the time you stay in the sun, especially during the sun's peak hours between 10 am to 2 pm.
Boost your supply of Vitamin C
Vitamin C is a powerful antioxidant that supports collagen production and prevents sun damage.
Snack on fruits that are in season during summer like watermelon, mango, papaya, guava and strawberries. Apart from being excellent sources of Vitamin C, these healthy snack choices also curb your cravings for snacks or drinks with refined sugar, which are bad for your skin.
The vitamins, minerals and antioxidants in these fruits are beneficial for your skin, hair and overall wellness.
Vitamin C serum is an all year round great addition to your skincare routine but especially beneficial during the summer season. Putting vitamin C serum on daily is adding another layer of protection from sun damage.
It also minimizes redness and fades pigmentation. Apply a vitamin C serum under your sunscreen.
Give additional protection to your skin with YEOUTH Vitamin C & E Serum with Hyaluronic Acid
VITAMIN C AND E SERUM WITH HYALURONIC ACID ( $15.95 )
YEOUTH Vitamin C & E Serum with Hyaluronic Acid is formulated with premium Vitamin C to brighten and lighten dark spots and hyperpigmentation, Vitamin E to help protect the skin from future damage and Hyaluronic Acid to deeply penetrate the skin to provide intense hydration.
Cleanse your face twice daily
You may notice your face becoming more oily and sticky as you sweat during the hot and humid weather. To mattify your summer skin, you should cleanse your face twice a day using a mild cleanser.
Sweat and oil can build up on your skin overnight, so it is necessary to cleanse your skin in the morning.
Dust, oil, sweat and other pollutants also build up during the day, so you should cleanse again before going to bed.
Cleanse with YEOUTH Vitamin C Facial Cleanser with Aloe Vera, Green Tea & Seaweed Extract
Vitamin C Facial Cleanser with Vitamin C, Aloe, Green Tea & Seaweed Extract ( $18.95 ) 
YEOUTH Vitamin C Facial Cleanser is infused with Aloe Vera, Green Tea and Seaweed Extract to nourish and purify your skin. 
Exfoliate dead skin cells
The skin looks dull when there is a build-up of dead skin cells on the surface. Dead skin cells also cause uneven tone and texture.
Summertime is the best time to slough away your dead skin cells. Exfoliation opens up blocked pores and removes excess oil that causes acne.
Exfoliation feels refreshing and soothing on the stressed-out summer skin. It reveals a healthy, even-toned and blemish-free complexion that you can flaunt confidently. 
Exfoliate with YEOUTH Glycolic Acid 30% Face Peel with Retinol and Green Tea
Glycolic Acid Face Peel 30% ( $24.95 ) 
YEOUTH Glycolic Acid 30 % Face Peel works by exfoliating dead skin cells to unveil smoother, brighter, and more radiant skin. It minimizes the appearance of fine lines, wrinkles and age spots, eliminates blackheads, boosts collagen production and reduces excessive oil production.
Mattify your skin with a face mask
During summer, your skin may appear greasier and may need more oil control.
A mask that purifies and refreshes your skin may come in handy to help get rid of oil and minimize the shine. Apply a detox mask three times a week.
Apart from cleansing and making your skin feel better, masks also provide additional benefits such as:
Refines pores and tightens the skin

Hydrates and moisturizes the skin

Heals the skin

Improves texture and tone

Minimizes fine lines and wrinkles
Experience the healing magic of YEOUTH Dead Sea Mud Mask. 
Dead Sea Mud Mask with Hyaluronic Acid, Aloe, Oatmeal & Avocado Oil ( $18.95 ) 
YEOUTH Dead Sea Mud Mask is infused with nourishing ingredients like Hyaluronic Acid, Aloe Vera, Oatmeal, and Avocado Oil to moisturize and revitalize the skin. The skin becomes visibly smoother and more radiant by shrinking the pores and reducing the appearance of fine lines and wrinkles. It helps exfoliate dead skin cells and draw away impurities to make your skin clear and brighter. 
Take care of your eyes and lips
Your lips and the skin around your eyes are thin and delicate. They also need extra care and attention.
Your lips do not contain sebaceous glands to secrete oil to keep them moisturized. They are prone to dryness and becoming chapped. Use a lip balm with added SPF and reapply every two hours throughout the day to protect and hydrate your lips.
The skin around your eye area is thinner and more sensitive than the rest of your face. To protect your eye area, put on some eye cream or eye gel in the morning and in the evening. It will help keep this area moisturized and hydrated to prevent crow's feet, fine lines and puffy eyes.
Give your eyes some TLC with YEOUTH Radiance Eye Gel with Hyaluronic Acid and Tripeptide  
Radiance Eye Gel with Hyaluronic Acid and Tripeptide ( $24.95 ) 
YEOUTH Radiance Eye Gel combines two potent ingredients: Hyaluronic Acid and Tripeptide Amino Acids, to intensely hydrate and help reverse the signs of aging around the eye area. This soothing eye gel penetrates deeply to provide optimal hydration to the delicate skin around the eye area and minimize fine lines, wrinkles, dark circles and puffiness.
Take cold showers
With the scorching heat of the summer season, nothing feels more refreshing than stepping into an ice cold shower. Coldwater is really great for your skin.
Hot water takes away the skin's natural oils while cold water tightens and constricts blood flow, making it more radiant.
To beat the heat, you may shower more than once a day but keep your showers short, around 4 to 5 minutes, to prevent your skin from drying out.
Don't skip on your moisturizer
Having oily skin during summer doesn't mean that you don't need a moisturizer. If your skin becomes oily, it could be a sign that it is dehydrated. 
The high temperature during summer could dehydrate your skin. Your sebaceous glands will work harder to produce more sebum, an oily substance to protect your skin from drying out if this happens.
Hanging out in air conditioned areas also dry out your skin as well as the chlorine in the pool, which is very inviting on a hot summer day.
Moisturizers can help lock in the moisture on your skin to avoid dryness and other skin irritations.
Moisturize in the morning to hydrate and help protect your skin from the environment and at night to help the skin repair.
Moisturize your skin with YEOUTH Day/Night Moisturizer with Snail Extract, Hyaluronic Acid, Green Tea and Peptides
Day/Night Moisturizer with Snail Extract, Hyaluronic Acid,
Green Tea, & Peptides ( $15.95 )
YEOUTH Day/ Night Moisturizer is carefully formulated and infused with Snail Extract to restore skin damage, Hyaluronic Acid to hydrate and moisturize, Green Tea to protect, and Peptides to revitalize and improve skin elasticity.
HAVE YOU EVER EXPERIENCED SOME SKIN PROBLEMS DURING SUMMER? HOW DID YOU DEAL WITH THEM? LET'S TALK IN THE COMMENTS BELOW.